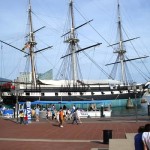 Baltimore, Maryland is often called 'Charm City' but is also known as the 'City of Neighborhoods.'  When planning a visit to this thriving port city Baltimore's Inner Harbor is the ideal neighborhood to start your tour.
Once a bustling waterfront, by the mid 20th century the area was suffering the ravages of urban decay due to changes in the shipping trade. However, as a result of planning and visionary development, today the Inner Harbor is an iconic landmark and tourist attraction.
The harbor is the end of the northwest branch of the Patapsco River and is surrounded by parks, museums, businesses and restaurants. The centerpiece for tourists is the Harbor Place Festival Market Place which opened July 4, 1980.  The market consists of two buildings known as the Light Street Pavilion and the Pratt Street Pavilion. These two-story buildings house over 125 shops, restaurants and cafes. The courtyard area outside the pavilions becomes a stage for street entertainers and performers delighting visitors of all ages.  Just outside moored in the harbor is the historic USS Constellation which is the last Civil War-era ship still afloat.
The Inner Harbor is a mecca for diners seeking culinary delights.  Seafood is abundant here and of course world famous Maryland Crab Cakes are a must when visiting.  The fragrant aroma of Old Bay seasoning wafts lightly through the air in this neighborhood.
After spending time at the Market Place it is easy to visit one of the many nearby museums.  The National Aquarium, the Maryland Science Center, Reginald F. Lewis Museum of African-American History and Culture, and Geppi's Entertainment Museum are just a few of the museums and attractions within walking distance.
The Inner Harbor draws business travelers from all over the world.  Many businesses and office buildings are located here. The Baltimore Convention Center is also centrally situated in this neighborhood.  With its many hotels, restaurants and tourist attractions the Inner Harbor offers a winning combination for business travel.
Sports enthusiasts also enjoy this Charm City neighborhood.  Oriole Park at Camden Yards, home of the Baltimore Orioles and the M&T Bank Stadium, home of the Baltimore Ravens, are both a short distance from the Inner Harbor.  These stadiums and teams have contributed significantly to the urban and economic renaissance of Baltimore's downtown.
The Inner Harbor is a wonderful place to begin your journey to other neighborhoods. A water taxi is a fun and popular way to travel to the neighborhoods of Canton, Fells Point and Fort McHenry.  Fort McHenry is the famous location where the Star Spangled Banner was written by Francis Scott Key during the War of 1812.  The historic fort is open from 8am – 5 pm with longer hours during the summer months.
With the successful renovation of Baltimore's downtown Inner Harbor this city has become an international tourist destination and a model for other cities that have emulated Baltimore in revitalizing their downtown areas.  When planning a trip to Baltimore, Maryland the Inner Harbor is your starting point in this 'City of Neighborhoods.'