A guest post by Michael Hepworth
Hepworth is originally from the U.K. and lives in California. He blogs extensively about restaurants and travel.  For more of Michael's travel experiences visit his website PerfectTravelToday.
Mexicali is the largest border town in Baja, and before my visit there last month I had no idea about the cultural identity of the town, assuming of course mostly Mexican. However the Chinese virtually founded the bustling city, and today their influence is everywhere, not least of all the 350 Chinese restaurants to be found all over the city at every price level.. I also have to confess that this was my first ever visit to Mexico, and I came away with a very positive vibe about the entire experience.
Everybody I met in my all too brief visit was extremely nice and intelligent, and anxious to point out to me that Mexicali is a safe place, and that American tourists should ignore all the negative publicity and come on down. Prices are ridiculously low compared to the States, and this is a hot place to come down for a break, medical tourism or whatever. However you should probably avoid the summer months where the temperature can reach 120 degrees, but everybody I quizzed about it says nobody likes it much, but on the other hand nobody ever seems to leave.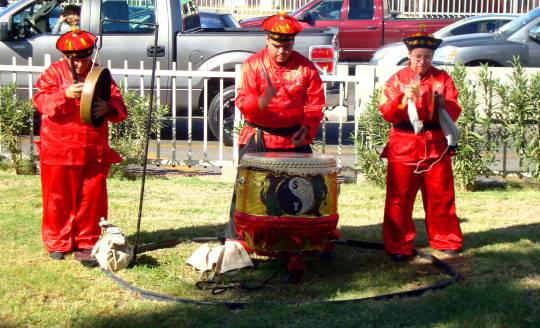 There was also a curious absence of police cars and sirens, and yes the streets were perfectly paved without a pothole in sight.
Visitors have an abundance of things to do including an outstanding zoo, parks, museums and some outstanding off-roading facilities including La Rumarosa, a very famous winding road featured in the Bond movie, License to Kill. In fact, during our stay here, the tourist boss who was showing us around had to rush off to sort out a visit from the Top Gear folks from the BBC who were filming a segment on the amazing roads on the way back to Tecate. In fact it is worth going to Mexicali for the drive from the hassle free border crossing in Tecate to Mexicali where you will see some of the most amazing rock formations you will ever see.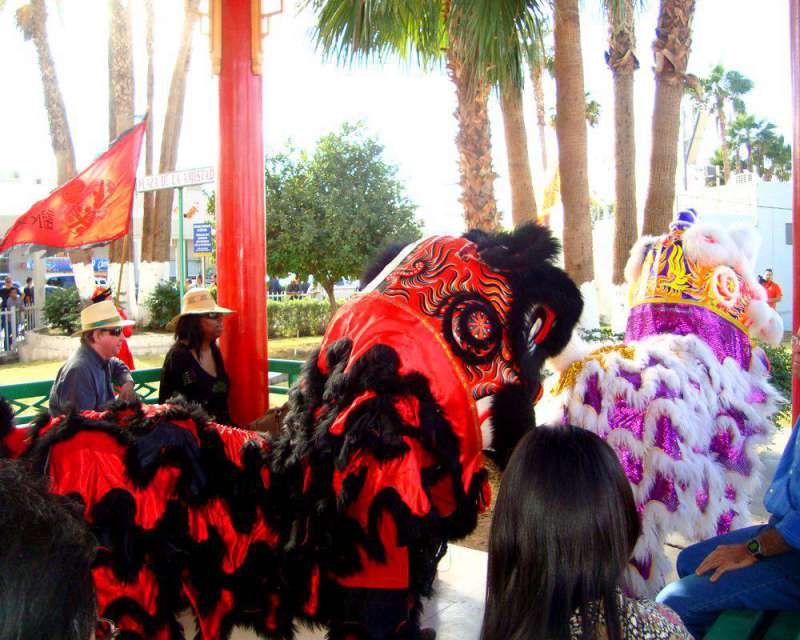 Starting with the Chinese influence we met a fellow called the maestro, head of the Chinese Cultural Exchange Eduardo Anyon Gerardo, who is also a well known artist famous for his paintings of wild horses. He set up a special dragon dance for us at the Chinese Pagoda, and passers by and curious spectators were treated to an exhibition of various Chinese dances that are only performed sporadically.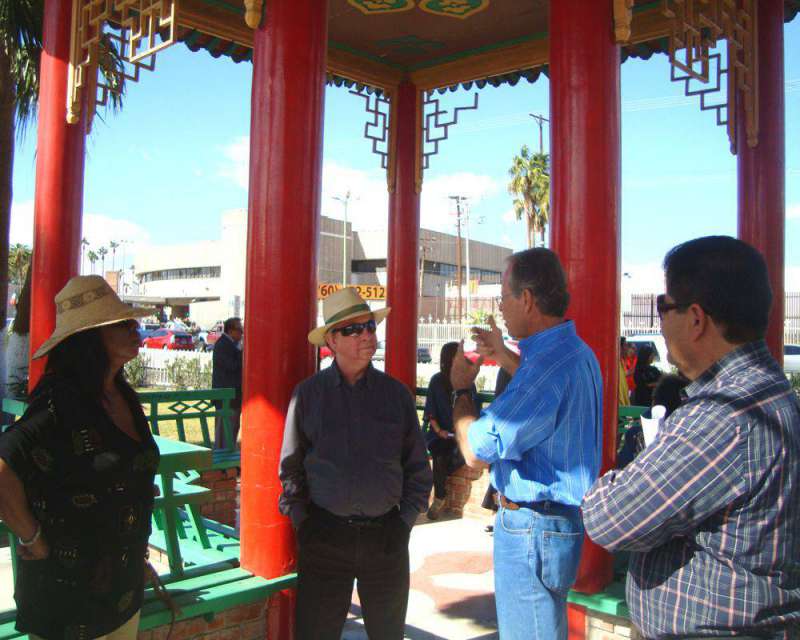 When it comes to food there is an abundance of choices aside from the Chinese food, with Thai, Japanese and even Italian pushing for more of the dining dollar. There are of course Taco Stands and restaurants virtually on every street corner, where the quality I have been told is outstanding. American fast food giants have a foothold here as well, and the Mexican breakfast is also very popular with the locals.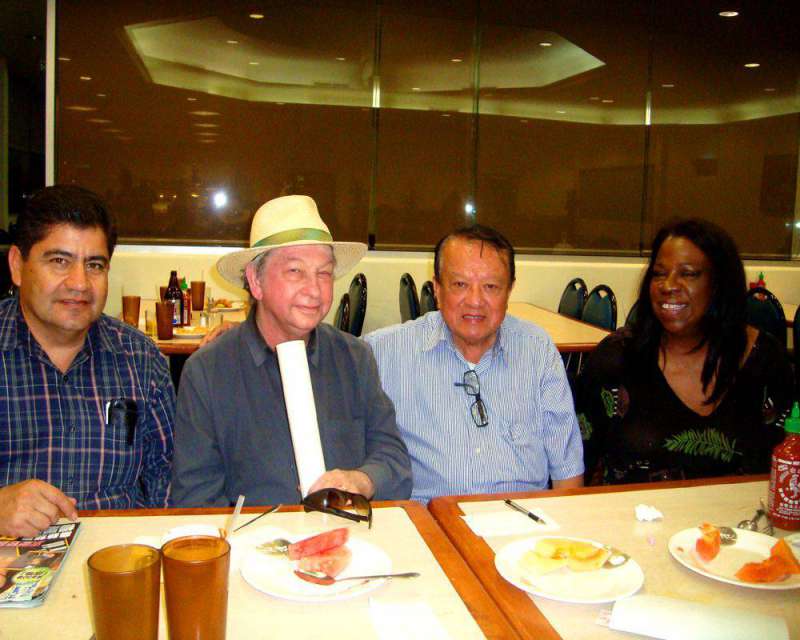 We tried two breakfast places out, Chavs and Chalet, and both were doing good business both days and were serving all the traditional breakfast food items where omelet's, pancakes and breakfast burritos remain the mainstay of the restaurants. When it came to the Chinese food. The City Oriental Buffet remains one of the most popular in the city, and frankly was very similar to a few I have tried in Los Angeles, and one in particular in Buena Park. We tried most of their best dishes such as the garlic shrimp and shredded beef, and as buffet's go to take the family, it was very good value.
However if you are into fine dining, then Sibarita is a must visit. Owned by a cop out of El Centro, he probably finds the challenges of running a restaurant, which must be a piece of cake compared to the obvious issues he likely has to deal with in a border town. Open for just a couple of years, the minimalist restaurant is small with only 50 seats, but our five course meal could easily have been in Venice or West Hollywood. Local artist Pedro Romero is featured in the restaurant, and his stunning art really gives the space a sharp edge to the atmosphere.
Highlights of the five course meal were a salmon ceviche w/crispy corn tortilla, A balsamic vinaigrette salad w/berries and blue cheese and short ribs in a dark beer sauce and a green risotto. Main course was lamb chops cooked just past medium with asparagus and sweet potato.
One of the highlights and must visits is the Mexicali Municipal Zoo, a sprawling facility right in the heart of the city located in the main park. A family complex, the zoo has certain restrictions on the animals they can house because of the climatic conditions. Perfect for family day outs, the zoo has a water park and paddle boats,giant slides and a kids playground. Great place also to barbecue and picnic with an abundance of barbecue grills and seating.
When it comes to animals it has to have the friendliest giraffe in the world that loves to be fed, and a pretty impressive aviary.
Campo Mosqueda is located next to a lake about 35 miles outside of Mexicali, and since water is such a rarity inn these parts, a major escape for most residents. However the earthquake devasted the area a couple of years ago, and many of the vacation homes are still damaged beyond repair. Manager/Owner Jesus Martinez inherited the land from his parents, and like all the Mexicali businessmen I met, he remains very optimistic for the future despite some pretty momentous logistics he has to deal with on a daily basis. If you are looking for an inexpensive vacation home and like the heat, Campo Mosqueda is well worth checking out.
If you want to check out a place where artists, bohemians, musicians and poets hang out in Mexicali then the Slow Down Café is the place to go for a late night cocktail or coffee. This outside patio is a regular hang out for the aforementioned where they can sell their art, and where musicians perform most nights. Music on offer seems to be
New World or Euro Disco style, and don't forget to try the world famous Mexicali Rose drink served at the Slowdown.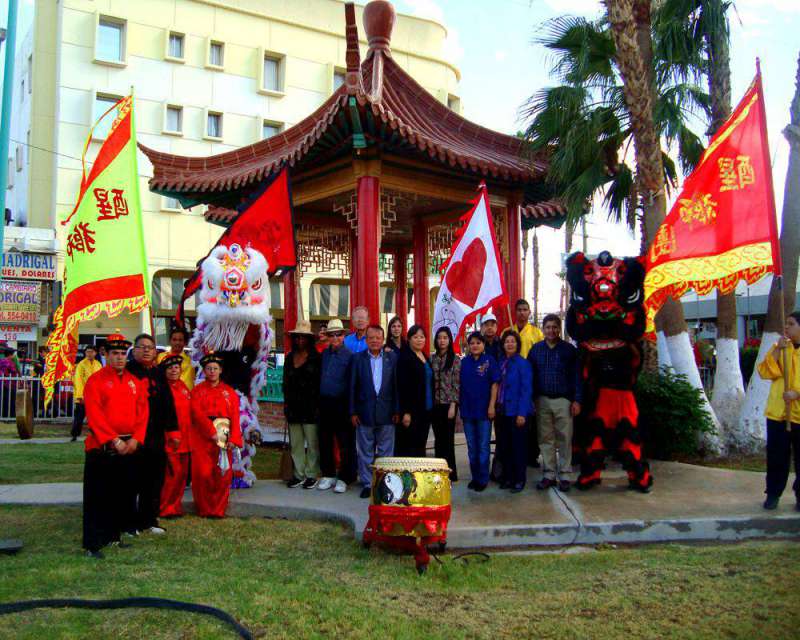 Finally the guys at El Sume Bar served up some great British beers and were quite the Anglophiles. A great night was had by all, and El Sume will be one of my first stops on my return to Mexicali next winter for another fun weekend break.
Fact Sheet
Campo Mosqueda-Camping-686-157-7348
Sibarita Restaurant-Fine Dining-686-218-6600
City Oriental Buffet-686-582-1719 www.city_oriental@yahoo.com
Chavs-Mexican breakfast  686-558-4241
Chalet-Mexican breakfast
El Sume Bar-Beers/Spirits 686-568-4465
Slow Down Café-686-568-2303 www.slowdown.com.mx
Eduardo Gerardo-Artist-686-552-9705
Mexicali Zoo-686-558-6376   www.bosquedelaciudad.com.mx
Mexicali Cultural History Museum- www.iic-museo.uabc.edu.mx
Baja Tourism-Mexicali Delegation   686-566-1277  egmoreno@baja.gob.mx
If you like this please share it with your friends.  As always, Happy Travels!