"It's the most wonderful time of the year!" I've got that song stuck in my head along with visions of a smiling, singing Andy Williams. It's the soundtrack to my thoughts as I write today.
It's a busy time, but despite the activity, I always like to slow down and reflect upon the year that's concluding. As I contemplate 2019, I remember the highs and lows – a family wedding, my son's emergency appendectomy, a celebration of life for a loved one, and the launch of my second book are a few of the stand-out moments. Along with the moments, I also love to think about the trips and places I've been and people I've met that have enriched me. 
And that's how I've come up with this year's review theme. I've paired the song in my head with some of my 2019 journeys and created a list of the mosts. Join me for a most wonderful review of 2019!
Click here if you haven't heard it enough yet.
Disclosure:
Many of the links you see on this site and within our trip planning tool are affiliate links. If you click through and make a purchase, I'll get a small commission and it won't cost you any extra. On selected stories, for those hotel and car bookings made using our TravelingToGive™ tool we contribute 2.5% of gross hotel and car sales to Paws for Purple Hearts. So, thanks in advance for helping me keep bringing you the content you enjoy and, at the same time, giving back to those who so bravely serve our country! #everytripmatters
The Most Chilly Destination of 2019
While I like to think of myself as a hearty soul and I love destinations in the off-season, I was pretty chilly on my visit to Washington, DC in January. There was snow on the ground, and no lines or waiting, but brrr, baby it was cold outside.
Despite the cool temperature, I'm still enthusiastic about DC in winter. There's plenty to do and an abundance of indoor attractions to make it a wonderful most chilly place to travel.
Huntsville, Alabama is a favorite destination. Having visited for a convention in 2017, I returned for an awesome 48-hour stay in February with my blogger friend Vicky from Buddy The Traveling Monkey.
The folks at the Huntsville/Madison County Convention and Visitors Bureau really know how to make guests feel welcomed and the people of the city are equally delightful and happy to meet you.
Known as the Rocket City, Huntsville is home to the U.S. Space and Rocket Center. The Rocket Center is a must-see while in town. Their exhibition on the Apollo-11 50th Anniversary was a highlight of the year for me.
Beyond space, Huntsville has art, history, sports, music, shopping, and dining. The Rocket City has it all including an enjoyable small town feel with an abundance of southern hospitality. 
I enjoy Huntsville so much, I put together an itinerary to share with readers. This charming city in North Alabama keeps me coming back and singing its praises.
The Most Convenient Destination
A short 15-minute drive from home, the Renaissance Raleigh in the heart of Midtown was the most convenient destination of 2019.
We took a wonderful mini-break exploring and enjoying the North Hills area of Raleigh. Dinner, entertainment, cocktails, a luxurious hotel and all within walking distance made our Raleigh staycation an absolute delight. If you've never taken a staycation in your own hometown, I highly recommend doing it. If you're traveling to Raleigh, North Carolina, do check out the Renaissance. It's convenient to many of the city's popular attractions.
The Most Unique Attraction
The more unusual a destination, the happier I am. I don't know what that says about me, but I seek out unique attractions wherever I roam. This year, the Haines Shoe House in York, Pennsylvania wins the honor of being the most unique attraction visited.
The essence of "Roadside America," this house shaped like a shoe turns out to have an amazing storied history. I learned far more than I anticipated about a master marketer and astute businessman known as the "Shoe Wizard" and his role in this rural area of Pennsylvania.
Bull City Laughs is by far the funniest tour I've taken. The open-air bus moves through the streets of Durham all the while our guide is keeping us in stitches. 
Although the tour is humorous and filled with laughter, the focus is on history and Durham's fascinating story. The bus moves through several Durham neighborhoods while the guide slash comedian informs and entertains.
Some of the sights include; Duke University, North Carolina Central University, American Tobacco Campus, The Durham Bulls Athletic Park (DBAP), Duke Gardens, and some amazing street art. 
Bull City Laughs is a fun and memorable tour and perfect for first-time visitors as well as long-time residents of Durham, North Carolina. It's the tour with the most laughs of 2019!
Two Gals And A Fork take the cake when it comes to selecting the most delicious tour of 2019. These friendly ladies stroll the streets of Columbia sharing their hometown's history and its culinary scene with a flavorful tour.
I sampled and savored a mouthwatering variety of cuisines on a hot Saturday afternoon in July. I learned about the capital city's Vista neighborhood all the while enjoying food, beverages, and good company. Janet and Gloria are delightful guides and ambassadors for Columbia, South Carolina.
Most Pleasant Surprise of 2019
I had no expectations of what I'd find when we planned a trip to Milwaukee, Wisconsin. I left Brew City a huge fan.
We packed a lot of touring into just 48-hours, but I was so inspired by our time in Milwaukee, I wrote an awesome itinerary on the blog. If you've never been to this part of the country, I highly recommend spending some time in this captivating city (In summer preferably).
Home to Harley Davidson, Marquette University, the Milwaukee Bucks and Brewers, the historic Pfister Hotel, dozens of breweries, and more, the city on the Milwaukee River is an enjoyable location. And for this travel blogger, the most pleasant travel surprise of the year.
Whether you believe in ghosts and paranormal activity or not, a good ghost tour is an excellent way to learn about a city. While in Denver, I enjoyed Best Tours of Denver's Twilight Ghost Tour.
The exhilarating two-hour walking tour explores Denver's historic Poets Row and Capitol Hill neighborhood with an eerie stroll past some of the city's most famous addresses. The tour is packed with information and fascinating facts about the residents and a few deceased residents many believe linger behind.
We didn't detect any paranormal activity, but we did get a wonderful historic perspective of the city and had a fun time.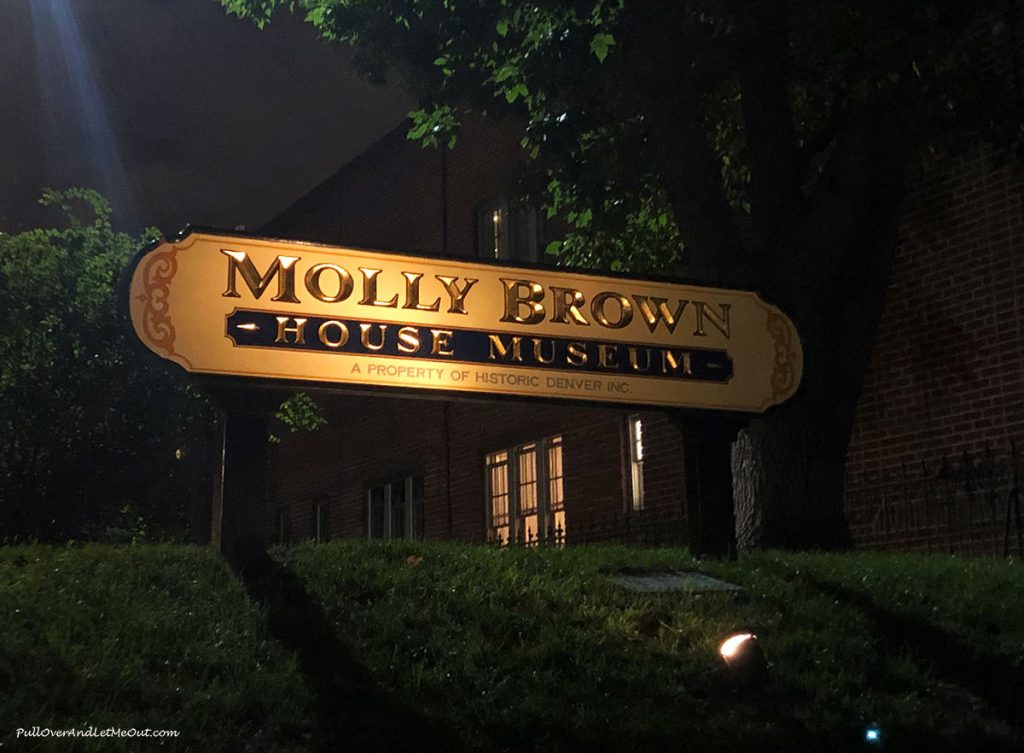 Each week, the friendly folks at Pinterest email me with stats on pinning activity based upon the number of repins and impressions received. According to the latest statistics, drum roll, please… The Most Popular Pin for 2019 is from a post I wrote in January entitled, Fun Things To Do In Wilmington, North Carolina.
Wilmington is an awesome town on the North Carolina coast, and I can totally understand why this pin and the destination is a favorite with readers.
Surprisingly, another pin that's a couple of years old is still getting a great deal of attention and is close behind Wilmington in popularity for 2019 – Dirty Dancing!
The 1987 movie is a longstanding favorite, so it stands to reason the story about Mountain Lake Lodge, the resort where it was filmed, is an alluring attraction and pin worthy.
The most peaceful location I visited in 2019 was Burnsville, North Carolina. Situated in the shadow of Mount Mitchell in Yancey County, this charismatic mountain town is a tranquil setting replete with all the necessities for a relaxing mountain getaway. 
The tiny town is close to the Blue Ridge Parkway, a half hour from Asheville, and a short drive from several other busier destinations making it the ideal hub for touring the North Carolina mountains and the quintessential mountain getaway.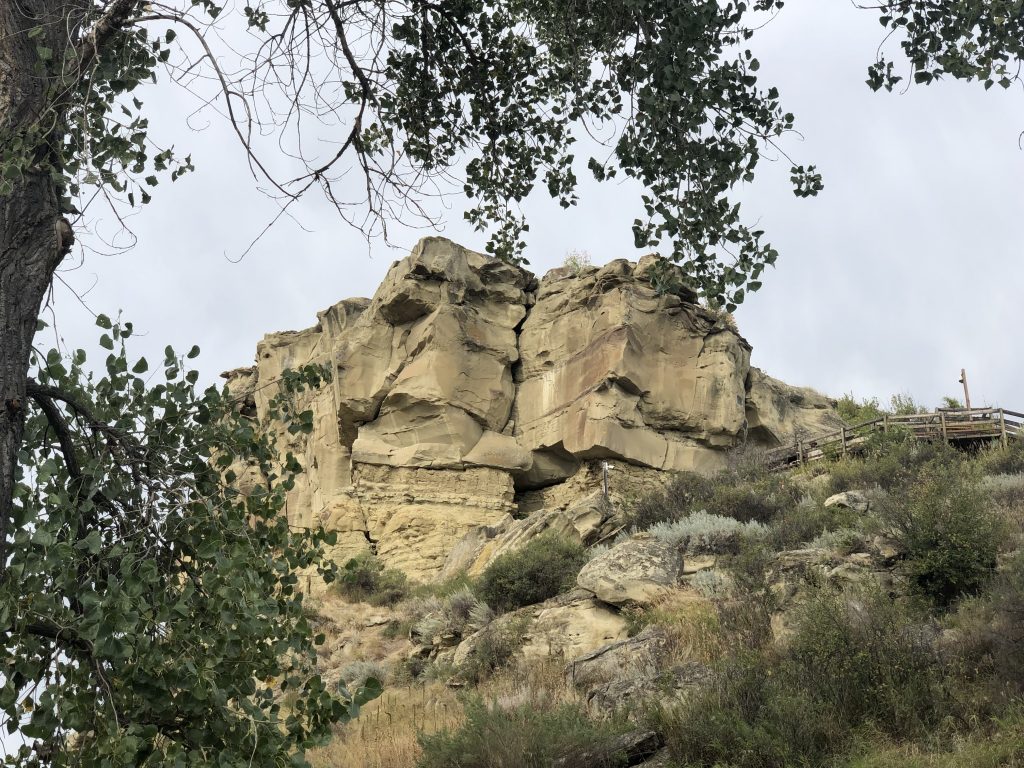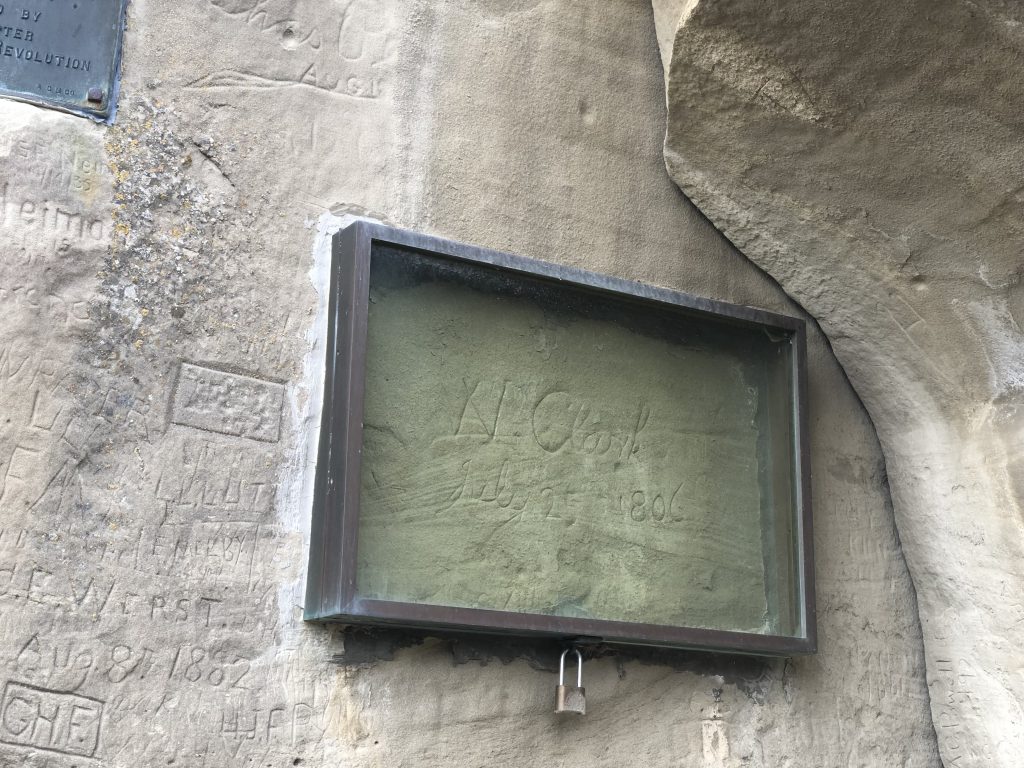 The most awe-inspiring destination of the year is a tie. However, I saw them on the same tour so on a technicality, I'll say they're both the most awe-inspiring. Pompeys Pillar and Little Bighorn Battlefield in south central Montana moved me.
Seeing proof of not only ancient native Americans, early explorers, and fur trappers, but also the only remaining visible evidence of the Lewis and Clark Expedition was powerful. William Clark carved his signature into the rock at Pompeys Pillar.
Moreover, on the same tour I visited Little Bighorn Battlefield National Monument. Visiting these two places I'd read about in school turned out to be incredibly profound. It was one of those trips that snuck up and caught me by surprise. I had no idea how poignant experiencing these historic places would be and the impact it would have on this history buff – truly awe-inspiring.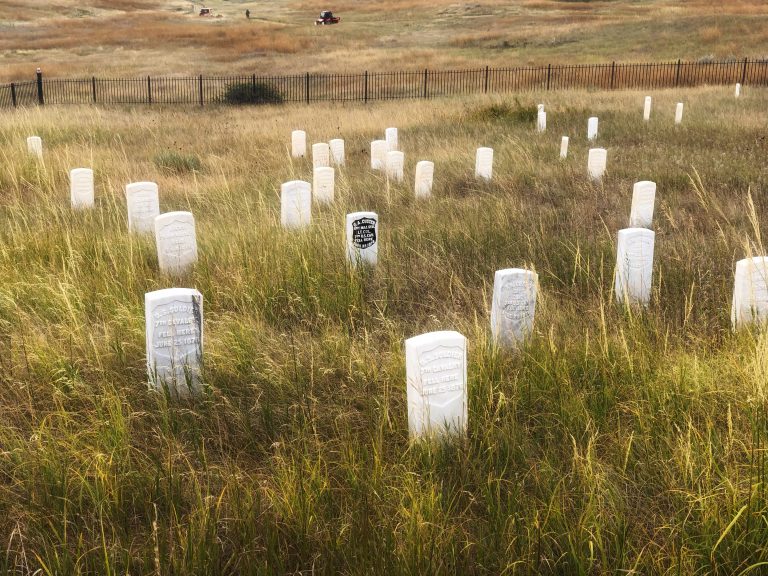 This is the time of year I'm most reflective and thankful. Thankful for the opportunity to travel. Thankful for health, family, and friends. And thankful for you. I love sharing my adventures with the readers of PullOverAndLetMeOut. I'm thrilled you return week after week and this year, I'm especially thankful for your positive response and kind feedback on my latest novel, The House with The Georgian Door. I'm touched beyond words.
2019 has been a most excellent year filled with ups and downs. As we come to its conclusion, I want to extend my best wishes to you and yours for a happy and healthy holiday season. Thank you and as always, I wish you happy travels!
Cheers to a 2020 filled with good health, love, happiness, and great adventures!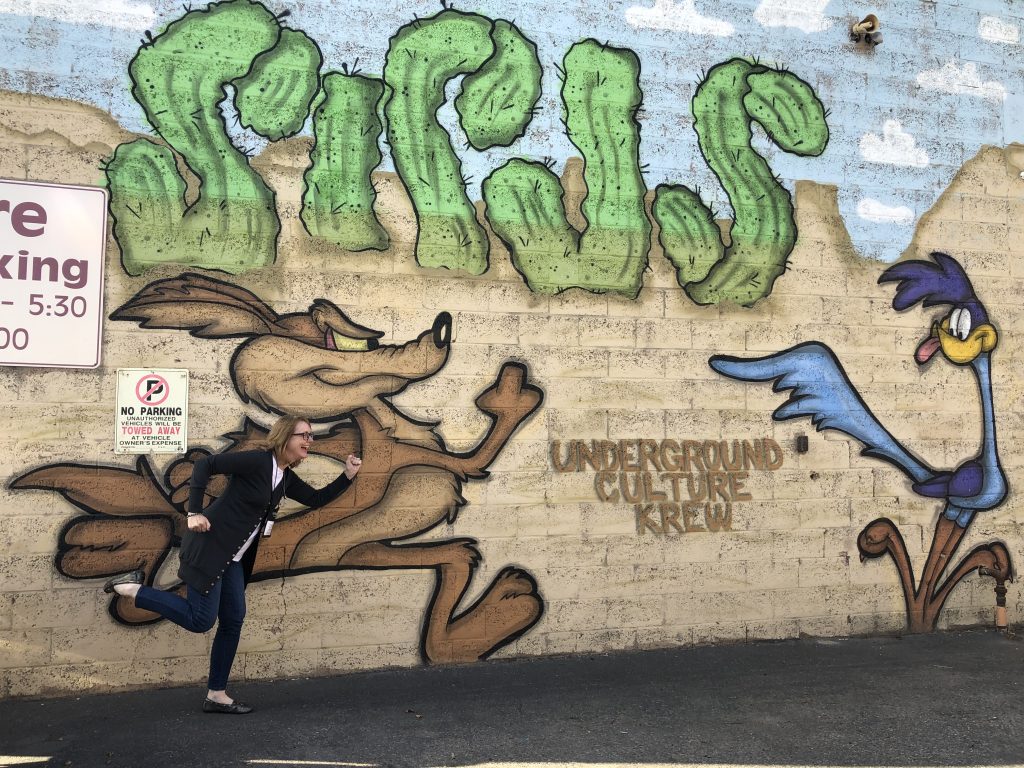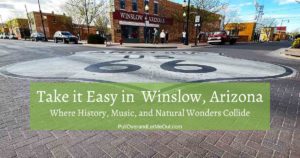 Winslow, Arizona fuses history, music, and natural wonders to provide visitors with a peaceful, easy feeling. Explore this iconic Route 66 town with PullOverandLetMeOut.
Read More »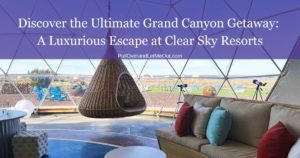 Travel with PullOverandLetMeOut to discover why this is the ultimate glamping getaway and get a look at this firsthand account of Clear Sky Resorts Grand Canyon's unrivaled luxury and natural beauty.
Read More »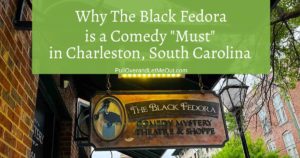 Travel with PullOverandLetMeOut to historic Charleston, South Carolina and discover why The Black Fedora Theater is a laugh-a-minute itinerary item you won't want to miss.
Read More »