The stone building with the brilliant red door evokes a storybook quality and is a fitting entrance to an attraction made famous by a legend. The Blowing Rock in the Blue Ridge Mountains is almost mythical and once I set foot through the crimson door, I joined the thousands of visitors who've made the journey to admire North Carolina's oldest attraction since 1933.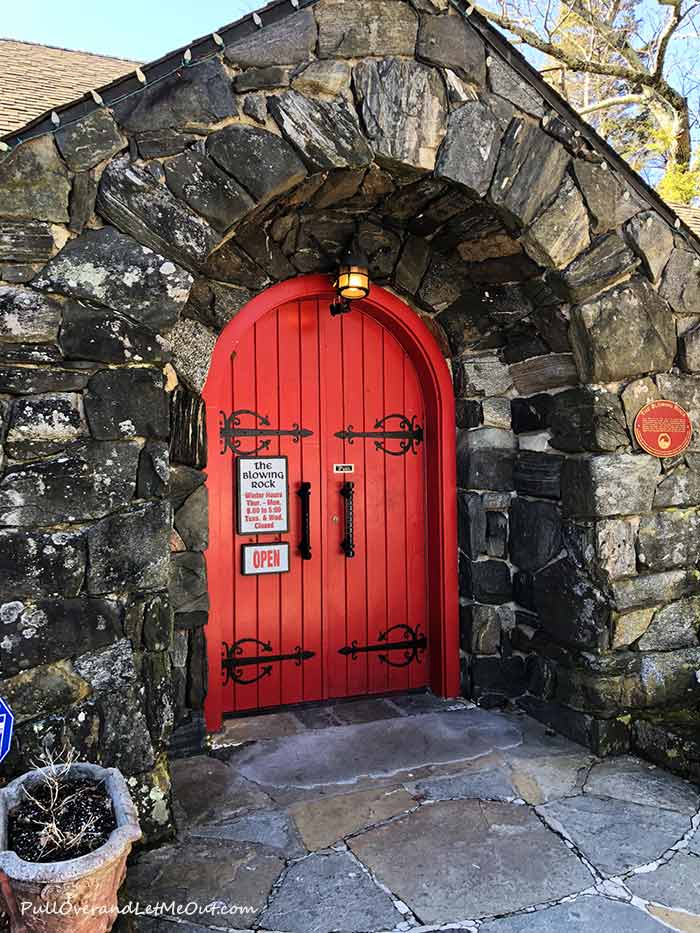 History of The Blowing Rock
The story of The Blowing Rock is pretty intriguing. In fact, its history is mystical. So mystical Ripley's Believe It Or Not designated it, "The only place in the world where the snow falls upside down." The Blowing Rock is a geological wonder with a 250-million year history of earth-moving, erosion, pressures, weathering, and metamorphosis of fascinating proportions. If the geological tale isn't alluring enough, there's a legend wrapped in a Native American love story and a natural phenomenon of winds blowing with such force, light objects tossed off the cliff which stands 4000-feet above sea level are returned to the sender. Yeah, it's pretty intense.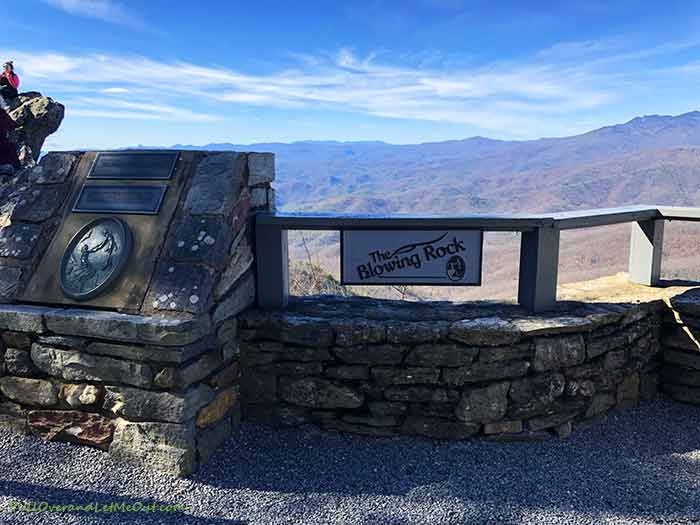 Most ads you see on this site are affiliate links. If you click through and make a purchase I'll get a small commission. So, thanks in advance for helping me keep bringing you the content you enjoy!
Planning Your Visit
Situated minutes from the Blue Ridge Parkway in the town of Blowing Rock, The Blowing Rock is a terrific spot for enjoying the Appalachian Mountains, gazing at the glorious vistas, and viewing Grandfather Mountain across the valley.
The appealing visitors center is the first stop upon arrival. Its here travelers pay the entry fee and get a small map of the area to begin the self-guided tour. We visited on a balmy February morning and it was delightful. The crowd was small, the sun was shining, and the wait for that all-important photo was brief. I even helped a family out by taking their picture. They were going to use it as a "We're Expecting Number Three" announcement. I felt like I was in on the big surprise!

Taking pictures is a must! It's relatively easy to walk onto The Blowing Rock but you'll definitely want to wear appropriate shoes and if you're afraid of heights like I am, use caution. This is the only rock visitors are permitted to climb on and with good reason. The rock itself isn't all that big and you may even find yourself saying, "Oh, this is it?" However, the history, legend, geological phenom, and spectacular mountain views make it well worth the admission fee.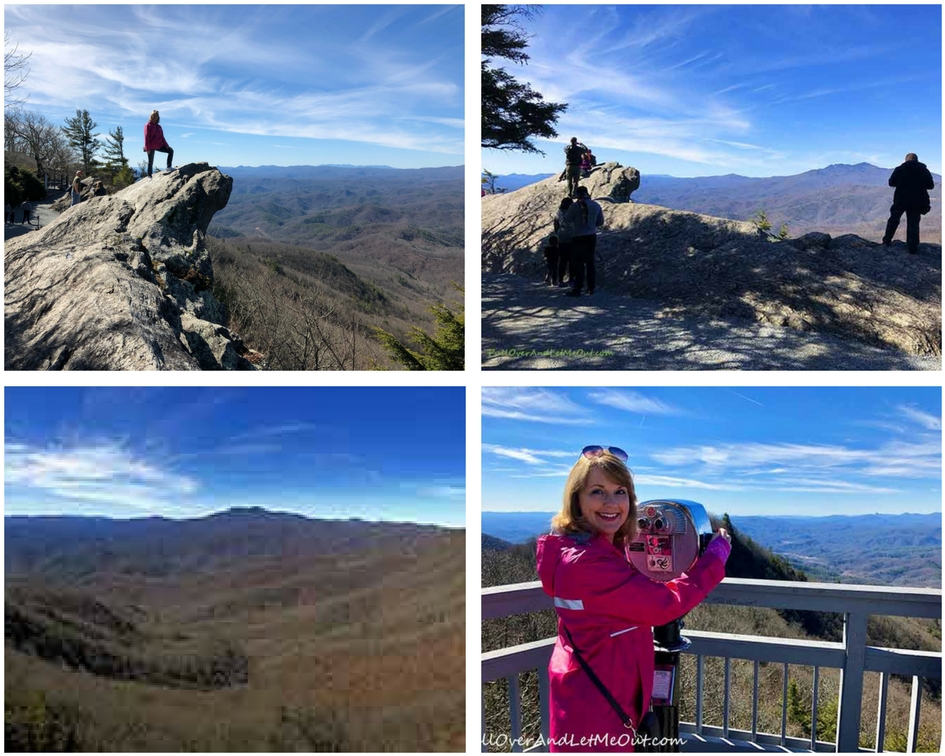 More Than A Rock
Though it doesn't take long to explore The Blowing Rock, the town of Blowing Rock is idyllic and deserving of at least several hours if not a weekend of examination. The historic downtown features museums, charming shops, quaint boutiques, delightful restaurants, and craft breweries. Additionally, it's a short distance from Tweetsie Railroad which is a fabulous family-friendly Wild West-themed amusement park geared towards younger children.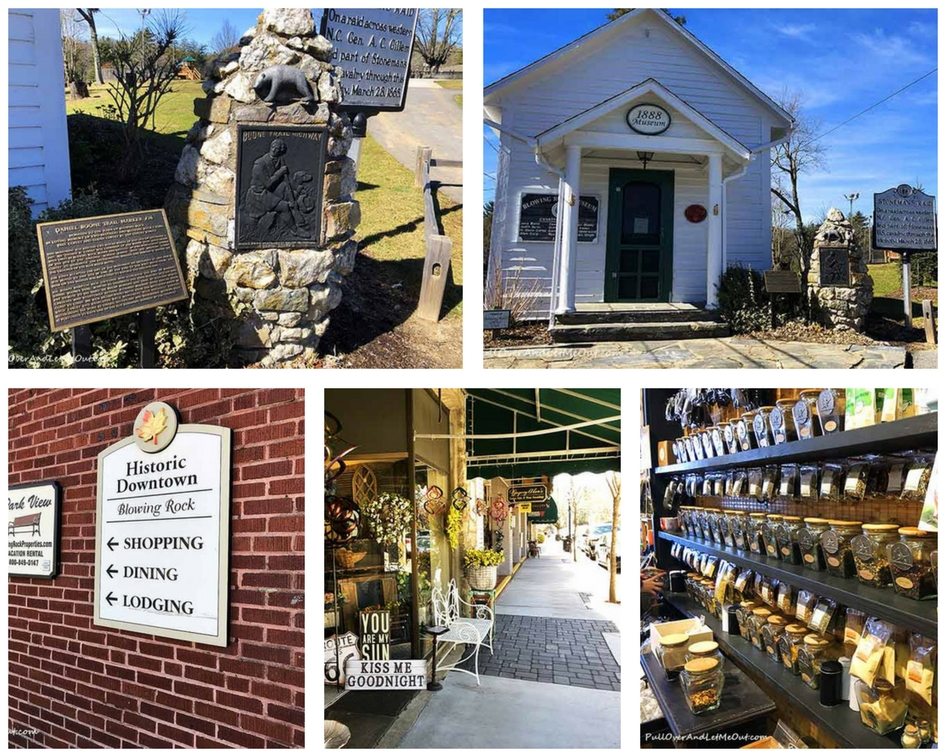 Another perk of visiting this lovely mountain town is the artisan culture. The North Carolina mountains are replete with artisans of all types. We happened upon High Country Candles in downtown Blowing Rock and enjoyed observing a craftsman creating hand-made candles that were absolutely exquisite.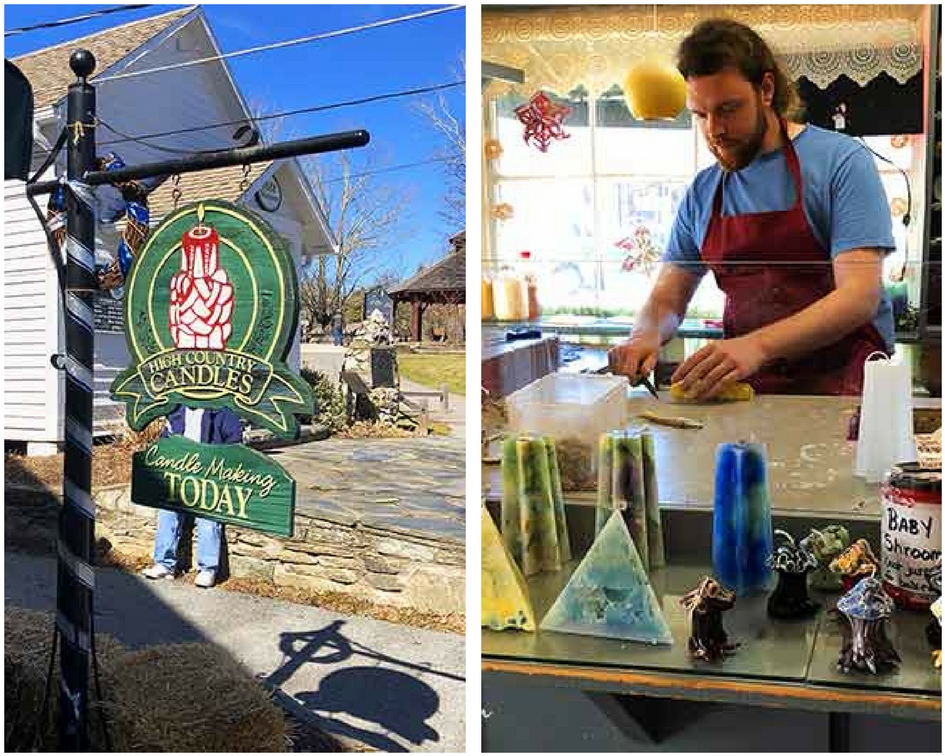 Stay and Play
The outdoor activities in and around Blowing Rock are limitless. Sports like skiing, snow tubing, rafting, hiking, rock climbing, and camping are just a few of the innumerable options. There's also a myriad of festivals throughout the year attracting visitors to enjoy the mountain heritage in a variety of ways.
The town of Blowing Rock features several hotels and inns suitable for a wonderful weekend getaway. Additionally, the towns of Boone, Banner Elk, and Linville are a short distance away. Thus, lodging in all price points, including camping, makes staying near Blowing Rock uncomplicated. We enjoyed a wonderful B&B experience in nearby Valle Crucis at The Lazy Bear Lodge B&B. We also enjoyed a tasty craft brew and lunch at the Blowing Rock Ale House & Inn.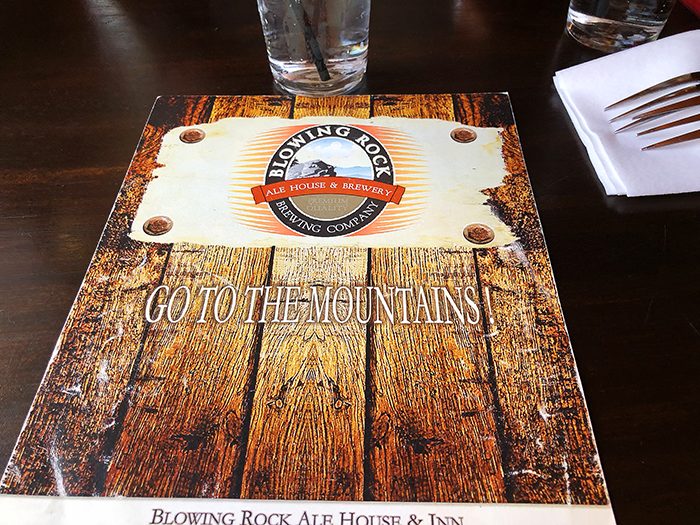 Pull Over Take-Away
The Blowing Rock in Blowing Rock, North Carolina has been recognized as an "underrated destination." However, I think what struck me most is its understated beauty. The legendary rock which has endured for centuries majestically supervises the valley below as the mythical mystical breezes bring travelers, fame, and recognition. The Blowing Rock gazes across the valley to see Grandfather Mountain on a clear day. It's easy to imagine the two rocks share a secret. A great, beautiful secret and a tale as old as time.
The Blowing Rock
432 The Rock Road
Blowing Rock, NC 28645
www.TheBlowingRock.com
Admission is $7 for adults, $6 for seniors and military, $2 for children 4-11, and free for children under 3 years old. Visiting hours are 9-5 Thurs, Fri, Sat, Sun, and Monday, January through March. The Blowing Rock is open daily weather permitting April and May 8:30 – 7:00, 8:30 – 7:00 daily June through October, and 9:00 – 5:00 daily weather permitting November and December.
Have you visited The Blowing Rock? Tell me about your experience in the comments below.
Hey Pinners, Pin This For Later!