Bull City Laughs is a history comedy tour of Durham, North Carolina. Although relatively new on the scene, the tour is getting a lot of attention as well as rave reviews. I met Brandon, one of the founders and guides, and knew immediately I had to check out Bull City Laughs.
Disclosure:
Many of the links you see on this site and within our trip planning tool are affiliate links. If you click through and make a purchase, I'll get a small commission and it won't cost you any extra. On selected stories, for those hotel and car bookings made using our TravelingToGive™ tool we contribute 2.5% of gross hotel and car sales to Paws for Purple Hearts. So, thanks in advance for helping me keep bringing you the content you enjoy and, at the same time, giving back to those who so bravely serve our country! #everytripmatters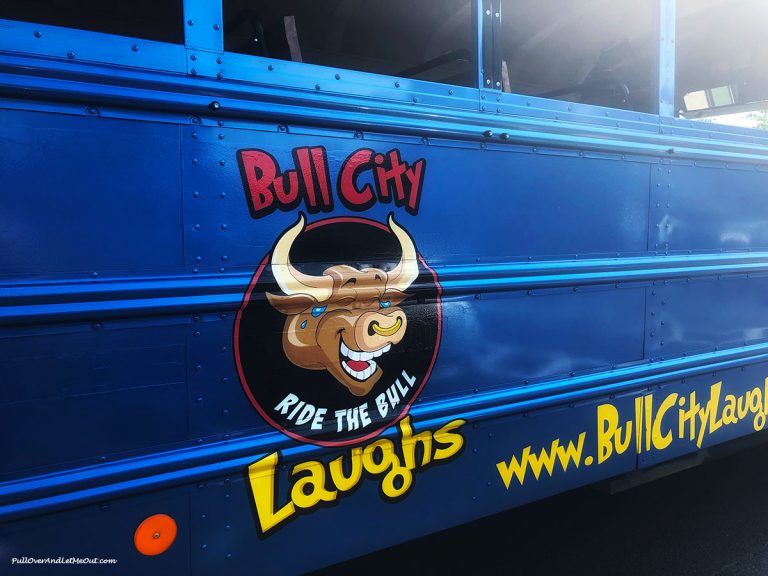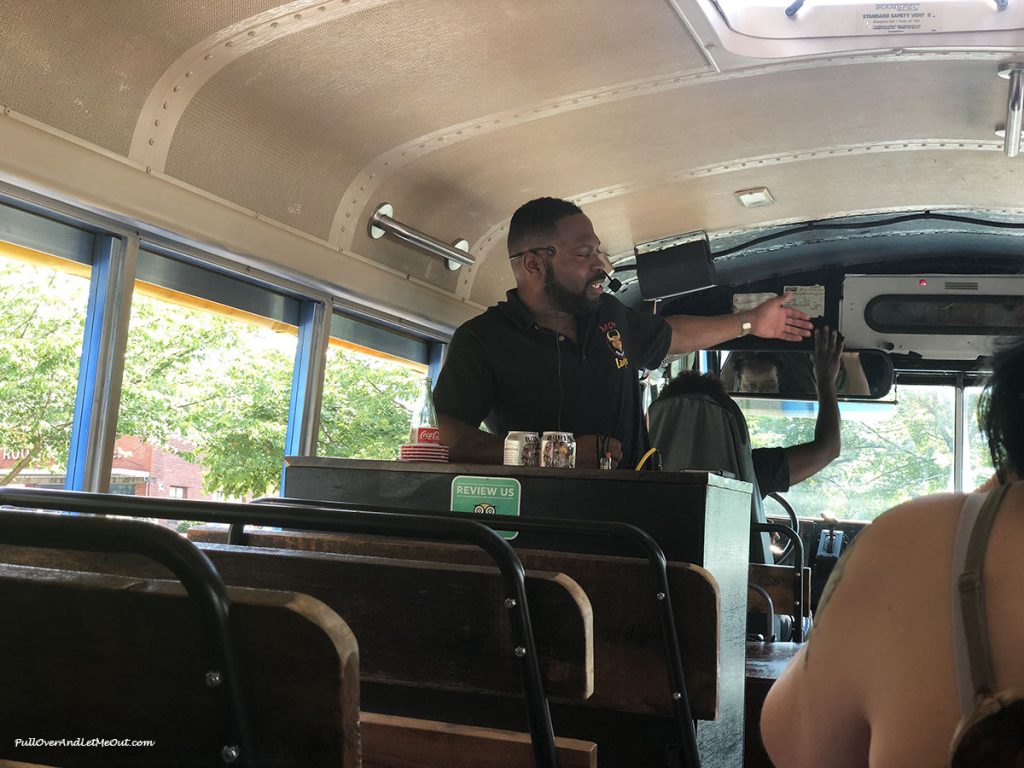 Bull City Laughs is designed to entertain and inform. If you love history and you love to laugh – this unique tour is the perfect mix. The comedy is "R" rated (language and adult themes) and as Brandon said before we departed, "If you're easily triggered, you've come to the right place. Cause you're gonna be triggered." 
For our tour, the group is a fun crew along for the ride who have traveled from places both near and far. Brandon cheerfully handles the introductions – nobody is off the hook when it comes to the meet and greets. He's a master at customizing the experience and making everybody feel a part of the group as well as fodder for his jokes.
The open-air bus moves through the streets of Durham all the while our guide is keeping us in stitches. Brandon is an equal opportunity offender and doesn't hold back with his wit; occasionally calling out to pedestrians on the street and even shaming a driver into putting on his seatbelt.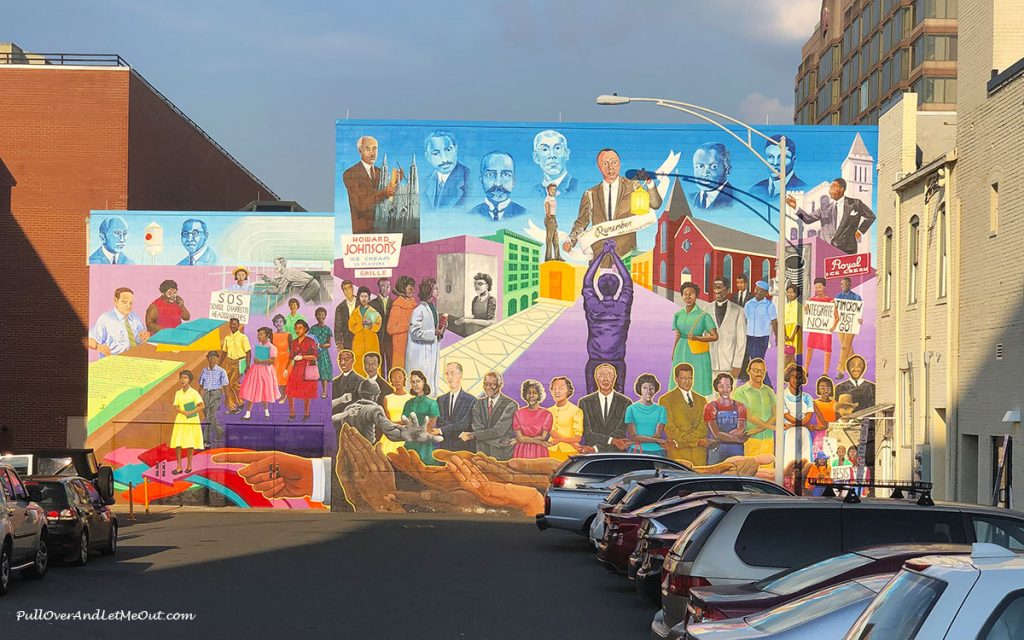 Although the tour is humorous and filled with laughter, the focus is on history and Durham's fascinating story. The bus moves through several Durham neighborhoods while Brandon informs and entertains. Some of the sights include; Duke University, North Carolina Central University, American Tobacco Campus, The Durham Bulls Athletic Park (DBAP), Duke Gardens, and some amazing street art. 
Best of all, we're learning and laughing at the same time. We hear the story of Durham's role in the Civil Rights Movement, the impact of bright leaf tobacco on the city, and the story of Black Wall Street – the nerve center of African American financial and business services during the late 19th and early 20th centuries.
Not only do we study Durham's history, but Brandon also fills us in on the growth the city is experiencing as we pass by construction sites, new buildings, theaters, and attractions. He even acquaints us with the dining scene – the best burger, best chicken wings, awesome ramen, cool craft beer, the ultimate BBQ – he vociferously shares his humorous opinions.
How To Tour The Bull City
So are you ready to chuckle your way through Durham? Here's what you need to know before you go.
Currently, Bull City Laughs runs its tours on Saturdays. Visit their website to check out the tour calendar and purchase tickets online. Tickets are $30 and the tours last 90- laughter-filled minutes. Tours commence at Beer Durham at 404 Hunt Street.
Beer and wine are permitted on the bus so it's possible to pick up liquid refreshments at Beer Durham for the ride. Likewise, there's a half-time break at LouElla Wine, Beer, and Beverage to replenish supplies or sit at the bar and refresh.
Bull City Laughs travels through town in a refurbished open-air school bus so come prepared for the weather. We rode the bull on a steamy hot summer evening but the breeze on the bus was delightful. 
The tour is the brainchild of five founders who were having a conversation in a barbershop one day about entrepreneurship. Their conversation turned into a journey filled with hurdles, hard work, and ultimately evolved into Durham's funniest tour.
Bull City Laughs is a Durham-based, Veteran owned business with deep ties to the community. Three of the founders are veterans and our guide Brandon, is still active in the U.S. Airforce Reserve.
Additionally, the Bull City Laughs team is involved in philanthropic efforts. They've partnered with Bonefish Grill in Durham to provide transportation to and from a Habitat for Humanity project they were working on and they're hammering out details for partnering with Meals on Wheels to deliver meals with jokes. Giving back to the community is an important part of their mission.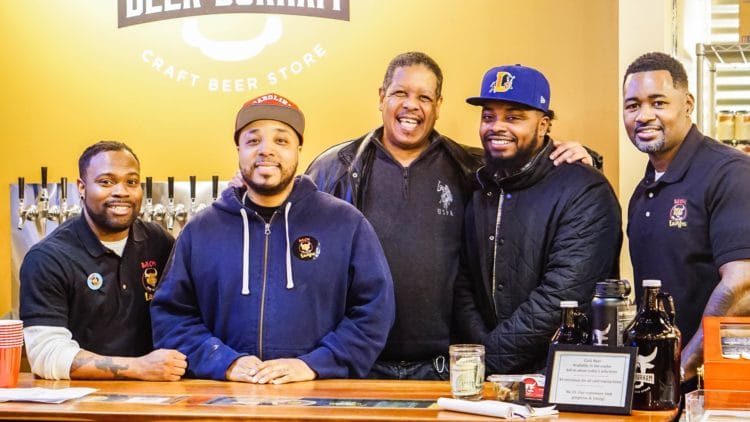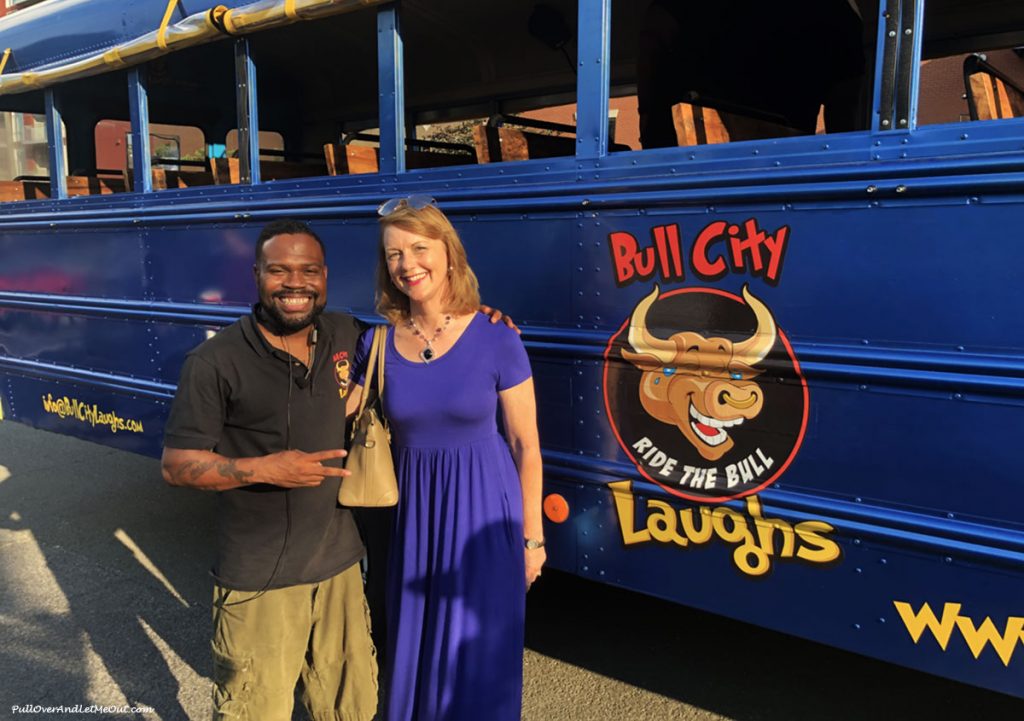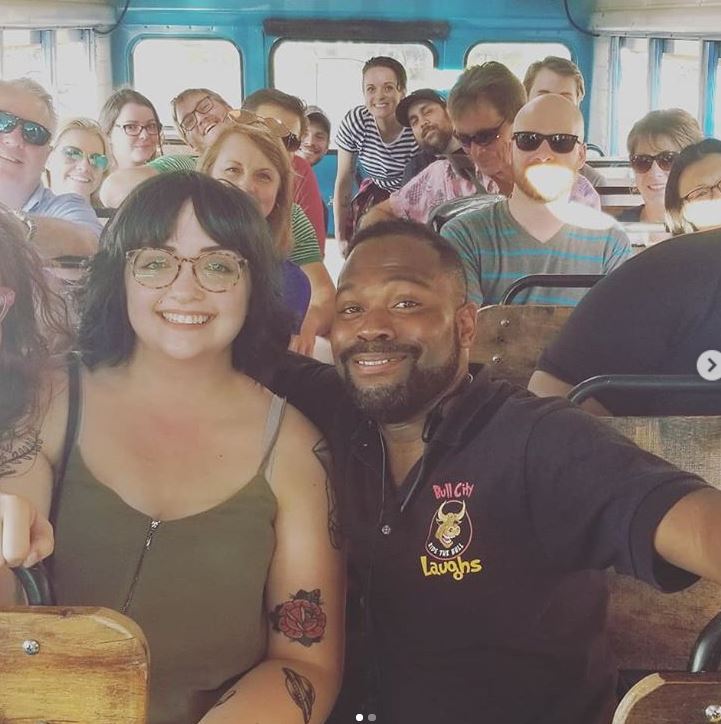 Bull City Laughs was my first comedy tour. My husband and I laughed and laughed a lot! We also learned more about Durham in 90-minutes than I had learned in the entire time I've lived in the region.
The tour is great if you're new to town or have lived in the area for years. Not to mention, it's excellent for group outings and special occasions. However, you'll want to book in advance to assure there's space for your entire group.
As I specified earlier, beer and wine are permitted onboard the bus but cannot be taken outside. Hard liquor and smoking are not permitted. Furthermore, this is a tour for grown-ups so get a sitter and enjoy an evening out.
What I especially like is the tour was funny without being political. How refreshing! I also love the way Brandon pays tribute to law enforcement officers we encountered along the way. Naturally, he does it with humor but that's all I'll say. No spoilers here!
Bull City Laughs is without a doubt, the funniest tour in town. It's packed with information, facts, and history or as their website states, you get to  "see Durham through the jokes of a comedian."
Although my tour was hosted by Bull City Laughs, all opinions are honest and my own!
HEY, PINNERS! PIN THIS FOR LATER!
You May Also Enjoy Reading This!
A Home Run VIP Experience at the Durham Bulls Athletic Park