One of my favorite things to do when visiting a city is to look for street art. You know, those beautiful statues and sculptures in parks or colorful murals adorning buildings. Each piece of art telling a story while adding to the city's unique character. On a hot Saturday, I ventured to find the finest artwork and street art murals in Durham, North Carolina.
Disclosure:
Many of the links you see on this site and within our trip planning tool are affiliate links. If you click through and make a purchase, I'll get a small commission and it won't cost you any extra. On selected stories, for those hotel and car bookings made using our TravelingToGive™ tool we contribute 2.5% of gross hotel and car sales to Paws for Purple Hearts. So, thanks in advance for helping me keep bringing you the content you enjoy and, at the same time, giving back to those who so bravely serve our country! #everytripmatters
The Bull City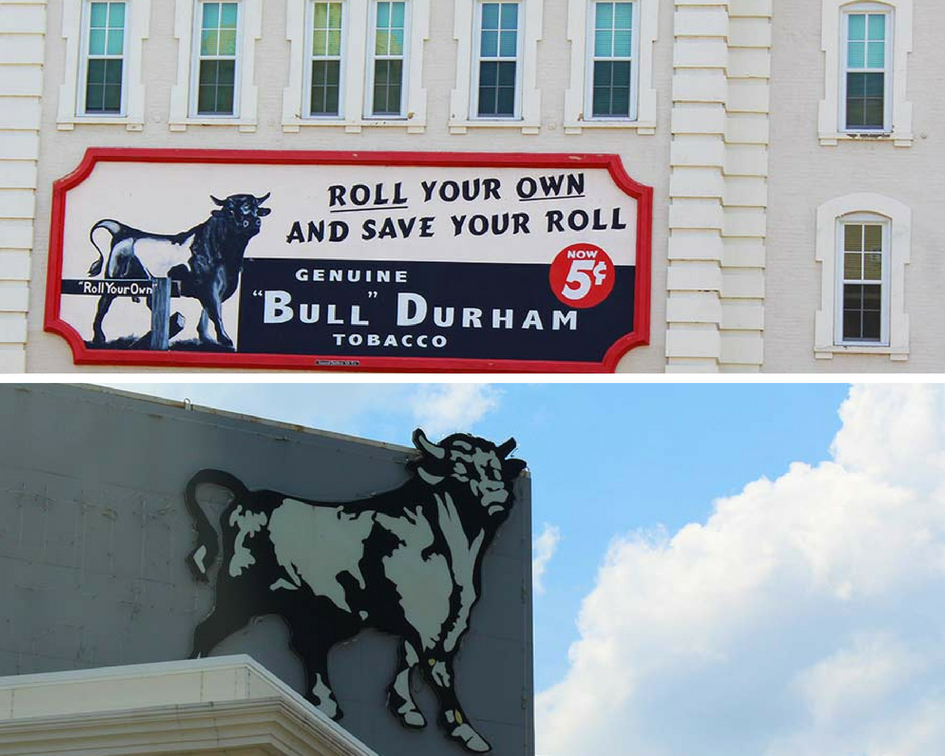 The city of Durham boasts a rich history. A huge part of that history is bright leaf tobacco. The Bull Durham Tobacco Company, the first national tobacco company, was based in Durham. The company was reportedly the largest tobacco company in the world at one time thanks in large part to phenomenal advertising and marketing. Today, the city retains its tobacco-related nickname and the trademark advertising can be found throughout the Bull City.
Beautiful Murals In Durham
Durham has a flourishing artistic community. With its renown universities, multiple entertainment venues, and the Durham Association for Downtown Arts, the city places emphasis on art and supporting local artists. Thus, the magnificent murals in the thriving downtown is a natural extension of the creative culture imbuing the city.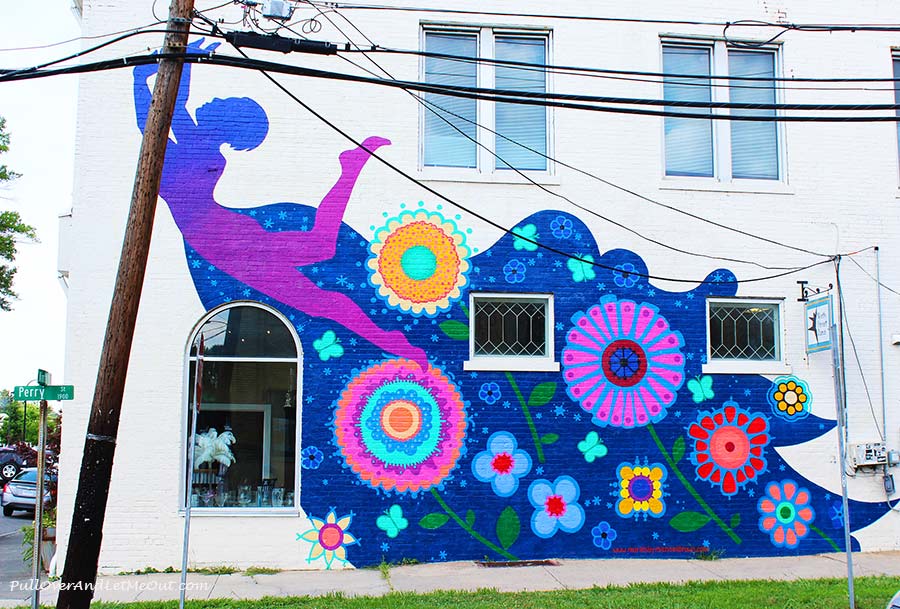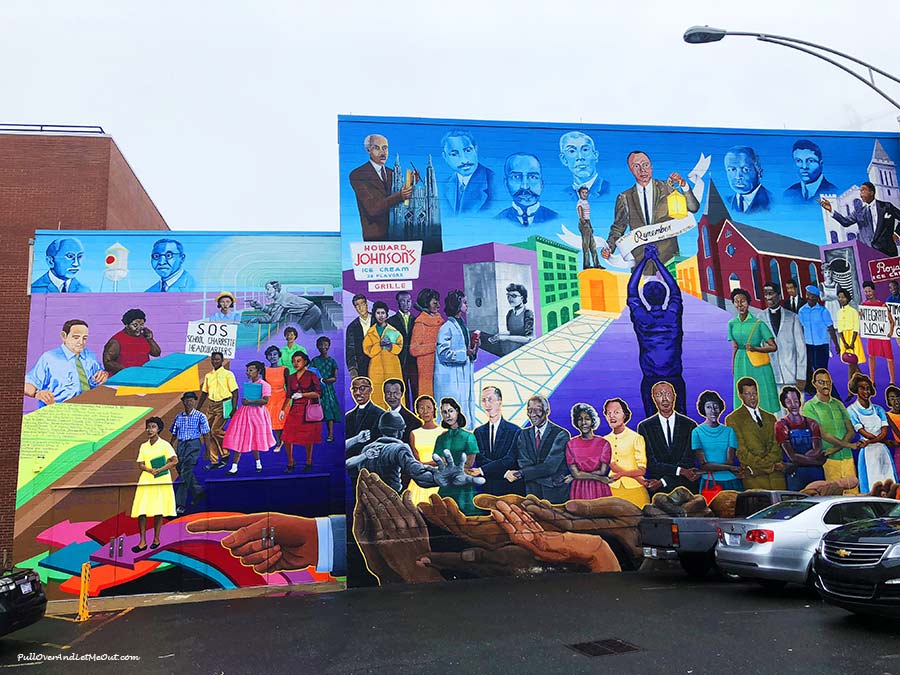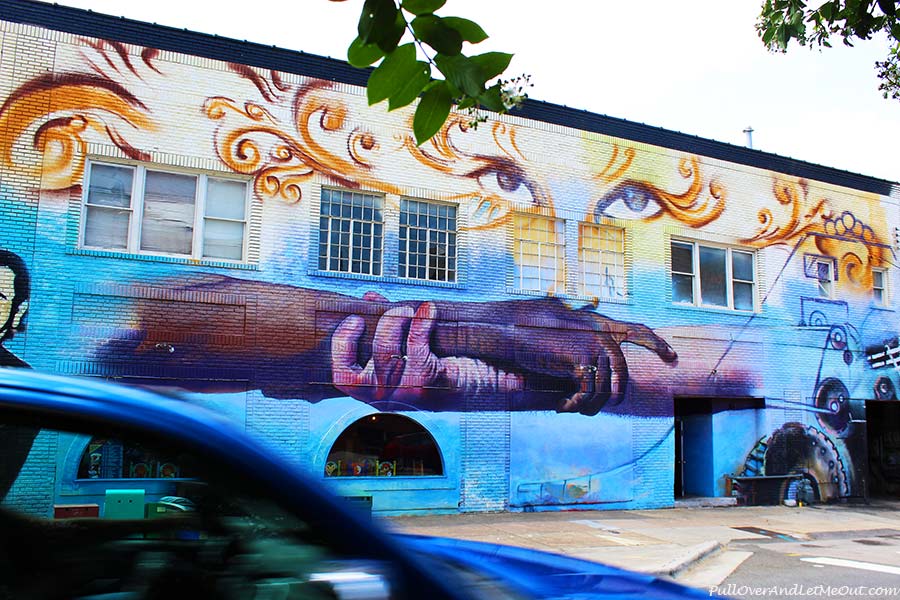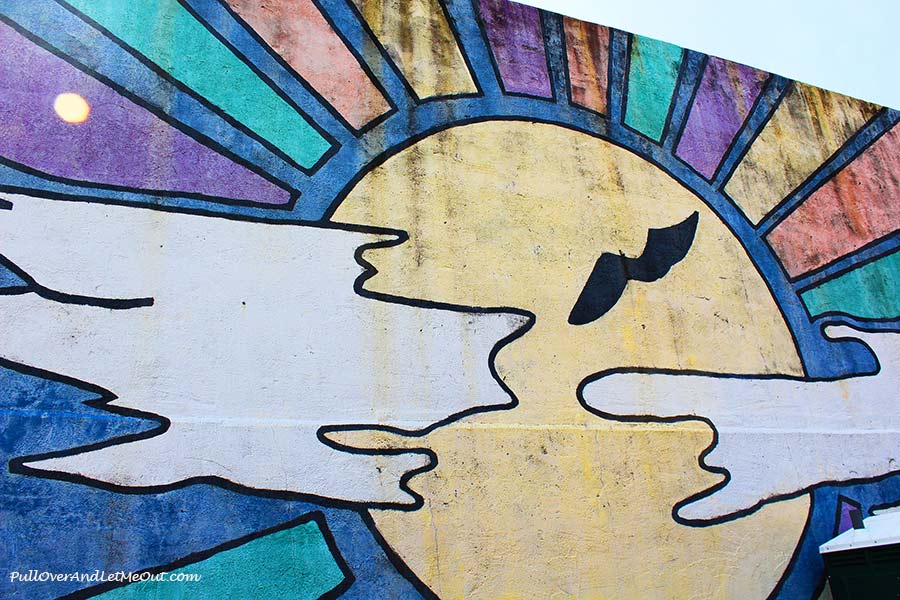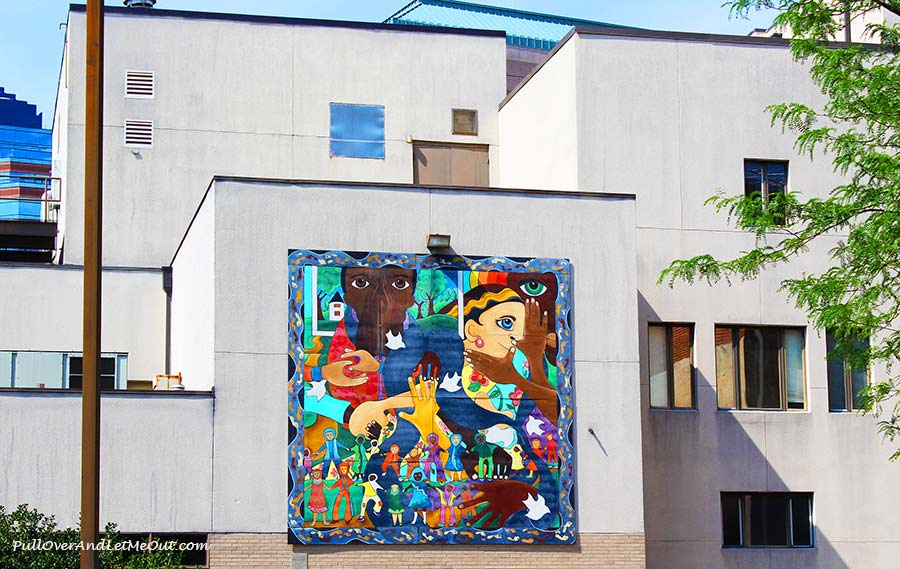 Ghost Signs
A city with a legacy of successful marketing and advertising campaigns, Durham's older buildings continue recounting tales of days gone by through its ghost signs. Ghost signs are those wonderful old-fashioned hand-painted advertisements that are preserved on the sides of buildings. These fading memories pay homage to the past while maintaining Durham's charm and character. They're also fun to look for.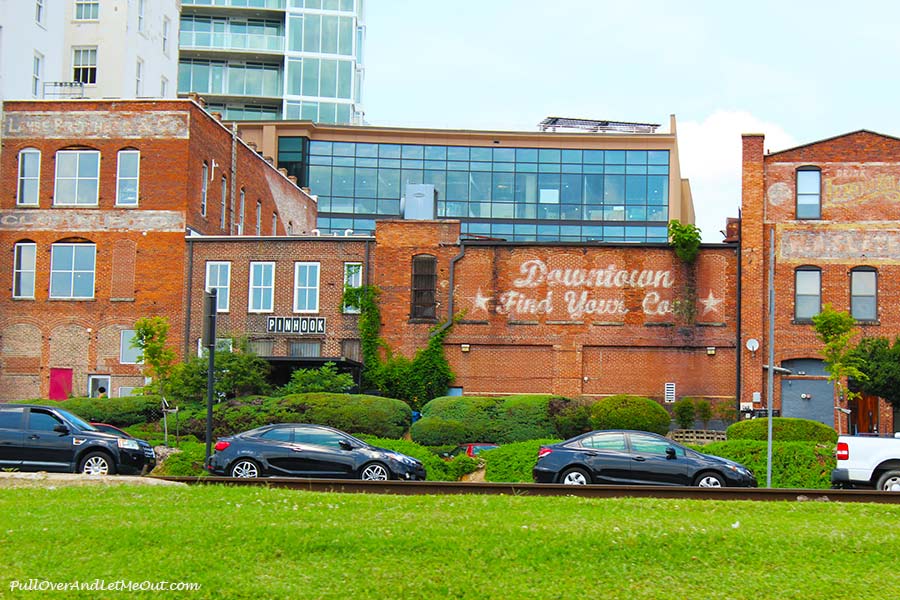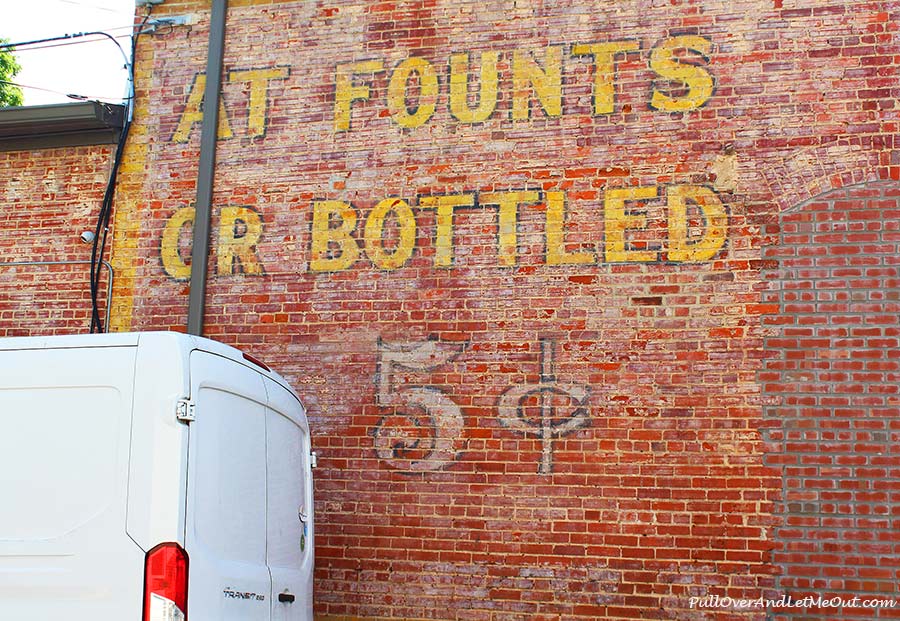 Street Art Statues and Sculpture
Street art comes in countless forms including statues and sculptures. From a friendly turtle in Durham's Central Park to Major the Bull, to Pursuit of Happiness standing outside the Durham Convention Center, the streets of Durham are dotted with unique and interesting pieces of art each sculpted with purpose and telling a different story.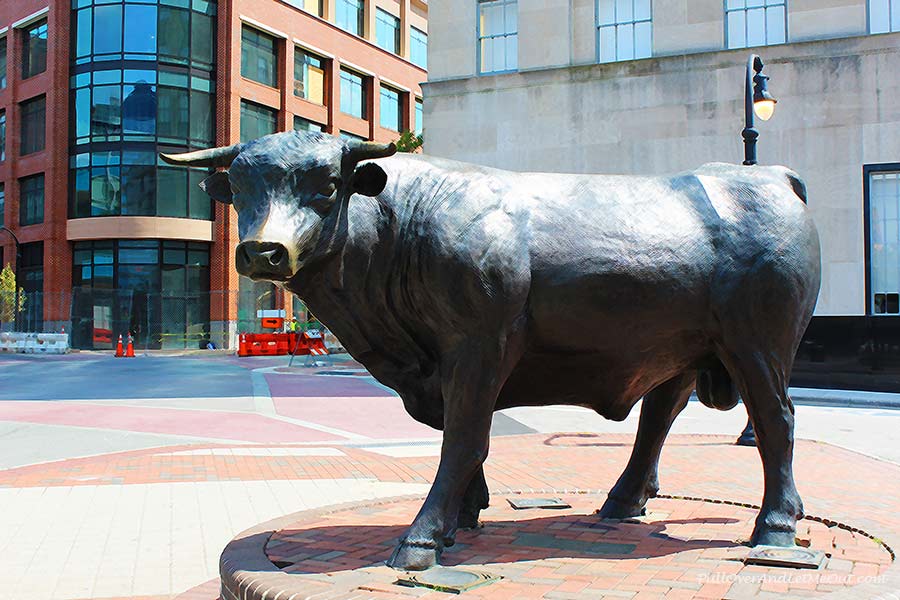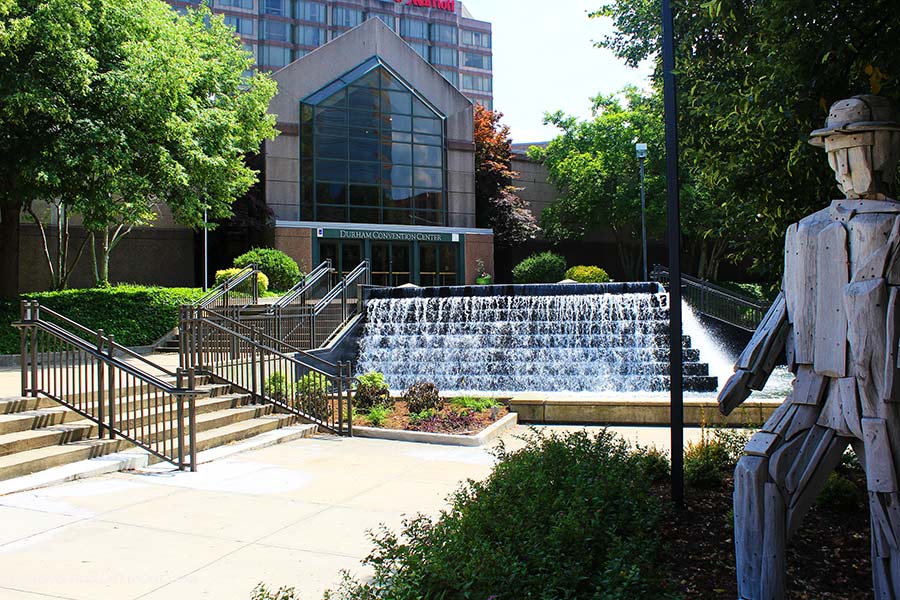 Durham's Artistic Architecture
While searching for street art, one must not overlook the city's architecture. Several of the city's old tobacco buildings have been repurposed and are now toney boutiques, modern-day dwellings, offices, or restaurants. Durham's downtown historic district is teeming with striking architecture as well. Styles such as Art Deco, Neo-Classical, and Italianate are represented. Moreover, many buildings were designed by some of the biggest names in architecture including, Bertrand E. Taylor, Edward F. Sibbert, and Shreve, Lamb, and Harmon.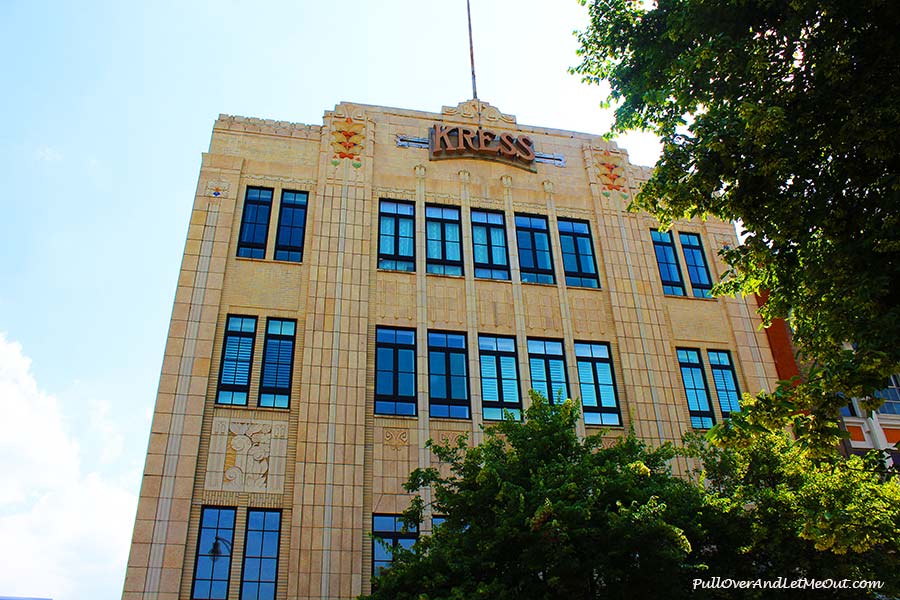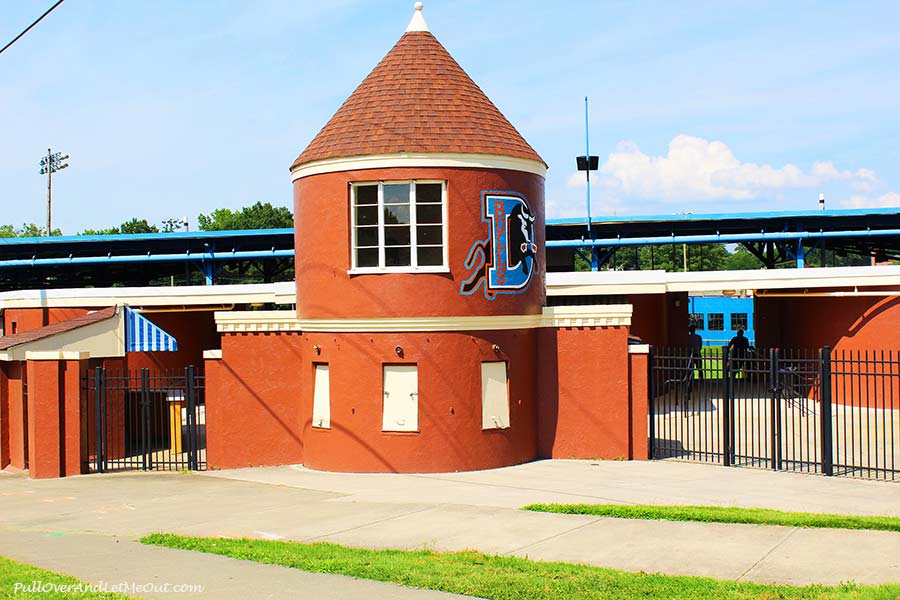 Beautiful Business
Business is booming in Durham, North Carolina and the businesses are joining in the city's artistic expression. Countless Bull City offices, shops, and restaurants have added artistic touches to their surroundings. Traveling through the city it's fun seeking out these colorful locations and their vibrant contributions to the landscape.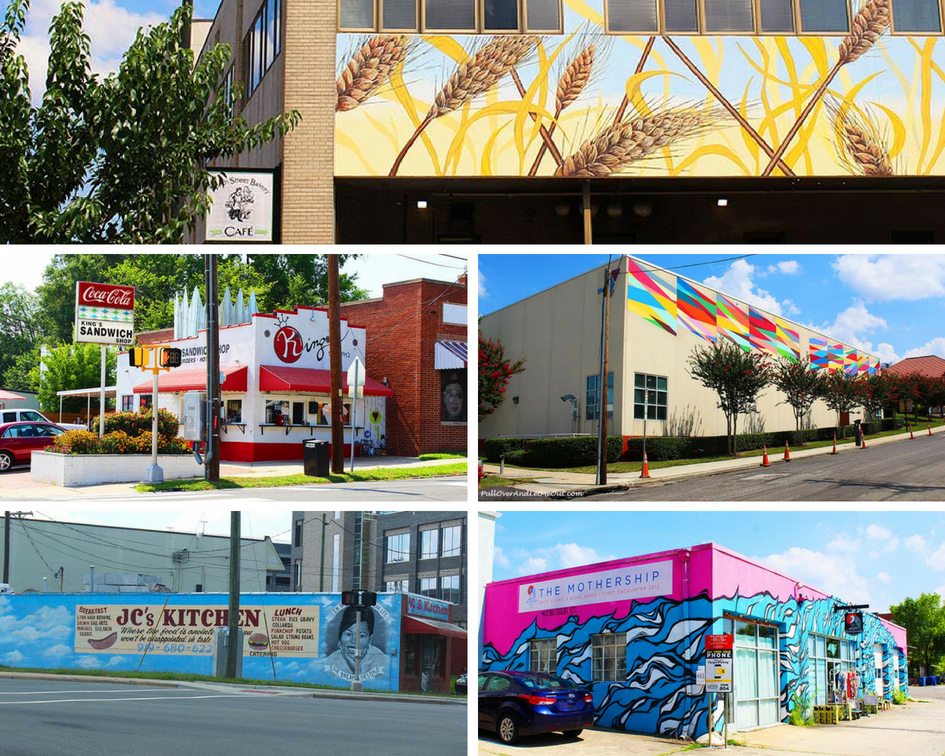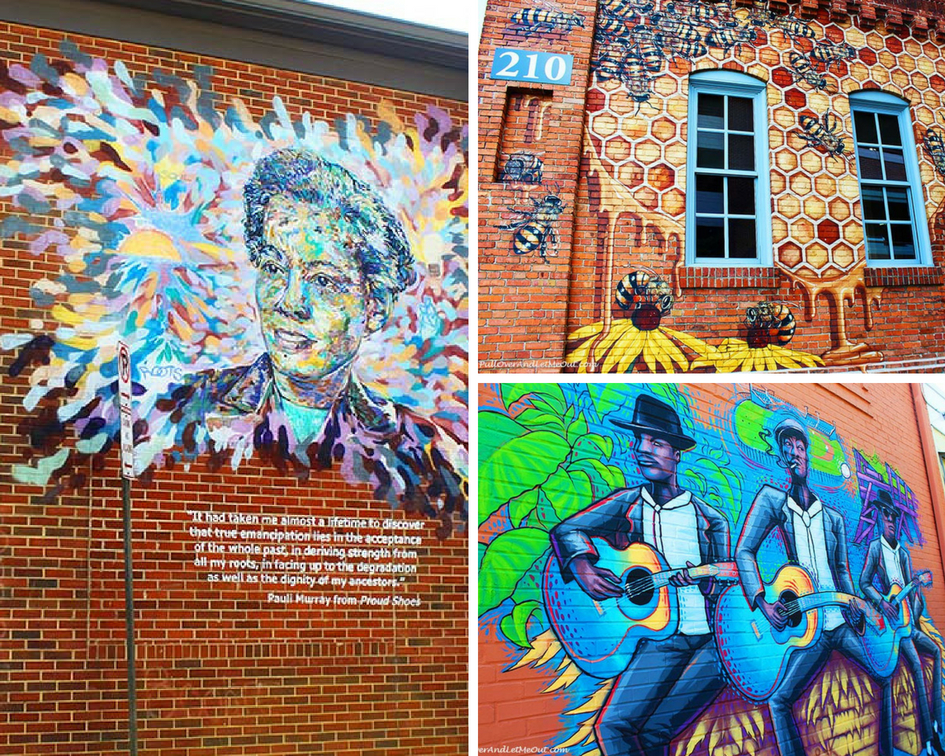 How Best To Experience Street Art Murals In Durham
I discovered it's best to start searching for street art at the Durham Visitors Bureau which is conveniently located on Main Street in the heart of downtown. If you're new to the area, there are a handful of hotels nearby that make terrific hubs for your artistic exploration. Additionally, there are bikes to borrow should you prefer pedaling through the Bull City.
Furthermore, there's a helpful website called Mural Durham dedicated to cataloging murals in the city. The site has an extensive list of artworks and their locations. In addition to providing maps, the site also features a bike tour available online.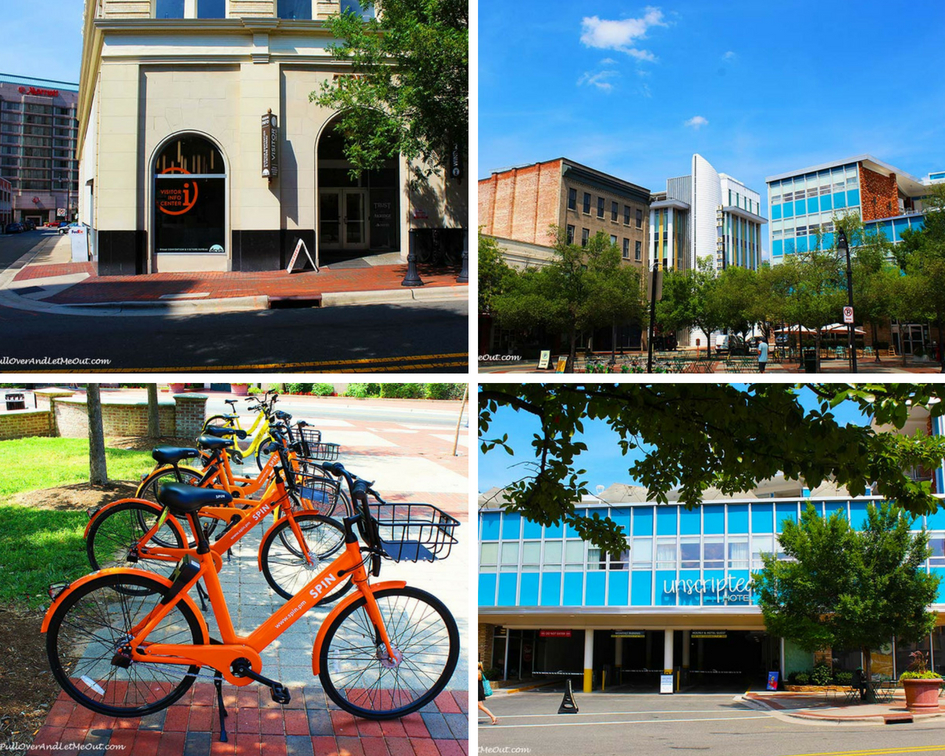 Still More To See!
Having spent the day in search of Durham's finest street art, we worked up a hunger and a slight thirst. Therefore, we concluded our tour at Bull McCabe's Irish Pub with a lovely late lunch/early dinner. Although we covered a lot of ground, we departed knowing there's still more street art murals in Durham to be found and enjoyed. This charming city in the heart of North Carolina is an artistic destination filled with opportunities to say, Pull Over And Let Me Out!
How does it work?
The SmartTrip™ tool allows you to plan your trip to this specific place.

Just select I'M STAYING and enter your travel dates and hit SEARCH.

Want to change the destination? Just click the pencil.

Then choose from the available hotels nearby that place (closest to farthest away). We guarantee the lowest published rates online.

If you are driving, click on the Im Driving tab and you can get the driving time from your starting location and driving directions. You can also rent a car if desired.
Hey pinners, save this for pinning after your trip
After you get back from your trip, please use these images to post to social media or post your own photos.  Please tag us on your post #pulloverandletmeout
You can also use the social sharing links on the SmartTrip tool.