Have you ever seen a Ponysaurus? 
These mythical creatures hadn't been seen in ages. That is until Ponysaurus Brewing appeared on the landscape in Durham, North Carolina.
Today, the fabled beings are thriving and garnering attention in the flourishing North Carolina craft beer scene. Ponysaurus Brewing is a fun, popular, hip gathering place where folks congregate to enjoy good beer, conversation, and community. I took a tour of the brewery and not only did I learn the legend of the Ponysaurus, but I also received an education in the art of brewing.
Disclosure:
Many of the links you see on this site and within our trip planning tool are affiliate links. If you click through and make a purchase, I'll get a small commission and it won't cost you any extra. On selected stories, for those hotel and car bookings made using our TravelingToGive™ tool we contribute 2.5% of gross hotel and car sales to Paws for Purple Hearts. So, thanks in advance for helping me keep bringing you the content you enjoy and, at the same time, giving back to those who so bravely serve our country! #everytripmatters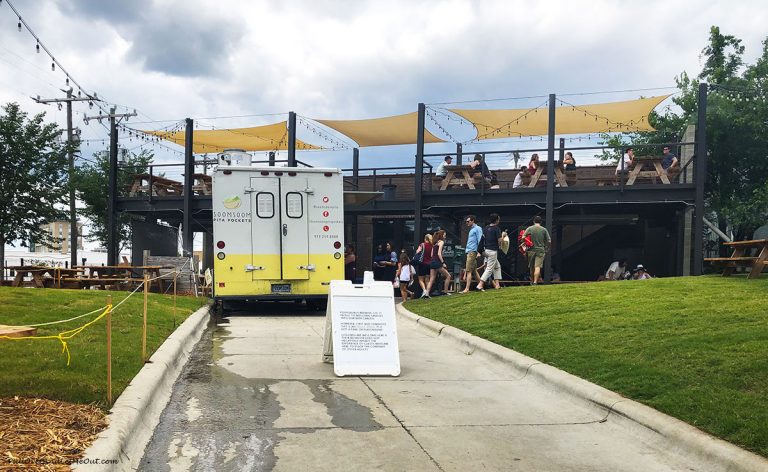 Ponysaurus Brewing in Durham, North Carolina
It's a cloudy summer day and folks are gathering outside in the beer garden for beer and the tasty Mediterranean fare provided by the food truck, Soom Soom Pita Pockets. The crowd is a mixture of people and pets which as a pug mom brings a smile to my face. On the roof, people sip and chat in the open air seating area. There's a laid back vibe to my arrival at Ponysaurus Brewing with an overall atmosphere that says, "join us!" 
I'm here for a special tour hosted by the folks at Discover Durham. I head inside to meet my tour. The spacious taproom is alive with friendly faces and busy employees pouring beer. The décor features tall tables, black stools, cement floor, and an outstanding wooden bar in front of an impressive beer tap.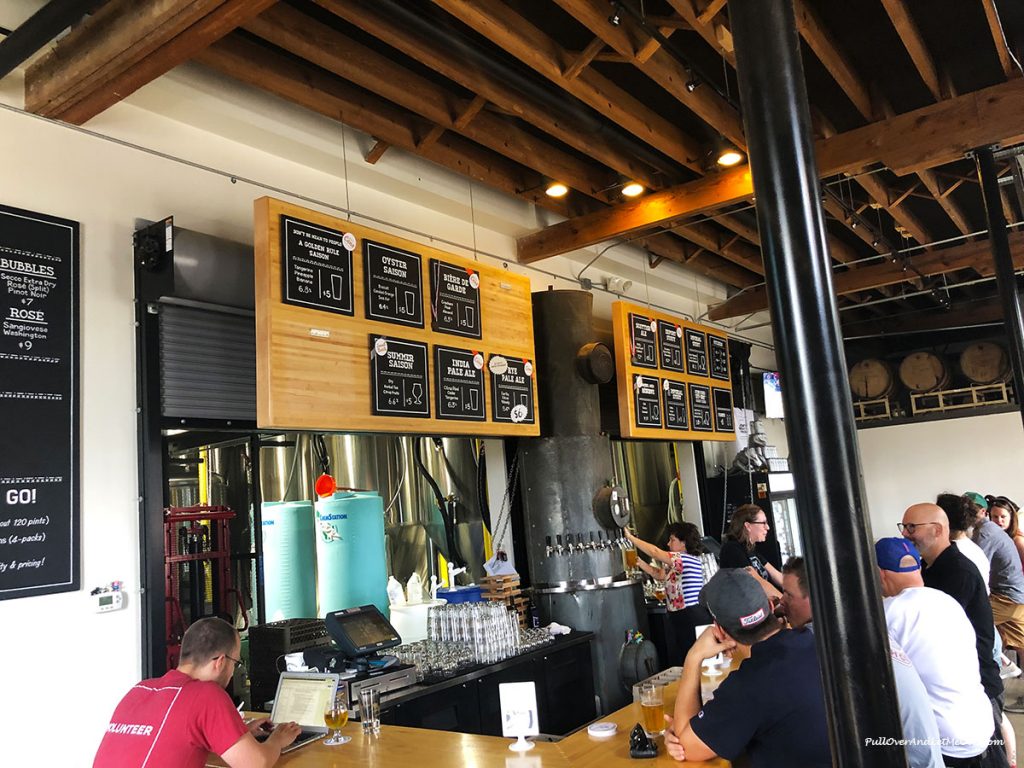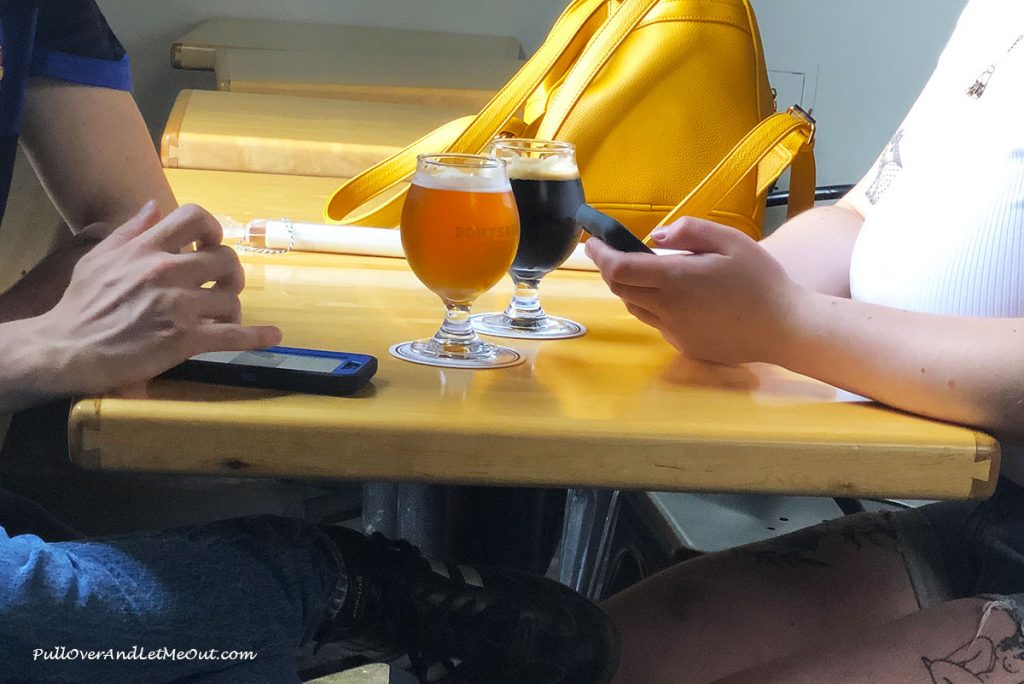 Our happy group gathers in the taproom where we meet our guide, Margot. It's here we file behind the bar and taps to commence our beer education.
I've been on brewery tours before, but this is by far the most educational and informative yet. Margot is a walking encyclopedia of beer brewing knowledge which makes our time with her all the more fascinating.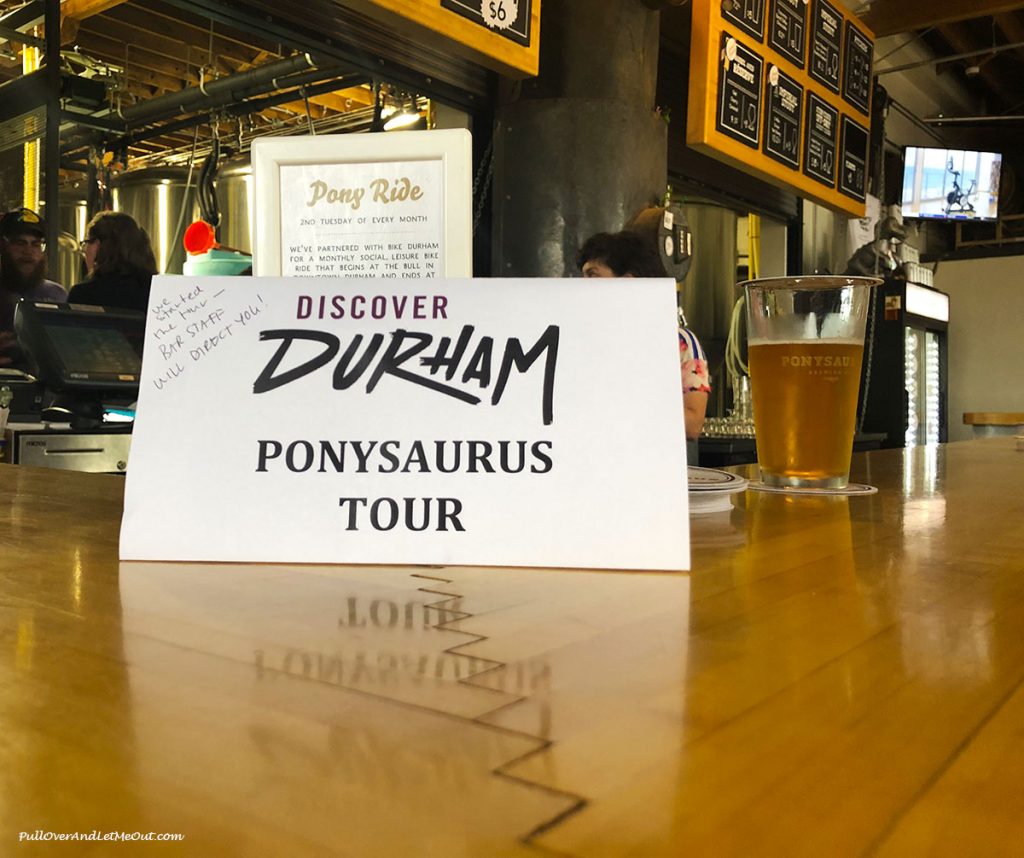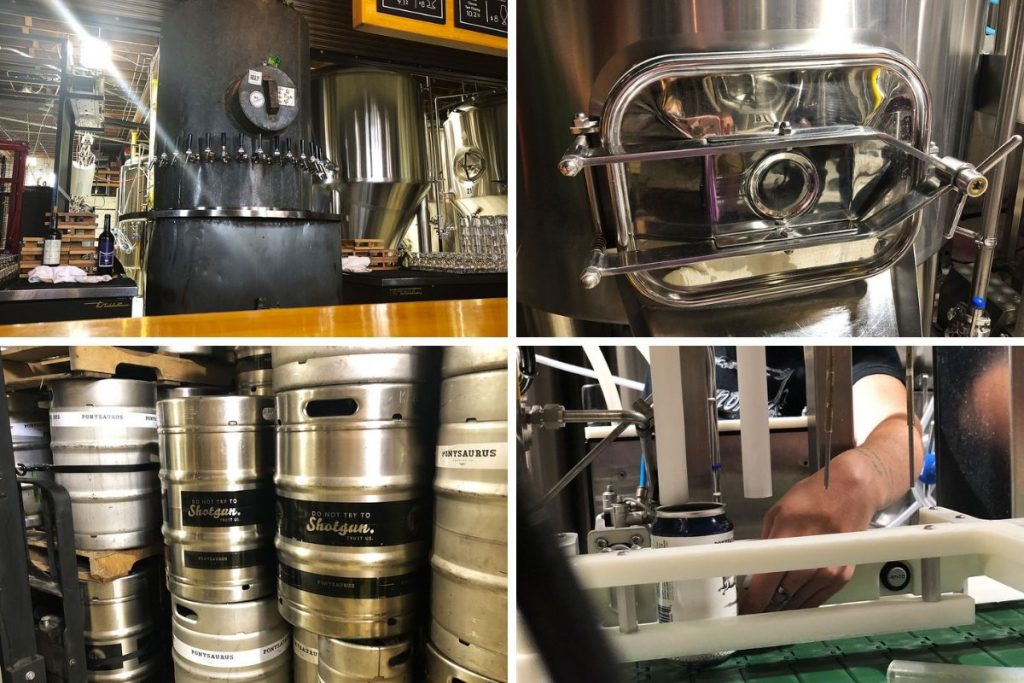 Margot gets into the nitty-gritty of beer. We learn the science behind brewing. We get to see, smell, and taste the key ingredients. The barley has a sweet taste and when roasted, its flavor is similar to coffee. And we're warned, whatever you do, don't eat the hops!
She leads us into the cold room where she explains how the beer is chilled and shows us the daisy chain system of keeping the cool brew flowing into the taproom. Additionally, we learn different types of beer. We find out what makes a brew an ale, a lager, or a stout. She explains terms such as  IPA which stands for India Pale Ale. We also learn the interesting story behind this popular beer's origins.
My inner geek surfaces on this tour because Margot knows so much about beer's history. In fact, beer's past dates back thousands of years. I'd love to sit and chat with her one day over a cool pilsner to learn more!
Best of all, while we're learning about beer, we're sampling, too. Ponysaurus beers in several styles complement the tour and whet the whistle. Scottish Ale, Biere de Garde, IPA, Witbier, and a Golden Rule Saison called "Don't Be Mean To People" all provide a tasty example of this local brewery's popular beverages.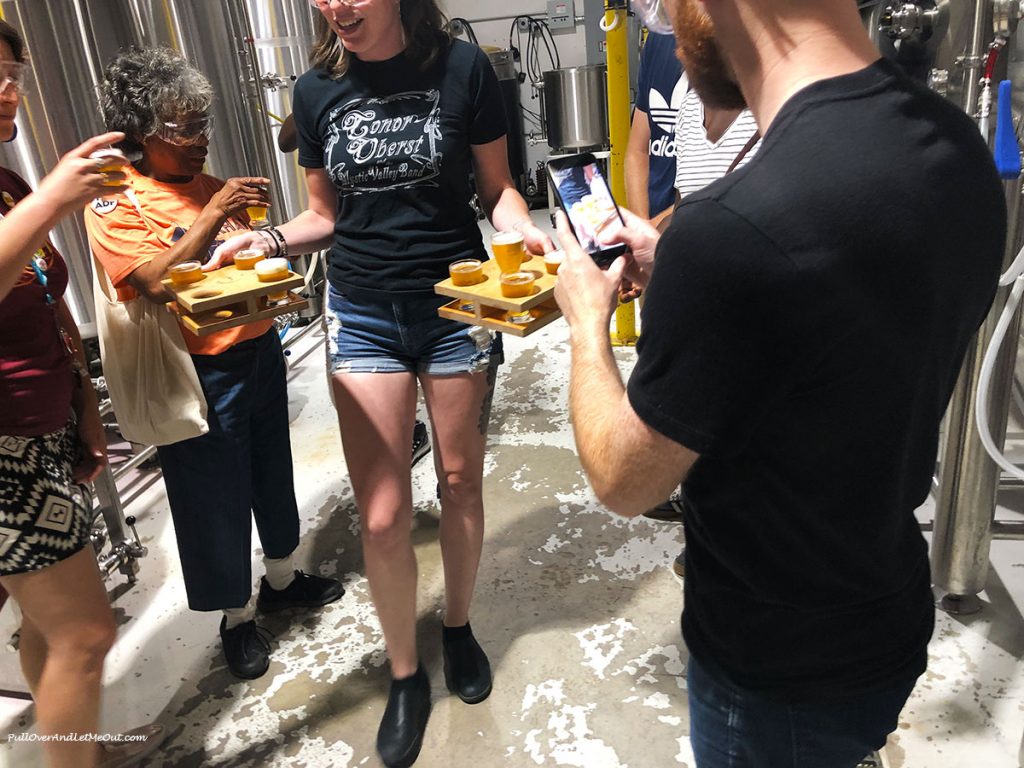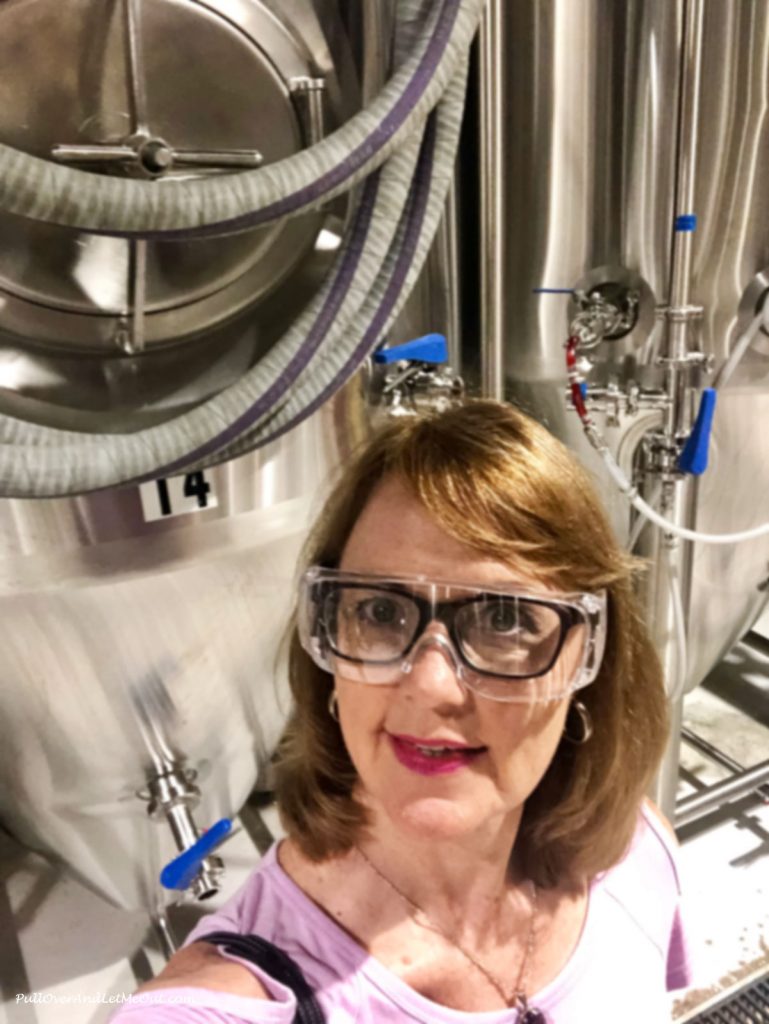 The tour is a great introduction to craft brewing, the brewery, and its beers. However, Ponysaurus is more than a place to drink. It's a social hub of the community. In addition to beer, there's a rotating lineup of food trucks serving a variety of cuisines in the beer garden. We enjoyed a delicious spread of appetizers from Soom Soom after the tour. Plus, there are grills in the beer garden available to rent along with a grill menu. Call ahead, reserve your meal and grill then enjoy the pleasure of cooking with a beer in hand. 
Even more fun; they have a summer movie series and you can purchase cases and cans of their staple offerings for take-away. They also offer keg rental. 
Ponysaurus Brewing is located at the corner of Ramseur Street and Fayetteville Street in downtown east Durham. The taproom is open 7 days a week and there's street parking available. That being said, I noted several people walking or cycling to the brewery which adds to the relaxed, come-as-you-are mood.
Visiting Durham from out of town? Ponysaurus is a great spot to add to the itinerary and tap into Durham's craft brew scene. Furthermore, it's within a short distance of several nearby hotels and other popular downtown attractions making it perfect for unwinding after a day of touring the Bull City. 
If you're interested in taking the tour, which I recommend, brewery tours are at 1:00 pm on Saturdays and cost $10. Reservations for the tour are suggested.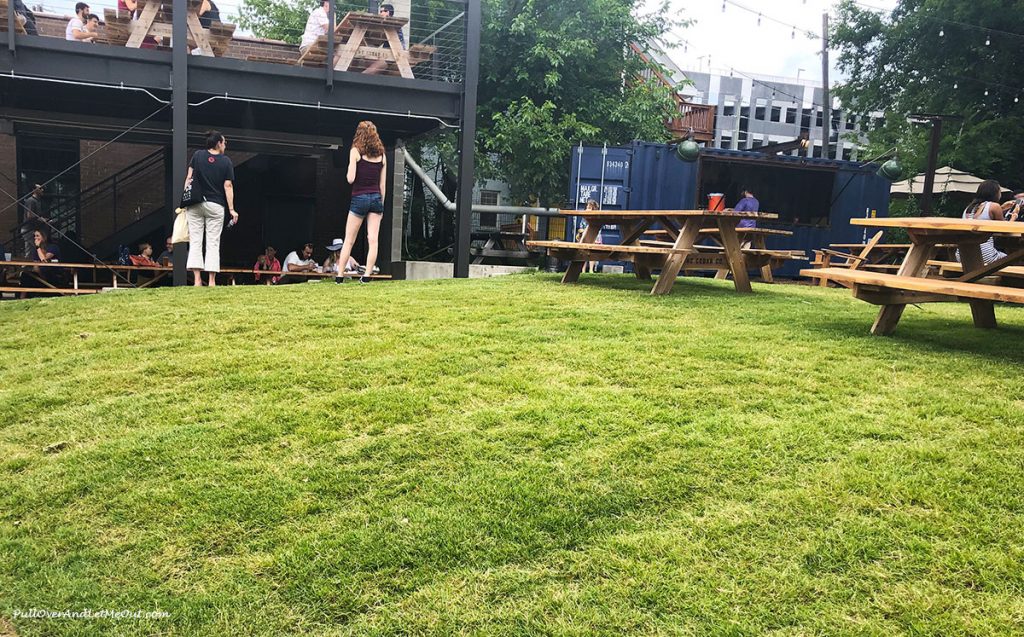 Still wondering what is a Ponysaurus?
Simple. One of the founders was a school teacher and as Margot explained, he put it to his students to come up with an animal he could easily draw. It was a tie between a pony and a dinosaur.
The rest is history. Beer history!
Ponysaurus Brewing Co.
219 Hood Street
Durham, NC  27701
844-3MY-PONY
Although my visit was hosted by Discover Durham, all opinions are honest and my own.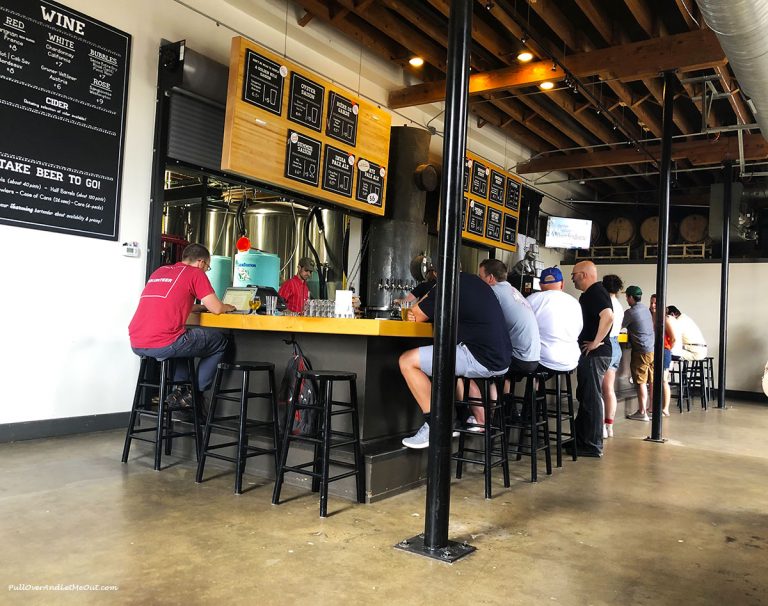 Hey Pinners! Pin This For Later!
You May Also Enjoy Reading This!
Finding Street Art Murals In Durham, North Carolina