North Topsail Beach is nestled in the Stump Sound Township of North Carolina's Onslow County. Incorporated in 1990, the town draws its name from its location at the northernmost tip of Topsail Island. With its sandy windswept Atlantic beaches, scenery, and natural beauty this peaceful community draws visitors year-round. For beach-goers in search of a cool weather escape, N. Topsail Beach, North Carolina, is the ultimate off-season beach getaway.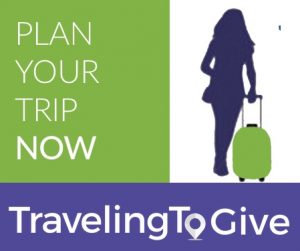 Disclosure:
Many of the links you see on this site and within our trip planning tool are affiliate links. If you click through and make a purchase, I'll get a small commission and it won't cost you any extra. On selected stories, for those hotel and car bookings made using our TravelingToGive™ tool we contribute 2.5% of gross hotel and car sales to Paws for Purple Hearts. So, thanks in advance for helping me keep bringing you the content you enjoy and, at the same time, giving back to those who so bravely serve our country! #everytripmatters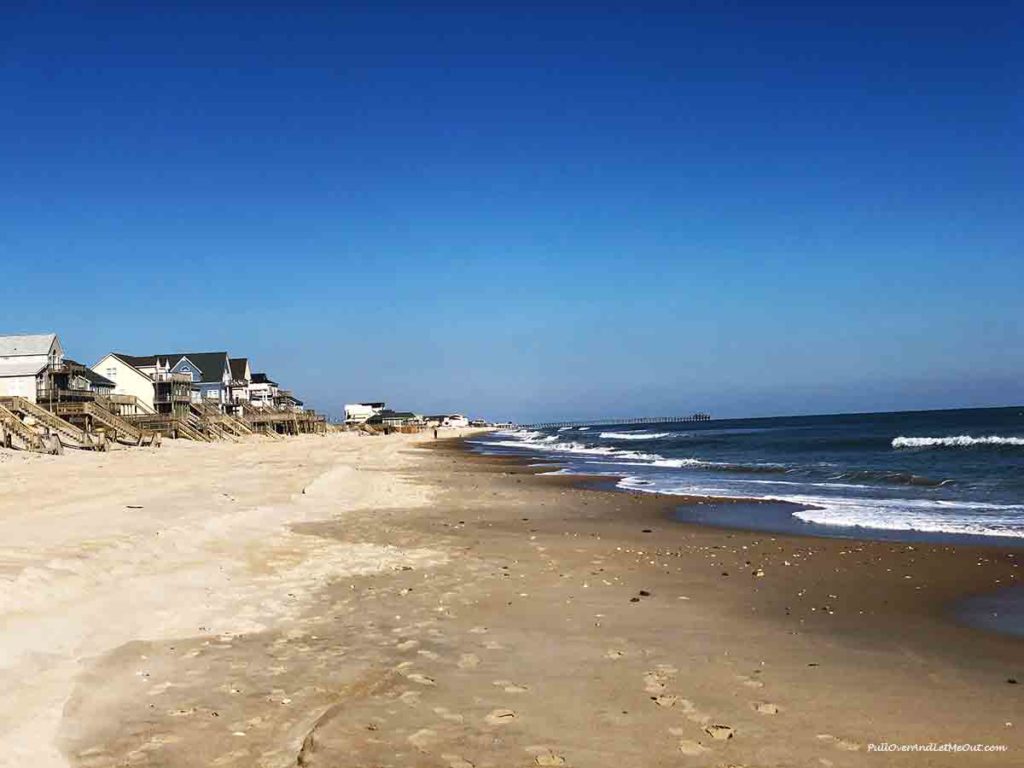 The entire point of our short trip to the North Carolina coast was an escape. A weekend getaway. We've been cooped up inside the house for far too long and quite honestly, I was getting a bit squirrelly.
Knowing we needed to take a break from the monotony, the question was where should we go?
I selected North Topsail Beach.
I'm one of those rare birds that are attracted to the beach in the winter. Throw in the fact I received new hiking shoes for Christmas paired with the first sunny weekend in over a month, and the perfect scenario arose for an off-season beach getaway weekend. 
Having a somewhat active social media life, I'd learned via Instagram of a new hotel that opened about a year ago, located just over the bridge from N. Topsail Beach and I wanted to check it out. (More on that in a minute)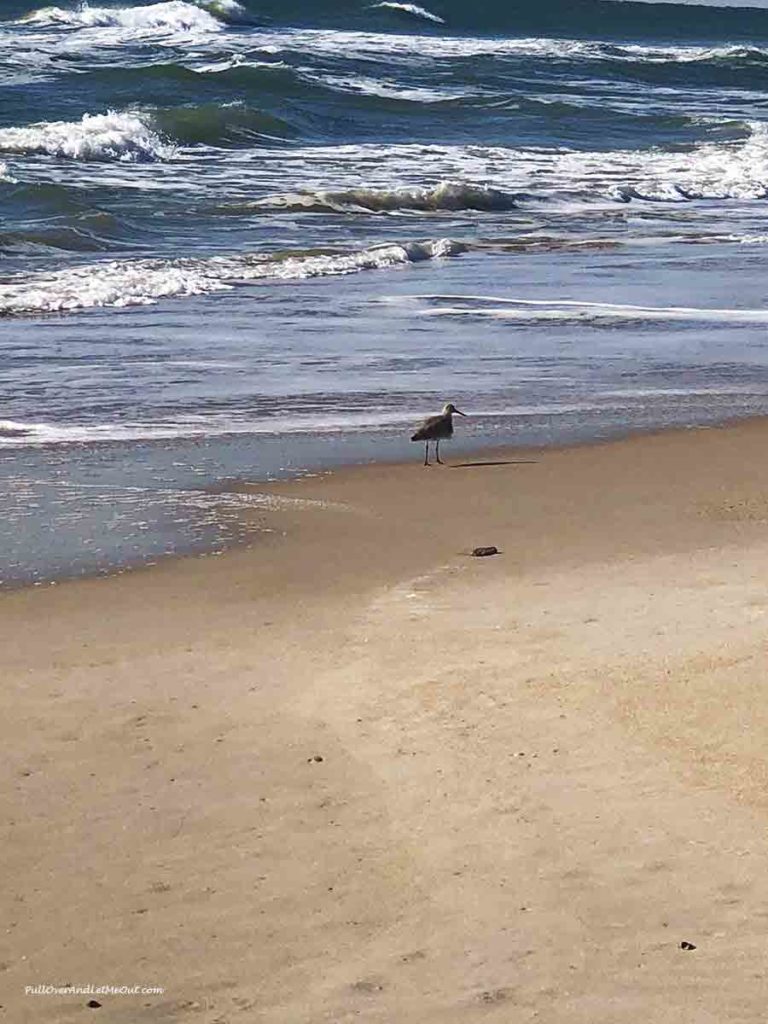 Things to do at N. Topsail Beach
Part of the joy of visiting the beach during the off-season is that you've virtually got the place to yourself. This opens the door to a myriad of things to do without crowds of people getting in your way.
We were particularly interested in walking the beach. N. Topsail lends itself nicely to this favorite pastime, especially during the winter months. The sand's texture is ideal for walking long distances and there's just the right amount of shells dotting the beach keeping the scenery on the ground interesting. Not to mention, the tide gently rolling in and out creating a romantic ambiance while still affording ample space for beachcombers. 
Adding to the pleasure of our invigorating walk is the star of the show –  the Atlantic Ocean. Watching the waves tumble, spying a fishing boat in the distance, and spotting a couple of playful dolphins swimming close to the shore are highlights of an off-season stroll at N. Topsail. There were others walking the beach along with a few people fishing, and dogs playing on the sand with their owners. It felt a little like being in on a secret. I like to think of it as the Secret Society of Winter Beach Strollers. 🙂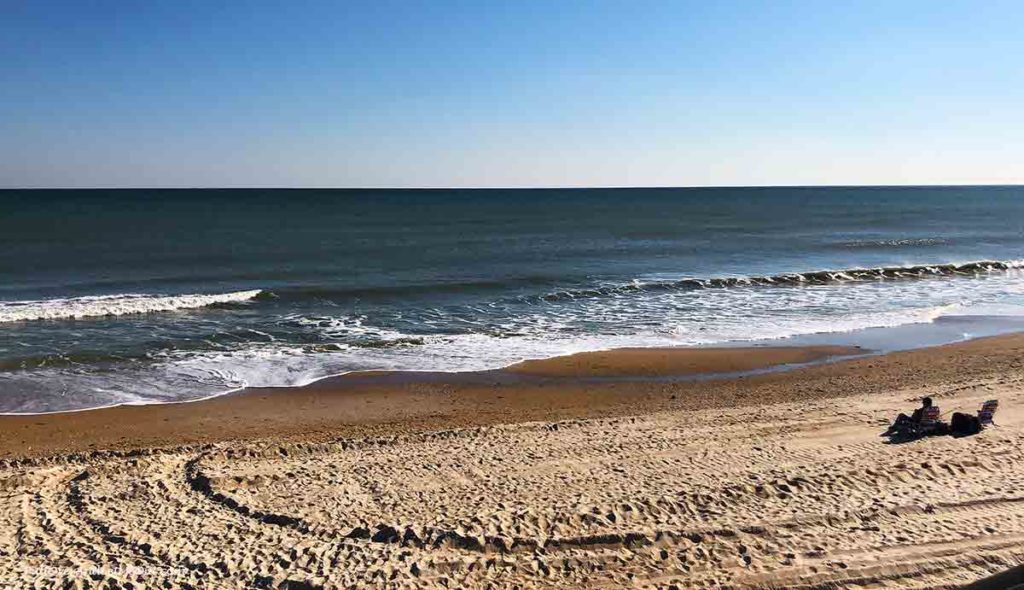 More off-season beach options
Apart from walking, there's more to do in the off-season than just strolling the beach. North Topsail Beach is a part of the Greater Topsail Area Chamber of Commerce and Tourism and presents an array of off-season activities for visitors to select from. 
In addition to the beach, fishing piers, and outdoor activities, guests to the area which includes nearby Surf City and Topsail Beach, can visit the many shops, galleries, restaurants, and boutiques. Plenty of the area businesses remain open with modified hours in the off-season. Likewise, there are several golf courses and a 4X4 driving area on the northern portion of the island. 
Another of the many things that make Topsail Island special is its affinity to sea turtles. The island is one of the most northern nesting sites in the world where loggerhead turtles come every year to lay their eggs.
That makes the island an instant success among sea turtle enthusiasts of all ages, along with the only sea turtle hospital in North Carolina, The Karen Beasley Sea Turtle Rescue and Rehabilitation Center.
Located south of N. Topsail in Surf City, the rehabilitation center is dedicated to "conservation and protection of all species of marine turtles both in the water and on the beach." It's also an amazing and educational attraction. (Currently, it's closed to visitors due to COVID-19 but online donations and turtle adoptions are welcomed)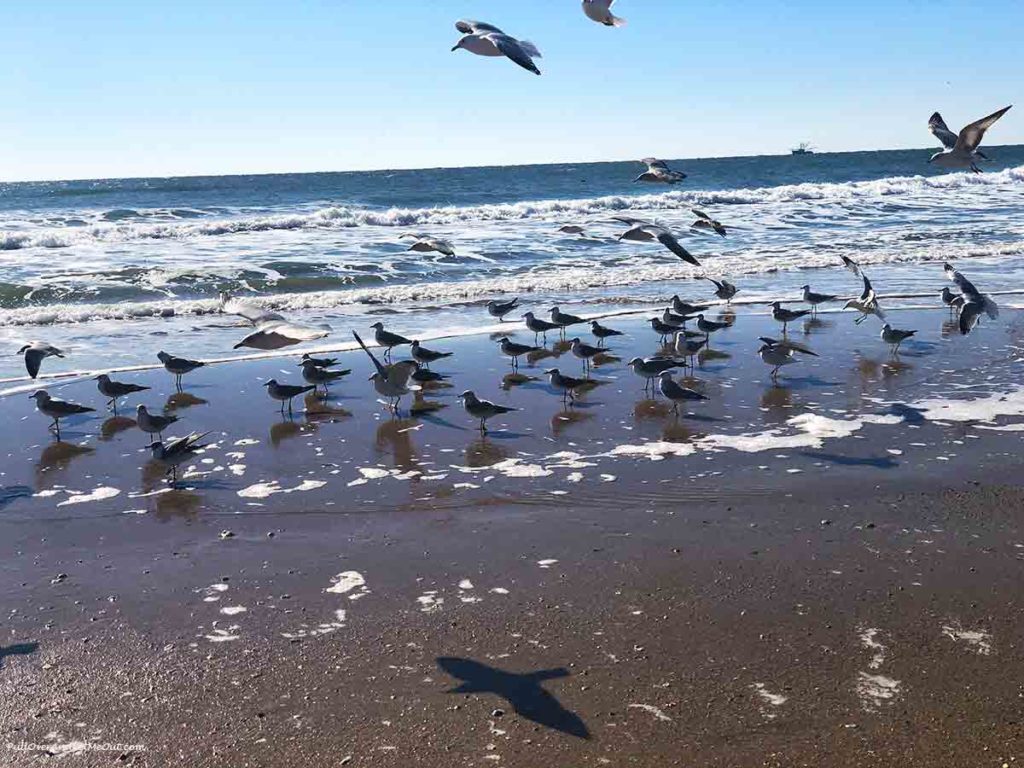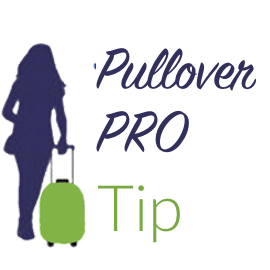 "To collect revenue to pay for regular beach maintenance and nourishment, the Town of North Topsail Beach will implement paid parking at all town-controlled parking areas beginning March 1, 2021."  ~ Town of North Topsail Beach
Where to stay at N. Topsail Beach
Topsail Island, N.C., including North Topsail Beach, Surf City, and Topsail Beach, offers a nice range of accommodation options, whether you choose to stay for a night, a weekend, or a week. From quaint seaside motels and campgrounds to bed and breakfast inns and oceanfront vacation rentals, the area features plenty of choices for an enjoyable Atlantic Ocean stay.
Now, back to the hotel, I learned about it on Instagram –  The Hampton Inn in Sneads Ferry, North Carolina. I stumbled across their Instagram feed and was so impressed with their IG game that when I decided to plan an off-season beach getaway, they were my first choice.
The room was immaculate, the bed super comfy, and the chair in the room was the coziest I've ever encountered. I don't like to think of myself as being selfish, but I monopolized that spot while we were in the room. 
Also, being a Hampton Inn, the free breakfast, friendly service, and reliability of the brand enhanced our stay, and since it's just a 10-minute drive from the beach it was perfect for our needs.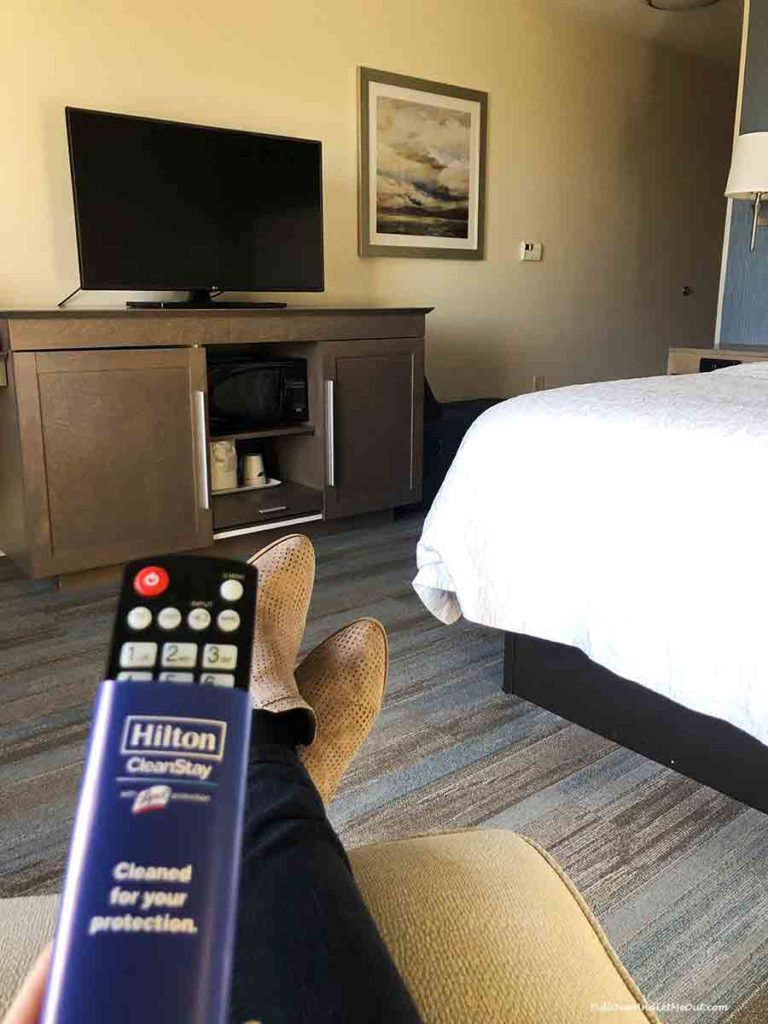 N. Topsail Beach is only 25-miles from Jacksonville, North Carolina, home to the U.S. Marine base, Camp Lejeune. We decided to include a short detour to Jacksonville on day two of our getaway weekend and I'm glad we did.
Although we were only in Jacksonville a short while, we visited the Lejeune Memorial Gardens. Included in the gardens are the Beirut Memorial, the Onslow Vietnam Veterans Memorial, the Montford Point Marine Memorial, and the 9/11 Memorial Beam from the World Trade Center.
Lejeune Memorial Gardens is located at Montford Landing Road and Lejeune Boulevard, just as you're entering the city of Jacksonville. This is a moving tribute and a highlight of our time in this historic military town.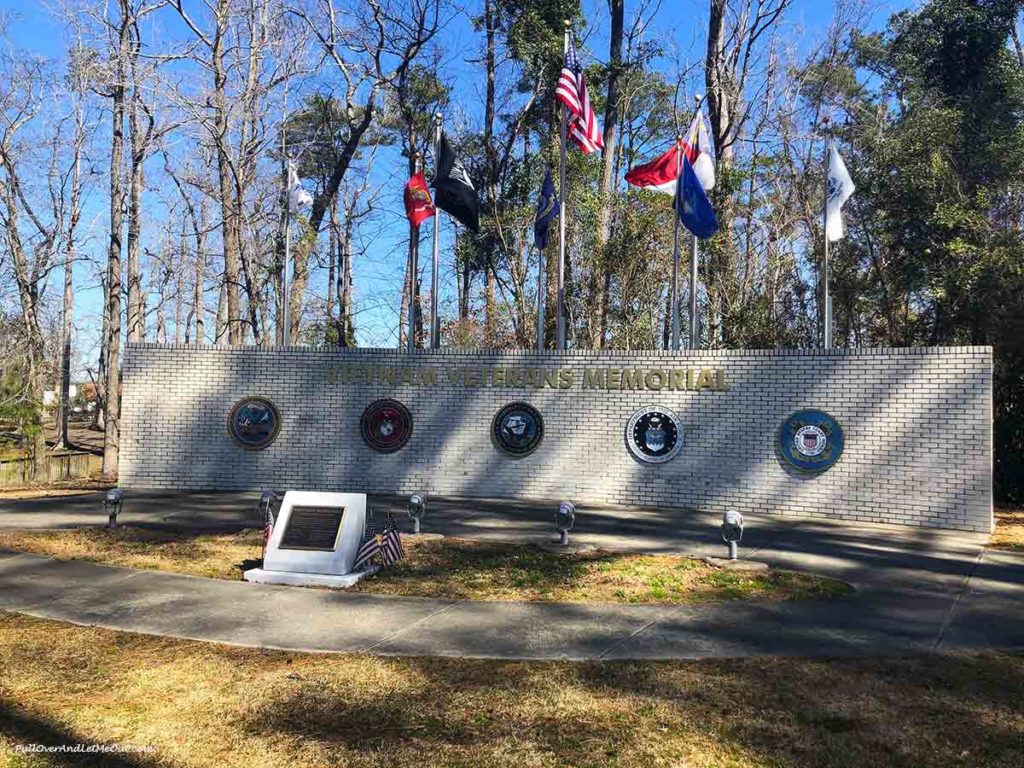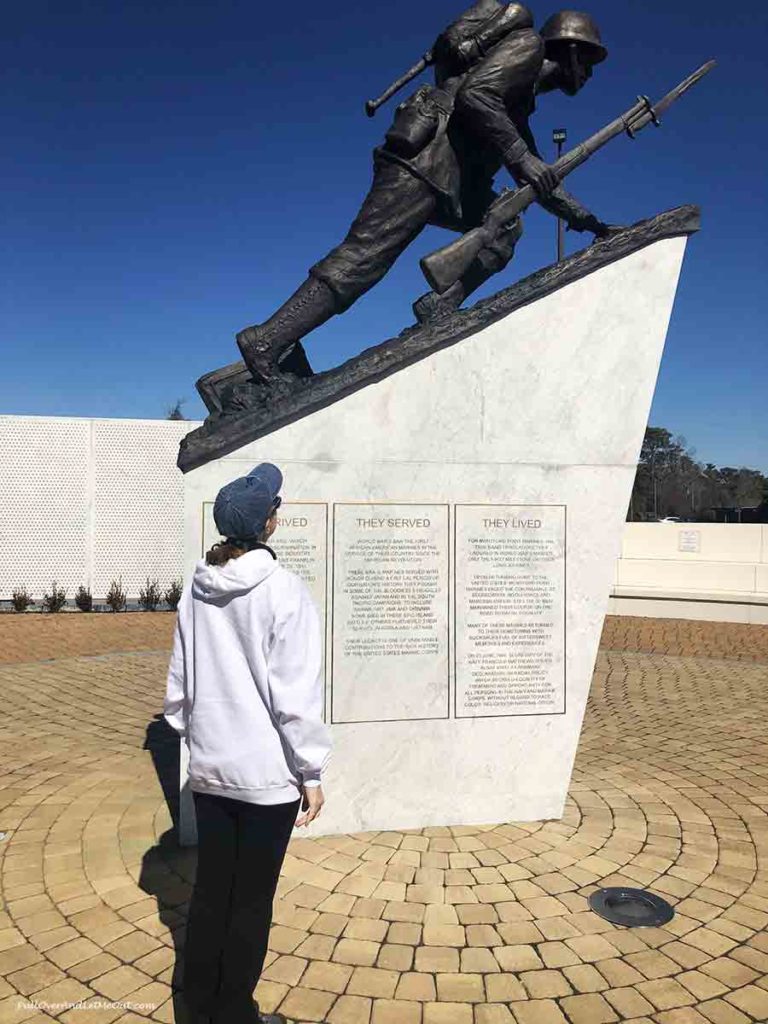 After months of lockdown and rainy winter weather, it was a refreshing delight to enjoy a sunny albeit brief weekend at the beach. N. Topsail Beach, North Carolina provided us a peaceful retreat and a gratifying change of scenery.
What I love about this beach is it's not over-developed or too commercialized. There's plenty of space and an obvious affection for keeping its character and charm while welcoming out-of-town guests to come, stay, play, and enjoy.
North Topsail Beach strikes a harmonious balance between beach resort and tranquil ocean retreat making it the ultimate off-season beach getaway. I can't wait to return in the summer!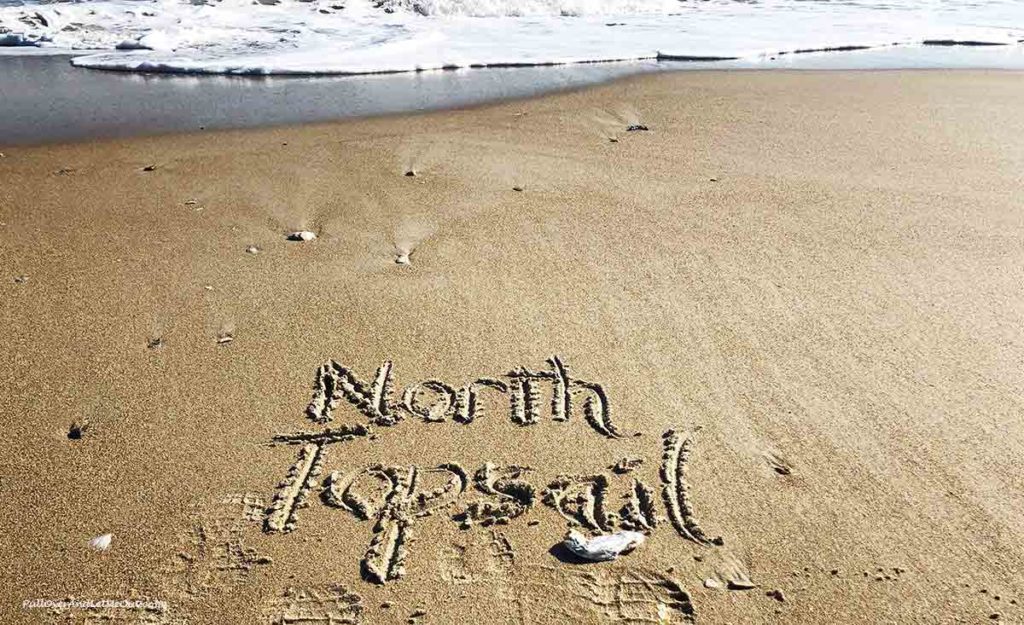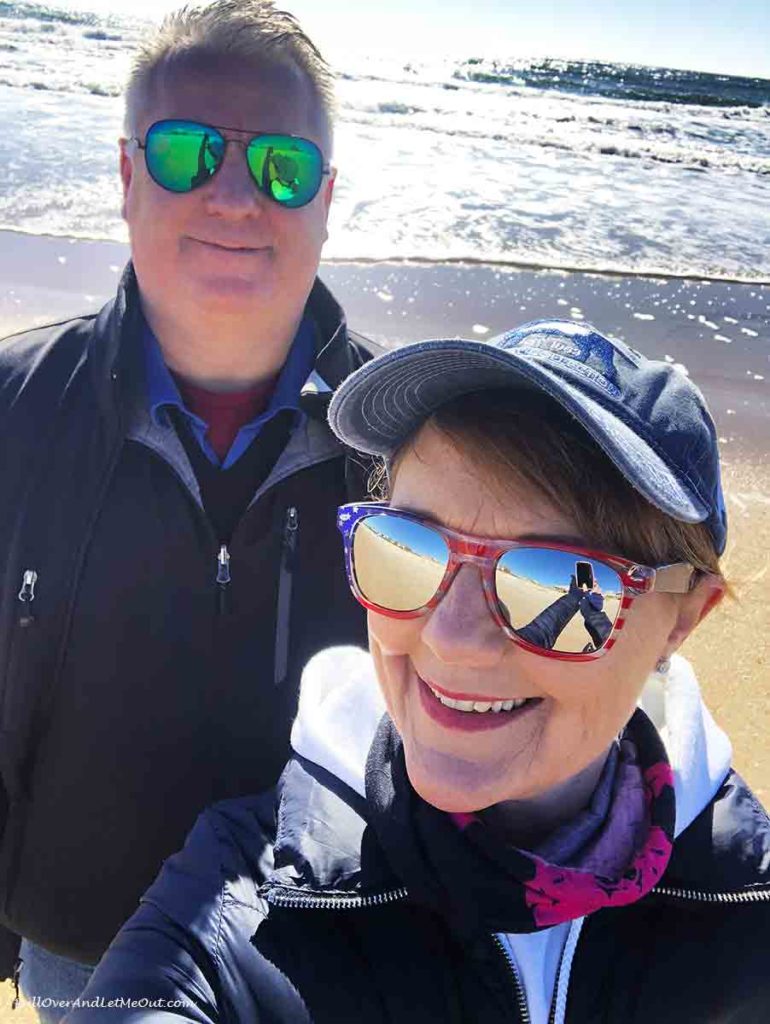 Hey Pinners! Pin this for later!
► Plan Your Trip to N. Topsail Beach, NC Now!
Hey pinners, save this for pinning after your trip
After you get back from your trip, please use these images to post to social media or post your own photos.  Please tag us on your post #pulloverandletmeout
You can also use the social sharing links on the SmartTrip tool.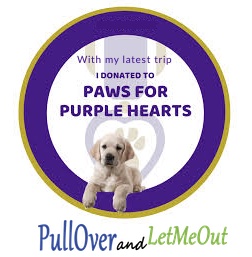 More stories you'll love!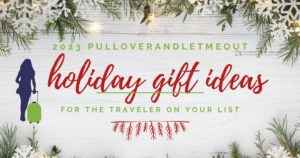 Travel with PullOverandLetMeOut to discover 2023's hottest holiday gift ideas for the traveler on your shopping list.
Read More »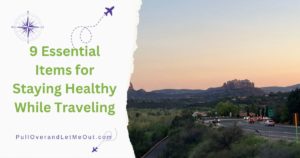 Make a healthy trip a priority. Travel with PullOverandLetMeOut to discover 9 essential items for staying healthy while traveling.
Read More »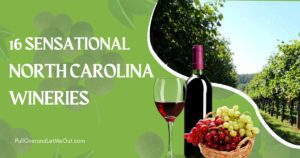 The wine world is taking notice of North Carolina wine. Join PullOverandLetMeOut as we explore 16 incredible wineries in the Tar Heel State that you won't want to miss.
Read More »
Shop for the hottest travel gear!