I asked my friends on Facebook a question – Where is Raleigh's best pizza?
I received a number of passionate responses to my inquiry and based on that feedback, I composed a list and set out on a quest. A saucy, doughy, cheesy, delicious quest in search of Raleigh's best pizza. Here's what I found.
Disclosure:
Many of the links you see on this site and within our trip planning tool are affiliate links. If you click through and make a purchase, I'll get a small commission and it won't cost you any extra. On selected stories, for those hotel and car bookings made using our TravelingToGive™ tool we contribute 2.5% of gross hotel and car sales to Paws for Purple Hearts. So, thanks in advance for helping me keep bringing you the content you enjoy and, at the same time, giving back to those who so bravely serve our country! #everytripmatters
NY-Style Pie Or By The Slice
Raleigh has attracted plenty of northern transplants in recent years and with their arrival in the capital city, there's been a proliferation of great New York-style pizza shops. New York-style pizza is delicious by the pie, but it's also fun enjoying it by the slice.
In searching for Raleigh's best pizza there were two standouts in this category. Tony's Pizza on Glenwood North and Sergio's Pizza on Louisburg Road. Both are locally owned and boast New York and Italian pizza-making roots. They offer the genuine article – thin crust, large foldable slices, and not too much sauce.
Neither restaurant is known for its décor, they're true New York-style pizzerias- no frills just good pizza.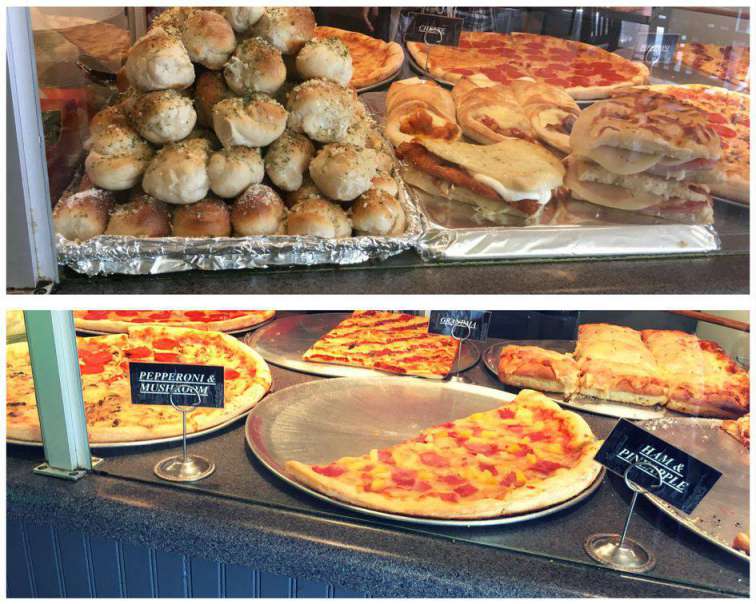 Most ads you see on this site are affiliate links. If you click through and make a purchase I'll get a small commission and it won't cost you any extra. So, thanks in advance for helping me keep bringing you the content you enjoy!
Several Raleigh pizza connoisseurs were adamant I limit my research to non-chain restaurants. This led me to Lilly's and the Lynnwood Grill.
Lilly's Pizza, situated on Glenwood Avenue in the historic Five Points neighborhood is renown for serving made-from-scratch pizzas utilizing local, fresh, and organic ingredients. They're also known for their specialty pizzas as well as their vegetarian and vegan options.
Lynnwood Grill & Brewing Concern has been providing pizza and beer in the Grove Barton neighborhood of Northwest Raleigh at the corner of Glenwood Avenue and Lynn Road for over a decade. Specialty pizzas and house-brewed craft beers are their claims to fame. Moreover, the spacious dining room, roof-top seating, and 30 high definition televisions make Lynnwood Grill an awesome spot for pizza, beer, and sports.
Another local non-chain spot is Frank's Pizza & Italian Restaurant on New Bern Avenue. For over 30-years, Frank's has been a fixture in Southeast Raleigh serving New York-style pizza in a family eatery. I've not been to Frank's yet, but several readers tell me it's wonderful. I'm looking forward to trying out their homemade dough and famous sauce, soon!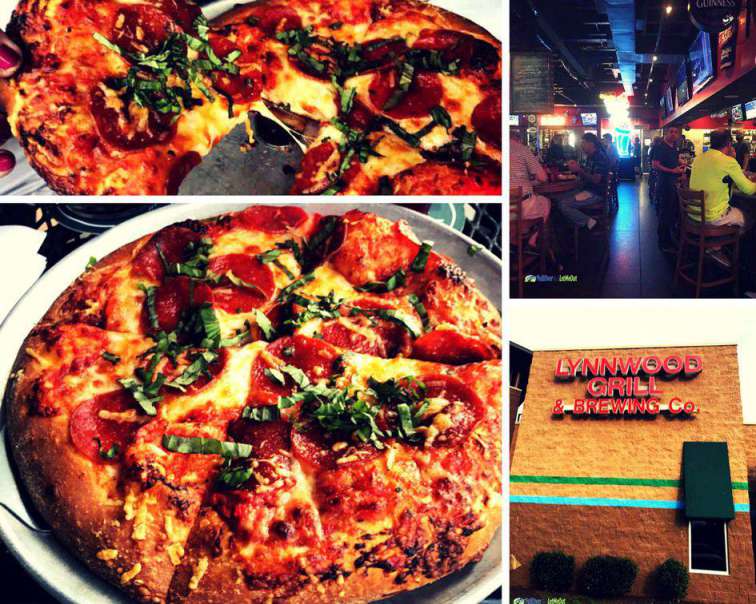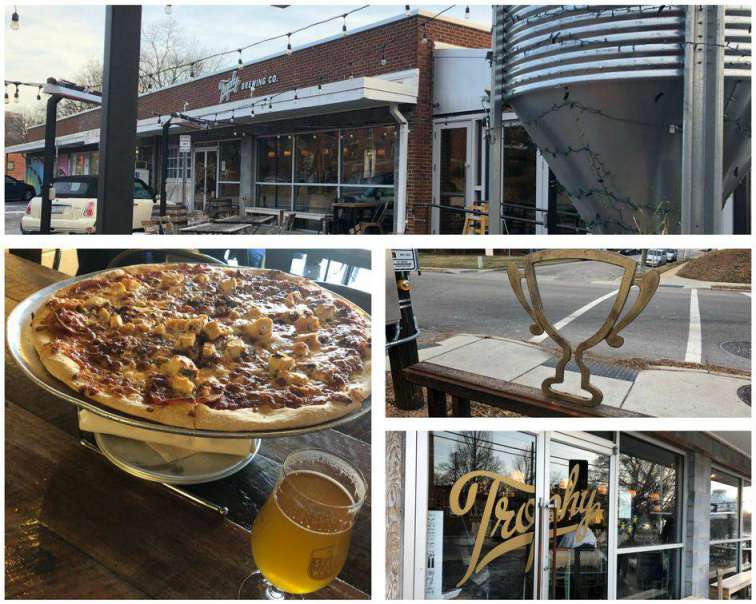 Trophy Brewing has got it going at their nano-brewery and pizza shop on Morgan Street.
I spent a chilly afternoon, savoring a tasty IPL called, Earmuffs, and a delectable build-your-own pizza. The beer list changes regularly as do the specialty pizza choices but all ingredients are fresh and often local. Consequently, Trophy's been awarded multiple accolades and its Instagram feed is filled with mouthwatering photographic evidence of Trophy's superior pizza standards. It's a perfectly pleasant pairing of pies and craft brew in a hip setting nearby N.C. State campus.
Close To Campus - UPDATED April 2019!!
And on that note, college and pizza go together like bread and butter so naturally, I wanted to find great pizza close to N.C. State campus on Hillsborough Street.
I was delighted to find Bocci Italian Trattoria and Pizzeria. A relative newcomer to the campus restaurant scene, Bocci features an Old World Tuscan vibe and great pizza directly across the street from the university. Bocci's Nanna-style pie is light and satisfying and their calamari and dipping bread is a special treat.
In addition to the stylish dining room, there's limited outdoor seating making Bocci ideal for a pizza date-night, parents weekend, yummy study break or a group outing.
Since this article was originally posted, the Bocci location near NC State has closed. Nonetheless, their two other locations in Cary and Durham are still serving up delicious pizza!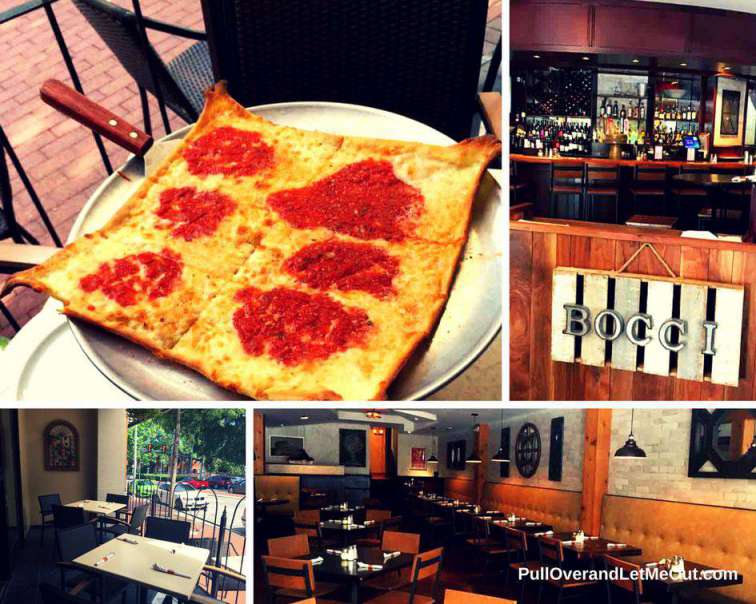 Although several pizza purists encouraged me to avoid chains, I heard from so many who love the chain restaurants, I could not ignore them.
Thus, I visited Brixx Wood Fired in Brier Creek. Brixx currently has six locations in North Carolina and their specialty is specialty pizzas baked in a wood-fired oven. Brixx's menu features selections with fun names such as Bronx Bomber, Americo, and Sweet Thai Chicken. I had the Hawaiian topped with pineapple and ham. The wood fire gives the pizza an exquisite flavor and the crust is light and airy. A 10-inch pie is perfect for sharing and moderately priced.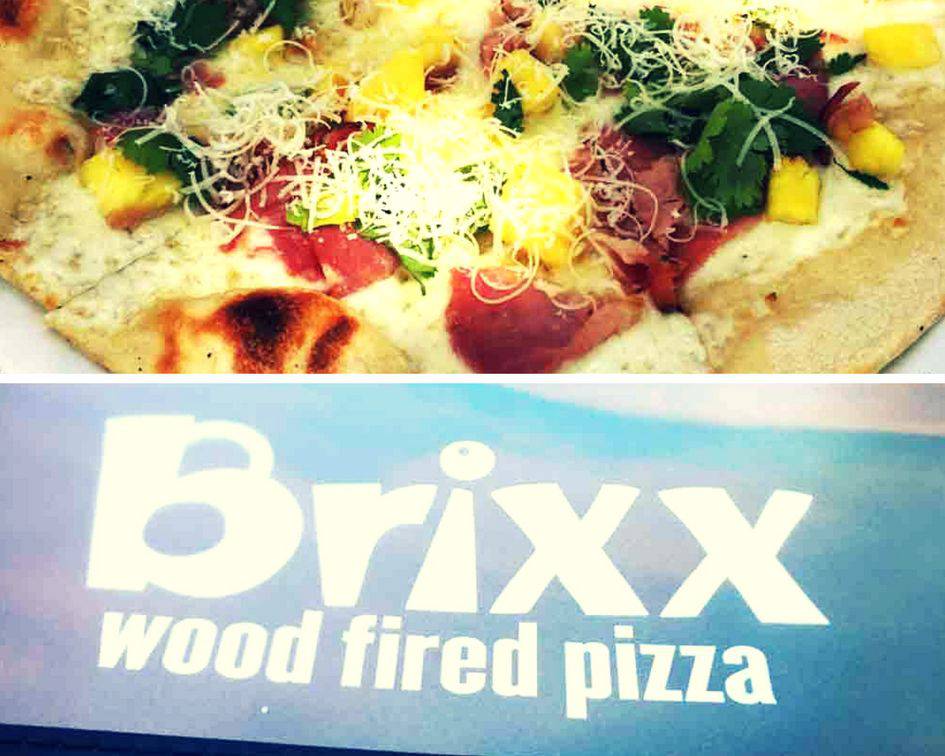 A sunny, not-too-humid day was perfect for sampling pizza at what has to be one of the best outdoor seating areas in Raleigh. Mellow Mushroom on the corner of Glenwood Avenue and Peace Street in the Glenwood South neighborhood provides awesome pizza and a tie-dyed hippy atmosphere. The stone-baked pies are excellent and the menu features a variety of cool combinations. We went for half pineapple-pepperoni and half Magical Mystery Tour.
Mellow Mushroom is a popular chain founded in Atlanta, Georgia over forty years ago, however, each restaurant is locally owned and operated.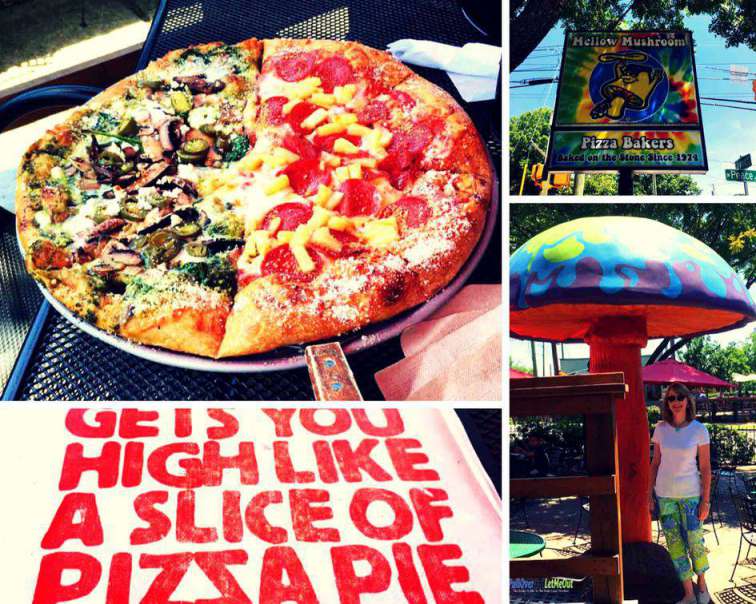 What's unexpected pizza?
It's good pizza found in unexpected places. I met a friend for lunch at Trali Irish Pub in the Brier Creek section of Raleigh and she encouraged me to try the BBQ chicken pizza. Wow! I was surprised. The crust is flaky, almost like a pie crust and the BBQ sauce along with the chicken and cheese is a flawless blend of sweet and savory. I was happily surprised at this unexpected pizza discovery. Great pizza in an Irish pub – who'd of thought?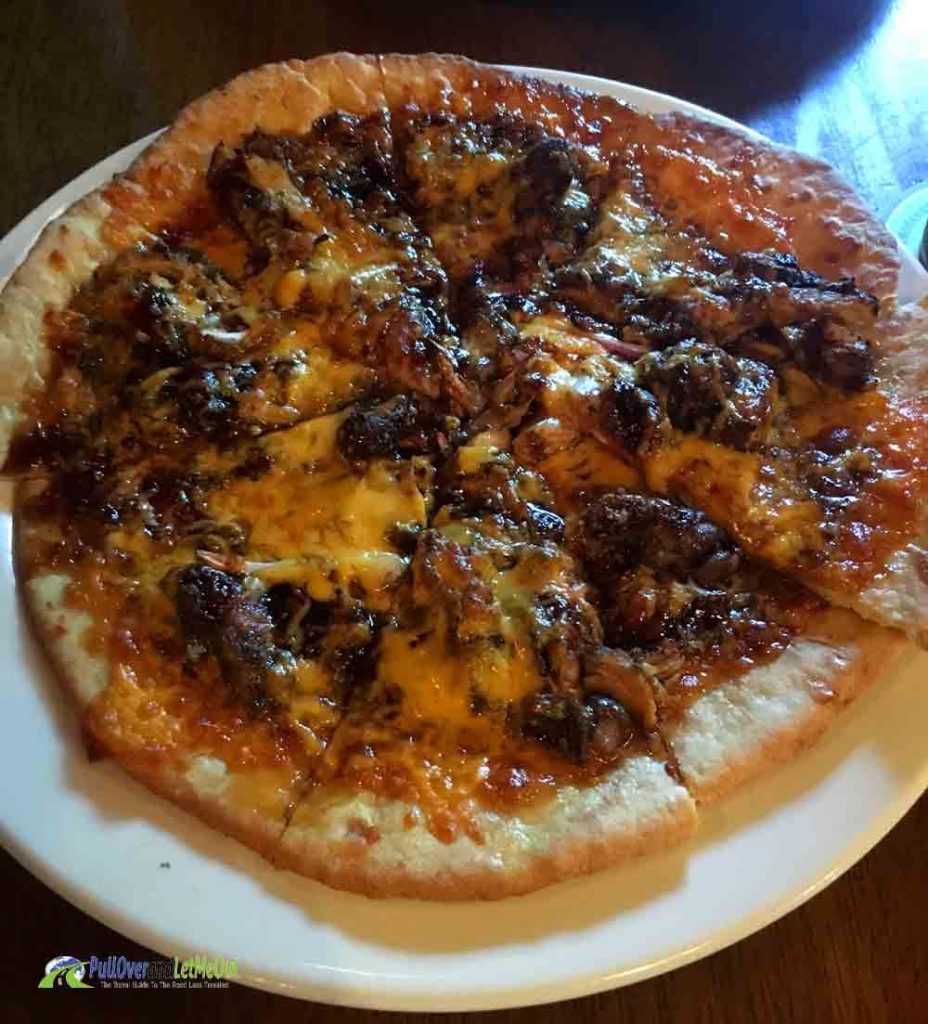 Fayetteville Street Raleigh - * New Addition April 2019!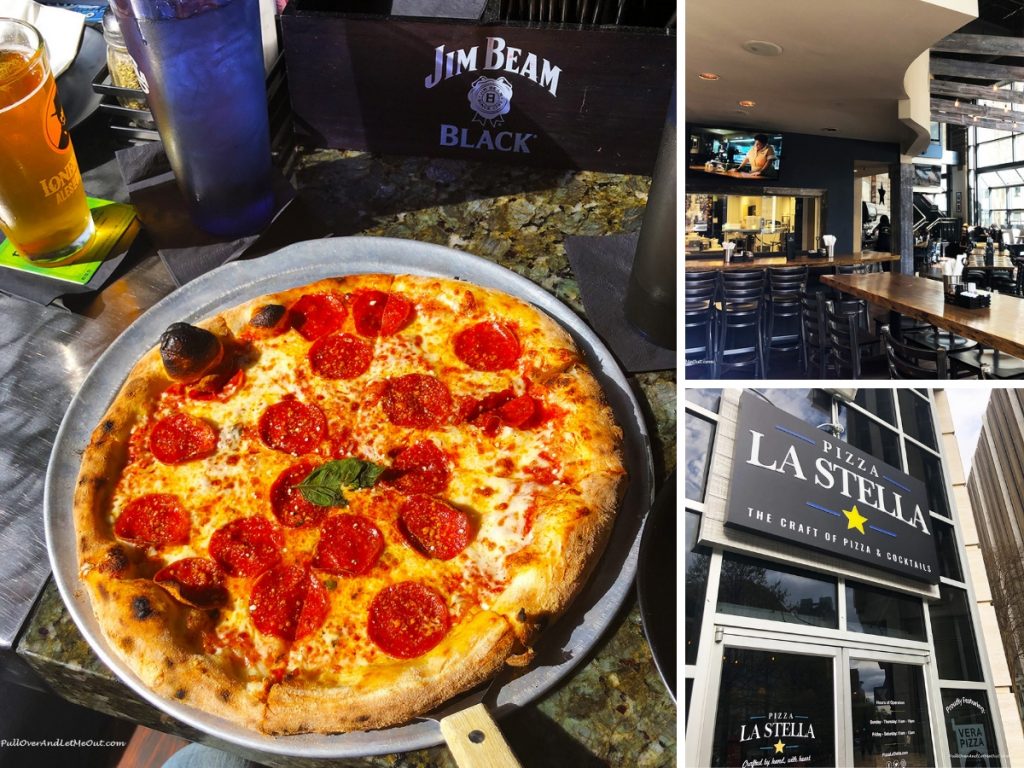 Woodfired authentic Neapolitan pizza is bliss. At Pizza La Stella, it's the specialty. Located in the heart of downtown Raleigh on Fayetteville Street this is a great spot for a bite of pizza and a cool local craft brew.
We stopped in on a Sunday afternoon to sample their pizza, enjoy a brew and watch basketball. Pizza La Stella is the perfect restaurant for all the above. The open spacious floor plan, ample television sets, expansive bar, and friendly staff combine creating an outstanding dining experience.
Oh, and the pizza? It's phenomenal and made with an impressive list of superior ingredients including some imported directly from Italy. Even their oven is imported from Naples! We enjoyed a classic wood-fired peperoni pizza, a local beer, and I savored every morsel as I watched the NCAA Tournament.
Pizza La Stella is a winning option for pizza in downtown Raleigh.
More Of Raleigh's Best Pizza
The best part of writing a story about Raleigh's Best Pizza is the quest never really ends. There's more pizza out there yet to be enjoyed and these are only a few of the Oak City's many offerings.
Now, I'm off to train for a 5K run I signed up for to counter months of extensive pizza research.
Do you have a favorite Raleigh pizza place I haven't mentioned? Let me know in the comments section below.
Click the link for directions.
How does it work?
The SmartTrip™ tool allows you to plan your trip to this specific place. In this case, we're starting at Tony's Pizza, but if you want to change the location, just click on I'm Staying and click on the pencil and type in the name of any of the restaurants mentioned in this blog. Then enter your travel dates and hit SEARCH.

Then choose from the available hotels nearby that place (closest to farthest away). We guarantee the lowest published rates online.

If you are driving, click on the Im Driving tab and you can get the driving time from your starting location and driving directions. You can also rent a car if desired.
Hey pinners, save this for pinning after your trip
After you get back from your trip, please use these images to post to social media or post your own photos.  Please tag us on your post #pulloverandletmeout
You can also use the social sharing links on the SmartTrip tool.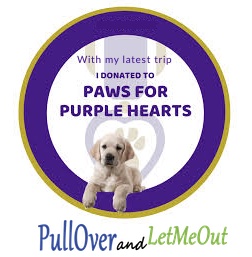 Let's Get Social!
Click below and join the conversation on social media