The term pub crawl can conjure some frightening images. When combined with the words haunted adventure the imagination can run wild.
Fear not – the Raleigh Pub Crawl and Haunted Adventure won't frighten you out of your wits nor will you be obligated to consume mass quantities of alcohol.  Instead, this entertaining tour is a unique blend of local history and cool beverages.
Ghost tours aren't about frighting tourists or startling folks.  Ghost tours are more sophisticated and packed full of interesting historical facts and lore.  They're also more popular than ever.
If your guide is knowledgeable and a good story teller there's no finer tour to take. In fact, this time of year a ghost tour is preferable. Once the sun goes down and milder evening temperatures arrive –  it's the coolest form of tourism.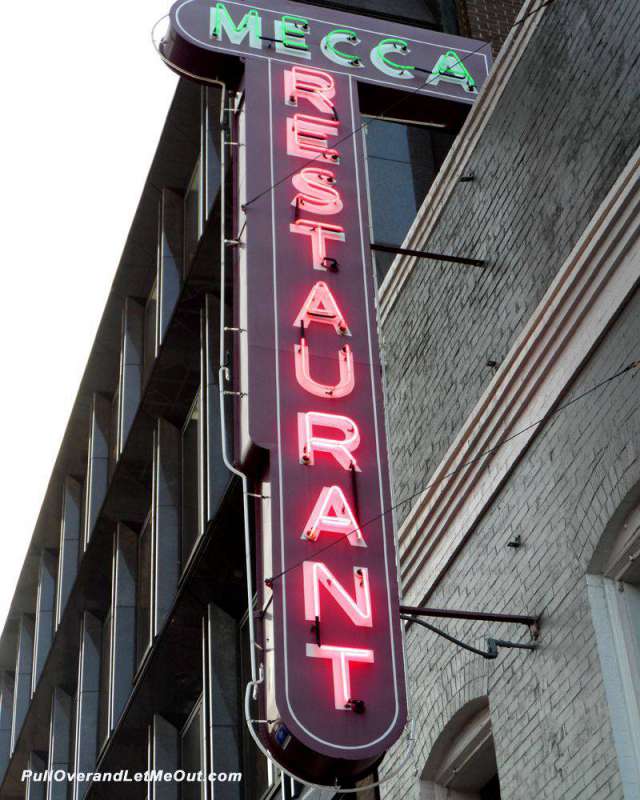 The Raleigh Pub Crawl and Haunted Adventure  is the city's most popular tour and it commences at Mecca on E. Martin Street.
Arrive early for dinner if you like and step back in time at this classic Raleigh dining establishment which hasn't changed much since opening in 1930. The landmark is renown for its classic décor and classic menu.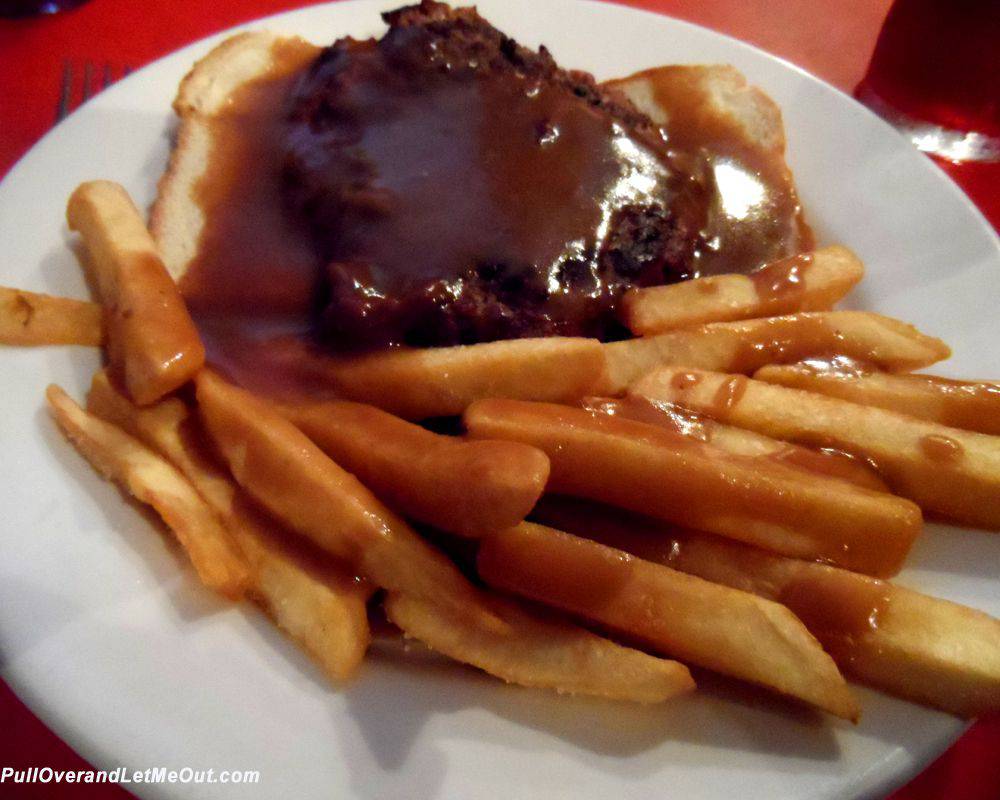 The Hot Hamburger is a classic menu item at Mecca
After the group gathers the tour travels from Mecca to Fayetteville Street and the old court house. Seating is on the court house steps as we listen to our guide tell tales of Raleigh from its inception.  He also intrigues us with stories of hauntings at the Yarborough House Hotel.
The Yarborough stood in the 300 block of Fayetteville Street.  The old guest house and hotel was once the place to stay and the place to be seen in the capital city.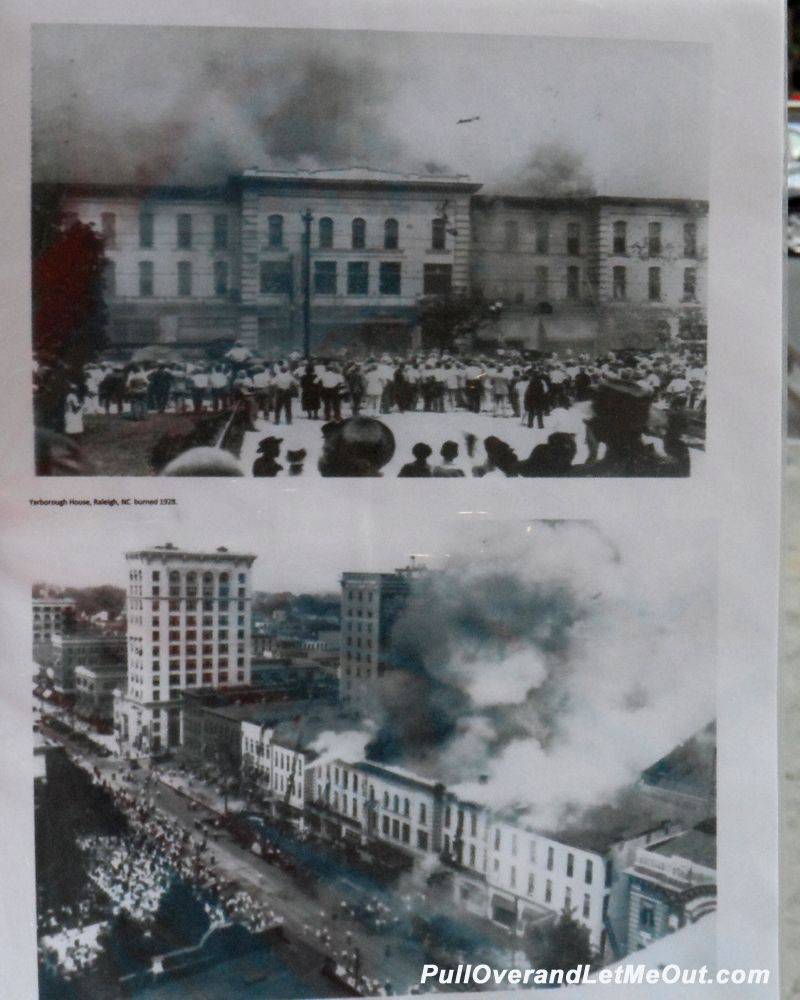 The Yarborough House stood across from the court house on Fayetteville Street.
The hotel burned beyond repair in 1928
Built in 1850, The Yarborough House was often called the "unofficial political and social center of the capital." Visitors traveled from far away to  spend time at this impressive address. The list of famous guests includes Presidents Andrew Johnson, Theodore Roosevelt, William Howard Taft and Woodrow Wilson.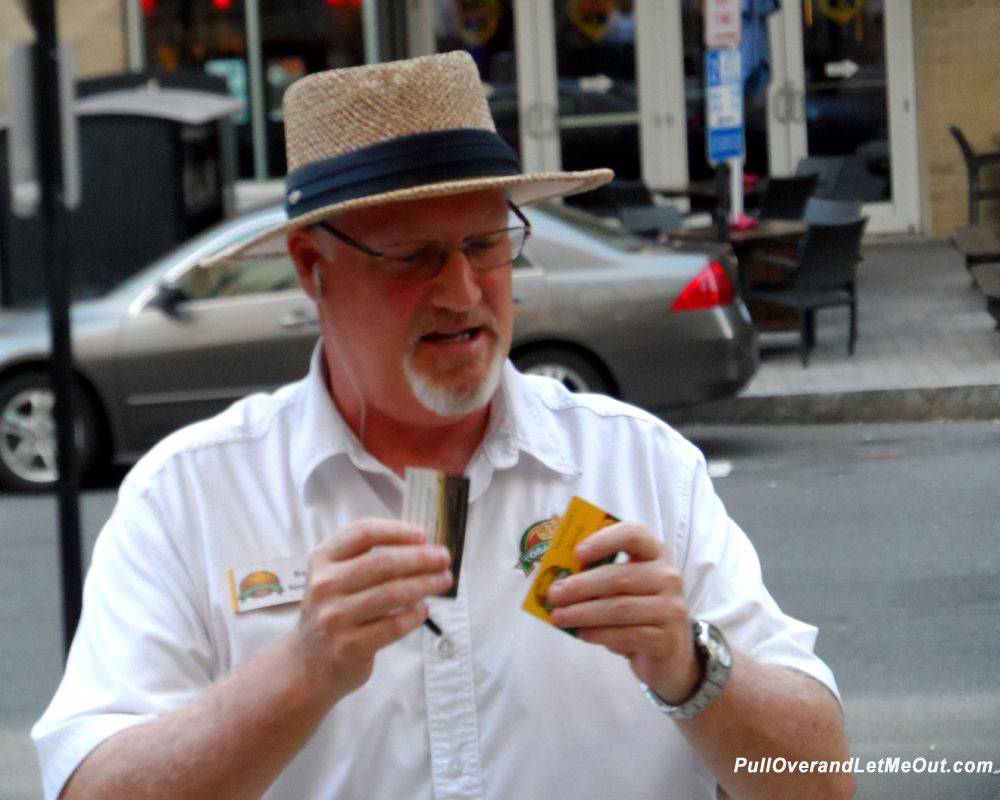 Tour guide, Brad Kennedy of Tobacco Road Tours 
But there's more to the story. The hotel was also frequented by ghostly guests.
Our guide recounts tales of an unfortunate construction worker who fell to his death, an other-worldly hotel guest seated at the bar and a viscous entity that terrified the wife of the hotel owner.
Leaving the court house we  progress down Fayetteville Street to historic Isaac Hunter's Tavern. Isaac Hunter's original tavern played an important role in determining the location of the North Carolina Capitol. Legend has it when the city was created the founders decided the capitol could be no further than 10 miles from Isaac Hunter's Tavern.
Isaac Hunter's Tavern on Fayetteville Street in Raleigh
An odd stipulation perhaps, but as the story goes Isaac Hunter's Tavern served up a popular drink called a cherry bounce. The tasty elixir was a favorite with legislators and they didn't want to be too far from Isaac Hunters to procure the fruity treat.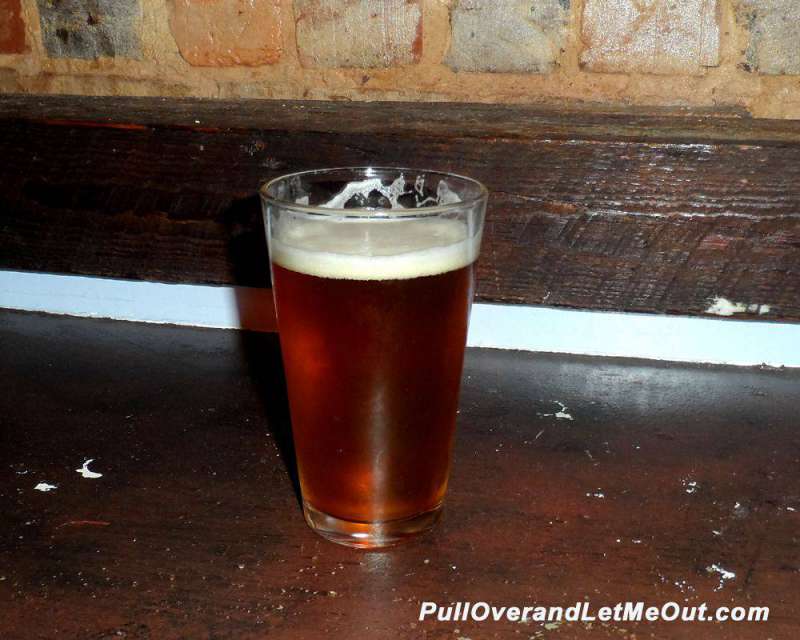 Local brews are served up on the pub crawl
Today Isaac Hunter's is a stop on the pub crawl serving local brews and yes, a delicious cherry bounce.
The tour moves onward stopping at the state capitol building.  Not only is this building steeped in history there is a considerable number of stories of unexplained phenomena. Many of which were documented by night watchman Owen Jackson in the 1980s.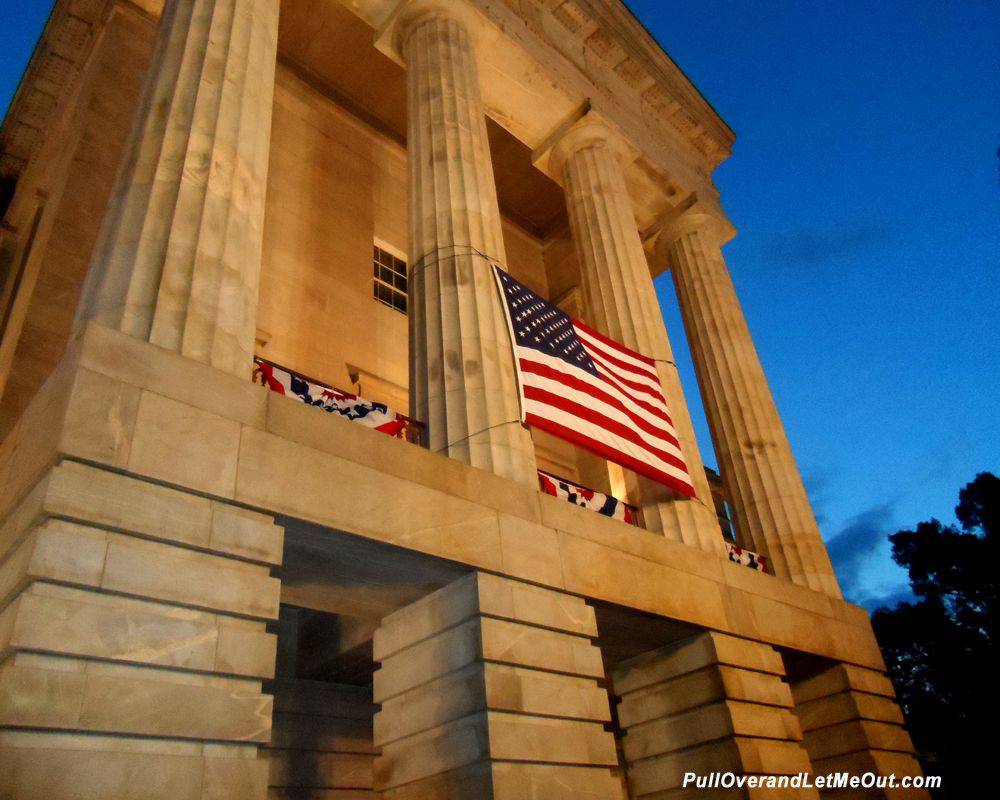 The State Capitol of North Carolina is considered an "active" site
Was it General Littlefield rolling whiskey barrels down the steps?
What caused the books to fall off library shelves only to re-shelf themselves later?
Who was the screaming woman?
The stories are historic and a tad spooky as well.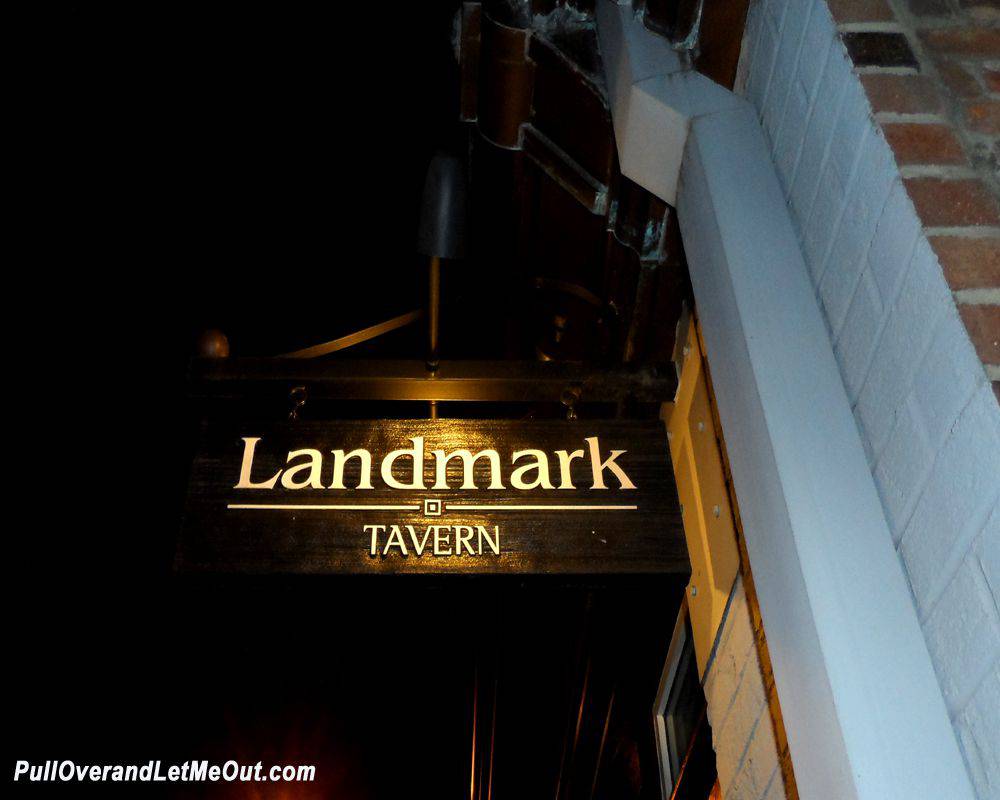 The pub crawl and adventure takes a little over two hours making additional stops at the Landmark Tavern, the White-Holman House, Moore Square and finally finishing up at Tir Na Nog – an Irish pub whose name loosely translates to "land of eternal youth."
The tour is entirely on foot but the walk isn't strenuous. Multiple stops along the way make it more of an enjoyable stroll which includes fascinating narratives and refreshments.
Did we see any ghosts on our haunted adventure?
We heard eery tales of possible spirits lurking around the Oak City, but no apparitions or cool chills frightened the group this night.
Although, it's hard to be sure we were really alone.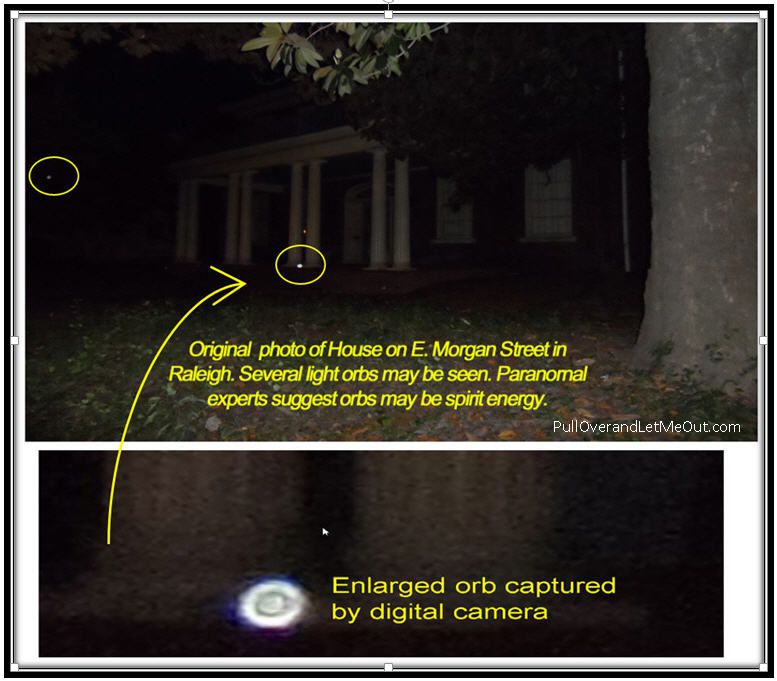 Paranormal experts suggest orbs may be spirit energy 
Tobacco Road Tours presents this and other ghostly and non-ghostly tours of Raleigh and Durham. The tours are popular so be sure to book ahead on line or by phone to assure you don't miss out.
Bring your camera, comfortable shoes, an open mind and your sense of adventure – The Raleigh Pub Crawl and Haunted Adventure is a unique, fun way to tour Raleigh and learn great stories of the city.
If you liked this please share it with your friends.  Your "likes" and "tweets" are always appreciated!
While I was not charged for taking the tour, my opinions are my own.