I'm a big fan of food tours. A walking food tour is a terrific way to learn about a city while enjoying some of its best culinary offerings.
Triangle Food Tour travels through downtown Durham, North Carolina introducing tour-goers to some of the delicious highlights of Durham's culinary scene while imparting historic facts and fascinating details of the Bull City.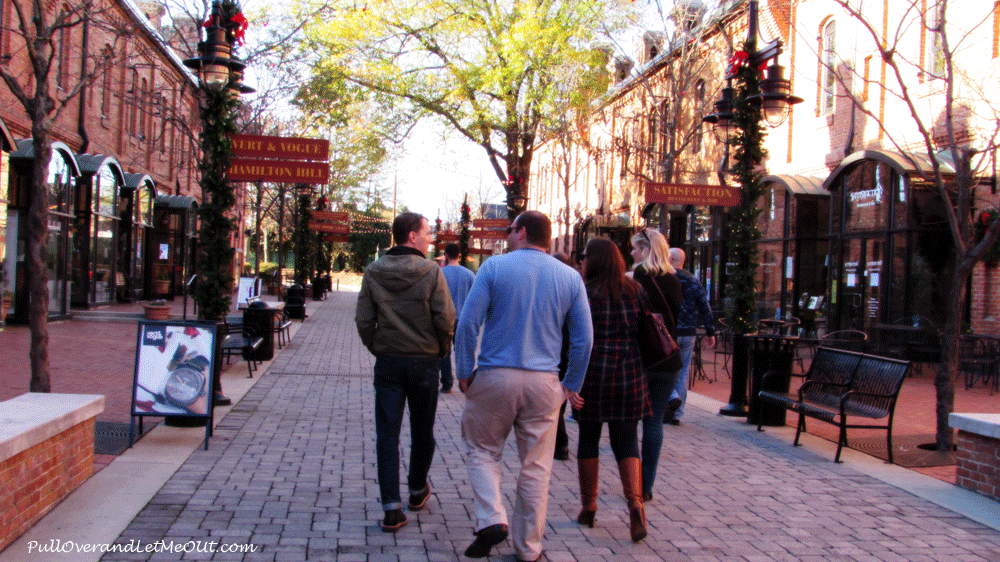 >
Durham's Bright Leaf Square
Durham's tobacco and textile heritage is making way for the redefinition of this charming southern city. Old tobacco warehouses and textile mills are being repurposed as offices, condos, shops and restaurants.
Today, Durham's downtown is thriving – The Durham Performing Arts Center, Durham Bulls Athletic Park, Durham Convention Center, and a multitude of businesses play a role in what is an urban renaissance.  A vital part of the renaissance is Durham's thriving and diverse restaurant scene.
Triangle Food Tour's walking tour winds through Durham's downtown highlighting several restaurants located in Bright Leaf Square, West End Village and The American Tobacco District.  Though there are now over 300 restaurants in the Bull City, the tour does a wonderful job of serving up a variety of cuisines and dining styles.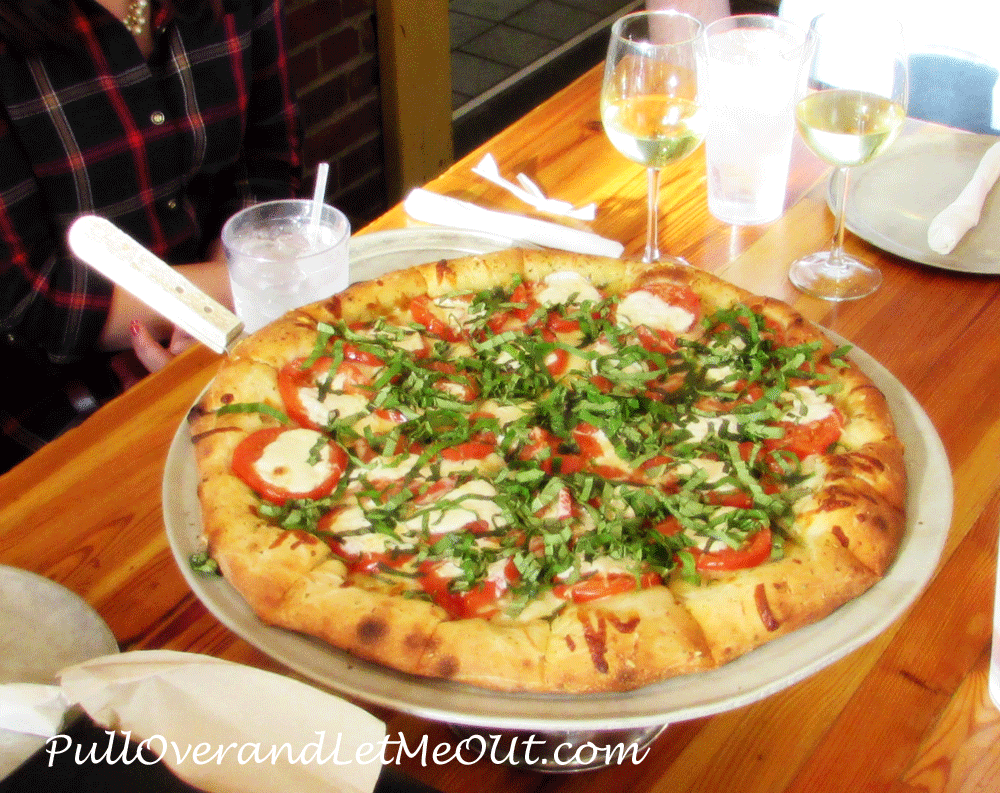 Six Sensational Samplings
Our tour took in six restaurants and six sensational samplings.  Each stop delivered a unique flavor crafted from the freshest ingredients and gave us the opportunity to meet the chefs and owners who answered questions and shared their fascinating stories.
Our first stop was Lilly's Pizza where we were treated to an amazing Margherita pizza and a delightfully refreshing white wine.  Crafted of the most natural, organic, local, and fresh ingredients – Lilly's award-winning pizza has been garnering rave reviews for twenty-plus years.
810 West Peabody Street
Durham, NC
Cheese, meat, vegetables, bread, salads, seafood – The Little Dipper is a full service fondue restaurant.  It's also great fun.  The food is tasty with the majority of it coming from local sources.  It's a fun adventure and different way of dining.  The colorful and energetic atmosphere adds to the ambiance of this restaurant.  In addition to being a fun spot to dip away for lunch and dinner, The Little Dipper is a great spot for Sunday brunch and on family night, kids eat for free.
905 West Main Street Suite 21A
Durham, NC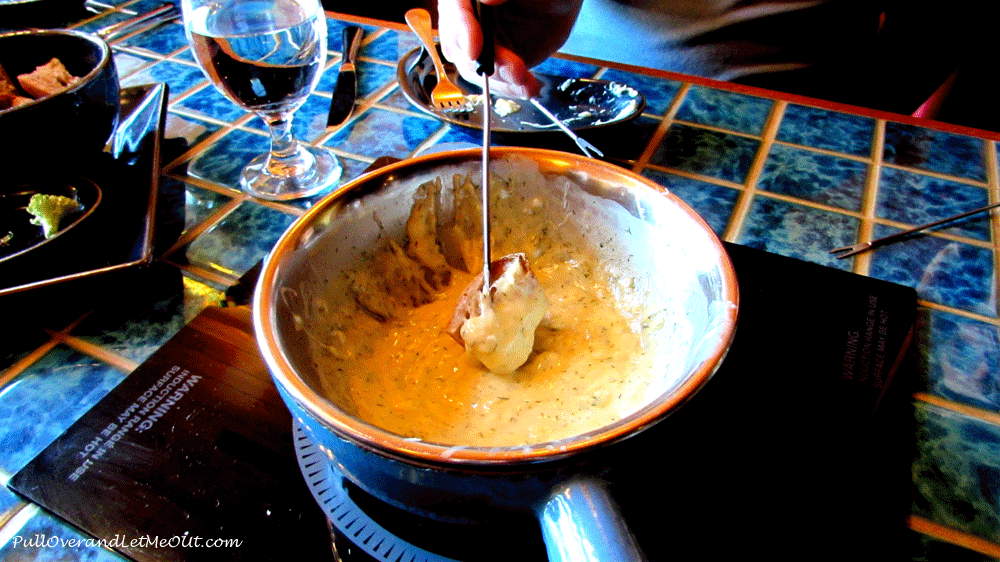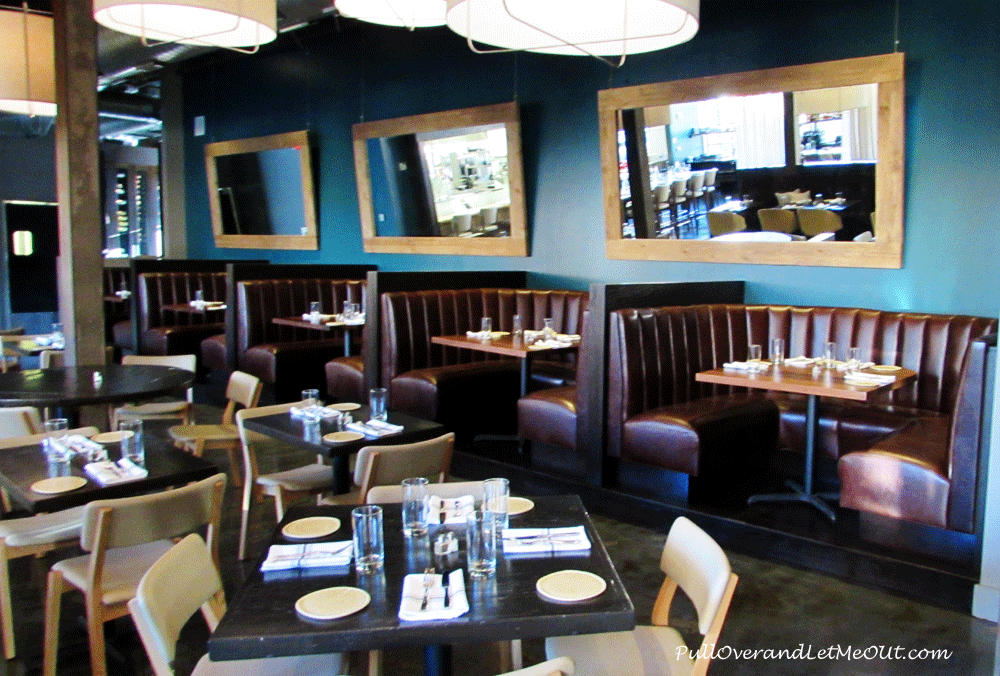 Our third stop was at 605 West Main Street for some phenomenal Tuscan cuisine at Lucia.  A recent addition to the food tour, Lucia is now my new favorite Italian restaurant.  The menu includes a variety of traditional Italian fare as well as wood fired pizza. Chef Matt Greiner prepared the most amazing chicken cacciatore for us to sample and served it with a delightful red wine.  I've already vowed to return to Lucia.
605 West Main Street Suite A
Durham, NC
As their website states, "Only Burger is quite simply the only burger you'll ever want!"
Only Burger began as a popular food truck and is now a burger destination in the heart of downtown Durham.  Renowned for using fresh ingredients, the burgers are ground daily using meat from Piedmontese cows and made to order.
Our group had the pleasure of learning how Only Burger got its start and of how it sets itself apart from other burger restaurants.  We also got to sample a slider and their crispy, hand-cut fries.
359 Blackwell Street
Durham, NC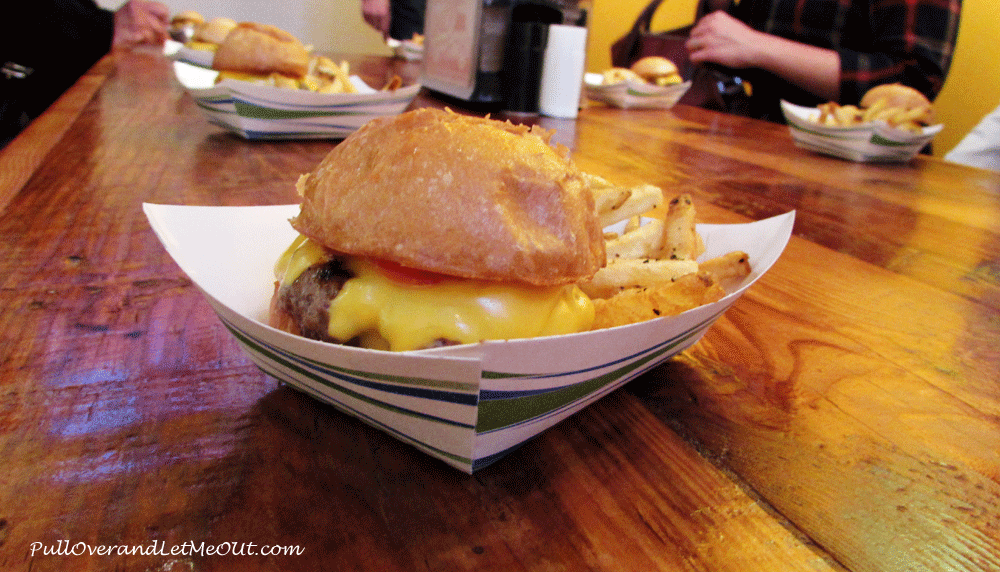 Located mere steps away from the Durham Performing Arts Center (DPAC) is Basan Bull City Sushi.  Not only a destination for delicious modern Japanese cuisine and sushi, Basan is the perfect spot for a pre or post theater meal.  Basan offers an array of appetizers, entrees and of course, sushi.  The atmosphere is modern, bright and slightly upscale yet comfortable.
359 Blackwell Street Suite 220
Durham, NC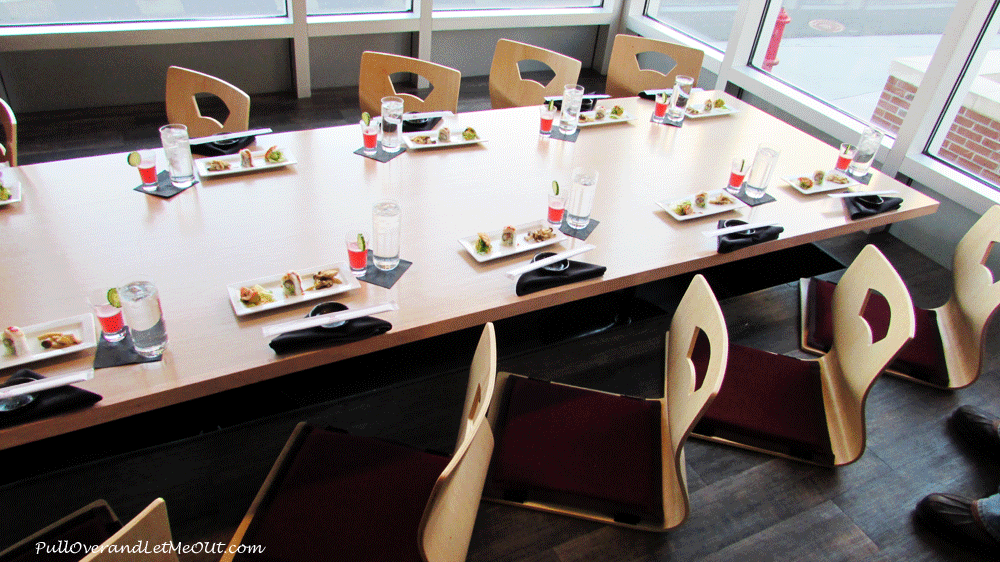 No dining tour would be complete without a sweet sampling.  The Cupcake Bar provided the perfect finish to our tour.  The Cupcake Bar is a bakery specializing in cupcakes inspired by cocktails.  The confections are mixed up daily using fresh, local ingredients.  The bar is comfortable and offers free WiFi, making it the perfect spot to have a cup of coffee and a cupcake, and hang out.
The menu changes daily with specials and other sweet treats.  Orders can be placed on line and they offer delivery options as well.  I got a couple cupcakes to take home with me!
101 East Chapel Hill Street
Durham, NC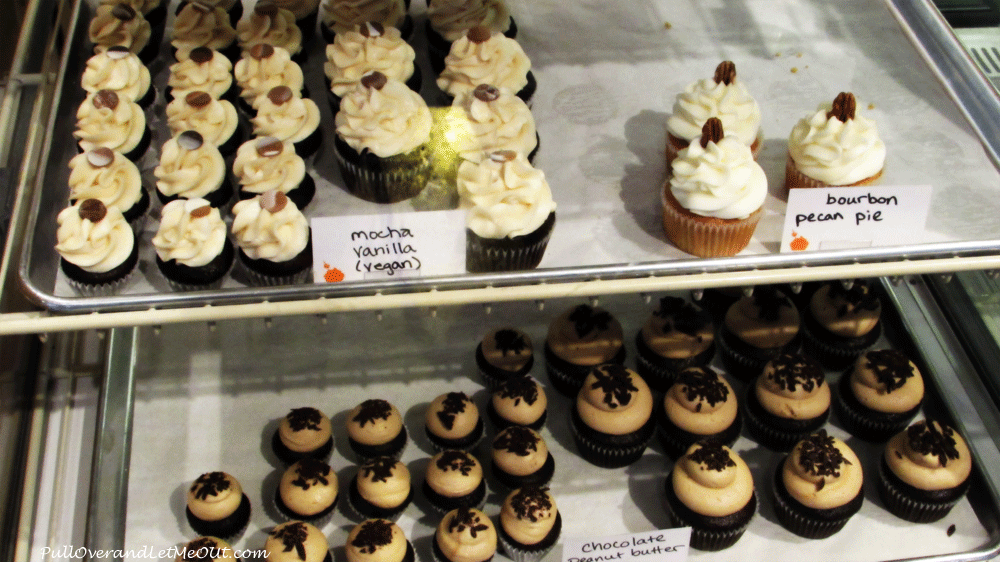 Triangle Food Tour departs from in front of the former Fishmonger's, 806 West Main St. in Durham, on Saturdays at 2:30 and operates rain or shine.  Tour-goers are asked to meet 10-minutes prior to departure and wear comfortable shoes.  It's a walking tour so keep that in mind when making plans.
Tickets are $45 per person and must be purchased in advance. Tour size is limited to 10 people and fills up quickly. Triangle Food Tour also offers gift certificates.
The tours are fun, delicious and a great way to meet new people.  Bring a group, come as a couple or alone – it's a terrific way to enjoy the sights and tastes of the Bull City.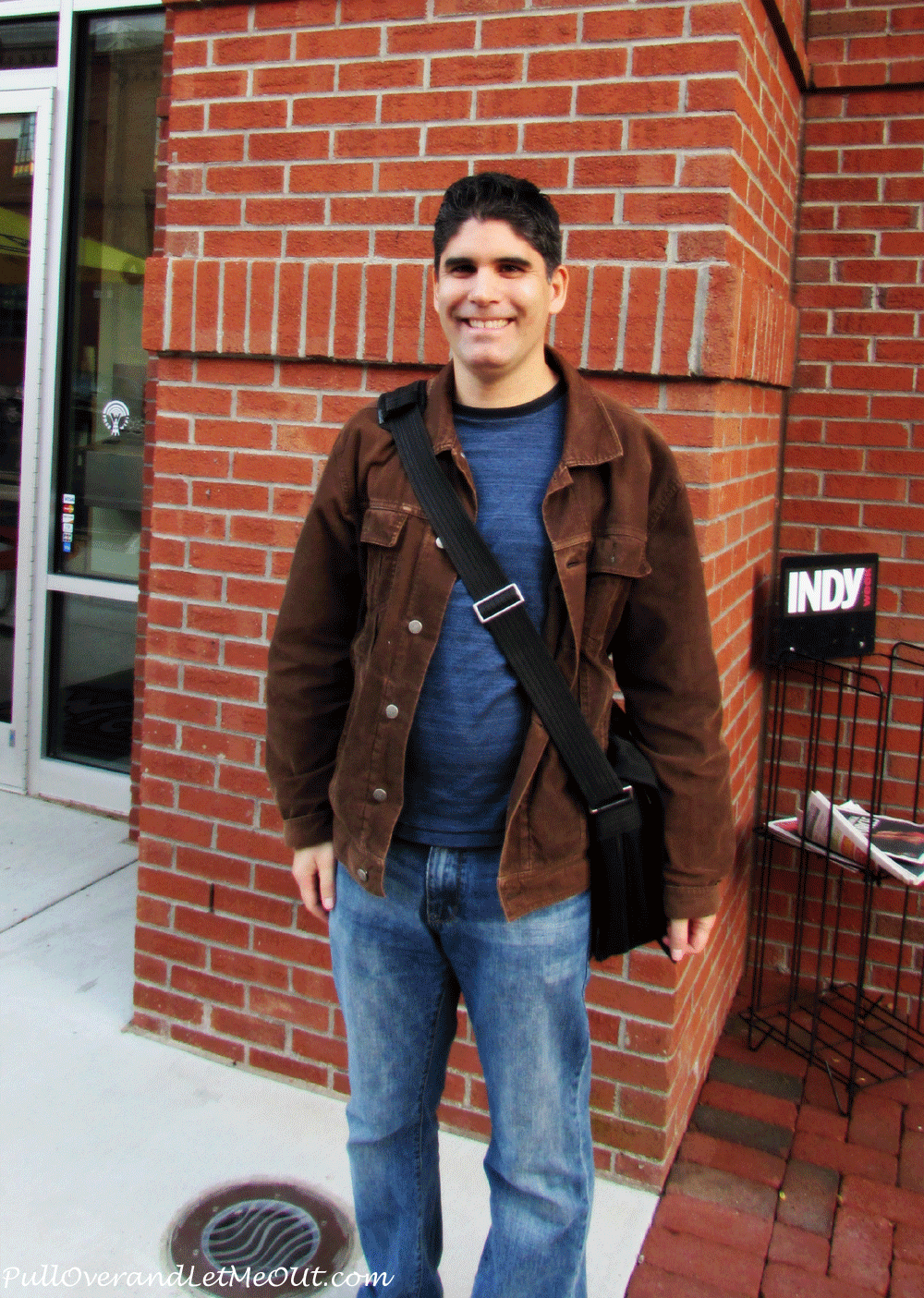 The guides are friendly, knowledgeable, and entertaining.  Our tour guide for the day was Ruben.