It's not unusual to see Triangle Glides tours wheeling through the heart of downtown Raleigh. The helmeted tourists zipping about on three wheels intrigued me but I never thought about taking the tour myself. I live here, after all, why would I need to take a tour?  That all changed recently when I decided to investigate Triangle Glides and become a tourist in my own hometown.
Here's what I learned about Raleigh, North Carolina's top sightseeing tour on three wheels.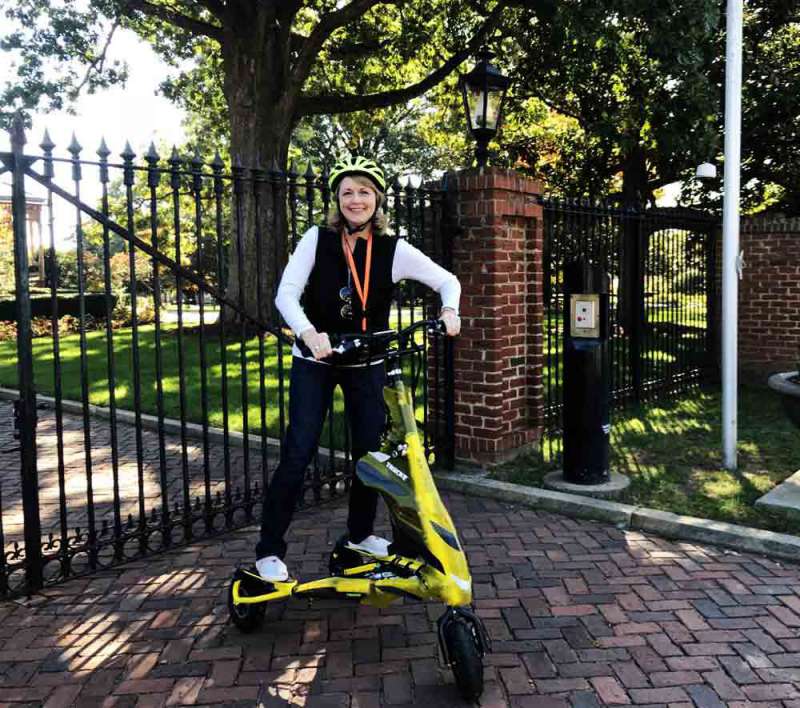 Originally, Triangle Glides utilized Segways for their tours but they've updated the fleet and now feature Trikkes or as they call it, "The next generation of electric touring." These three-wheeled light electric vehicles (LEV) are extremely stable and relatively easy to use. The throttle and brake are located on the handlebars and fairly intuitive; throttle towards you for more power, away for less, and let go for none at all. Go easy on the brake and gently squeeze to make stops. Complete instructions are given prior to departing on the tour and there's even a little practice session in the parking lot before embarking on the adventure.
Taking the Triangle Glides Tour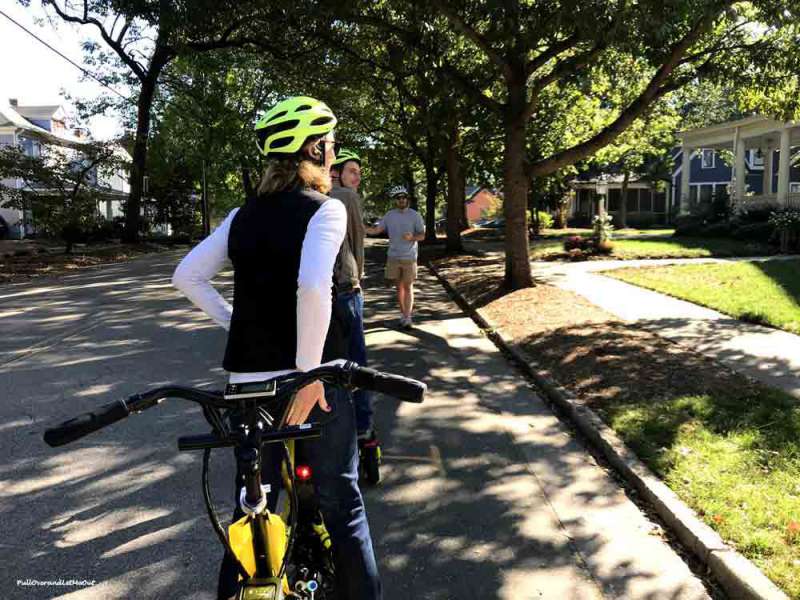 After a bit of Trikke maneuvering practice, we proceed single file to explore Raleigh's Historic Oakwood District. This tour focuses on the picturesque Oakwood neighborhood, its Second Empire-style homes, and its notable residents. As we progress, our knowledgeable guide, Baxter, regales us with facts, information, and stories via wireless audio pack so we don't miss a word of his splendid narration.
We depart the sprawling neighborhood and continue to Oakwood Cemetery. Historic Oakwood Cemetery, founded nearly 150 years ago, is a hilly final resting place to some of Raleigh's most prominent citizens. Five U.S. Senators, four Civil War Generals, two Secretaries of the U.S. Navy, multiple Raleigh Mayors, and thousands of Raleigh's famous and not-so-famous citizens are at Oakwood. The cemetery is 102-acres of fascinating people and their stories which the tour reverently highlights.
Most ads you see on this site are affiliate links. If you click through and make a purchase I'll get a small commission. So, thanks in advance for helping me keep bringing you the content you enjoy!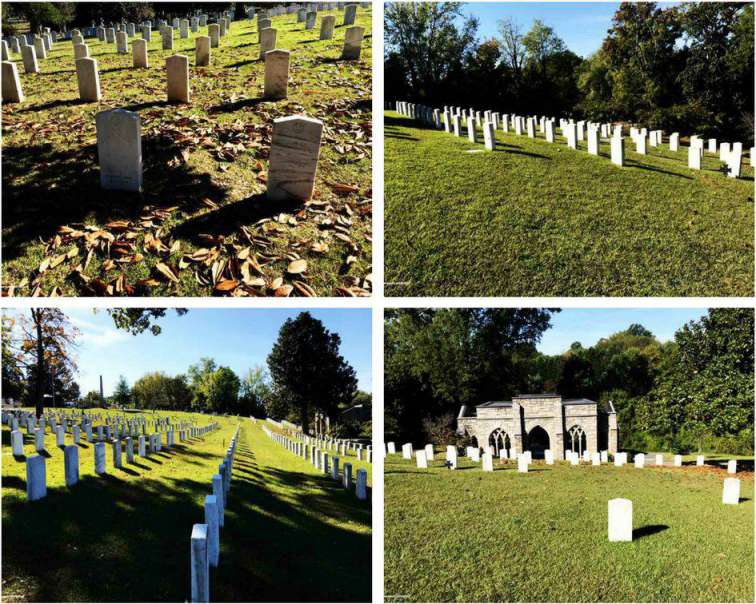 The thing that stands out most for me is the uniqueness of this sightseeing tour and how much fun we had. The learning curve is relatively small and the Trikkes are a terrific naturally air-conditioned way of covering a lot of ground and maximizing your time. The guide is extremely well-versed and knowledgeable so we learned as we glided. Even this long-time resident picked up a few interesting facts I didn't know.
Post-tour, we received our Gliders License which in addition to certifying successful completion of Trikke rider training also entitled us to discounts at some neighboring businesses. We enjoyed an authentic Italian lunch at Vic's a couple doors away in City Market and flashed our Gliders License to save on the bill.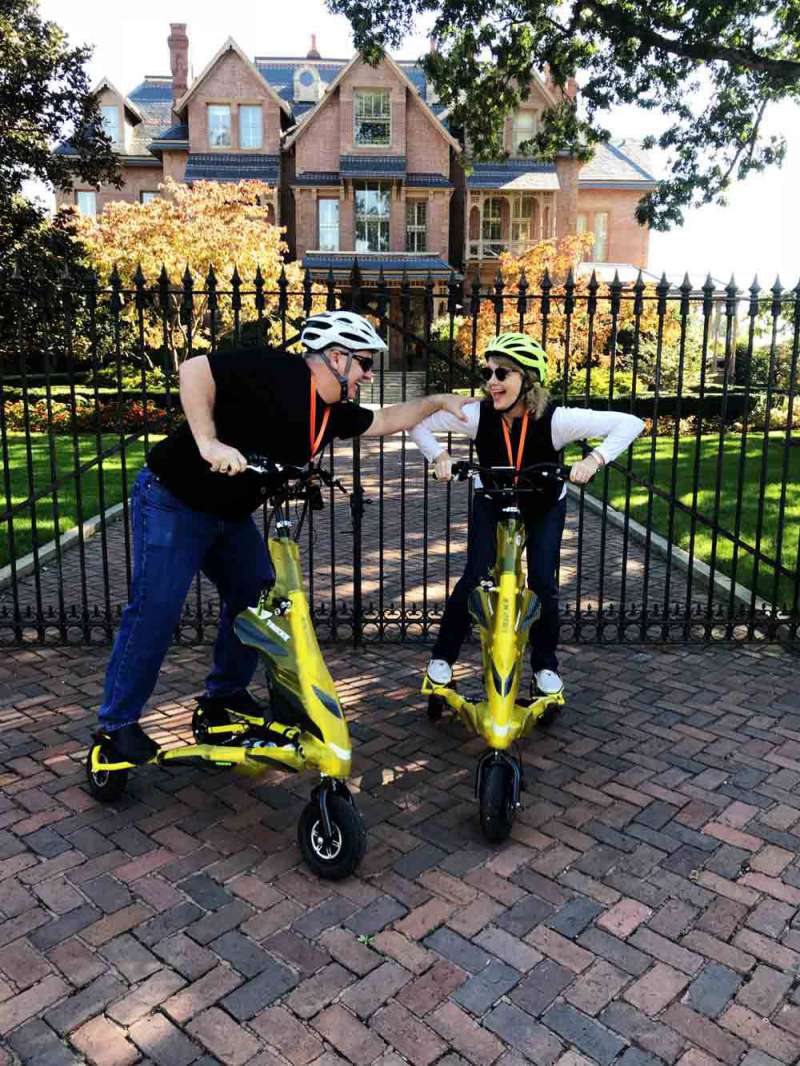 Check out our tour of the historic Oakwood neighborhood of Raleigh, North Carolina.
Triangle Glides currently features six tours each focusing on a specific area of downtown Raleigh. Prices range from $49 to $59 per person and can be booked online. Booking ahead is encouraged since most tours sell out. A Trikke tour is a great group or team-building activity, however, participants need to be at least 14-years old, wear close-toed shoes, and weigh no more than 250 lbs. to glide. (see their site for other restrictions)
Triangle Glides is located in the City Market section of downtown Raleigh. Thus, it's the perfect location for dining either prior to or after taking a tour. There's street parking and several parking garages close by. We were lucky and found a spot to park on the street just around the corner. It's also ideal for continuing your Raleigh exploration after your tour finishes. Triangle Glides is a short walk from Moore Square, Fayetteville Street, several museums, and the State Capital to name a few of the Oak City's most popular tourist attractions.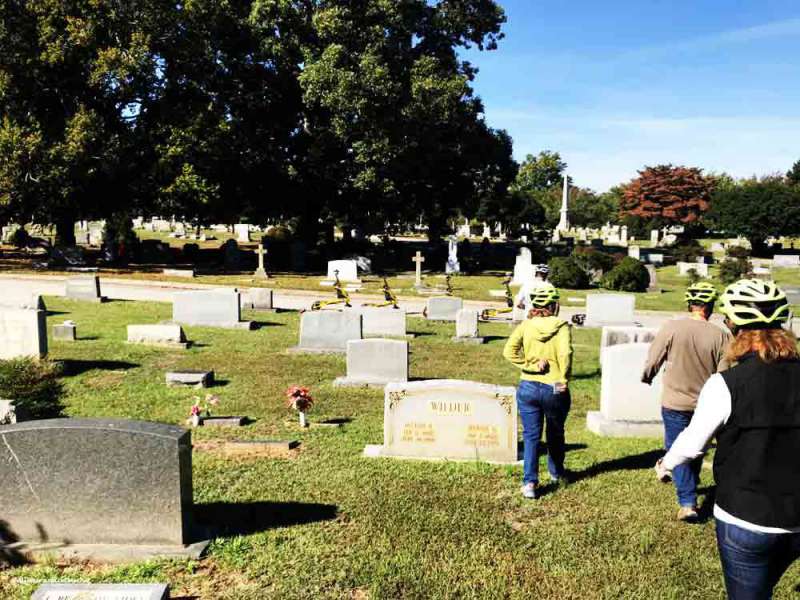 Triangle Glides is an entertaining and informative tour. Yes, it may be slightly pricier than some tours, but it's so unique, memorable, and lively that it's well worth the price. This is a definite Pull Over And Let Me Out winner when visiting Raleigh, North Carolina.
Though I received the media rate for the tour, all opinions are my own and honest.
Triangle Glides
TriangleGlides.com
Historic City Market, 323 Blake St, Raleigh, NC 27601
(919) 828-1988
info@triangleglides.com
Wed-Sat: 10 am – 5 pm
Sun: 10am – 4pm
Mon-Tues: Closed
Have you taken a Triangle Glides tour? Let me know in the comments section below. I'd love to hear about your adventure!
IF YOU LIKE THIS POST, PIN IT FOR LATER!