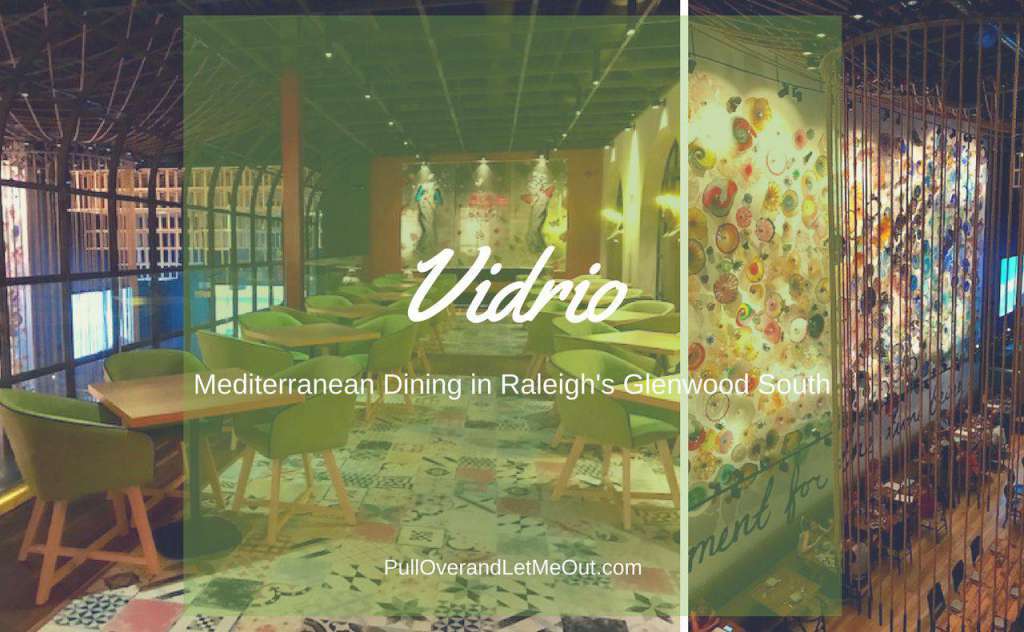 A guest post by Pamela Brown.
A Feast For All The Senses
Marcus Apicius, perhaps the world's first foodie, is credited with the saying that a person eats with their eyes. In few places is this truer than at Vidrio in Raleigh's Glenwood South. With a combination of simple and beautifully prepared Mediterranean inspired food and architecture that can best be described as stunning, dining at Vidrio is a feast for all the senses.
Since opening its doors in January of 2017, I've been waiting for the right moment to dine at Vidrio. A recent girl's night out gave that opportunity and it did not disappoint. My guest and I were seated at a corner banquette with a view of the main dining area and its modern architectural design features which include a dramatic rope cylinder that descends from main dining area ceiling and a towering wall adorned with nearly 400 glass objects created by artist Doug Frates (a nod to the restaurant's namesake which is Spanish for "glass.") Our server Hannah, who was excellent, explained that the artist spent over a month deciding the perfect placement of each piece. It shows.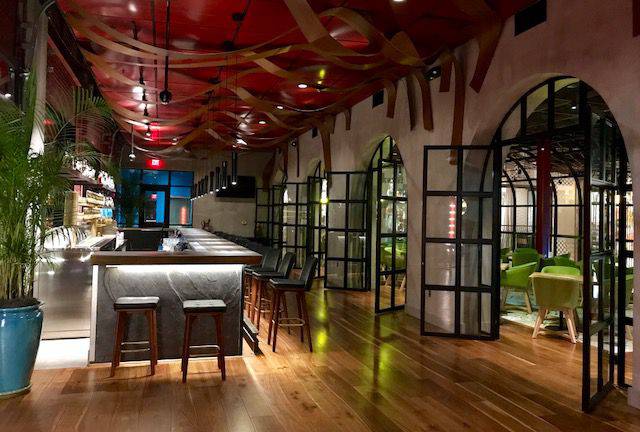 Recognized by Wine Spectator
Vidrio, who was recently
recognized
by Wine Spectator for its stellar wine list, offers a unique selection of handcrafted cocktails, such as the "Seether," a blissful mixture of Ketel One vodka, a house made blueberry-sage shrub, fresh lemon juice, and simple syrup, topped with a float of prosecco, along with interpretations of classics such as the "Mediterranean mule" – a take on the Moscow mule but with a Mediterranean twist of house fig-infused Deep Eddy vodka, fresh lime juice, ginger beer, and homemade ginger-honey syrup, served in a copper mug mounded high with crushed ice.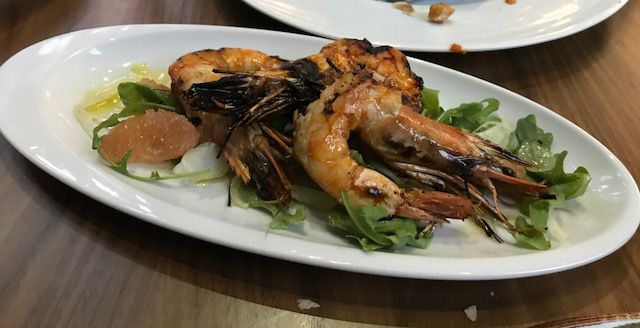 Vidrio Is Best Enjoyed "Family Style"
While enjoying cocktails, our Server explained that
dining
at Vidrio is best enjoyed "family style," with guests typically sharing a sampling of small plates followed by a large plate entree. While nibbling on the house bread which is served with a deliciously light tasting olive oil that is every bit as delicious as one would expect when you learn that it is imported from the Green village where Vidrio owner Lou Moshakos is from,
we chose several small plates including the
Moroccan beef skewers, a small charcuterie board, green chickpea hummus, and wood-fired prawns. The beef skewers were grilled to tender perfection and served with a slightly spicy harissa greek yogurt sauce. The wood-fired prawns were my favorite, set atop a lightly dressed salad of field greens, sliced fennel, and grapefruit slices. The charcuterie platter was a bit underwhelming with small slices of various meats and a cracker type of bread that did not do justice to the delicious apricot mostarda which accompanied it. The chickpea hummus was delicious with an interesting smoky flavor and a generous portion.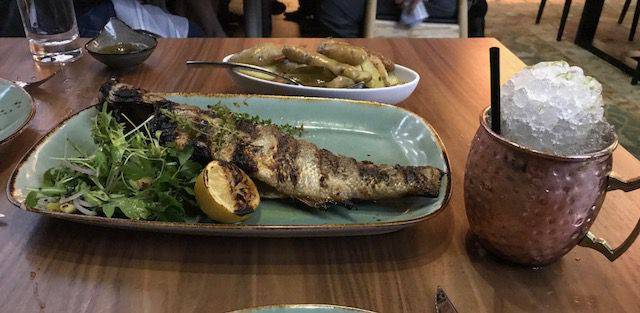 Food Bliss
Continuing our food bliss, we ordered the whole branzino, which is a Mediterranean sea bass. The fish was beautifully charred yet perfectly moist and served atop a complement of delicately dressed citrus greens. We chose a side of fingerling potatoes, which I'm still dreaming about, as the perfect accompaniment.
We finished dinner with a chocolate bread pudding and blood orange sorbet and the suggestion to check out the upstairs level which is used primarily for special occasions and private parties. A quick step past the velvet rope and we were in a whole other jaw-dropping area of the restaurant which we had all to ourselves. The upper level of Vidrio is every bit as stunning as the main floor, with vivid eye-popping colors (those green chairs!), beautiful tile work, floor to ceiling windows that look out onto Glenwood South, a full bar, and a birds-eye view of the kitchen and main dining area.
For a visit to the Mediterranean without ever leaving Raleigh, and a feast that all of your senses will not soon forget, I suggest giving Vidrio a try.
Vidrio
500 Glenwood Avenue
Suite 100
Raleigh, NC 27603
919-803-6033
Valet Parking Available
VidrioRaleigh.com
Like this post? Pin it for later!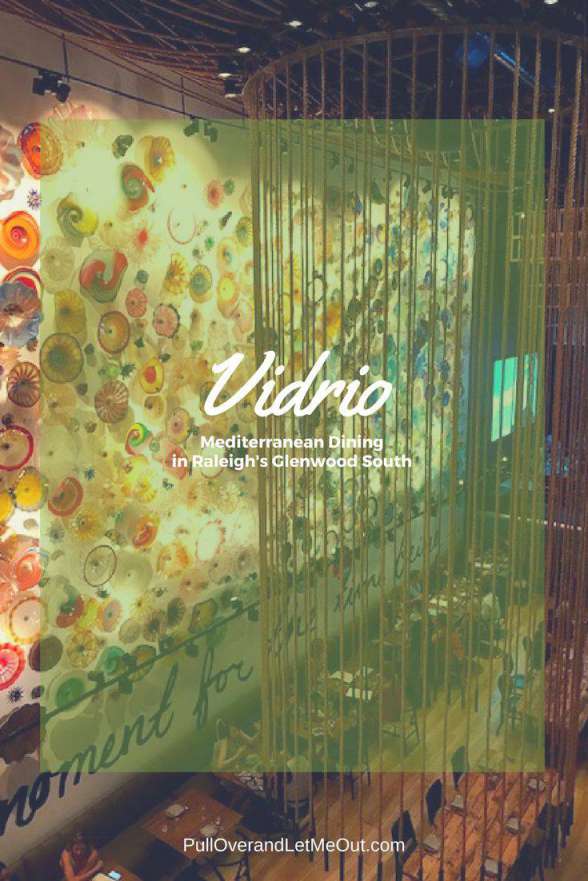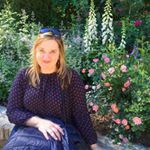 Pamela Brown
Pamela Brown
is a long time Raleigh resident who loves travel, photography, writing, and exploring the many great places that Raleigh has to offer.
Save