Special thanks to Meghan Gearino and Erin Bagnell at VisitRichmondVA.com for assisting me with my itinerary and for the attractions guest pass. As always, all opinions are honest and my own.
Sometimes a quick change of scenery is good for the soul. We got in the car at nine-o'clock on a Saturday and headed north for a brief interlude in the Virginia capital. Here's how we spent 24-hours in Richmond, Virginia.
Getting There
Did you know Richmond, Virginia is within a day's drive of half of the U.S. population?
Centrally located on the east coast with Interstates 95 and 64 running through the region, Amtrak, and multiple airlines offering daily direct flights, getting to Richmond is extremely easy.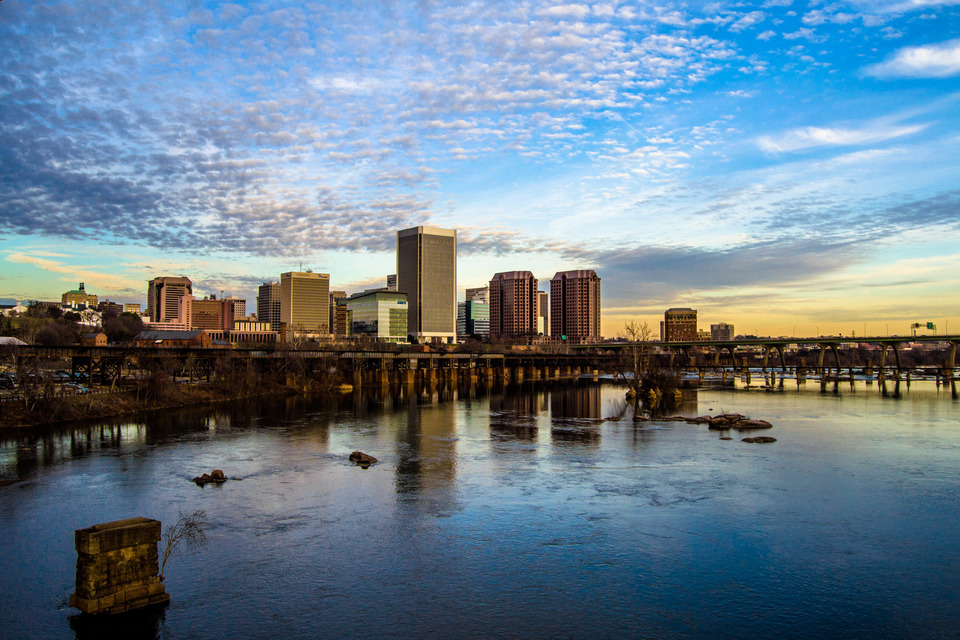 Most ads you see on this site are affiliate links. If you click through and make a purchase I'll get a small commission. So, thanks in advance for helping me keep bringing you the content you enjoy!
Check-In
Located at the corner of Broad and 5th Streets, we made the downtown Marriott our hub for spending 24-hours in Richmond. Right in the heart of City Center, it's connected to the convention center, close to theaters and an easy walk to nearby areas like Capital Square, the Financial District, Jackson Ward, Court End, the Visitors Center, and other tourist destinations.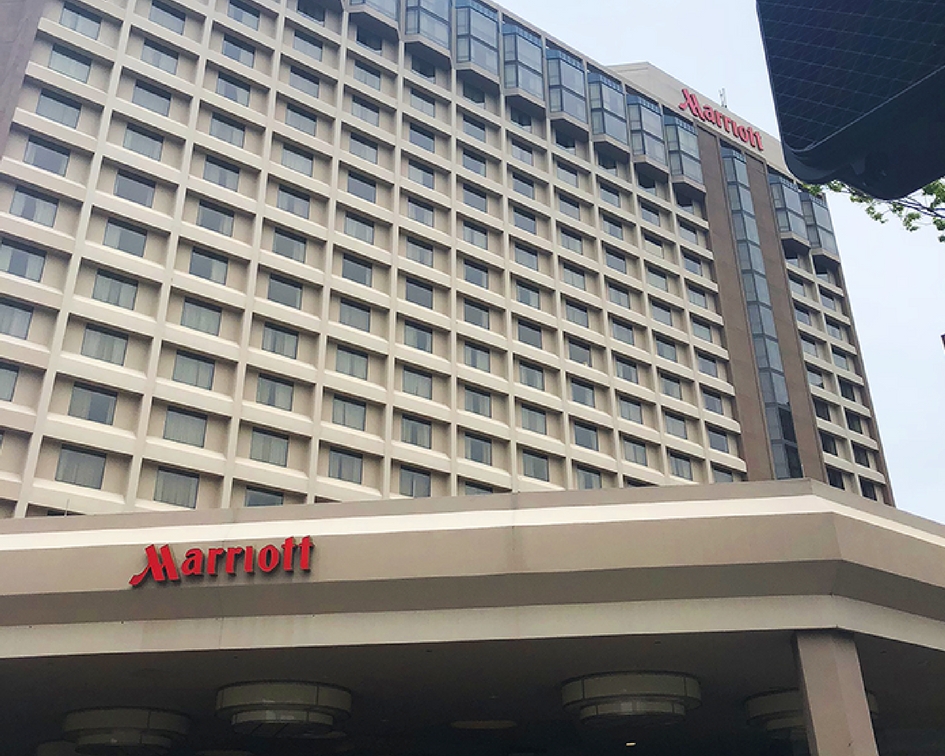 Lunch
We arrived at lunchtime and in Richmond the dining choices are limitless. Dining downtown means selecting from hundreds of restaurants. We opted for a short walk to Grace Street and Secret Sandwich Society. The hip sandwich shop features a bold selection of "thoughtfully sourced" cleverly crafted sandwiches. In addition to their delicious sandwiches and generous portions, this popular sandwich shop prides itself on its commitment to the environment – sandwiches with purpose.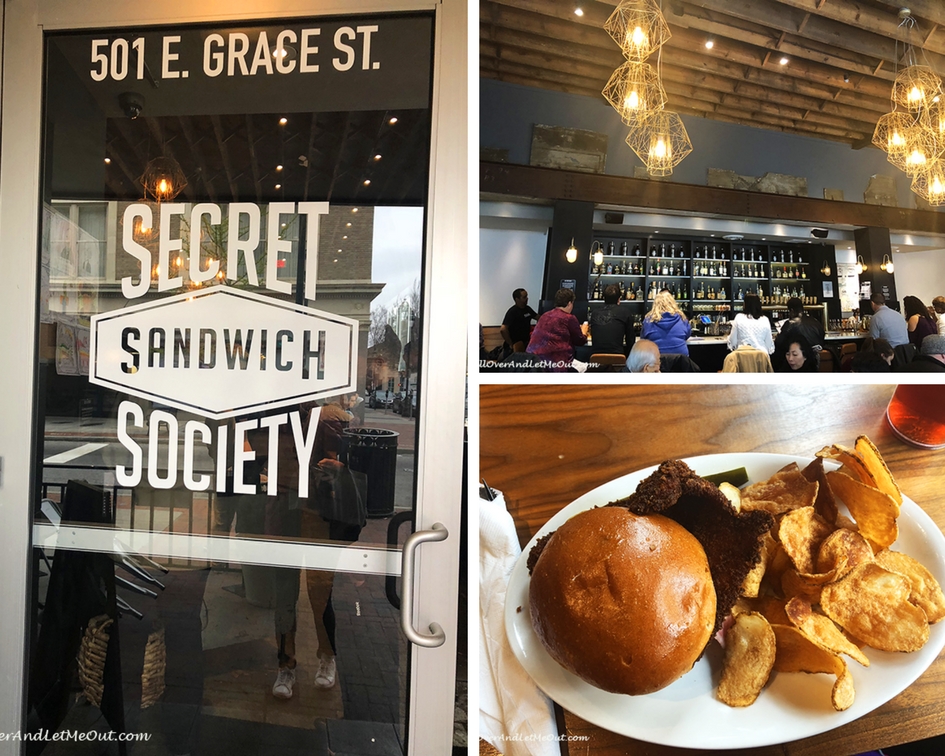 Secret Sandwich Society is usually busy but our wait for a table was brief. Once seated, the service is quick and friendly. The food is yummy and the sandwich names are historic! I enjoyed the Lafayette, my husband had the McKinley, and my son went for the Lincoln; a build-your-own sandwich allowing him to exercise his freedom of choice.
Afternoon Exploring Downtown Richmond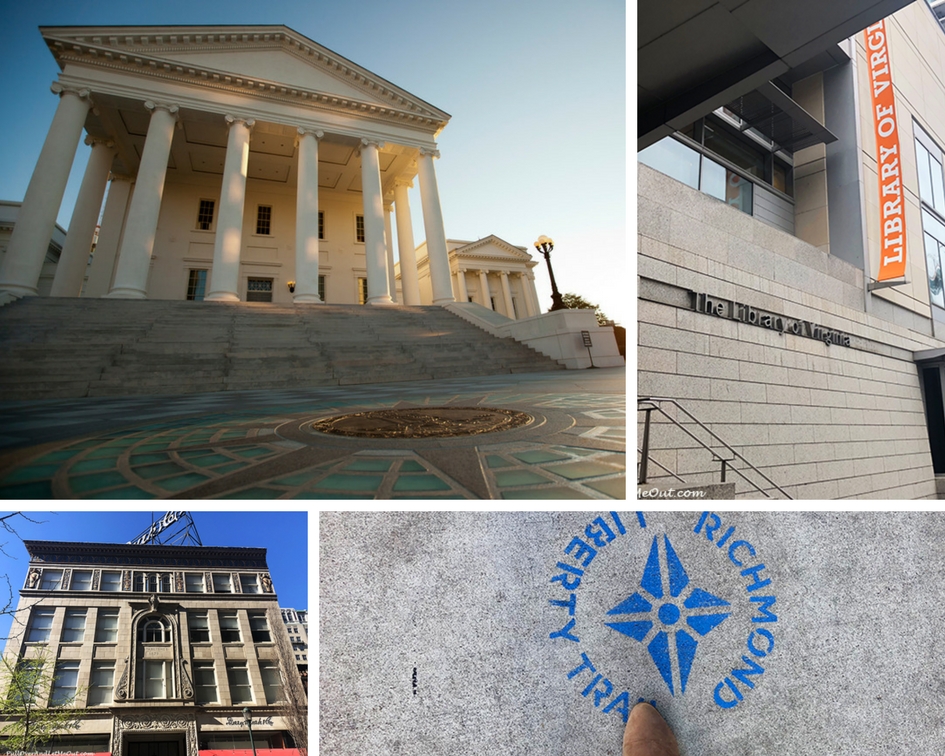 No longer hungry, we were ready to explore!
Richmond is a foot-friendly city. Its streets are laid out on a grid system and divided into distinctive neighborhoods each with its own unique charm and essence. There are multiple walking tours, trails, segway, and trolly tours, making exploring Virginia's capital city a joy. Our time in Richmond was unusually cool for the time of year but didn't deter us from thoroughly investigating the city.
Street Art and Architecture
There is a lot of fun street art enhancing the neighborhoods of Richmond. As the Visit Richmond website says, "the region is a living canvas with walls painted by locals and international artists." I scouted out a couple of these masterpieces in advance with a visit to the Richmond Mural Project website. Out-of-this-world is how I'd describe the mural at 501 E. Grace Street and I love the Uneeda Biscuit ghost mural at 25th and Broad.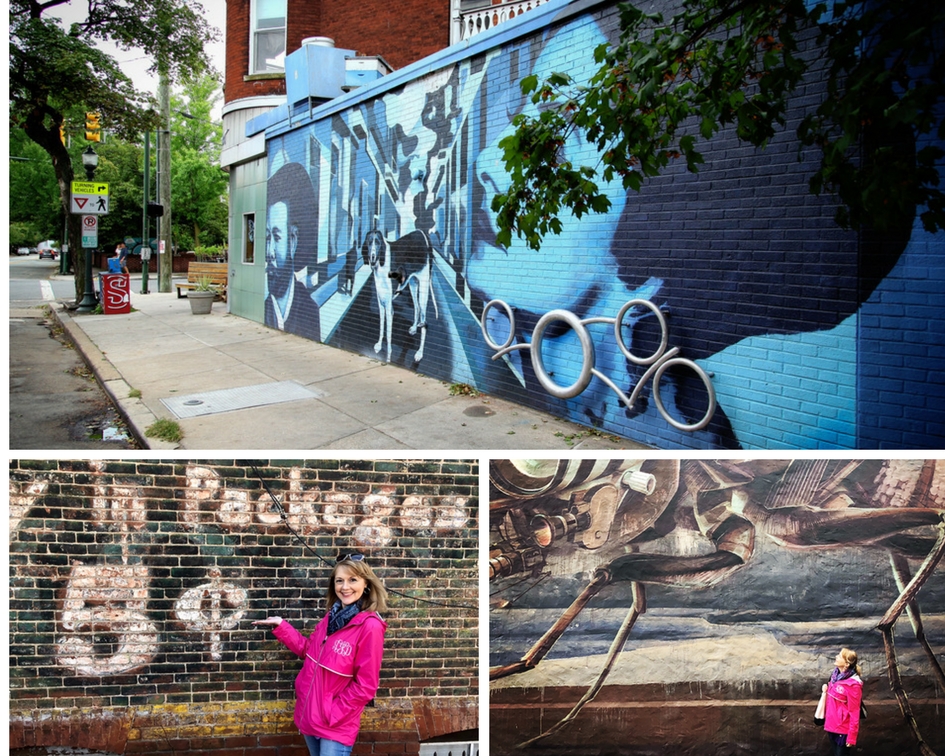 To see more travel pictures, be sure to follow me on Instagram!
In addition to the street art, the buildings themselves are artistic examples of a variety of architectural styles. Some of the architectural styles represented in Richmond include Neoclassical, Gothic Revival, Victorian, Georgian, and Art Deco. We spent a lot of time walking and admiring the buildings beautifying the city streets.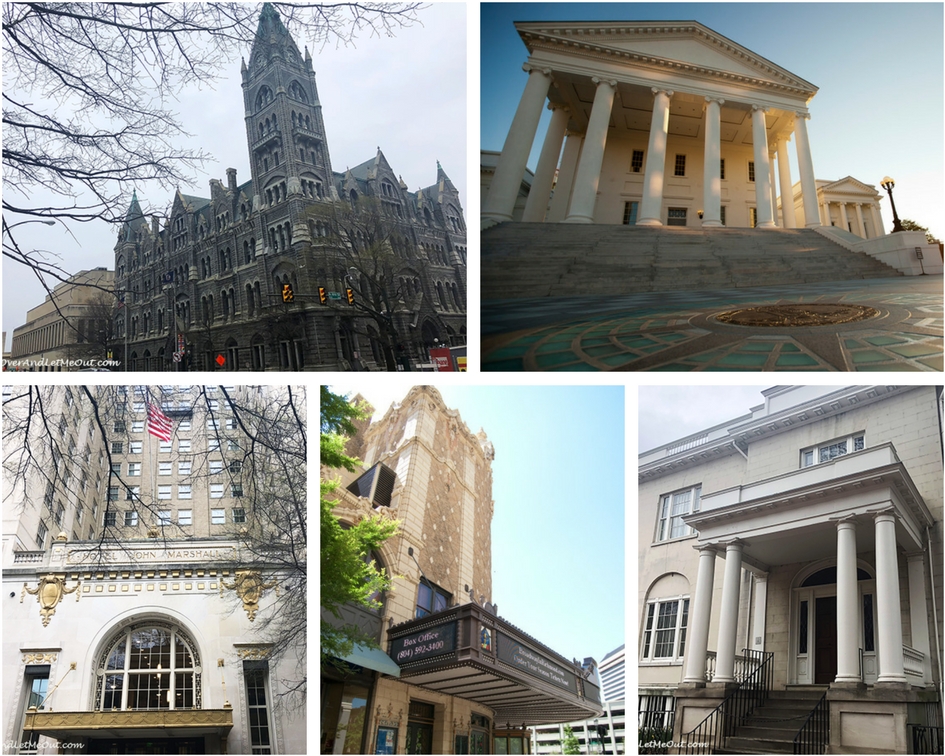 Museums
After a little exploration, we found ourselves at The Valentine. The Valentine is a combination historic home and museum. Constructed in 1812, The Valentine located in the Court End neighborhood was our starting point for learning about Richmond's history. One of Richmond's first museums, The Valentine houses several collections and details 400-years of Richmond's history.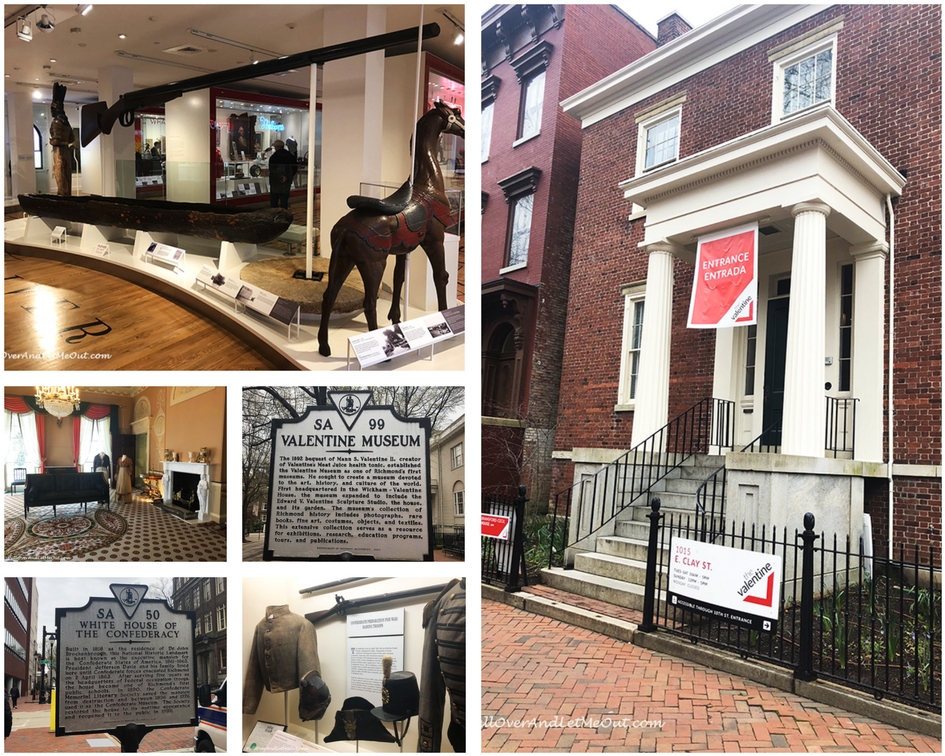 Once we finished our tour of The Valentine, we walked a short distance to the White House of the Confederacy and American Civil War Museum. The galleries at this museum are filled with the most incredible artifacts and personal effects from the Civil War I've ever seen. I was riveted reading the details and stories of items like a jacket with a hole in the heart where a bullet cut through killing the soldier, or a guidebook belonging to a scout who was beside Stonewall Jackson when he was hit. The book bears the tell-tale signs of being hit in the gunfire which also took the life of the General.
After meandering through the museum we caught the final tour of the day through the White House of the Confederacy. Our guide did a fantastic job of describing what life would have been like during the early and late days of America's Civil War.
An Evening of Nachos and Craft Brews
Richmond has a thriving craft brewery scene. Still full from our lunch and after a day of touring it was time to sample sudsy libations. We elected to stay on-site at the Marriott and enjoy a Virginia brew at T-Millers Sports Bar & Grill. A cool brew with a heaping serving of nachos was just the ticket for post-tour sustenance. However, if you're really looking to sample the beers of Richmond, a trip to Main Street and Capital Ale House is in order. They brag of 103 taps and the largest selection of Virginia craft beers. Homer Simpson, eat your heart out!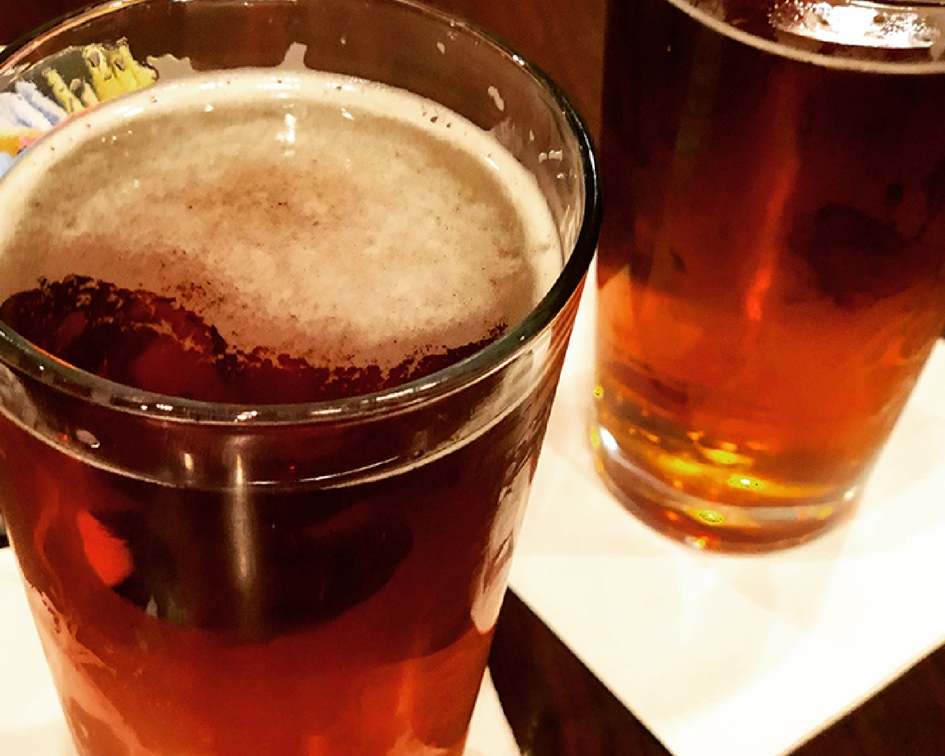 Sunday Morning
Early risers have their choice of churches in downtown Richmond. There are multiple historic churches so we woke up early to check out the oldest Catholic church in Richmond, St. Peter's on Grace Street. The beautiful old church has been serving the citizens of Richmond since 1834 and is the second oldest church in the city. Originally its congregation was primarily comprised of Irish immigrants who worked on the nearby canal. It served as the cathedral until 1906 and boasts some well-known rectors and parishioners over the years.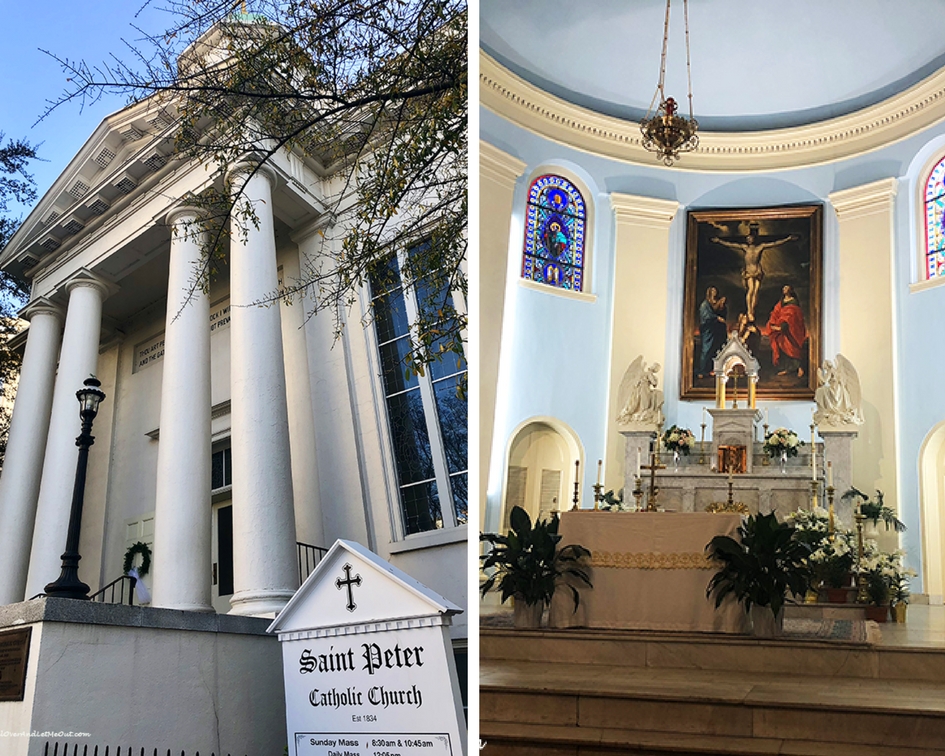 Brunch!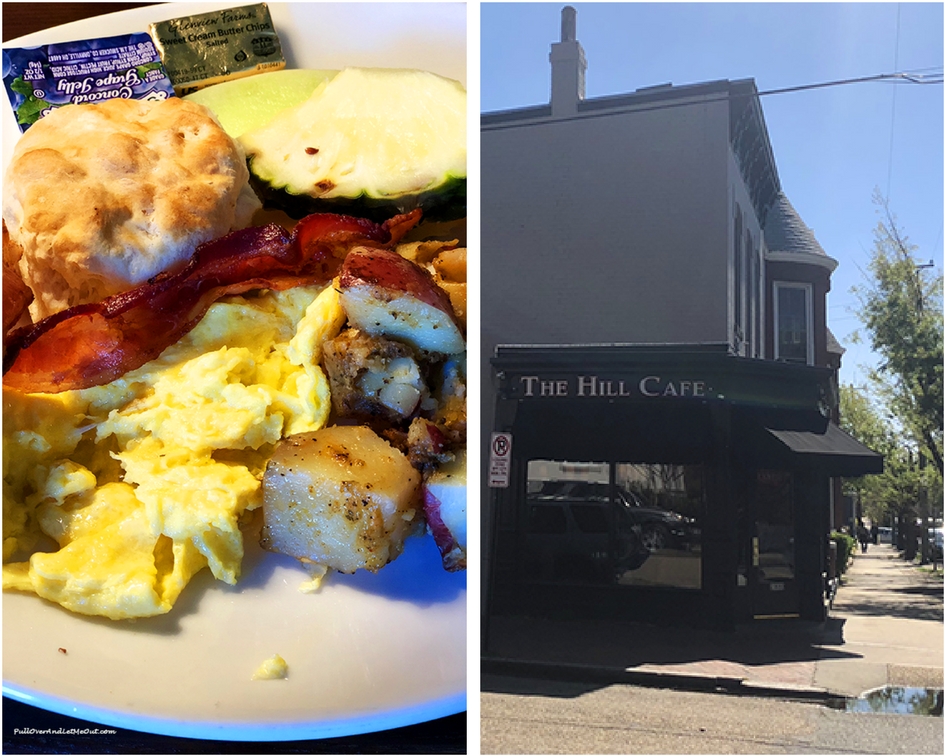 After coffee and donuts so generously offered to us by the parishioners at St. Peter's, we strolled back to our hotel to check-out. Departing the Marriott we took a short drive on Broad Street to the Church Hill Neighborhood for brunch at The Hill Café.
This cool neighborhood restaurant serves a delightful menu of breakfast classics in a cozy welcoming atmosphere. Brunch staples of hot cakes, French toast, omelets, biscuits and gravy, and naturally an array of hot or cold beverages, and traditional brunch libations. This neighborhood favorite attracts a local crowd but welcomes out-of-towners too. Street parking means an agreeable stroll of this historic neighborhood is likely and welcomed. We parked about a block away so we were close to our next stop.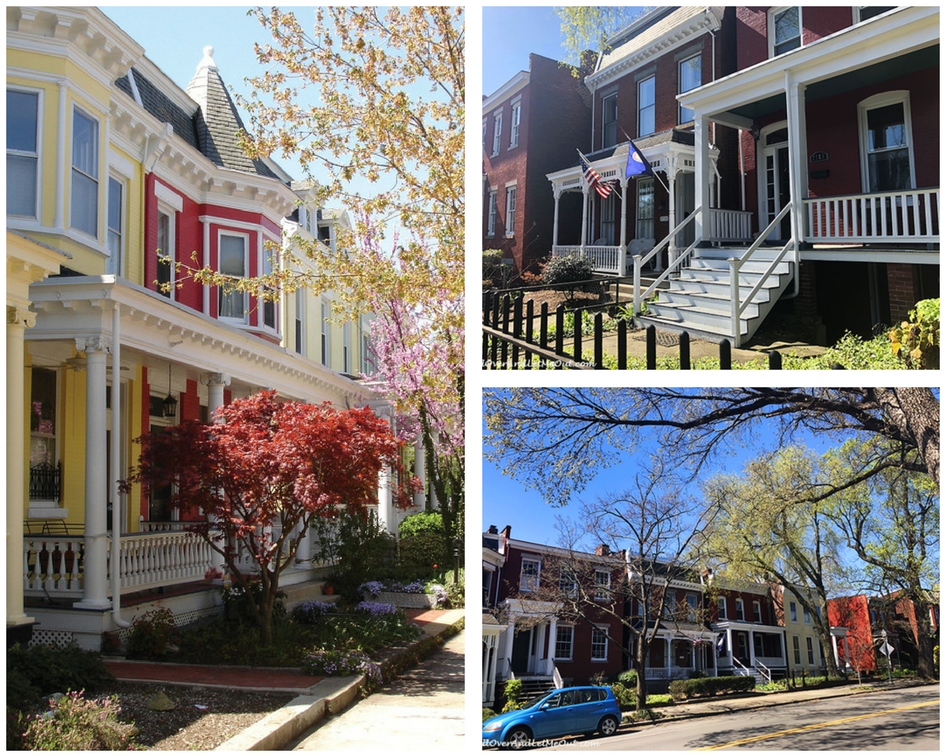 St. John's Episcopal Church
I couldn't come to Richmond without stopping at St. John's Episcopal Church for it's here founding father Patrick Henry made his impassioned speech, Give me liberty or give me death! Pull Over And Let Me Out readers know of my love of history, so being able to pop in and look around this important place was a thrill. Services had just finished when we arrived and we were welcomed inside to check out Richmond's oldest and most famous church.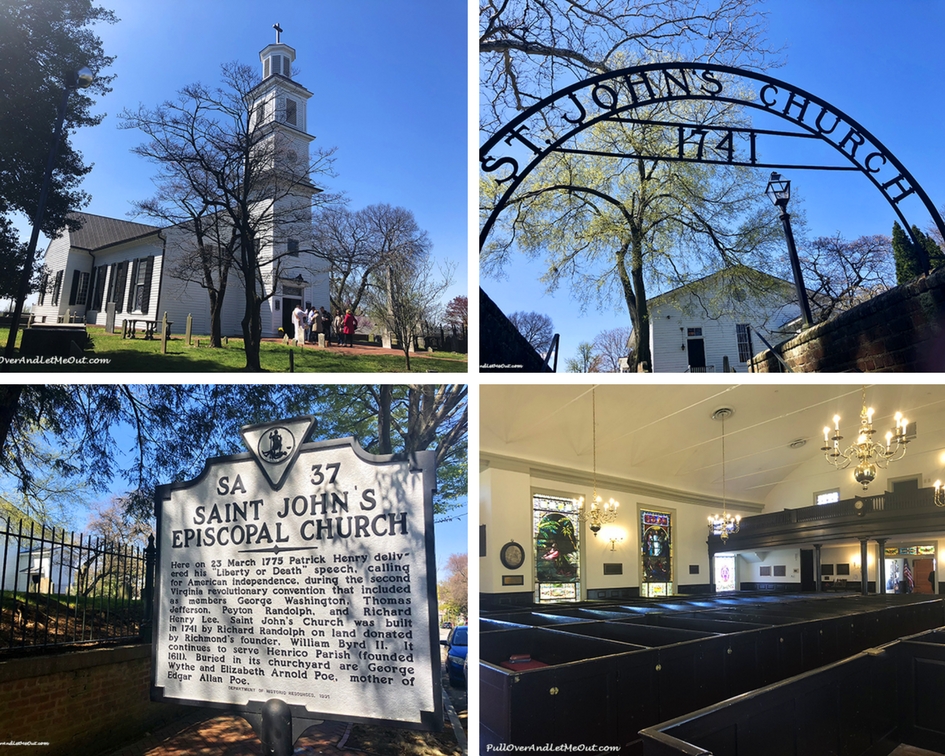 Virginia Holocaust Museum
The final stop of our 24-hours in Richmond was at the Virginia Holocaust Museum. Located on Cary Street near the canal in the Shockhoe Bottom neighborhood, this museum occupies space which was originally the American Tobacco Company Warehouse. Today it houses a sobering chronological history of the Holocaust with special emphasis on accounts of local Holocaust survivors. There's free parking available and no charge for visiting. However, donations are welcomed and encouraged. Having just finished studying WWII with my son, this homeschooling Mom was awed by the Virginia Holocaust Museum. A serious subject but a must-see attraction.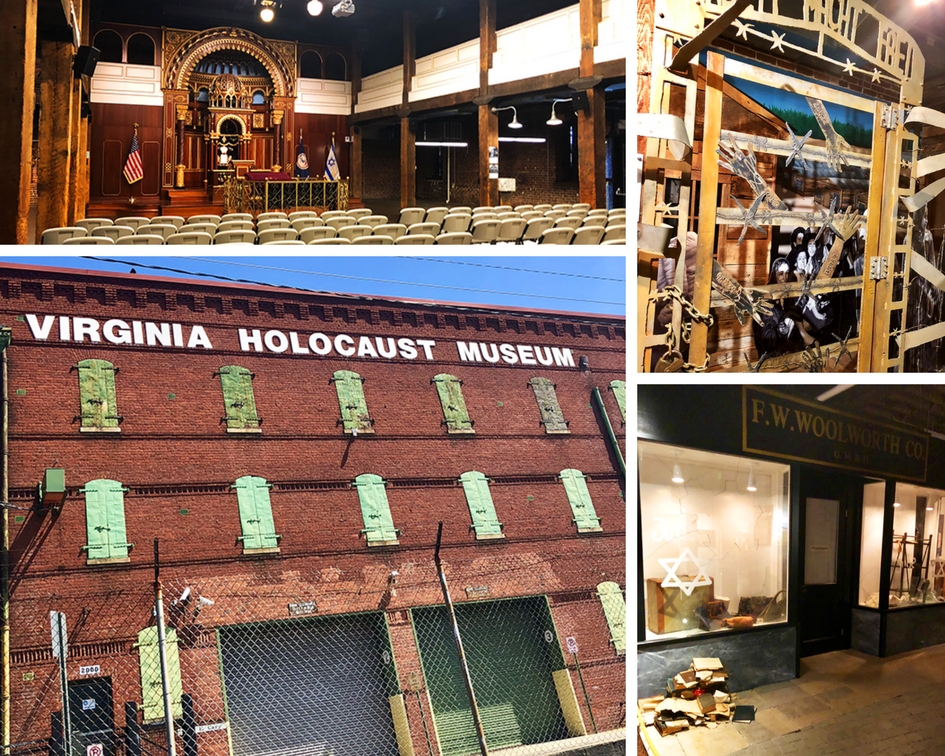 Tips For Visiting Richmond, Virginia
There's so much to do and see in Richmond, Virginia the first bit of advice I have is to research before traveling. The Richmond Region Tourism Office is a wonderful resource for maps and visitors guides. Take into consideration the interests of those you're traveling with and tailor your visit accordingly.
This trip was what I call 'history-heavy.' However, there's art, theater, outdoor adventure, film, foodie tours, wine, music – there's so much to do in Richmond, I found myself saying, "We're coming back" from the moment we arrived! Which leads me to my final thoughts.
You Can't-Do It All
Arrive knowing you can't do it all. We managed to accomplish a lot in 24-hours, but we barely scratched the surface. Hence, there's still much more I want to see and do. Like take a canal tour, visit historic Hollywood Cemetery, dine along the Canal Walk, explore the Poe Museum, visit the Virginia Museum of Fine Arts… and on and on and on. I'm already planning another stay in this beautiful capital city on the James River. Our 24-hours in Richmond was so much fun, I can't wait to return!
Itinerary Summary
Check-in Marriott Hotel 500 E. Broad St.

Lunch at Secret Sandwich Society 501 E. Grace St.

Explore downtown street art and architecture

Valentine Richmond History Center 1015 E. Clay St.

American Civil War Museum and White House of the Confederacy 1201 E. Clay St.

T. Miller's Sports Bar and Grill – Marriott Hotel

St. Peter's Catholic Church 800 E. Grace St.

The Hill Café 2800 E. Broad St.

St. John's Episcopal Church 2401 E. Broad St.

Virginia Holocaust Museum 2000 E. Cary St.
Have you visited Richmond? Let me know in the comments below!
If You Liked This Post, Pin It For Later!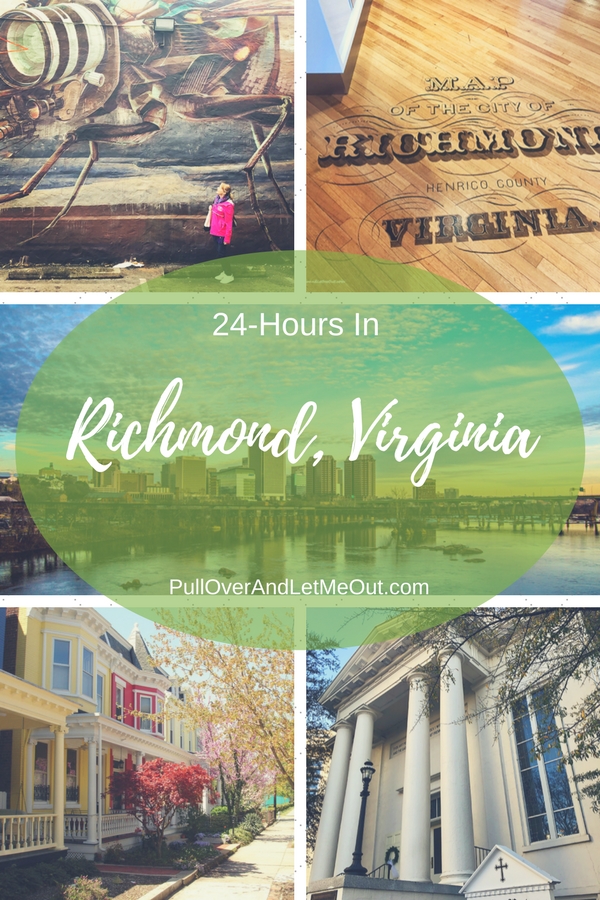 *The weather was kind of gray on our first day so a couple pictures in this story are courtesy of VisitRichmondVA.com.