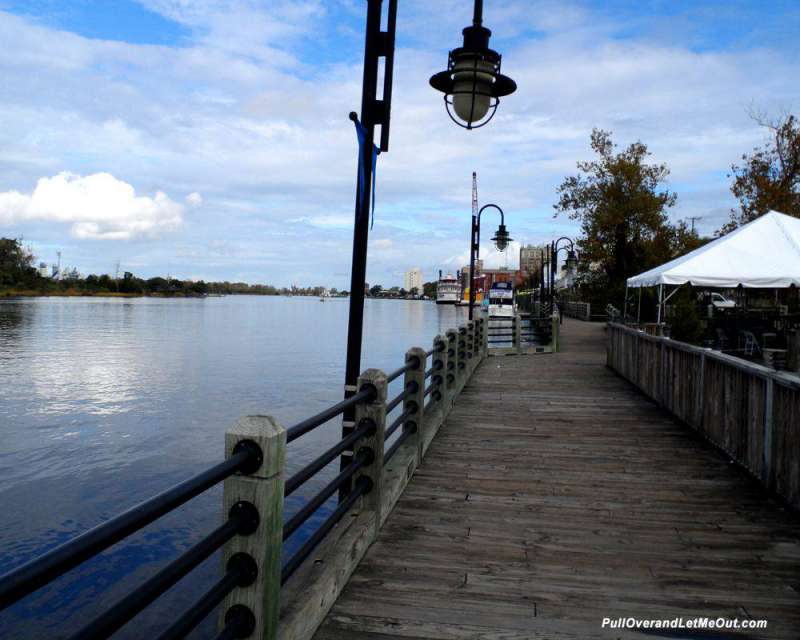 Wilmington is a historic port city along the Cape Fear River in North Carolina. Steeped in history ranging from pirate visitors to the American Revolution, the Civil War, World War II, up to today's hip culture – the charming coastal city with colonial beginnings is packed with plenty to see and do.
24 hours is enough time to enjoy the vibrant city and leave one wanting more of Wilmington.
Most ads you see on this site are affiliate links. If you click through and make a purchase I'll get a small commission. So, thanks in advance for helping me keep bringing you the content you enjoy!
Check-In Time
We arrive at our bed & breakfast at 2:30 on Saturday afternoon. The Front Street Inn is a pleasing guest house in the heart of the historic district. Housed in what was once the Salvation Army building this guest house is conveniently located within walking distance of a plethora of attractions including galleries, pubs, historic homes and the Riverwalk.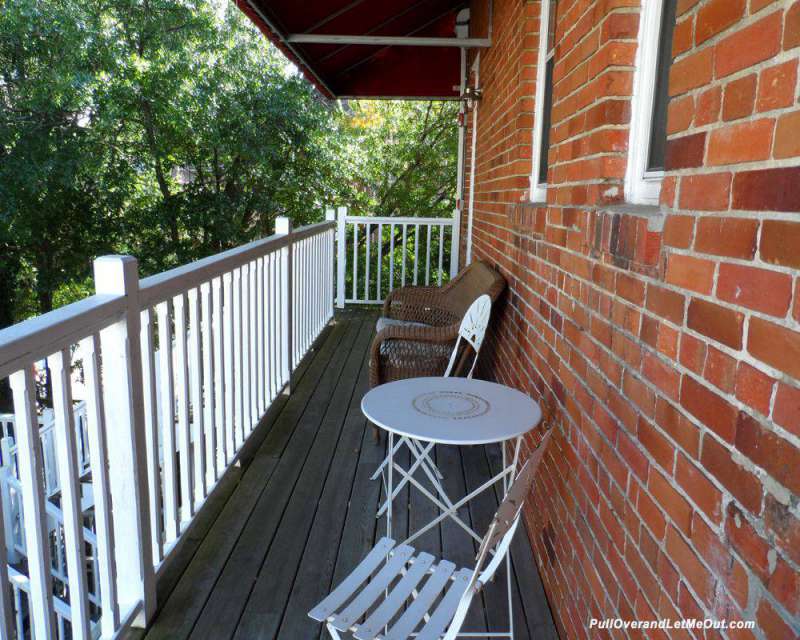 A semi-private balcony perfect for sipping coffee in the morning.
The spacious rooms are beautifully decorated with works by local artists and provide ample privacy should you be seeking a romantic get-away. Our trip is a birthday surprise from my husband and the owners couldn't have been more helpful in assisting him with reservations which included a bottle of wine and chocolate covered strawberries awaiting my arrival. He was also able to procure tickets in advance for a horse-drawn tour.
A Horse Drawn Tour of Wilmington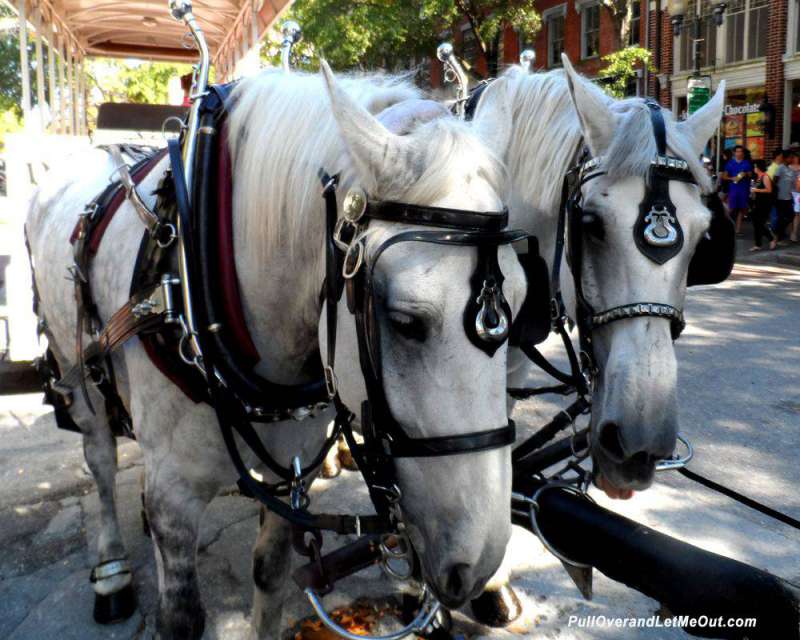 Once we're situated at the Front Street Inn we head out to see the city. Taking a horse-drawn tour of the historic district is a perfect way of immersing ourselves in this charming community.
Our guide Ron is wonderfully regaling us with tales of local lore and legend. The tour travels around the waterfront and historic downtown area starting at Front and Market Streets. Tickets are $12 per adult and the trip is an outstanding way to learn Wilmington's history.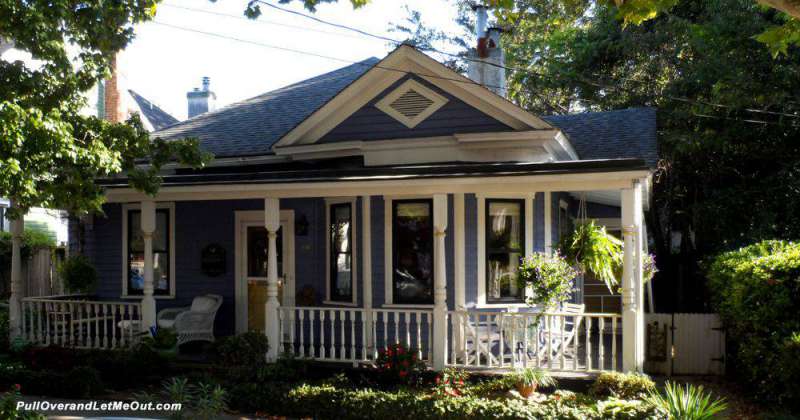 A tour of the city features beautiful Antebellum architecture
Our horse guides, Mike and Harry, are friendly beasts originally bred to work on Amish farms. They're calm gentle creatures who don't seem to mind the hustle and bustle of the town. However, Ron warns us not to pet their heads. We take his warning to heart.
 

The Riverwalk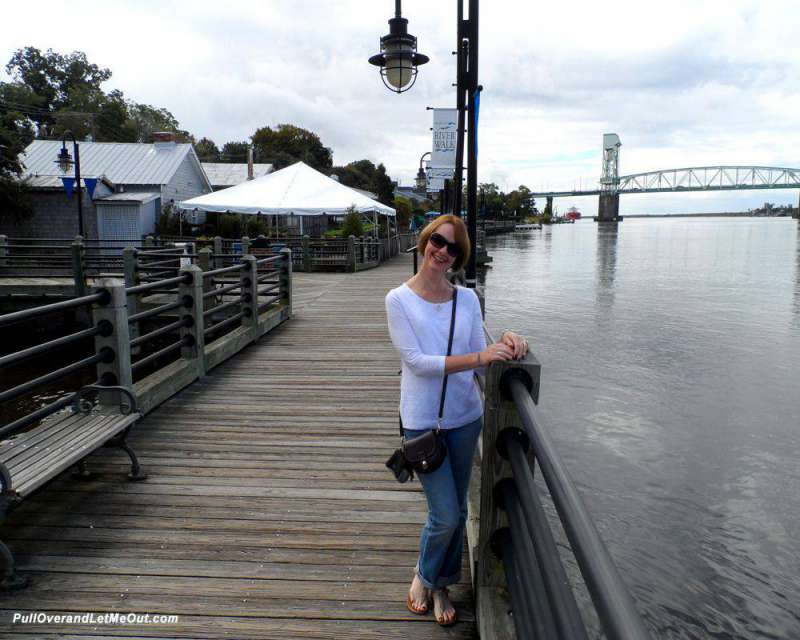 Strolling the boardwalk at the Riverwalk is a highlight of visiting Wilmington 
The result of a downtown revitalization effort initiated in the mid-1970s the Riverwalk is an economic and business success story. Riverwalk is the perfect combination of business and pleasure. Strolling the boardwalk visitors enjoy the abundant choices for dining, specialty shops, galleries and the like.
We take note of the numerous weddings being held this beautiful fall day and it's our good fortune to be here during Riverfest.
Yes, the streets are crowded but the energy is kinetic and uplifting. Furthermore, there are rows and rows of vendors combining with culinary aromas and the sound of music punctuating the excitement of this annual event.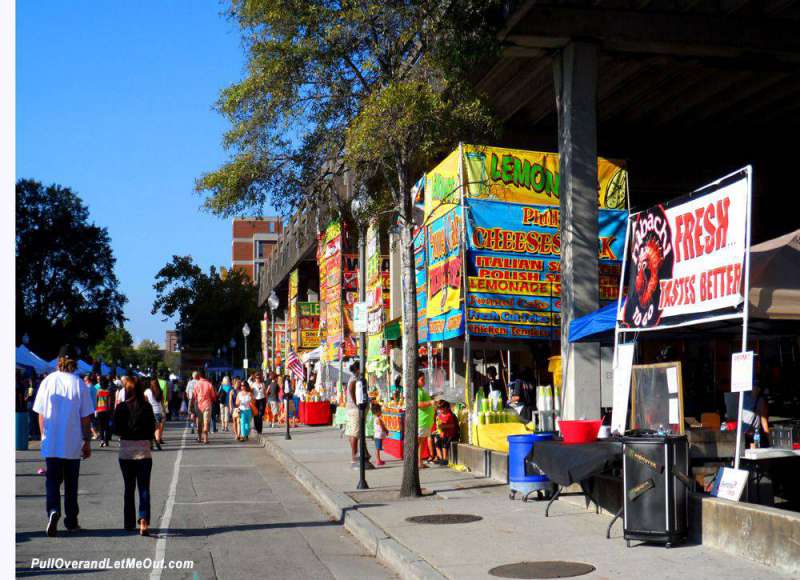 It's easy to spend an entire afternoon on the Riverwalk and if you have the time – it's worth taking it all in at a leisurely pace.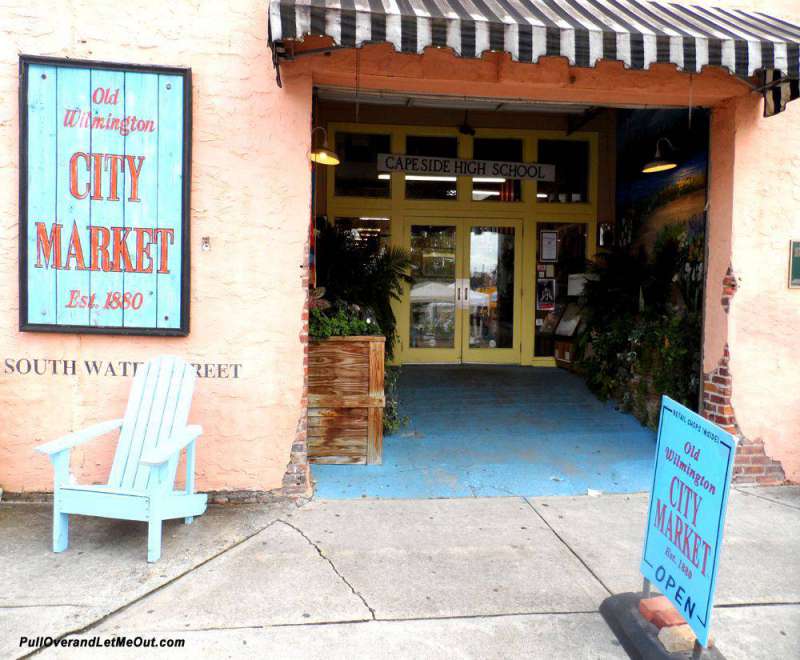 The City Market is one of the many places to shop along the waterfront.
 The Reel Café
After strolling the waterfront and meandering in and out of shops we stop in The Reel Café and enjoy a cool North Carolina craft brew and a plate of nachos. It doesn't hurt that the café has ample televisions for fall football viewing.
This spot is popular and appropriately named as an homage to the many television shows and movies made in Wilmington.  Its impressive list of credits includes favorites like Weekend At Bernie's, One Tree Hill, Iron Man 3 and Dawson's Creek. (yes, I think of Joey and Pacey while I'm here)
During our visit, Sleepy Hollow is filming. Thus, our waitress enthusiastically tells us of her recent evening encounter on the foggy set.   The film industry is booming here and It's easy to see why Wilmington's nickname is "Hollywood East."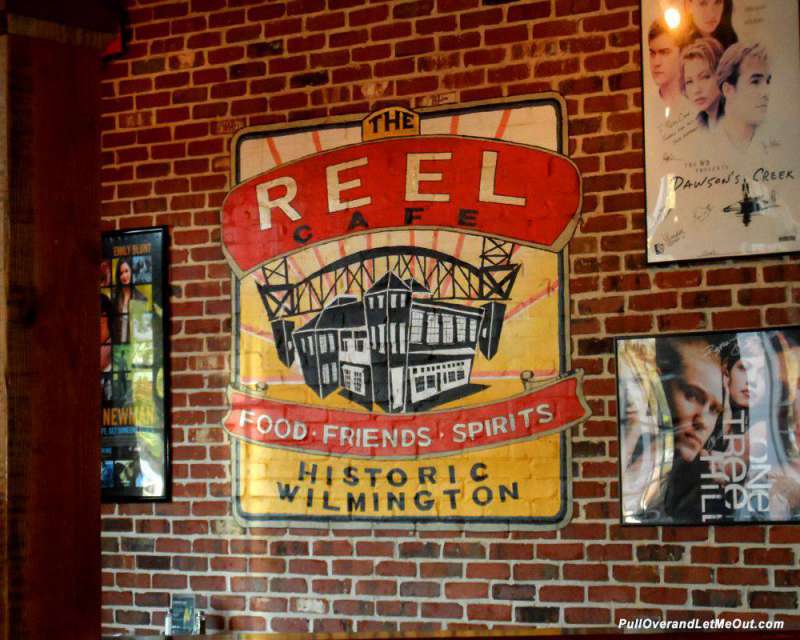 The restaurant is also one of many downtown establishments catering to sports fans and craft beer lovers. I enjoy a North Carolina favorite Highland Gaelic Ale and my husband imbibes with a Sweet Josie. North Carolina is quickly becoming a beer destination and Wilmington has tapped into this trend.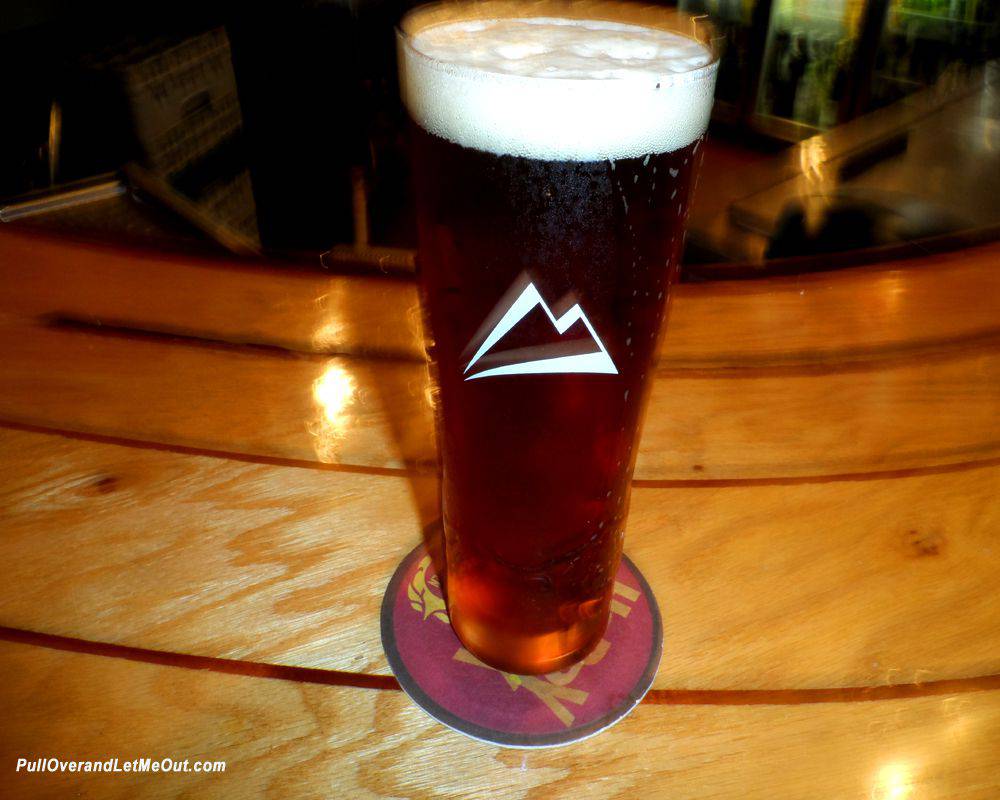 A Highland Gaelic Ale, one of the many craft beers on tap in Wilmington.
Ghost Walk of Old Wilmington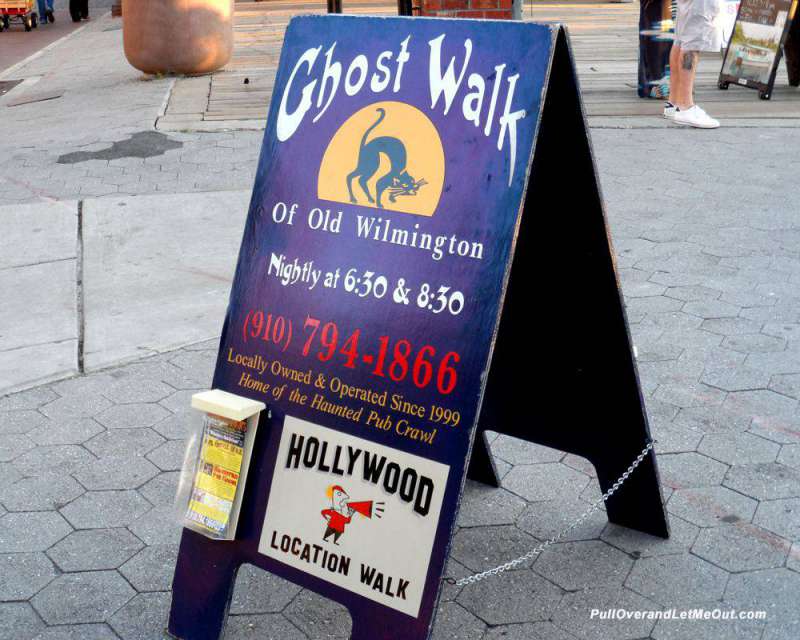 As you may know, I love a good ghost tour. Taking a ghost tour is a wonderful way to see and learn about a city. Wilmington is filled with history and if you believe, filled with spirits. Each evening there are multiple tours departing from the waterfront through the historic district. Visitors choose either a Haunted Pub Crawl or the non-alcoholic Ghost Walk of Old Wilmington.
We select the latter and put on our walking shoes for the mile and a half walk past old Antebellum homes, cemeteries, former brothels and the spot where centuries ago the gallows stood.
Traveling along the cobblestone sidewalks and tight streets it's easy envisioning the times and people who are the stars of the stories this city proudly claims as part of its heritage.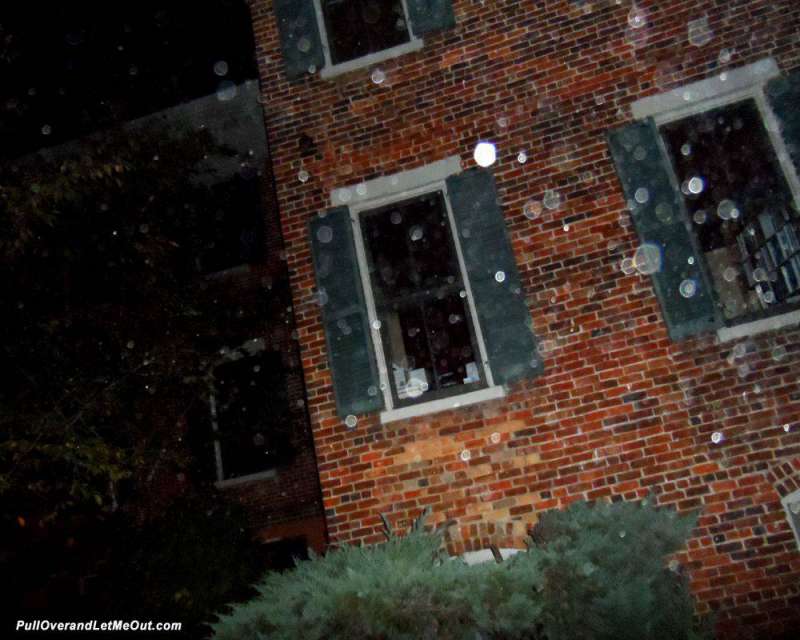 Orbs, paranormal experts believe to be spirits, appear in a picture I took at the site of the old gallows.
I always recommend bringing a digital camera. Ghost hunters have been known to capture unusual images not visible to the human eye.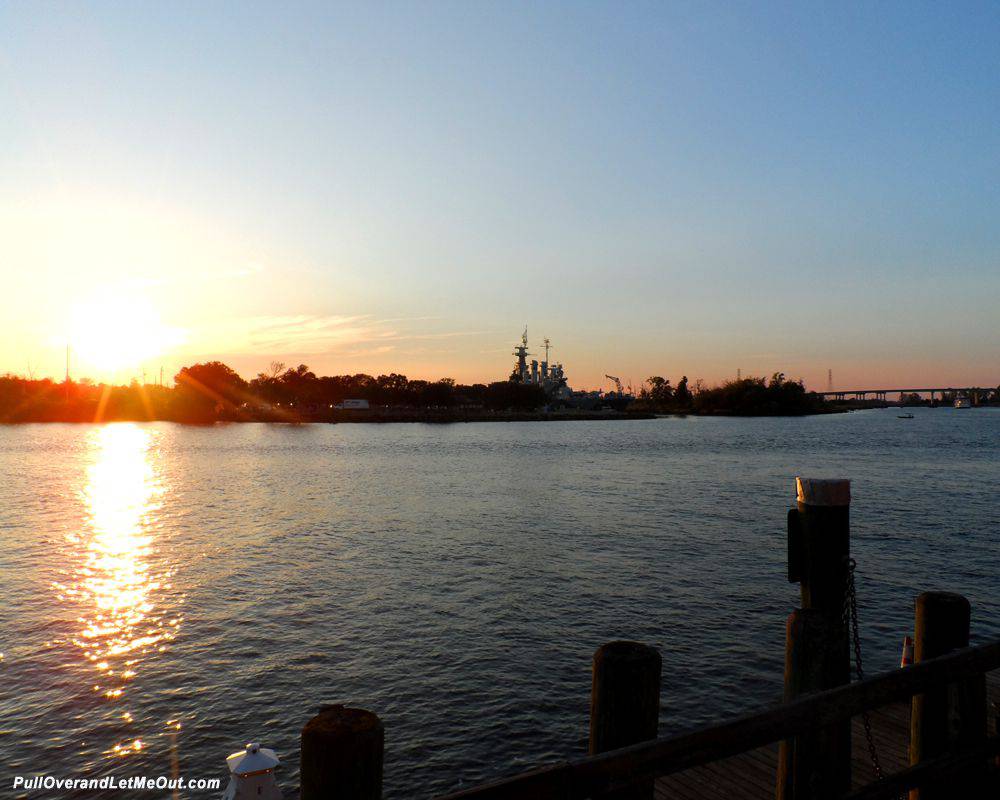 Sunset on the Cape Fear River with the USS North Carolina in the distance.
Waterfront Dining
We end our Ghost Walk at the Riverwalk and head to Elijah's for a late dinner on the deck. We have to wait a little while for a table outside because tonight there will be fireworks in celebration of Riverfest.
Once we're seated our waiter Carl is helpful and promptly brings our food and beverage. My husband selects the blackened tuna and I opt for an appetizer of fried calamari. I've had better, but it's tasty and the ambiance of sitting on the water makes it a delightful dining experience. The bonus of fireworks being shot off of the deck of the USS North Carolina Battleship across the river is the exclamation point at the end of our fun-filled day.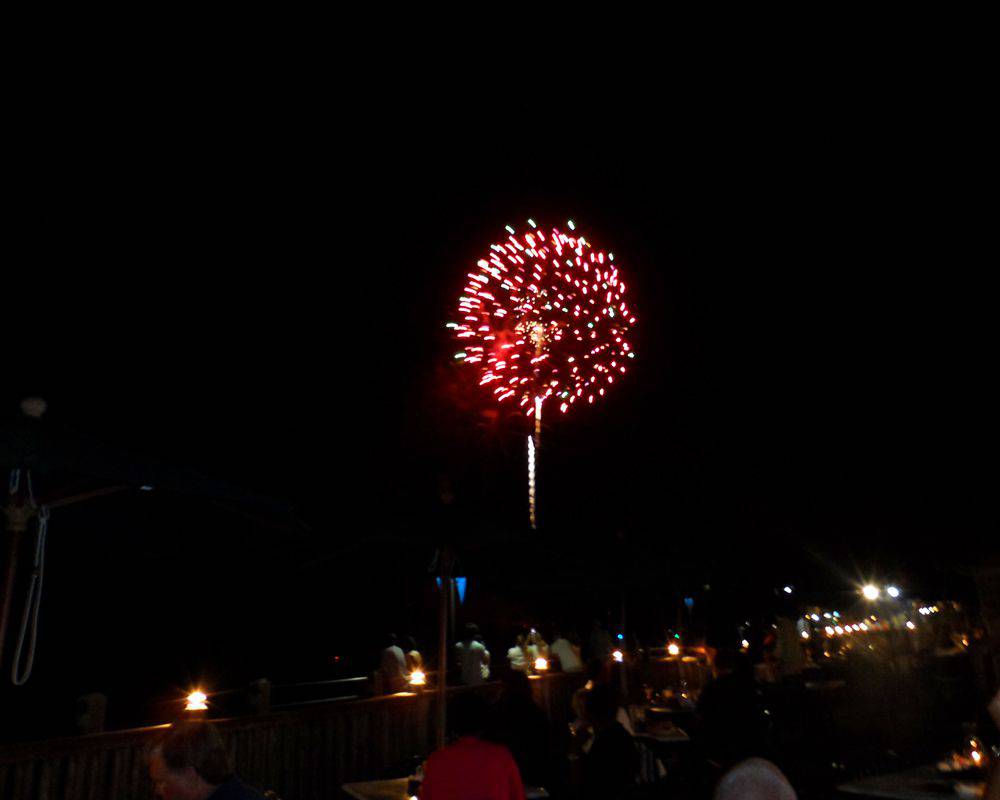 Fireworks celebrating Riverfest 
Breakfast
We descend downstairs for a lovely breakfast at the Front Street Inn. A Southern sausage casserole and fresh fruit are the high light of an enjoyable meal. We settle up and make arrangements to remain parked in the guest house lot while we spend a little more time strolling the cobblestone streets and purchasing souvenirs.
 

Coffee and Lunch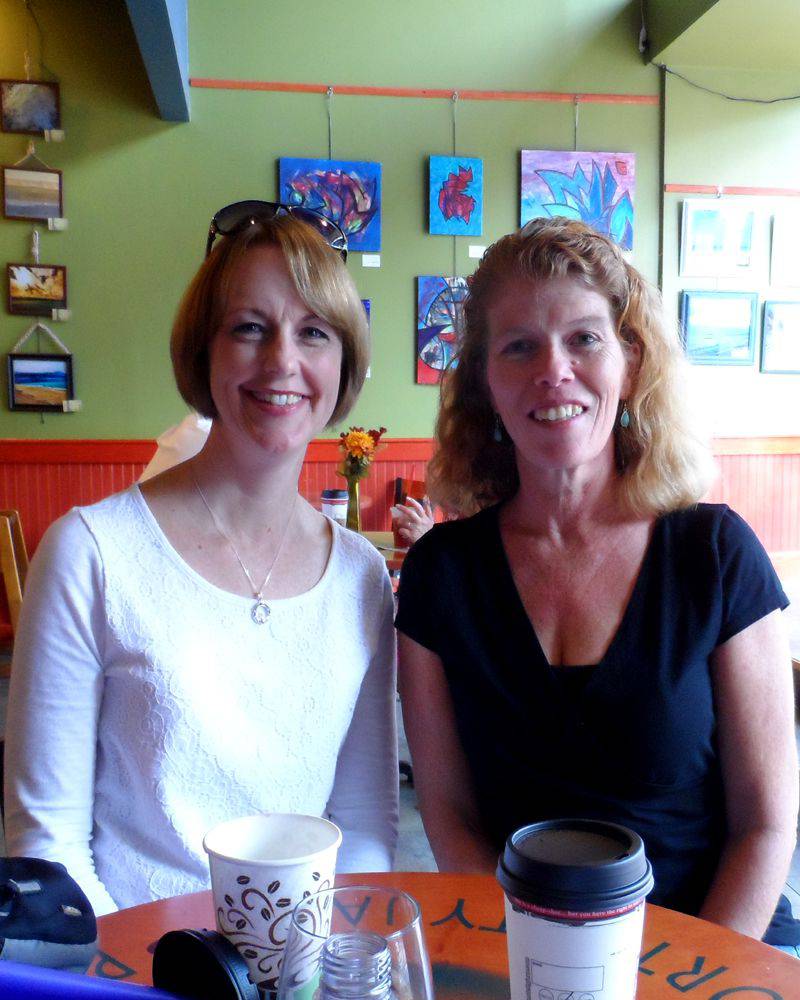 I was able to catch up with my friend Marian over a cup of java.
It's always nice knowing a "local."  Today we're fortunate and have time to meet a friend I haven't seen in years for coffee at Port City Java.
Wilmington has an abundance of artsy coffee houses dotting the historic downtown area. Bring your laptop to finish that screenplay or pull up a chair to catch up and sip a good cup of coffee.
We end our stay with a late lunch at the Copper Penny on Chestnut Street.
A word of warning; the food is great and portions are large but it's also the hangout for the local Philadelphia Eagles fan club. If you arrive during an Eagles game and you're not an Eagles enthusiast  – never let it be known. These are hardcore Philadelphia fans.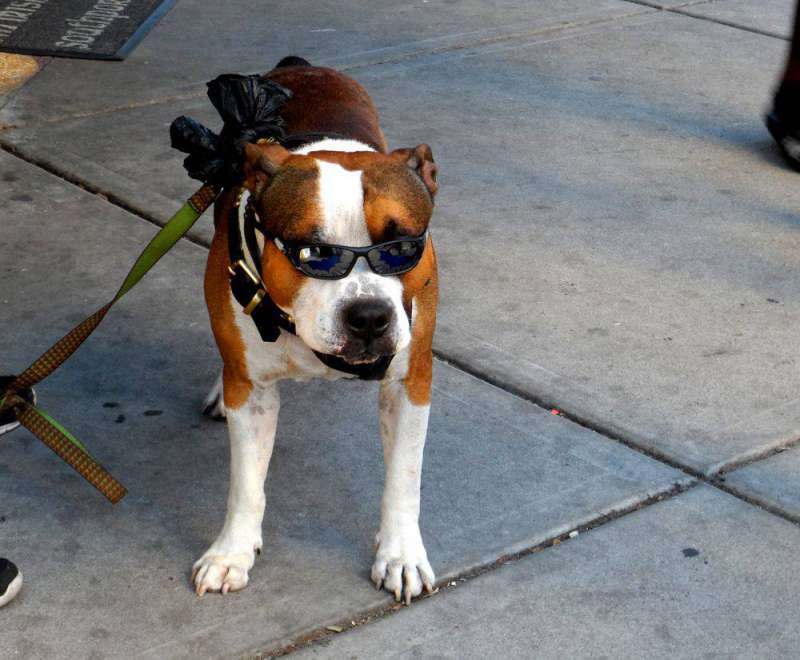 One of the many cool characters in Wilmington, North Carolina
Wilmington is a marvelous town for a weekend getaway. While there was still much more to see such as the USS North Carolina or the Railroad Museum and more tours to take like the Hollywood Location Walk, we managed to pack a lot of activity and relaxation in 24 hours. If you fall in love with Wilmington, part of my book, The Cottage on Lough Key, is set in this charming waterfront city. (Shameless Plug)
If you enjoyed this please share it with your friends.  As always, Happy Travels!
Hey, Pinners! Pin This!