If you find yourself in Charlottesville, Virginia for a trip to Thomas Jefferson's Monticello, by all means, be sure to include a visit to another founding father's home a few short miles beyond the gates of Monticello.  Mr. Jefferson's lifelong friend and America's fifth president, James Monroe's home, Ash Lawn-Highland, though perhaps less famous, provides a magnificent glimpse into the life of an important American and to life in the early 19th-Century.
Beautiful in its own right
From the moment the car turns into the driveway, it's apparent why Monroe chose this location for his home.  The tree-lined driveway leading to Ash Lawn-Highland is beautiful and sets the mood for the visit.  Though not as grand in size and scale as Jefferson's Monticello, the beauty, and majesty of the location, as well as the significance of this American's life, is evident.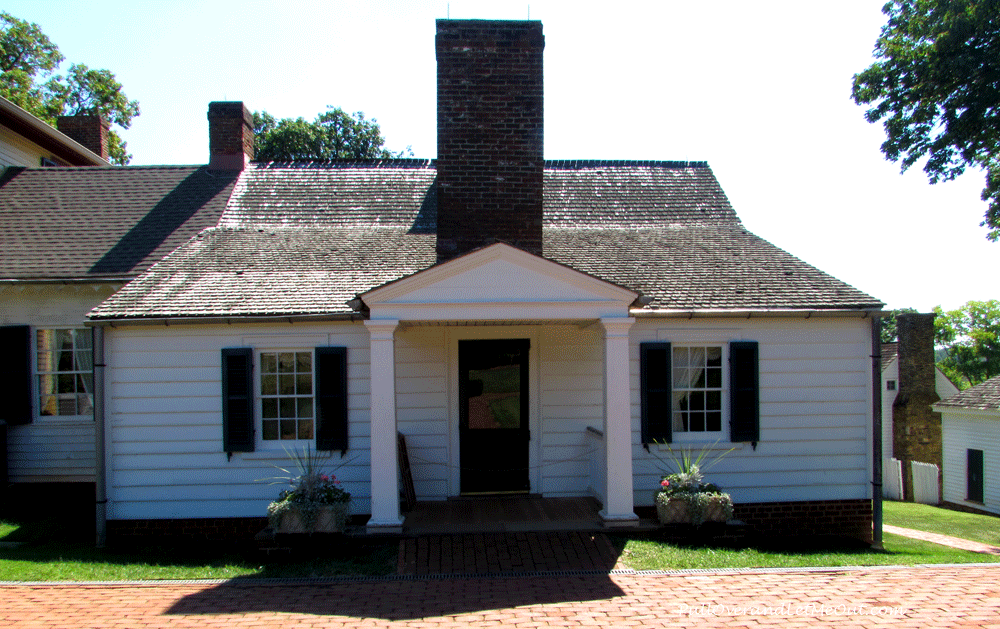 Touring Ashlawn-Highland
Ash Lawn-Highland was the home of James Monroe and his wife, Elizabeth Kortright Monroe, from 1799 to 1823.  Today, it's lovingly cared for by the College of William and Mary.  Guided tours are offered throughout the day providing visitors with a glimpse into the life and times of our fifth president.
Each room of the home is packed with furnishings from the early 19th-Century, many of them have belonged to the Monroe family.  In addition to seeing how the Monroe's lived, visitors learn of Monroe's accomplishments and achievements – from crossing The Delaware River with George Washington as a young soldier, negotiating the Louisiana Purchase, the Monroe Doctrine – the 35-minute tour opens a window into the story of James Monroe.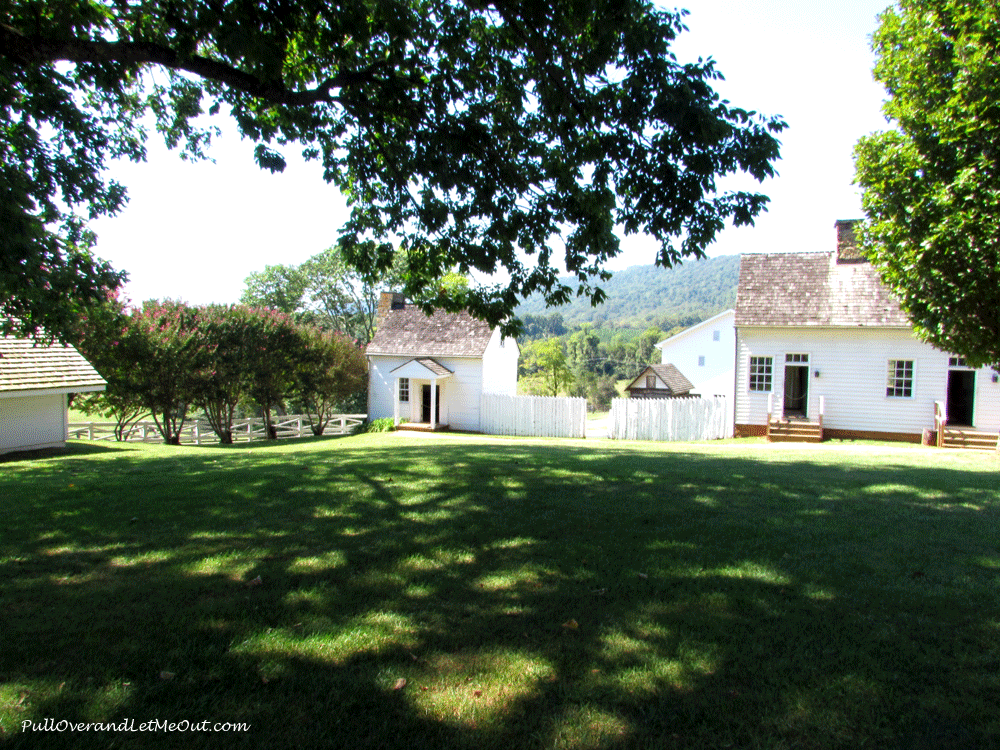 Explore the grounds
The home is situated on a ridge that in days gone by permitted Monroe to see Jefferson's home perched on another ridge 3-miles away.  Today, trees obscure the view of his friend's home.  However, the view is beautiful and the grounds at Ash Lawn-Highland invite visitors to explore.
There are outbuildings such as the overseer's house and slave quarters, the gardens and statuary, the kitchen.  Guides are on hand to impart information and discuss important topics such as slavery.  We had the pleasure of spending some time with a guide who really engaged my 10-year old.  This lead to a wonderfully thoughtful conversation on our ride home.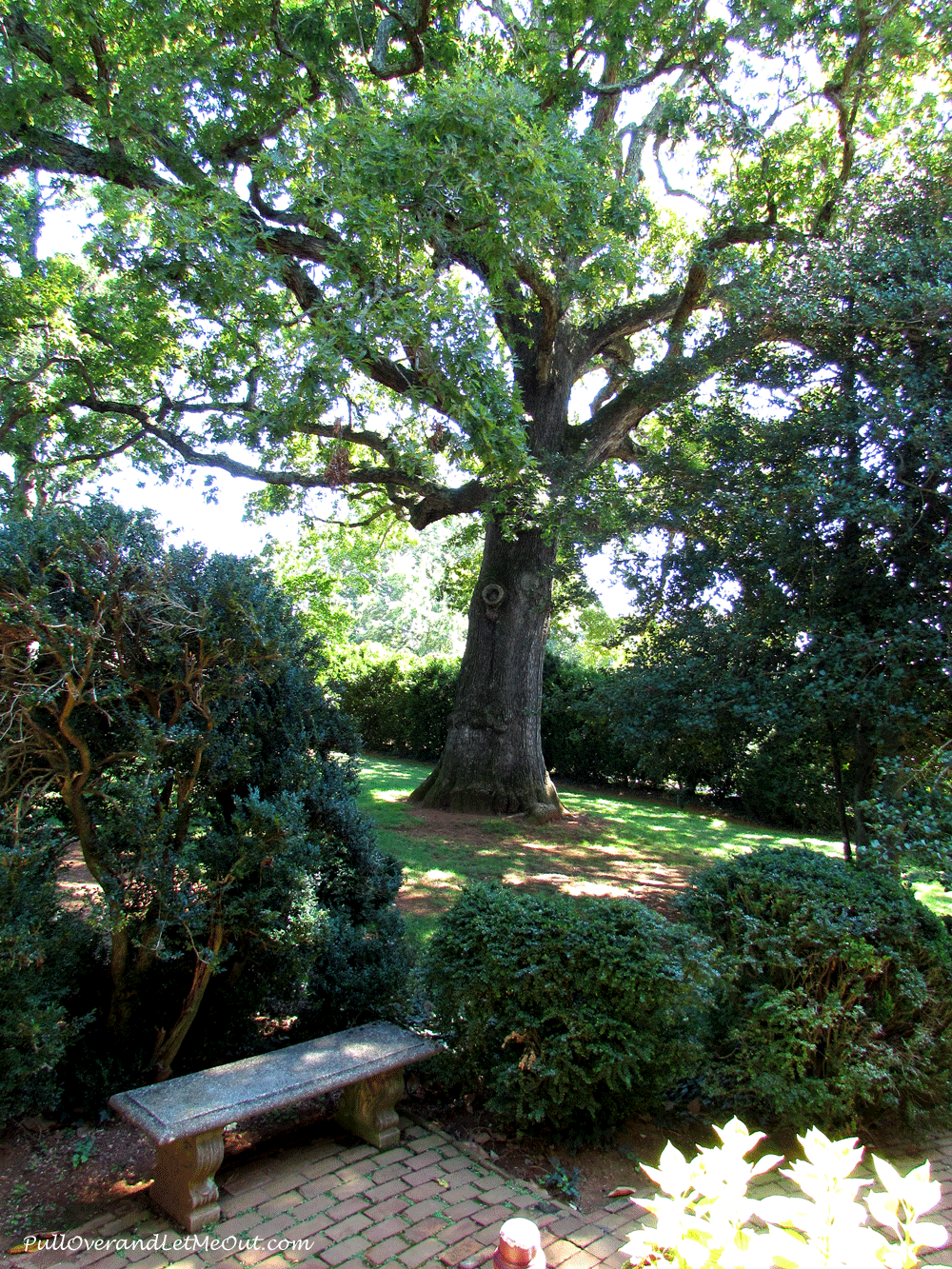 A majestic white oak, a 'witness tree,' has been standing since Monroe's time.
Ash Lawn-Highland Tickets
A trip to Ash Lawn-Highland can be customized to fit your schedule, but you'll want to allow at least an hour or two to fully enjoy this historic destination. With its close proximity to Monticello and the other sites in and around Charlottesville, it's an ideal stop to add to your itinerary.
Ticket prices are reasonable.  Adult admission is $14.00, seniors $12.00, children $8.00 and children under 6 are free.  A discount is offered to AAA members, as well as active and retired U.S. military.   Active U.S. Military and dependents with ID receive FREE entry Memorial Day through Labor Day.  Tickets may also be purchased as part of the Monticello Neighborhood Pass.
Though James Monroe might not be quite as well-known as his neighbor, Thomas Jefferson, his home nestled in the Blue Ridge provides a magnificent glimpse into the life and legacy of our fifth president.  Monticello is bigger and busier, but Ash Lawn-Highland is well worth spending some time focusing on the Era of Good Feelings.
Ash Lawn-Highland
2050 James Monroe Parkway Charlottesville, VA 22902
(434) 293-8000
info@ashlawnhighland.org
IF YOU LIKE THIS, PIN IT FOR LATER!