The Grand Ole Opry is possibly the most famous attraction in Nashville, Tennessee. Since its inception in 1925, the Grand Ole Opry has been synonymous with country music and its legendary performers. Originally housed downtown in the Ryman Auditorium, it's resided in its current location since 1974. A vibrant musical destination, the Opry hosts a slew of performances including the wildly popular weekly Friday and Saturday night live radio program on WSM650 am. The fabled theater attracts visitors from around the world to enjoy live music in a historic setting, but is it worth touring the Grand Ole Opry?
Disclosure:
Many of the links you see on this site and within our trip planning tool are affiliate links. If you click through and make a purchase, I'll get a small commission and it won't cost you any extra. On selected stories, for those hotel and car bookings made using our TravelingToGive™ tool we contribute 2.5% of gross hotel and car sales to Paws for Purple Hearts. So, thanks in advance for helping me keep bringing you the content you enjoy and, at the same time, giving back to those who so bravely serve our country! #everytripmatters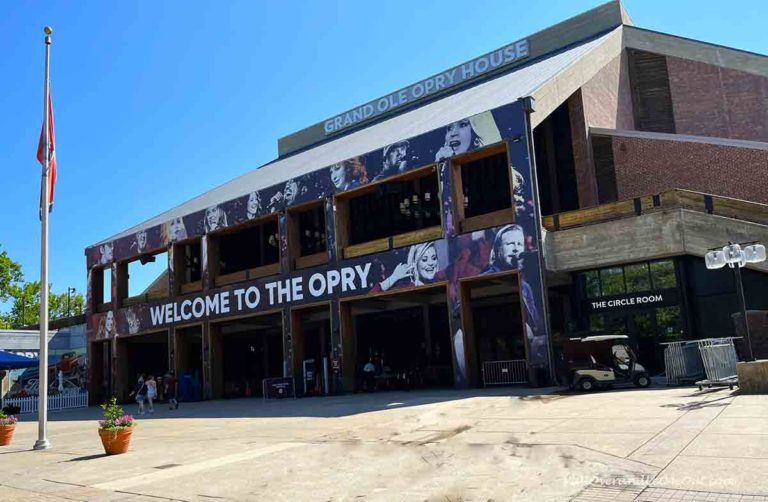 Touring the Grand Ole Opry
Whether you like country music or not, it's impossible to visit Nashville and not be absorbed by the sights, sounds, fashions, and entertaining elements of the country music scene. So, when in Nashville, just go with the flow and have fun!
Having said that, no trip to Nashville is complete without a stop at the legendary Grand Ole Opry. Seeing a live performance is the ultimate thrill of a visit to the Opry House. However, I will answer the question of whether or not it is worthwhile to take a tour. I was in town for the North American Irish Dancing Championships, which were being held at the Gaylord Opryland Hotel. In between competitions, two of my traveling companions and I treated ourselves to a backstage tour, and this is what we discovered.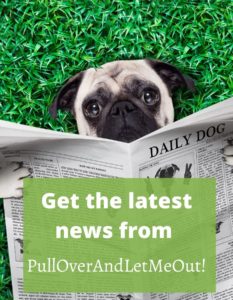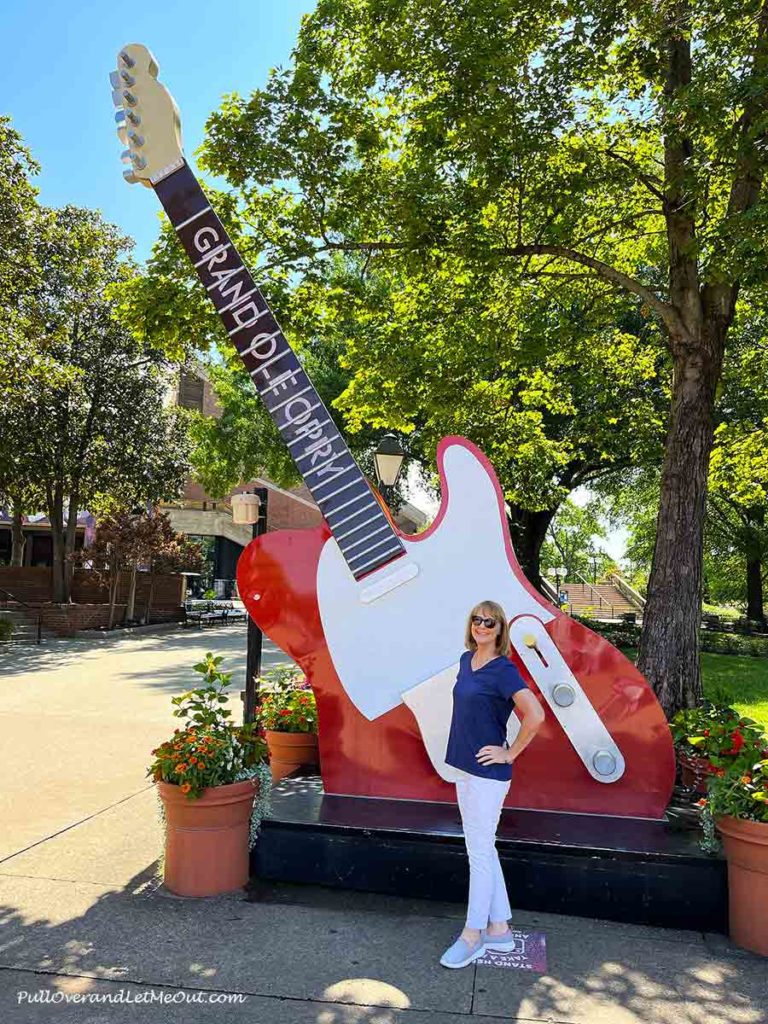 My friends and I arrive at the Opry House a few minutes early for our 10:45 a.m. tour. Tours run throughout the day and commence every fifteen minutes, so it is important to be punctual. These trips backstage are coordinated with precision to allow guests to fully enjoy their time at the Grand Ole Opry.
The tour begins outside the main doors where we meet our guide, Darin. After a brief meet and greet, we enter the building and go inside the Circle Room Theater for an introductory video. The video gives an excellent overview of the Opry, and its history, as well as insights into the specialness of becoming an invited member. It's an enjoyable video that features Garth Brooks and Trisha Yearwood and provides a good deal of information that country music fans and new country music fans will find fascinating.
Once the film ends, the behind-the-scenes glimpse of this historic music hall commences. Our guide takes us past some important backstage areas such as the musician's practice area, the artist entrance, and the artists' mailboxes. As we progress our guide shares captivating stories of some of country music's most famous including Carrie Underwood, Minnie Pearl, George Jones, and Vince Gill. We also note that Dolly Parton really needs to visit and pick up her mail. 
I am surprised at how sentimental I become when we enter Studio A where they filmed Hee Haw. Fond memories of childhood Saturday evenings watching with my father come flooding back as we watch a video hosted by Brad Paisley that looks back at the musical comedy series set in the fictional Kornfield County starring Buck Owens and Roy Clark.
The popular series had a long list of hilarious sketches like KORN News, Stringbean's Letter from Home, The Haystack, and Samples Used Car Sales. And of course Pickin' and Grinnin and plenty of classic country music performances.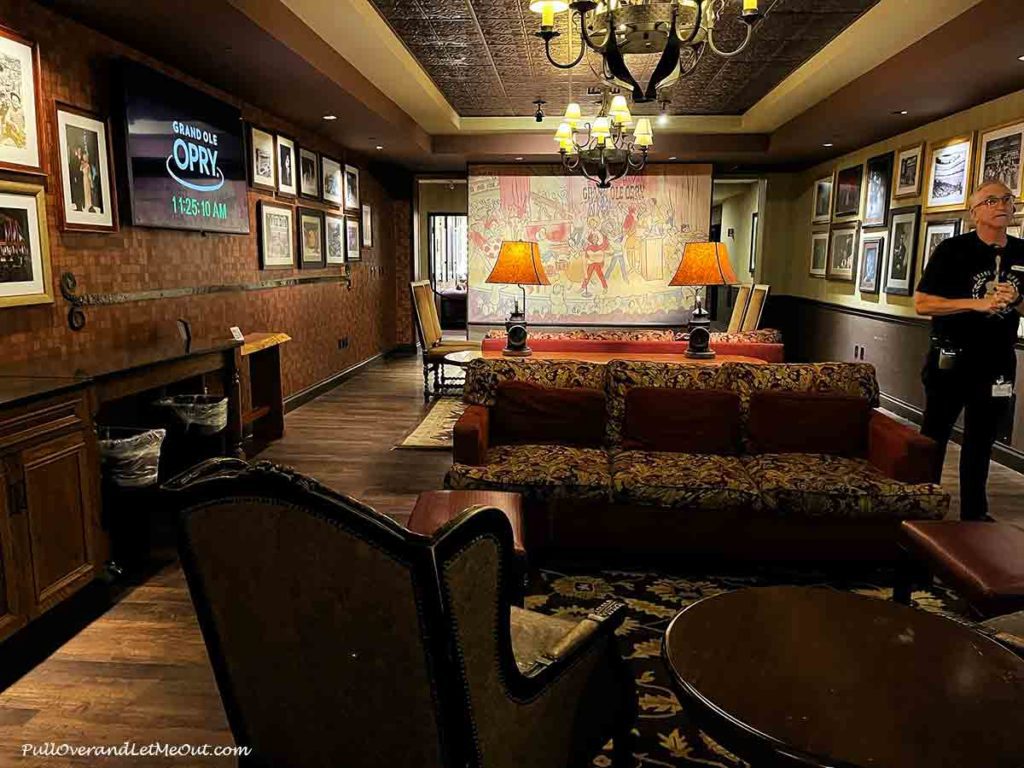 The tour gives visitors an authentic look into what it's like to be a performer at the Opry. Guests are treated as family and invited to have a seat in the Green Room. The comfortable sofa and welcoming atmosphere convey the close-knit nature of the country music family that performs here. Likewise, our guide allows us to peek into all of the dressing rooms, where we learn about their significance, the décor, and other fascinating details about the various artists who have spent time backstage at the Grand Ole Opry.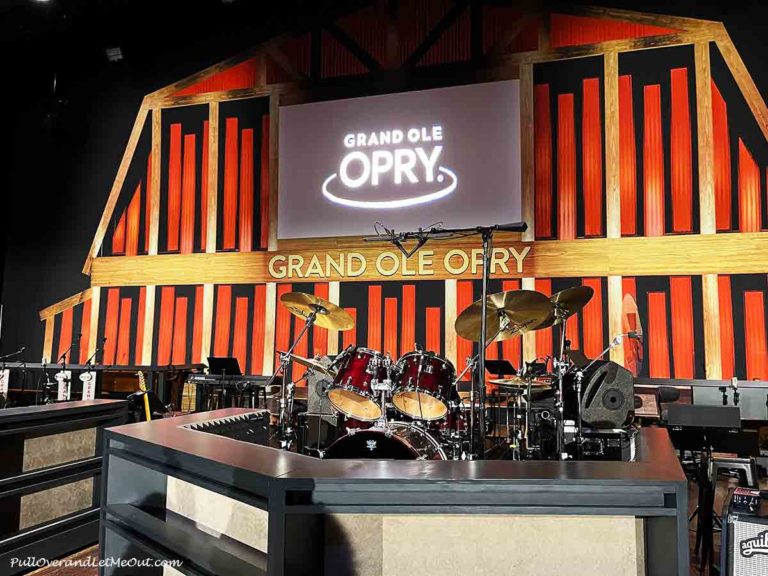 Our journey backstage culminates in a magical moment onstage. The shimmering lights that illuminate the historic venue, creating an ambiance like no other, astound me as I step into the hallowed theater. I imagine all of the legendary performers who have performed on the same stage. Then comes the moment when I find myself standing in that sacred circle, made from flooring from the stage in the iconic Ryman Auditorium, the Mother Church of Country Music. It's surreal to be standing on the same floorboards where so many music legends have left their imprint. For any performer, it must be an indescribable honor and an experience that will live on in their hearts forever.
Fortunately for us, the moment is professionally photographed as part of the tour. Tourgoers stand and pose in the circle and have the opportunity to purchase the photograph in the gift shop at the end of the tour. A magical moment and the perfect commemorative souvenir.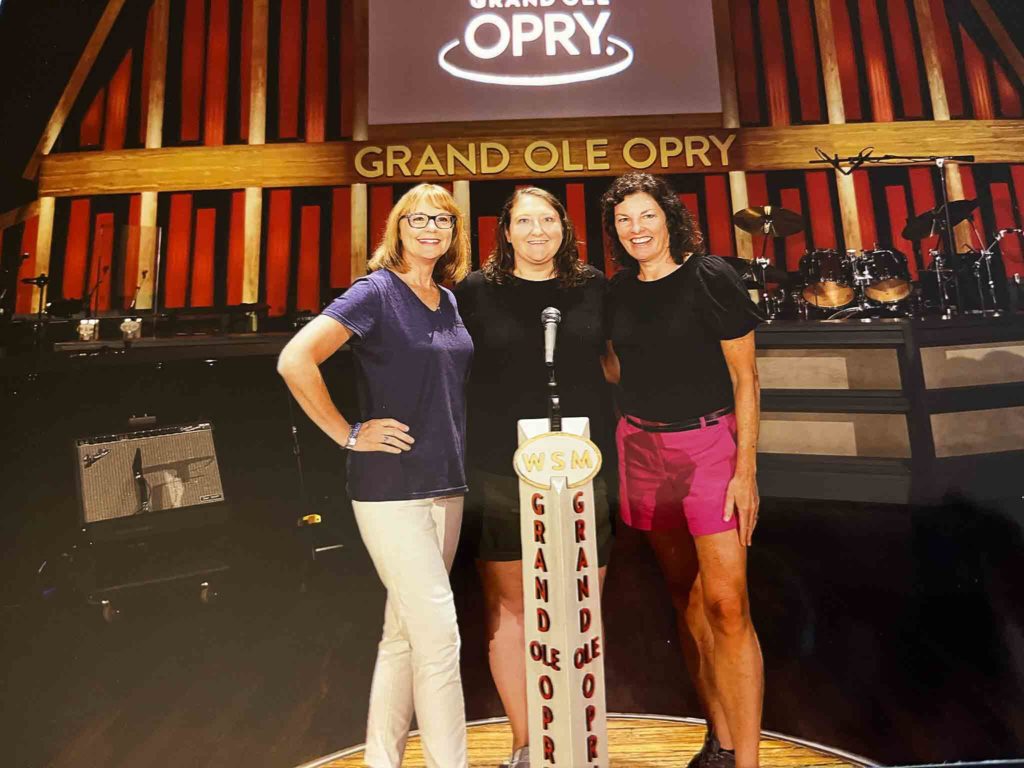 The Grand Ole Opry House is conveniently located adjacent to the Gaylord Opryland Hotel, offering shuttle service to the nearby Opry Mills shopping center and just steps away from the Opry itself. If you're staying at the Gaylord, this tour becomes a fun and hassle-free experience.
For a smooth tour, it's essential to adhere to the strict timetable, so arriving on time is crucial. I recommend arriving early to explore the delightful gift shop, brimming with fabulous souvenirs and other fun items.
An unmissable part of the experience is the Acuff House! It was the residence of Roy Acuff, affectionately known as the King of Country Music. Next door to the Opry, this home has been transformed into a visitor's attraction, housing an excellent exhibit featuring famous friends who have graced the Grand Ole Opry's stage. Your tour ticket also grants admission to the Acuff House, so it's definitely worth a visit.
If you're short on time, the Guided Backstage Tour, which lasts about an hour, is a great option. It offers an immersive experience, allowing visitors to learn about the captivating history and rich heritage of this beloved country music venue. The best part? They actively encourage visitors to capture plenty of pictures along the way, ensuring you can cherish the memories forever.
In answer to the question, is it worth touring the Grand Ole Opry? I can emphatically say, yes!
Going behind the scenes at Nashville's premier country music stage, the world-famous Grand Ole Opry, on this guided backstage tour is a memorable experience and an outstanding highlight of my time in Music City.
Are you ready to schedule your tour? BOOK NOW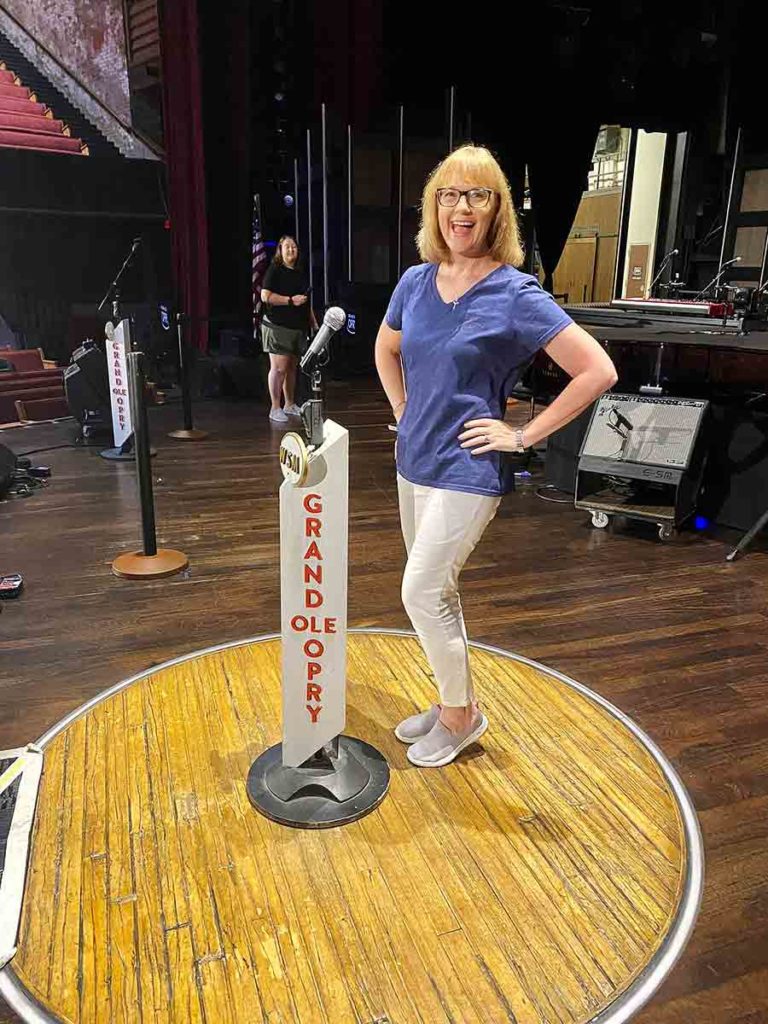 Hey, Pinners! Pin this for later!
► Plan Your Trip to Nashville, Now!
Hey pinners, save this for pinning after your trip
After you get back from your trip, please use these images to post to social media or post your own photos.  Please tag us on your post #pulloverandletmeout
You can also use the social sharing links on the SmartTrip tool.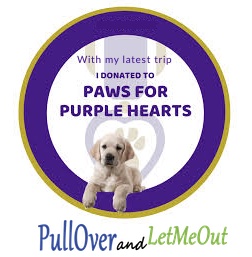 More great travel stories you'll love reading!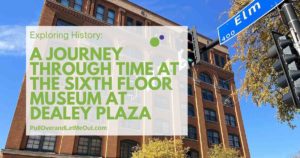 An outstanding museum dedicated to the solemn and historic event that occurred on November 22, 1963, is located within the former Texas School Book Depository building. Travel there with PullOverandLetMeOut to discover why the Sixth Floor Museum at Dealey Plaza is a must-see attraction when visiting Dallas.
Read More »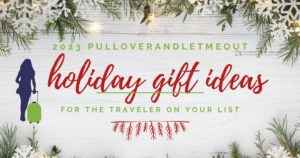 Travel with PullOverandLetMeOut to discover 2023's hottest holiday gift ideas for the traveler on your shopping list.
Read More »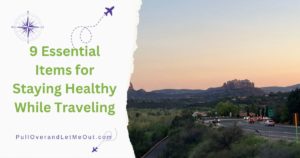 Make a healthy trip a priority. Travel with PullOverandLetMeOut to discover 9 essential items for staying healthy while traveling.
Read More »