Featured advertiser Twisted Leather Bags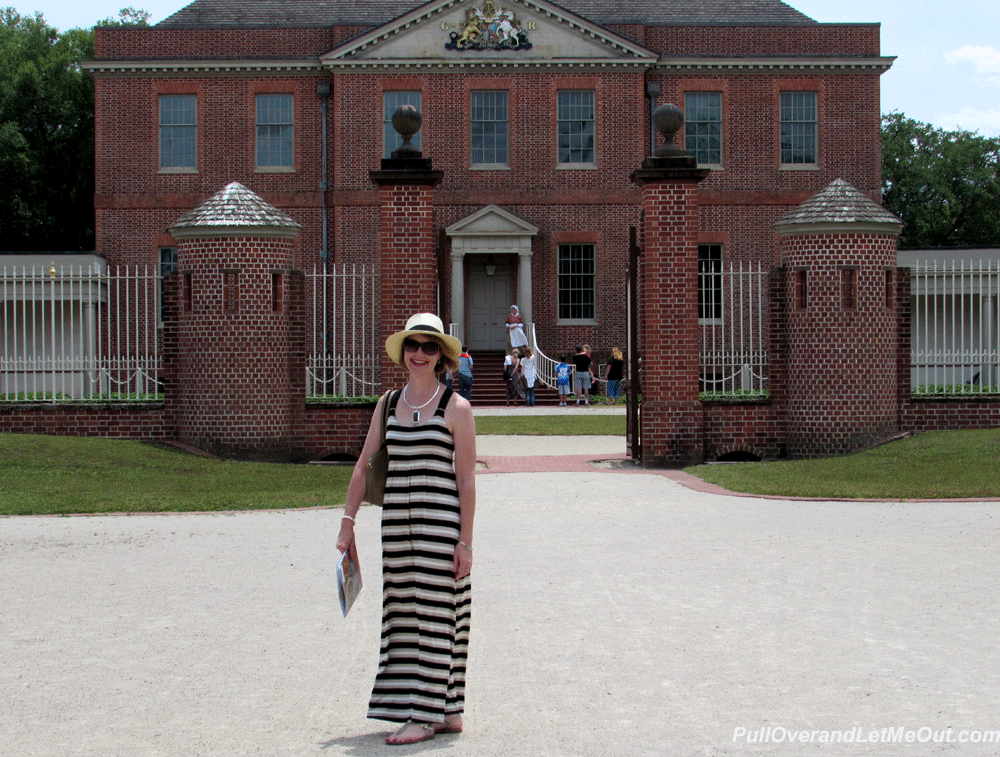 Entrance to Tryon Palace in New Bern, North Carolina
No, Fanny Price and Edmund Bertram didn't show up but our group of 21st-century Jane Austen enthusiasts was transported to Regency era England for an afternoon at Tryon Palace in New Bern, North Carolina.
Tryon Palace is a stately mansion in the second-oldest European-American colonial town in North Carolina.  It's also the ideal spot for celebrating the 200th anniversary of Jane Austen's classic novel, Mansfield Park.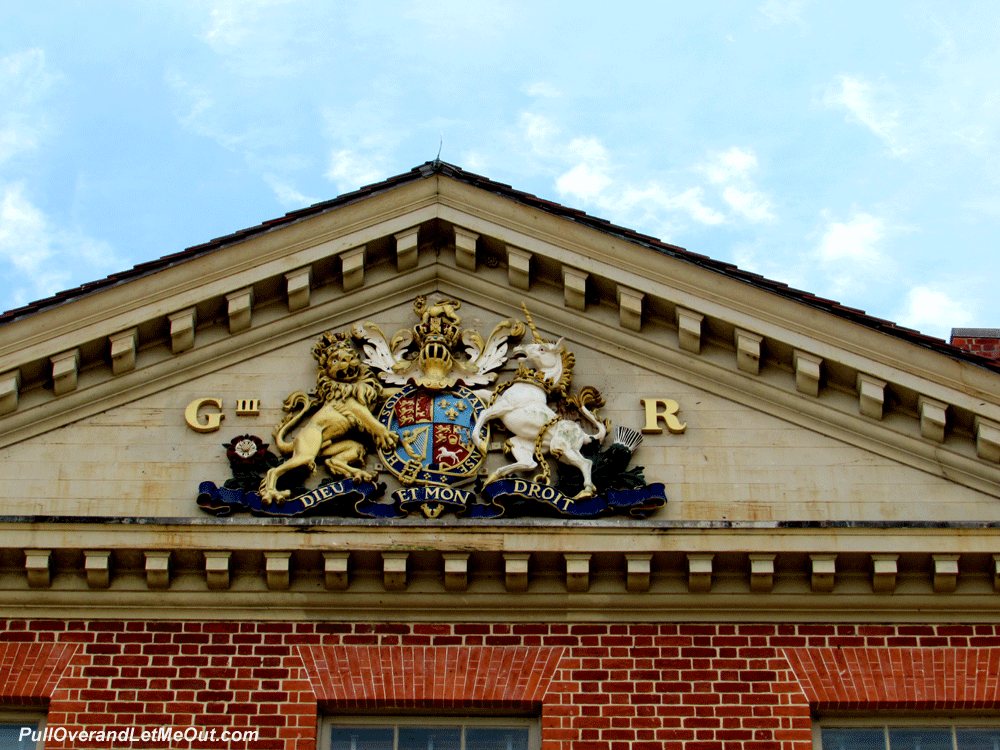 The Royal Governor's Crest
Although our group gathered to discuss Jane Austen,  we were surrounded by captivating history adding to our time at Tryon Palace.
Tryon Palace was originally constructed in the 18th century, when a British soldier and colonial administrator for the crown by the name of William Tryon saw a need for a centrally-located government building. Tryon went to work with architect John Hawks and came up with plans for the edifice.
At the time, a building of such size and opulence was rather controversial. Tryon felt native North Carolina workers wouldn't be skilled enough to build the structure so he sought workers from Philadelphia.
Additionally, in 1766 the North Carolina legislature granted 5000-pounds for the new building.  However, Tryon had a much grander vision of what the building would be and decided the palace couldn't possibly be constructed for less than 10,000-pounds.
With his vision and plans in mind he set out to achieve his goal and managed to convince the legislature to raise taxes to pay for Tryon Palace.  Needless to say, his luxurious plans and the taxes levied to carry them out angered many at a time when colonists weren't exactly thrilled with taxation.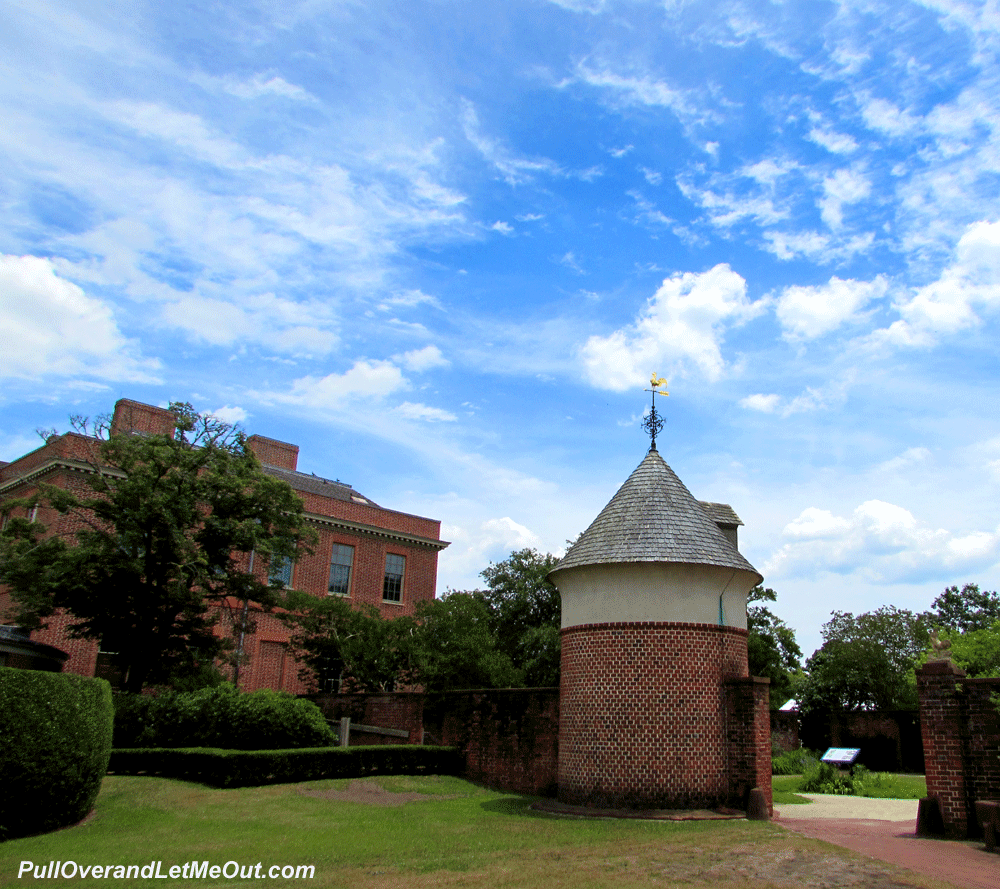 The Pigeon House and main house in the background.
Tryon moved into the palace situated on the banks of the Neuse River in 1770 but ire over taxation proved too much and led to a revolt. Governor Tryon became a highly unpopular figure and eventually left North Carolina for New York after living in the magnificent home for little over a year.
Revolution was in the air and soon war began and William Tryon's replacement, Josiah Martin, was forced to flee the building in 1775. Once rid of the crown governor the palace became North Carolina's capitol building until a new capital city was created in Raleigh in 1792.
Today, the building is a reconstruction of the first which burned in 1798. Along with the outbuildings, lush 16-acres of gardens and newly opened North Carolina History Center, Tryon Palace is a southern treasure recounting the rich narrative of the region.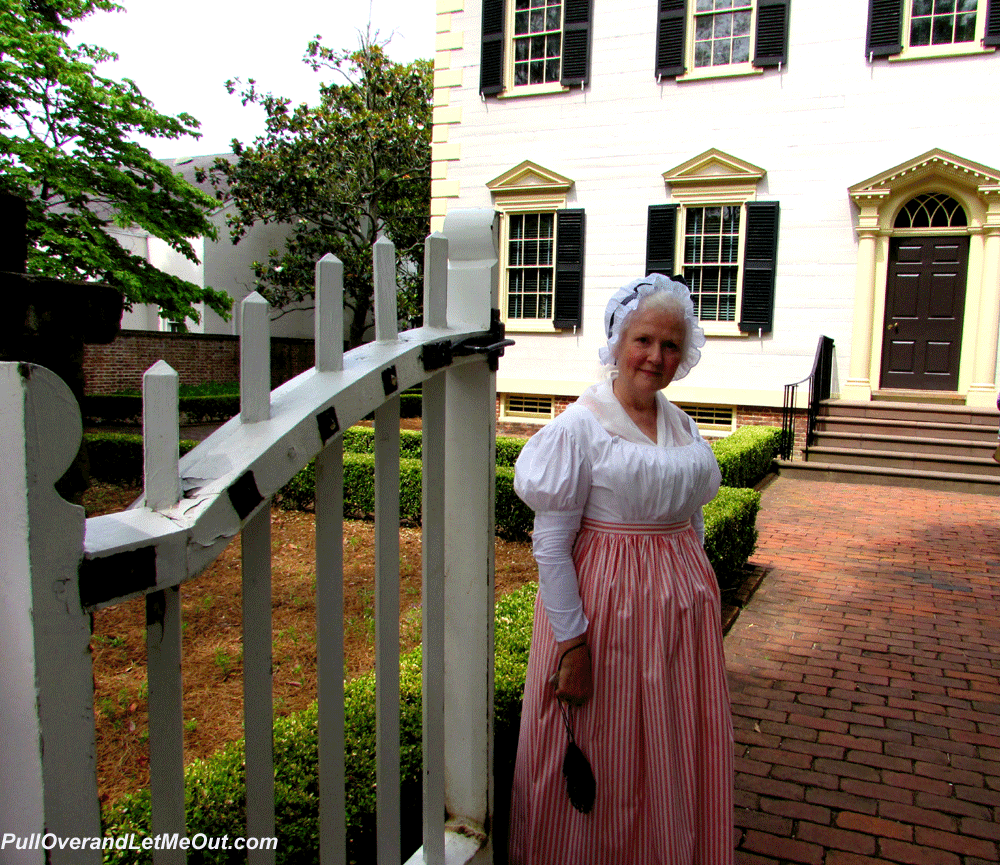 Mrs. Bennett greets us at the Stanly House across from the palace.
In addition to touring the palace and outbuildings, it's worthwhile spending plenty of time  exploring the gardens. My traveling companion and I were fortunate during our visit to have the gardens virtually to ourselves. The serene beauty harkens back to a different time; I almost felt transported to the Regency era.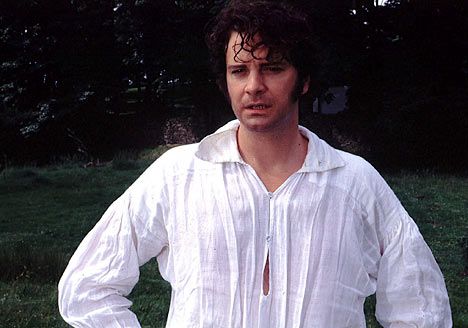 Photo courtesy of Duck-Duck-Go Images (I couldn't resist!)
Sadly, Mr. Darcy didn't join us for a turn in the garden.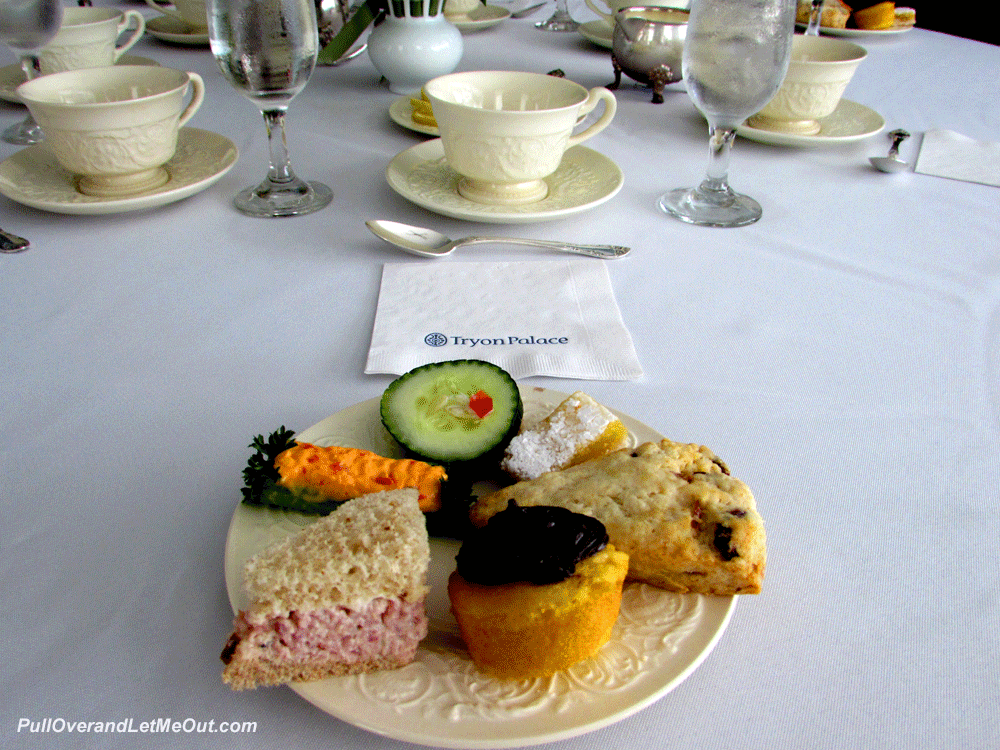 Regency- style High Tea at Tryon Palace.
No trip to New Bern would be complete without a visit to Tryon Palace. The Palace has a full calendar of events and attractions throughout the year and is also a popular destination for weddings –  I can't think of a more romantic location.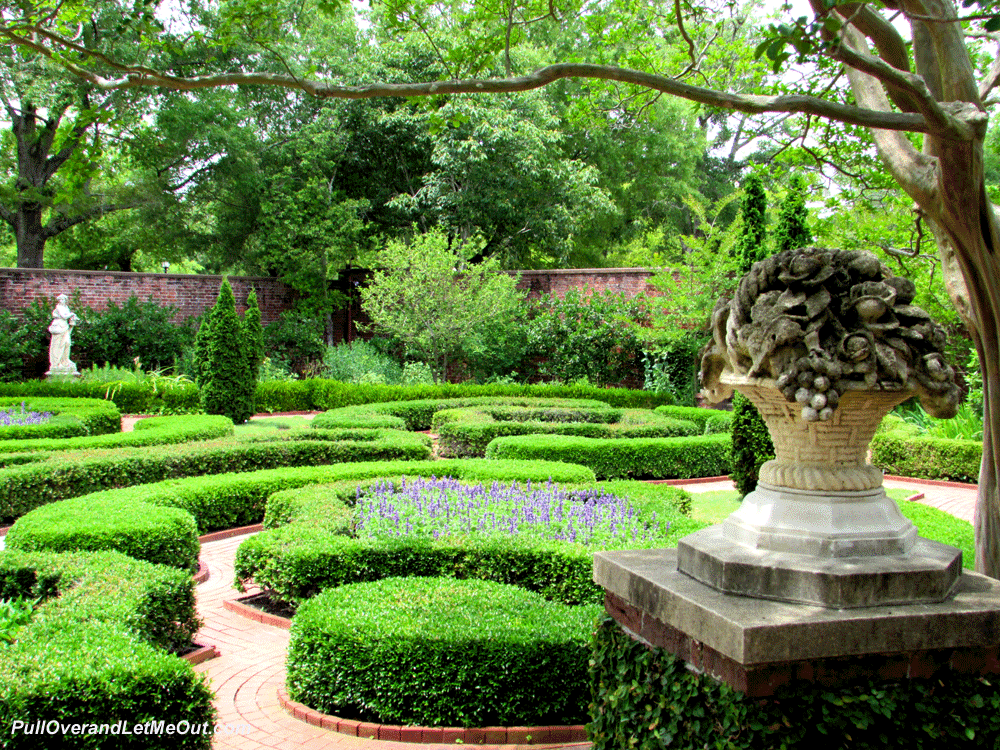 The lush Tryon Palace gardens are magnificent.
Although we were there for the Jane Austen in June event, our visit was more than just tea, Regency dancing and discussing Mansfield Park hedges and ha-ha.  Our time at Tryon Palace was a walk though a by-gone era enhanced by a fascinating North Carolina history lesson.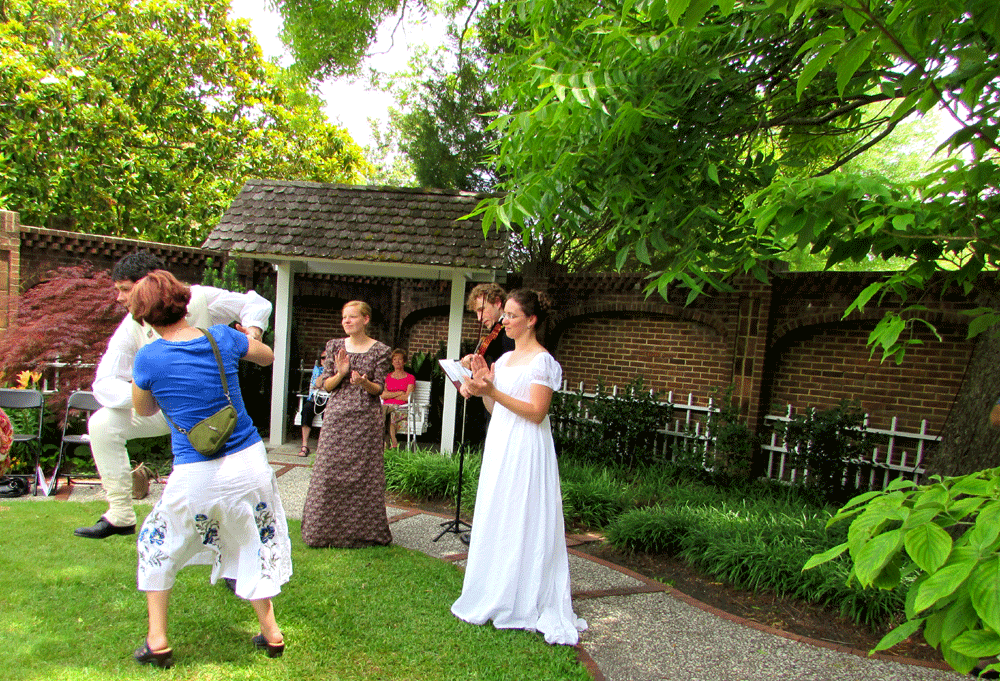 A rousing reel.  Our interpreters instruct us on Regency era dances.
Thank you for sharing this with your friends.  As always, Happy Travels!
Tryon Palace
529 South Front Street
New Bern, North Carolina 28562
1-800-767-1560