If your summer travels include a trip along I-95, be sure to say, Pull Over and Let Me Out, when you get to Fayetteville, North Carolina. Why stop here? Because in the heart of the historic downtown of this charming southern city awaits the Airborne & Special Operations Museum. The museum offers an incredibly well laid out history of the United States Army's Airborne and Special Operations.  Visitors to this museum are treated to an educational and interactive journey through this important story.  It's well worth taking a couple of hours to experience this one-of-a-kind museum.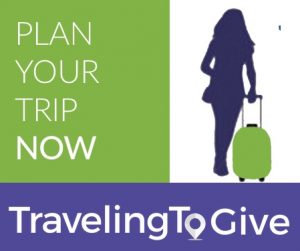 Disclosure:
Many of the links you see on this site and within our trip planning tool are affiliate links. If you click through and make a purchase, I'll get a small commission and it won't cost you any extra. On selected stories, for those hotel and car bookings made using our TravelingToGive™ tool we contribute 2.5% of gross hotel and car sales to Paws for Purple Hearts. So, thanks in advance for helping me keep bringing you the content you enjoy and, at the same time, giving back to those who so bravely serve our country! #everytripmatters
About The Airborne & Special Operations Museum
The museum opened its doors in August of 2000 as a way of preserving and passing along the story of the airborne and special operations troops that have played an integral role in defending our nation's interests.  The museum is owned and operated by the United States Army, but the Airborne & Special Operations Museum Foundation supports the museum with advertising, marketing and other financial support.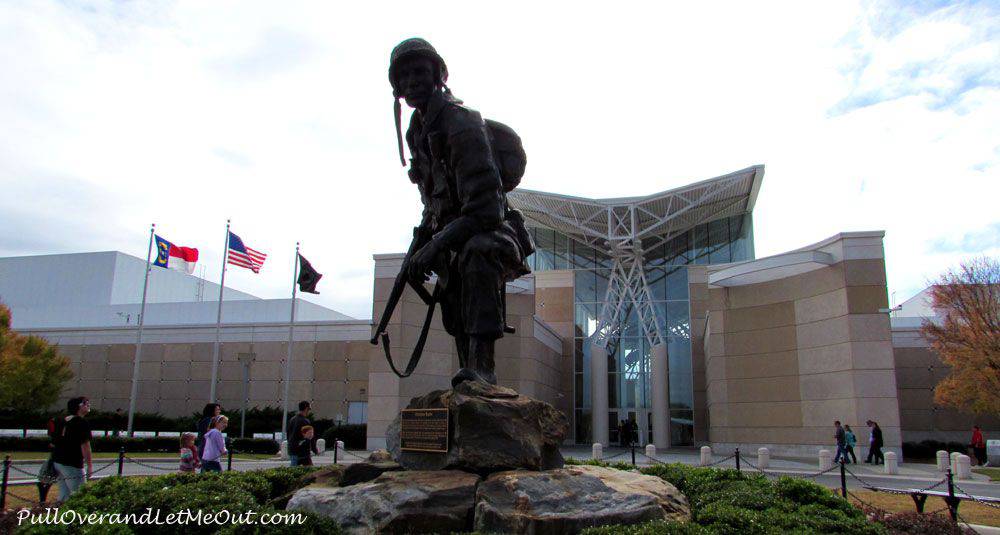 I don't ordinarily comment about a lobby, but the lobby at this museum blew me away.  Open and airy, it extends five stories tall and features two fully-deployed parachutes.  The glass walls and large windows allow natural light to fill the expansive entrance.
The information desk in the lobby is a great first stop for gathering information before venturing on.  Also located in the lobby is a wall dedicated to the recipients of the Congressional Medal of Honor as well as a wall detailing the history of the development of the airborne and special operations units.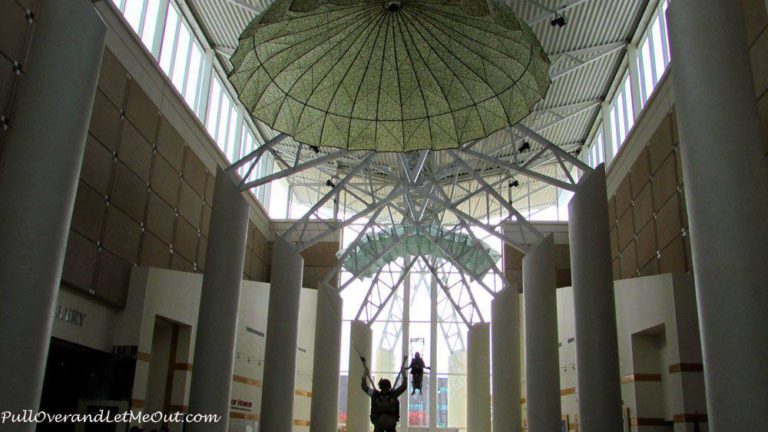 The main gallery is a self-guided tour designed to be a timeline.  Visitors progress along this chronological timeline at their own pace to learn the story of the evolution of the United States Army Airborne and Special Operations troops. The timeline follows the progress of the Airborne from its early days in WWII up to the present day and includes numerous pieces of equipment and exhibits depicting actual events these forces were part of.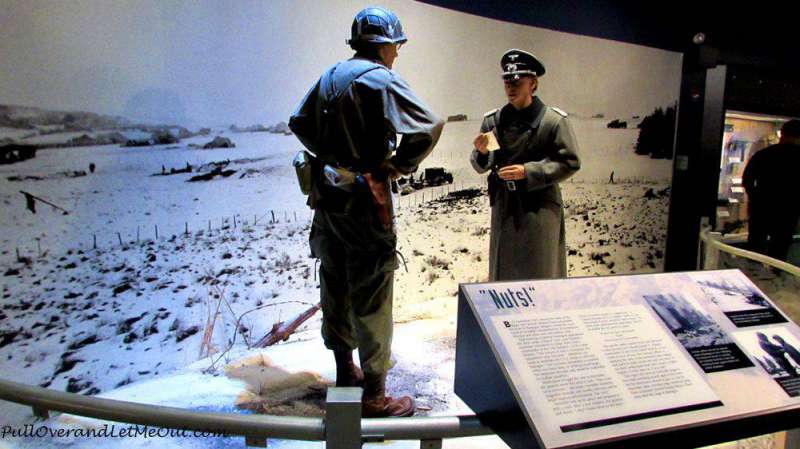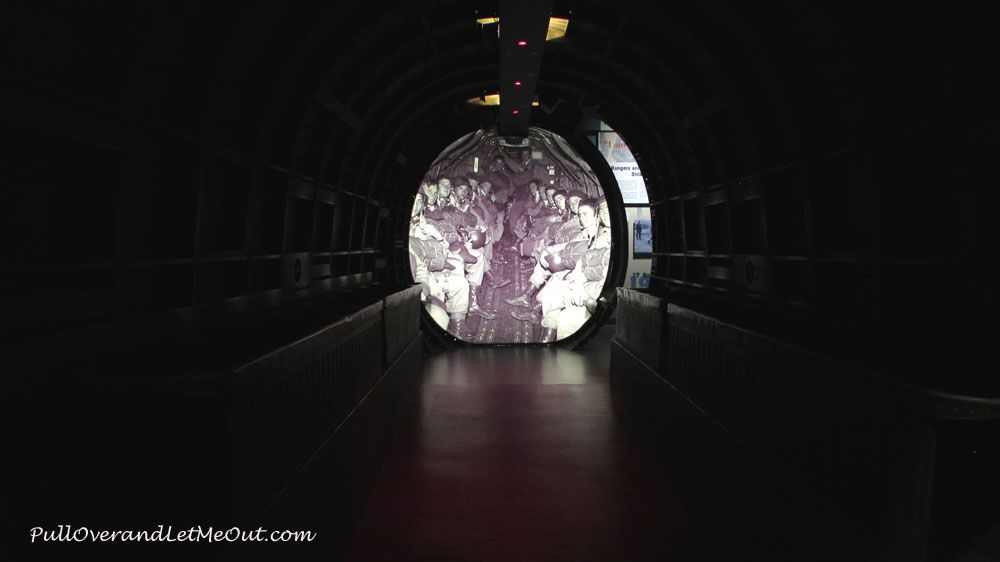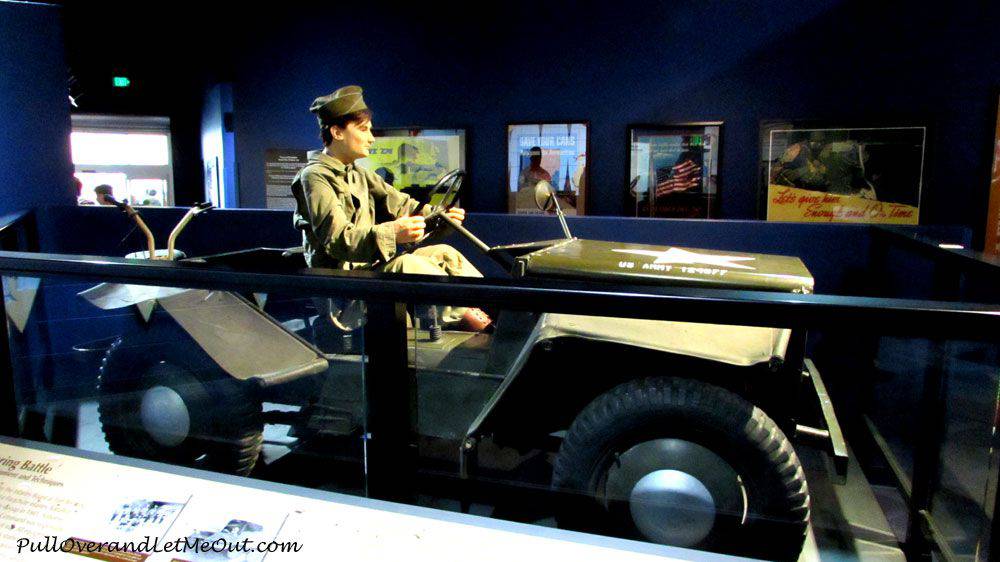 Outside of the Airborne & Special Operations Museum
Outside the museum, guests enjoy spending time in the beautiful gardens as well as the parade field.  Visitors may stroll the Reflection Gardens on the Hay Street side of the building.  Within the Reflection Gardens is the Sunken Garden highlighted by a fire pit utilized solely for Flag Retirement Ceremonies.
The lush gardens filled with seasonal flowers and towering magnolia trees offer an opportunity for peaceful reflection and are a lovely tribute to those who served.
Not far from the gardens is the Parade Field.  The Parade Field is situated at the corner of Walter Street and Bragg Blvd. and features a walkway lined with statuary as well as a Flag Court honoring the United States of America, State of North Carolina, POW/MIAs, The United States Army, Navy, Marine Corps, Air Force, and Coast Guard.  Each Memorial Day and Veteran's Day the field is filled with flags.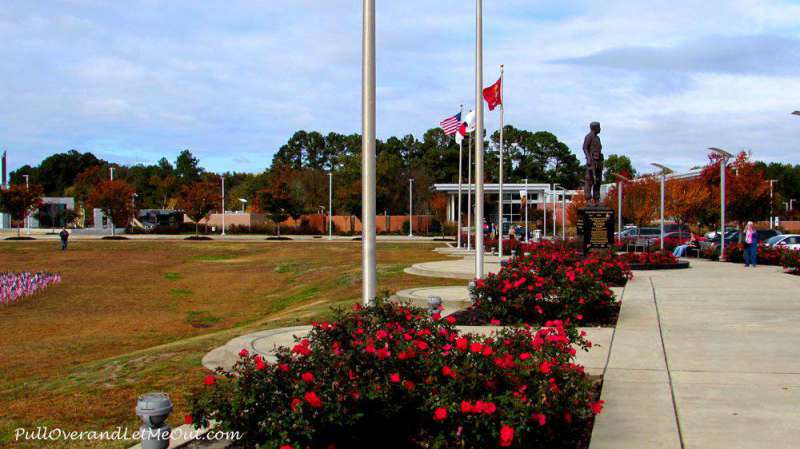 The Gift Shop and Simulator
In addition to the wonderful exhibits, there's a gift shop filled with books, memorabilia, and mementos to commemorate your visit.  While in the gift shop, visitors may purchase a ticket to climb aboard the simulator to pitch, roll, and experience first-hand what it feels like to be on a mission with Airborne and Special Ops troops.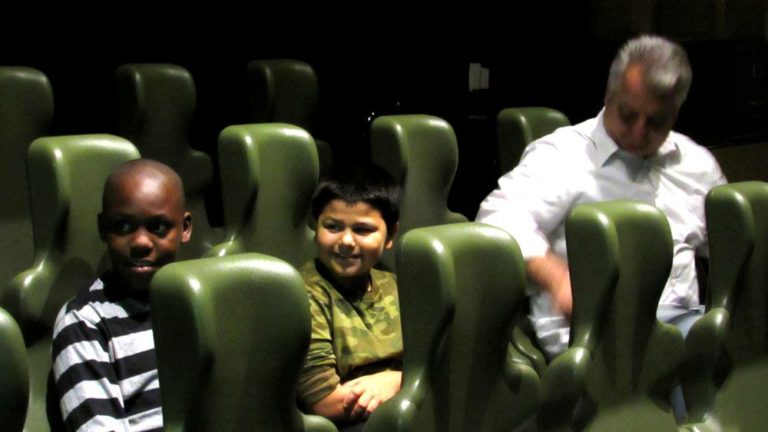 Historic Downtown Fayetteville, North Carolina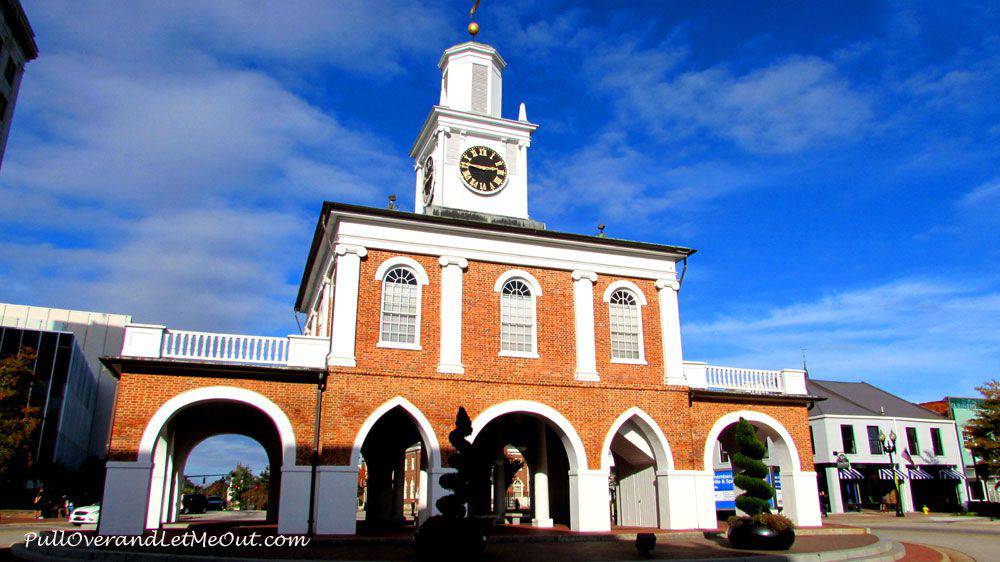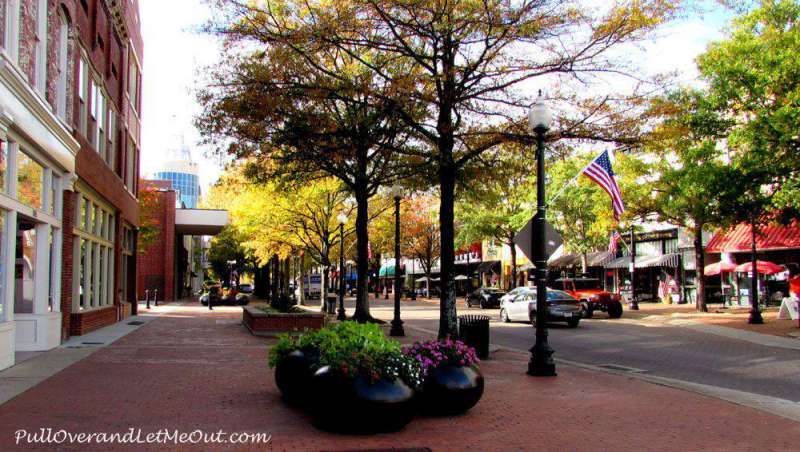 If you're not in a hurry when you're done exploring the museum, be sure to take in historic downtown Fayetteville.  The museum is mere footsteps away from the charming downtown area of this southern city and its boutiques, dining, and historic architecture.
As their website says, "The Airborne & Special Operations Museum in Fayetteville, North Carolina has become a place to honor and preserve the legendary feats of the airborne and special operations troops who have contributed so much to defending our nation's interests."
It's also a fantastic, family-friendly field trip.  Admission is free, which makes this a wallet-friendly destination as well, but donations to support and preserve this important story are encouraged.
Airborne & Special Operations Museum
100 Bragg Blvd.
Fayetteville, NC  28301
For more fun things to do in Fayetteville, North Carolina, check out this post! Click here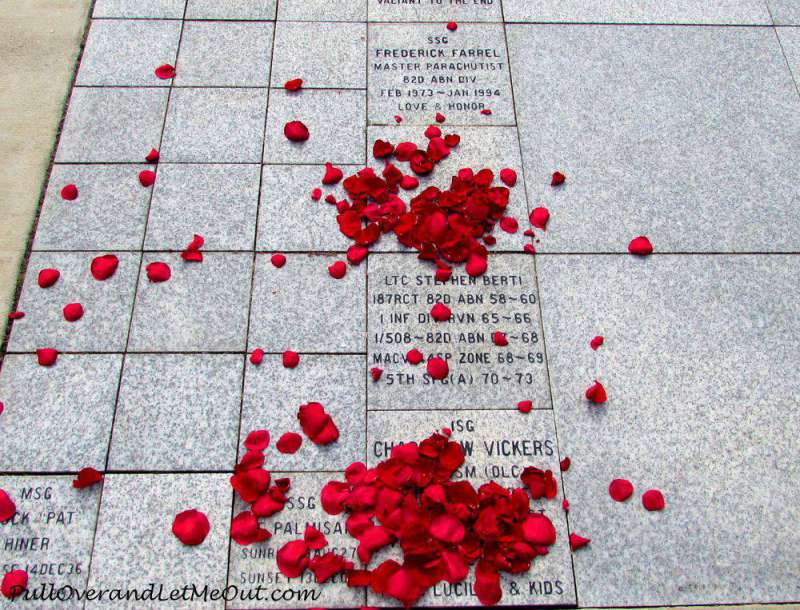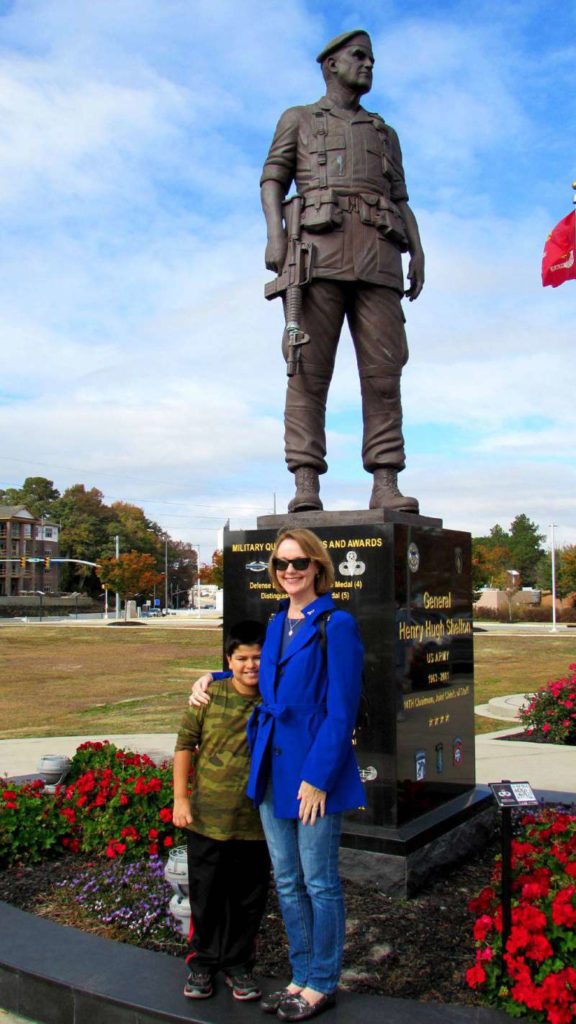 Hey, Pinners! Pin This For Later!
► Plan Your Trip to Fayetteville Now!
Hey pinners, save this for pinning after your trip
After you get back from your trip, please use these images to post to social media or post your own photos.  Please tag us on your post #pulloverandletmeout
You can also use the social sharing links on the SmartTrip tool.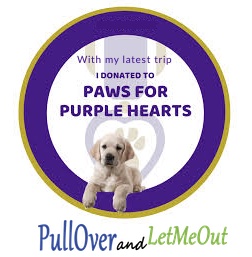 More great stories you'll love reading!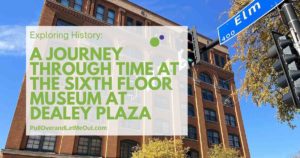 An outstanding museum dedicated to the solemn and historic event that occurred on November 22, 1963, is located within the former Texas School Book Depository building. Travel there with PullOverandLetMeOut to discover why the Sixth Floor Museum at Dealey Plaza is a must-see attraction when visiting Dallas.
Read More »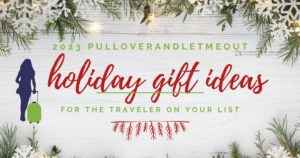 Travel with PullOverandLetMeOut to discover 2023's hottest holiday gift ideas for the traveler on your shopping list.
Read More »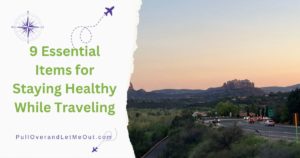 Make a healthy trip a priority. Travel with PullOverandLetMeOut to discover 9 essential items for staying healthy while traveling.
Read More »