The Ava Gardner Museum is a hidden gem in Smithfield, North Carolina, dedicated to Hollywood legend, Ava Gardner. It's always a pleasure visiting small-town museums. In fact, they fascinate me. The staff is typically there because they love sharing information with visitors and they're passionate about what they do. Ava Gardner Museum is one such place. Located a short distance off of I-95, this piece of Hollywood in the Tarheel State is brimming with memorabilia and is a film buff's delight waiting to be discovered.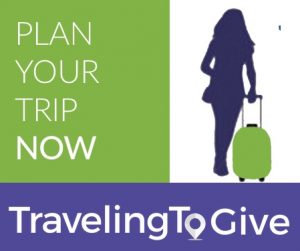 Disclosure:
Many of the links you see on this site and within our trip planning tool are affiliate links. If you click through and make a purchase, I'll get a small commission and it won't cost you any extra. On selected stories, for those hotel and car bookings made using our TravelingToGive™ tool we contribute 2.5% of gross hotel and car sales to Paws for Purple Hearts. So, thanks in advance for helping me keep bringing you the content you enjoy and, at the same time, giving back to those who so bravely serve our country! #everytripmatters
Where is Ava Gardner from?
Ava's rags to riches story could be right out of a Hollywood script. While visiting her older sister in New York City, her brother in law, a professional photographer, hung a portrait he took of her in his shop window. That photograph lead to her discovery and launched Ava Gardner's Hollywood career.
The museum tour starts with a 17-minute video. The video is a comprehensive overview of Ava Gardner's life. Filled with interviews and film clips detailing her humble beginnings, it tells the tale of her discovery, romances, career, and final years. The film is a wonderful synopsis of the story of a small-town girl from Smithfield who became a Hollywood legend.
What you'll find at the Ava Gardner Museum
Whether you're a long-time Ava Gardner fan, a classic film buff, or if this is the first time you've been introduced to the Tinseltown legend, you'll come away with a greater understanding of who Gardner was.
From the moment you walk in the door you're softly serenaded by crooner Frank Sinatra. Sinatra and Gardner were married from 1951 to 1957 and Ava considered Old Blue Eyes to be the "love of her life."
Sinatra was her third husband and their romance filled the pages of gossip columnists such as Hedda Hopper and Louella Parsons.
Gardner is even credited with getting Sinatra his big break by lobbying for him to play the part he won the Oscar for in "From Here to Eternity."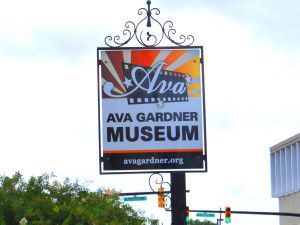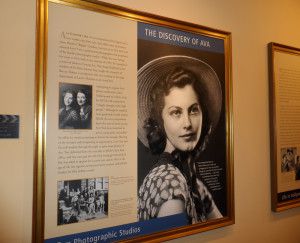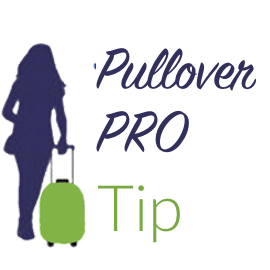 "Seven Jars Distillery, a Charlotte-based business, has partnered with the Ava GardnerTM Trust and Legacy Talent and Entertainment to produce a unique Ava Gardner Select Bourbon Whiskey, which will be available for a limited release beginning on October 16, 2020."  ~ Ava Gardner Museum 
Movie memorabilia and more!
The museum is replete with memorabilia and artifacts belonging to the star of the silver screen.
The self-guided tour travels the timeline of Gardner's life. Displays include photographs, scrapbooks, movie posters, and many of Gardner's exquisite gowns and costumes from her movies as well as her awards.
I was transfixed looking at her gowns. Not because they're beautiful, which they are, but because she had an 18-inch waist!  With her dainty figure and stunning beauty, it's no wonder her first husband, Mickey Rooney, described her as the most beautiful woman he'd ever seen.
Additionally, there are collections of personal items such as china, jewelry, fine art, and artifacts that belonged to Sinatra.
Also housed in the museum is a collection of portraits by Dutch artist, Bert Pfeiffer. Although he never met Gardner, she was a favorite subject and he painted her portrait repeatedly.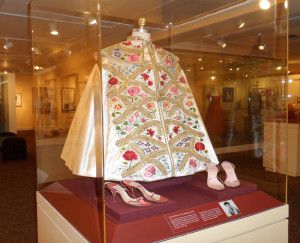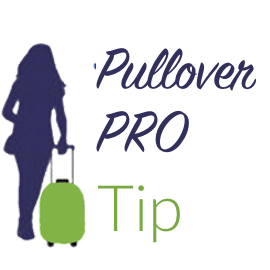 The Ava Gardner Museum in Smithfield encourages visitors to "discover the many charms of Ava's hometown" with a sample itinerary. 
Smithfield is a charming town with a Mayberry quality and it's apparent there's a great pride for their hometown girl.
Gardner never forgot her North Carolina roots and upon her death in London in 1990, she was returned home to be laid to rest. She's buried alongside her parents and siblings about a mile from the museum at Sunset Memorial Park.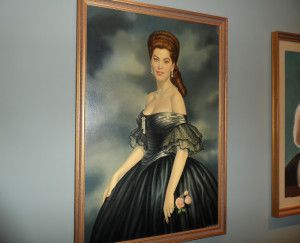 As far as museums go, this one is informative, designed well, and a fitting tribute to the star. If you find yourself driving the I-95 corridor in North Carolina – by all means, take exit-95 and spend an hour at the Ava Gardner Museum in Smithfield.
Ava Gardner Museum
325 E. Market Street
Smithfield, NC
919-934-5830
► Plan Your Trip to Smithfield, North Carolina Now!
How does TravelingToGive™ work?
It makes it simple to plan your trip and to give back with each trip. We've pre-filled the destination from the article and if there are multiple places mentioned in the article, we've put the one that is best used as your base to see all of the places mentioned.
Just select I'M STAYING and enter the travel dates and hit SEARCH. It automatically uses the first place in the article. For a multi-day trip, if you stay near that location, you should be able to use it as your base. If available, you'll also see B&Bs, condos, apartments and private homes in the results.
Can I change the destination? Yes, it is super simple. Just click on the pencil and enter the name of any place mentioned in the story. Or you can enter any address or even the name of a company if you are mixing business and pleasure.
Just click I'M DRIVING and you can see how long it will take, get driving directions and even rent a car if you need one.
Yes, we guarantee the best published rates on hotels. No more spending hours looking for the best price. Click on the link for BEST RATE 110% GUARANTEE for details.
Can I earn frequent traveler points?
On hotel bookings, this is up to the hotel chain. Once you make your booking and have received your confirmation, call your hotel loyalty customer service number and give them the hotel confirmation number (this is different from the Trip ID).  Ask them to enter your number in the record. Or you can ask at the hotel when you check in.
On car rental or air bookings, the system will prompt you for your number and it will be in your booking with the travel provider.
I have a charity that I would like to benefit with my travel. Can I do that?
Yes, we realize that while the charity we have selected may not resonate with everyone.

If you want to sign up for your own tool, either as an individual, a company or a non-profit, click on the link below to register for your own tool. It is free and it only takes minutes.
Hey pinners, save this for pinning after your trip
After you get back from your trip, please use these images to post to social media or post your own photos.  Please tag us on your post #pulloverandletmeout
You can also use the social sharing links on the SmartTrip tool.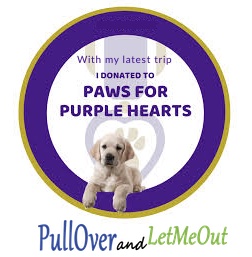 More stories you'll enjoy reading!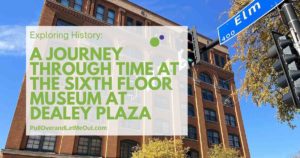 An outstanding museum dedicated to the solemn and historic event that occurred on November 22, 1963, is located within the former Texas School Book Depository building. Travel there with PullOverandLetMeOut to discover why the Sixth Floor Museum at Dealey Plaza is a must-see attraction when visiting Dallas.
Read More »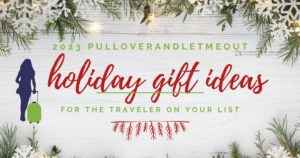 Travel with PullOverandLetMeOut to discover 2023's hottest holiday gift ideas for the traveler on your shopping list.
Read More »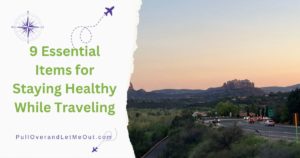 Make a healthy trip a priority. Travel with PullOverandLetMeOut to discover 9 essential items for staying healthy while traveling.
Read More »
Shop for the hottest travel gear!