When I was a kid growing up in Maryland, my father would take us on car trips to Hershey and the Pennsylvania Dutch Country. I have happy memories of those childhood journeys, so I was thrilled to return as an adult to further explore the region. On the banks of the Susquehanna River sits Harrisburg, the Pennsylvania capital. Just a few short miles away is Hershey, The Sweetest Place on Earth.
The two cities pair nicely offering visitors a variety of unique attractions, activities, and events. We managed to pack a lot into our weekend stay which began on a Friday afternoon and concluded at 4 o'clock Sunday. Here are eleven fun things to do in Hershey & Harrisburg, Pennsylvania.
#1 The Pennsylvania Capitol Tour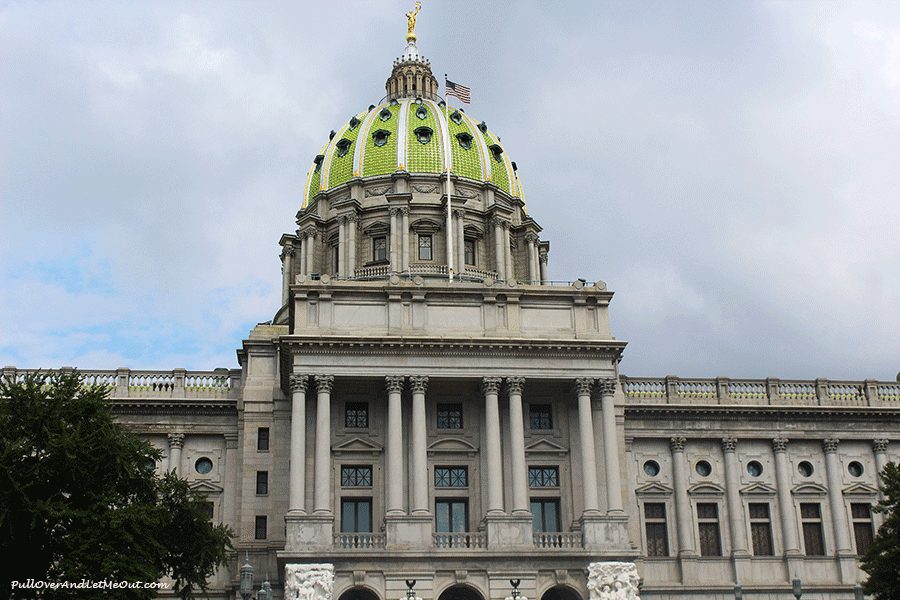 In 1906, the Pennsylvania Capitol building was completed. Dignitaries including Theodore Roosevelt were on hand for the dedication. The majestic building is an architectural masterpiece as well as a tribute to the rich history of the state. Furthermore, it's one of only a few in the U.S. housing all three branches of state government.
It's also one of if not the most beautiful state capitol building I've ever visited. From the massive dome to the grand marble staircase to the large murals and statues; the design details are incredible. It's an artistic, architectural, and historical gem that makes a great beginning to a visit to Harrisburg.
Free guided tours of the capital are available daily every weekday from 8:30 a.m. through 4 p.m. and on weekends at 9 a.m., 11 a.m., 1 p.m, and 3 p.m.
Commonwealth Avenue 
Harrisburg, PA 
www.pacapitol.com
800-868-7672
Most ads you see on this site are affiliate links. If you click through and make a purchase I'll get a small commission and it won't cost you any extra. So, thanks in advance for helping me keep bringing you the content you enjoy!
#2 National Civil War Museum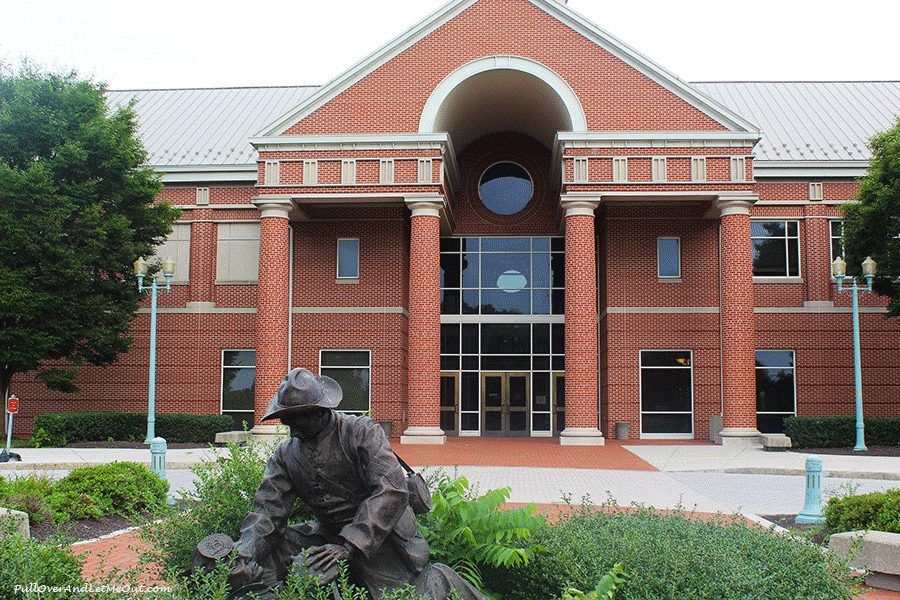 This is the largest museum in the world devoted to the American Civil War. The museum features 24,000 sq. ft. of exhibition space with education as its primary mission.
Be sure to pick up the Gallery Guide at the information desk upon arrival. The guide provides a map and brief explanation of each exhibit. The exhibits create a timeline from the lead up until the post-war era covering a variety of topics such as slavery, Civil War battles, Civil War Music, and the like.
The museum is well laid out, gives a thorough overview of multiple aspects of the war, and is thought-provoking. Further, the exceptional collection of artifacts adds impact to the visit.
Perched on a hill overlooking Harrisburg, this historic treasure has welcomed over 850,000 visitors since opening in 2001. You'll want to allow ample time for exploring this important museum, "where every day is a lesson in history."
One Lincoln Circle at Reservoir Park
Harrisburg, PA 17103
www.nationalcivilwarmuseum.org
(717) 260-1861
#3 State Museum of Pennsylvania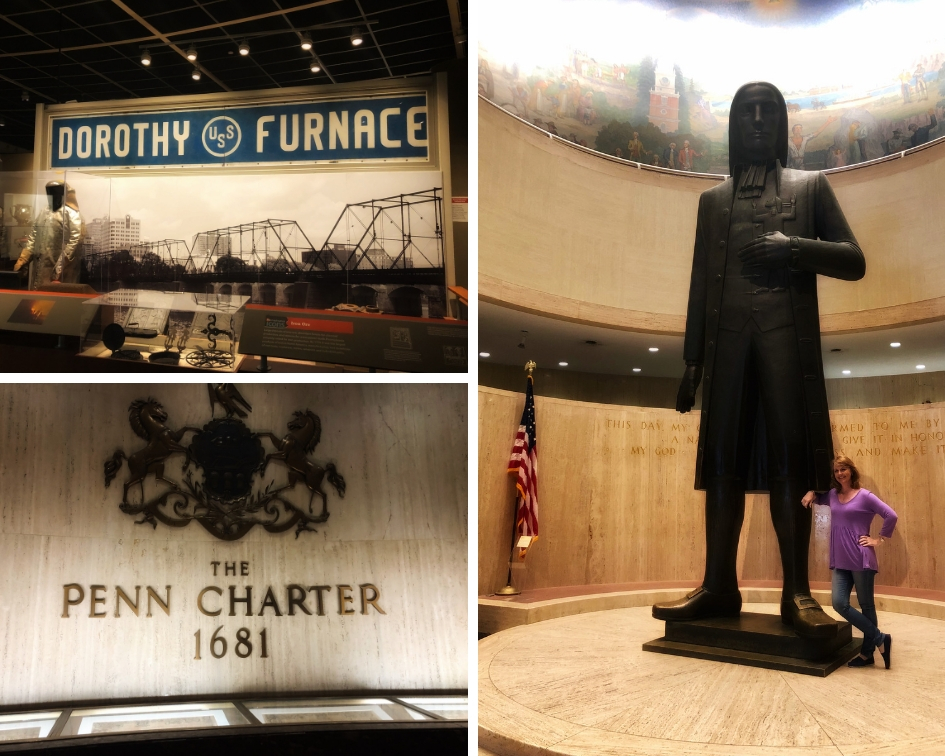 The State Museum of Pennsylvania is a wonderful compilation of the state's history from earth's beginnings to modern day. With permanent and changing collections visitors may delve into a variety of subjects.
I found Memorial Hall which is dedicated to the vision of Pennsylvania's founder, William Penn, to be fascinating. The actual Penn Charter from 1681 is on display here. An absolute must-see for history buffs.
Other exhibits include Anthropology and Archaeology Gallery, the Hall of Geology, and Mammal Hall. This is the perennial favorite exhibit highlighting common and rare Pennsylvania animal species.
We were able to spend time exploring three stories of Pennsylvania history and also travel to space in the planetarium.
The museum is located on 3rd Street adjacent to the State Capitol Complex and is open Wednesday through Saturday 9 a.m to 5 pm. and Sunday noon to 5 p.m. This is a great place to come with the family or on your own.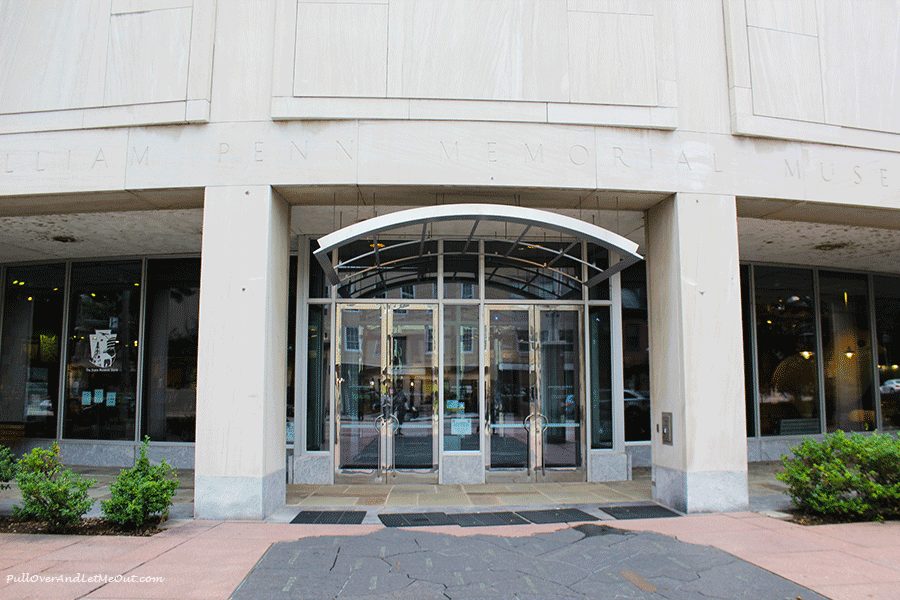 #4 Pride of the Susquehanna Riverboat Cruise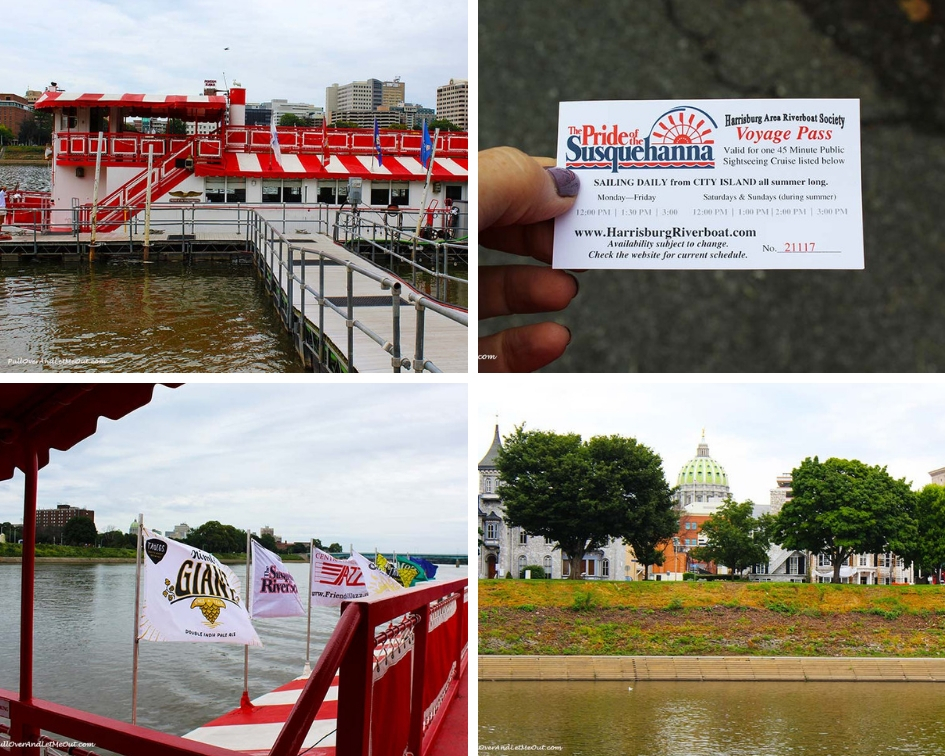 Head to Riverside Drive on City Island to catch the Pride of the Susquehanna Riverboat.
The classic stern-driven paddlewheel boat has been carrying passengers along the Susquehanna River for over thirty years. The Pride is one of only a few remaining authentic vessels which uses the paddle for both steering and propulsion along the water.
The boat leaves from City Island traveling down the Susquehanna providing an easygoing cruise and picturesque views of the Harrisburg skyline. Because the river gets icy in the winter, the Pride only runs from April until November.
The Pride of the Susquehanna Riverboat
www.harrisburgriverboat.com
# 5 Pennsylvania National Fire Museum
The Pennsylvania National Fire Museum is located in a restored Victorian Era firehouse brimming with artifacts. The museum showcases the evolution of firefighting from the days of horse-drawn equipment to modern day engines. The volunteers staffing the museum offer a wealth of knowledge and are themselves, former firefighters.
I love this museum! From the moment we enter I am captivated.
Most enthralling is the Johnstown Gamewell Alarm Room on the second floor. It's a functioning old-school alarm system. The highlight of my visit is pulling the alarm and setting the chain of events into motion. Wow!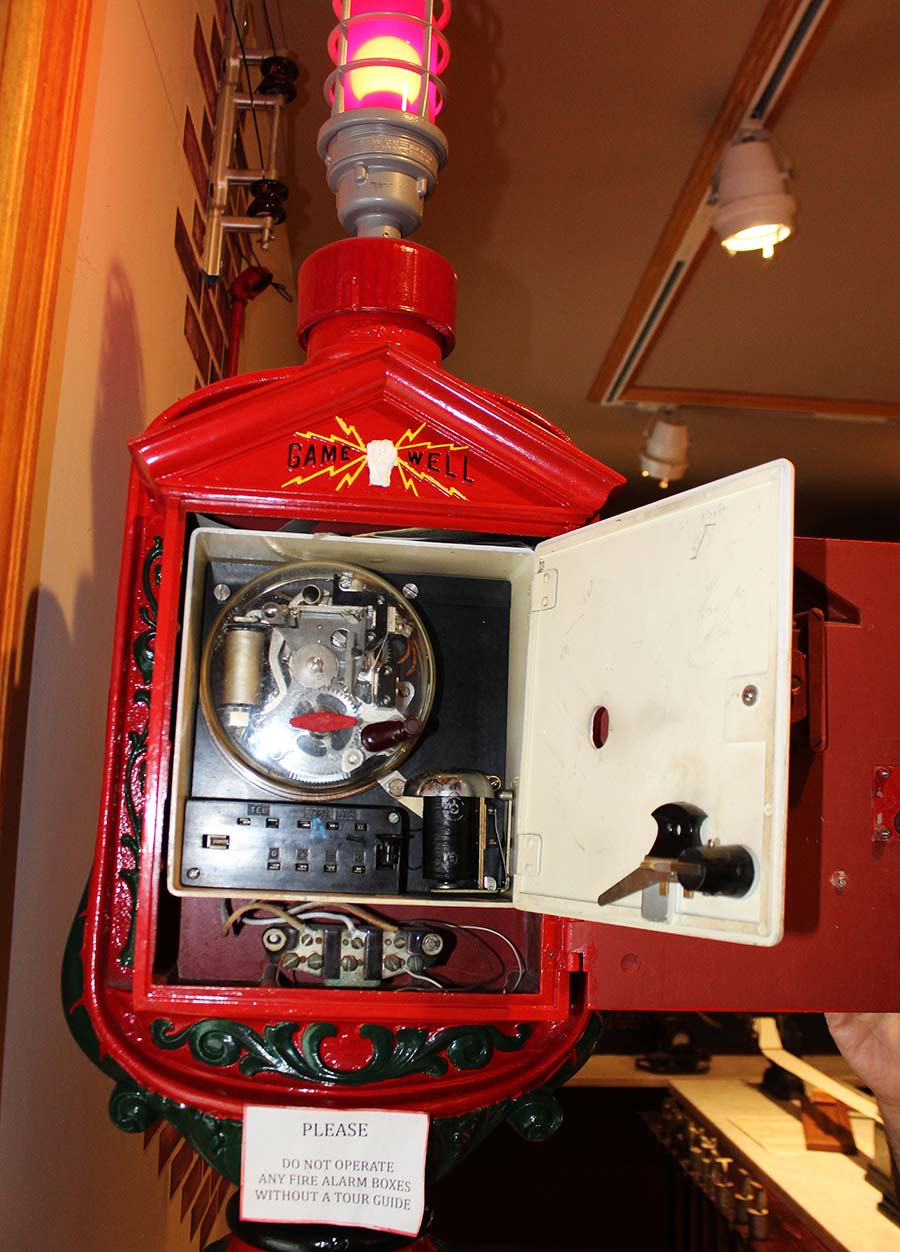 This fun museum in midtown Harrisburg is open six days a week. There's free off-street parking and admission is only $6 for adults and $5 for children. Give yourself at least an hour to immerse yourself in the exhibits at the historic Reily Fire House.
The Pennsylvania National Fire Museum
1820 N. 4th Street
Harrisburg, PA  
www.pnfm.org
#6 Broad Street Market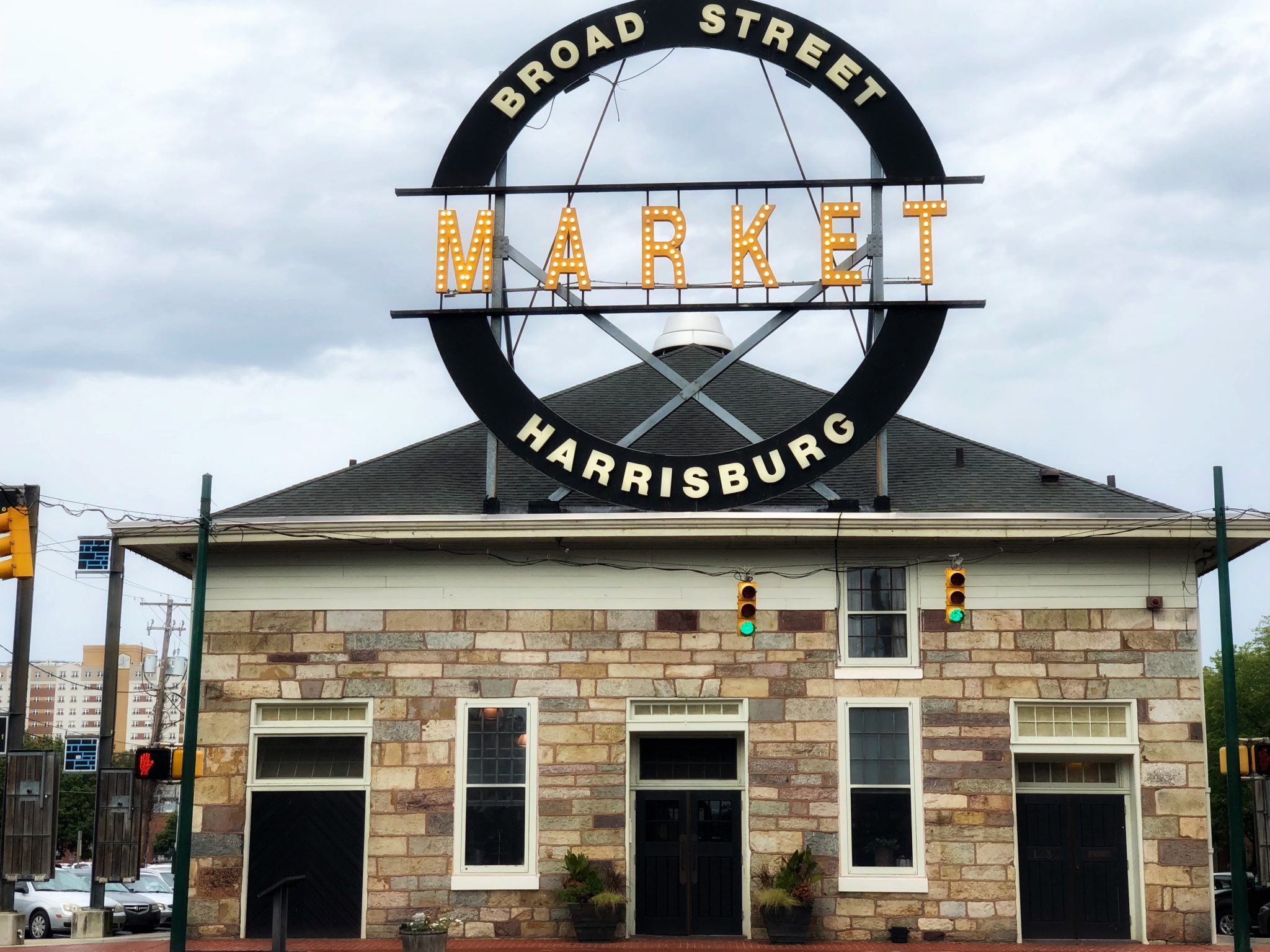 Established in 1860 and covering three city blocks, Broad Street Market is the oldest continuously operated market in the United States. Nearly 40 vendors fill the stalls with locally sourced produce, meat, vegetables, baked goods, and more. It's a fantastic spot for enjoying a meal or a snack.
It's always fun visiting farmers' markets. Each one has its own unique character and charm. Plus, the regional tastes are laid out and waiting to be savored. The Broad Street Market is a gathering place where you'll find culture, cuisine, and flavor. If you enjoy farmers' markets, this is a Harrisburg must.
Broad Street Market 
1233 N. Third Street
Harrisburg, PA  17102
717-236-7923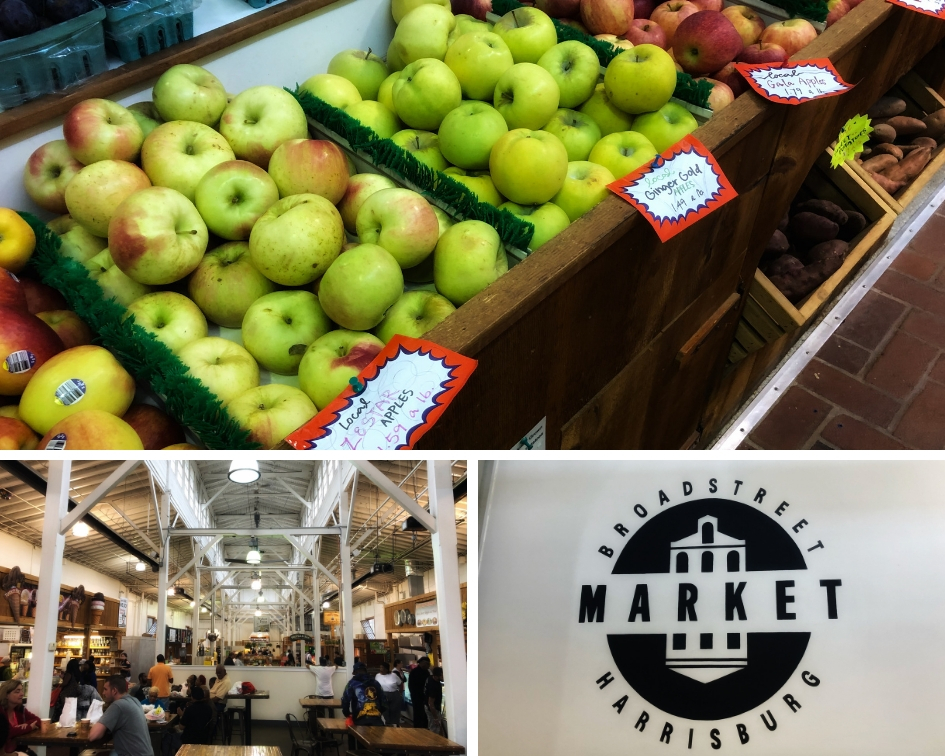 Anna Marie Says…
We tasted a regional favorite, an authentic Pennsylvania Dutch soft pretzel – freshly made and still warm! YUMMY!!
#7 Midtown Scholar Bookstore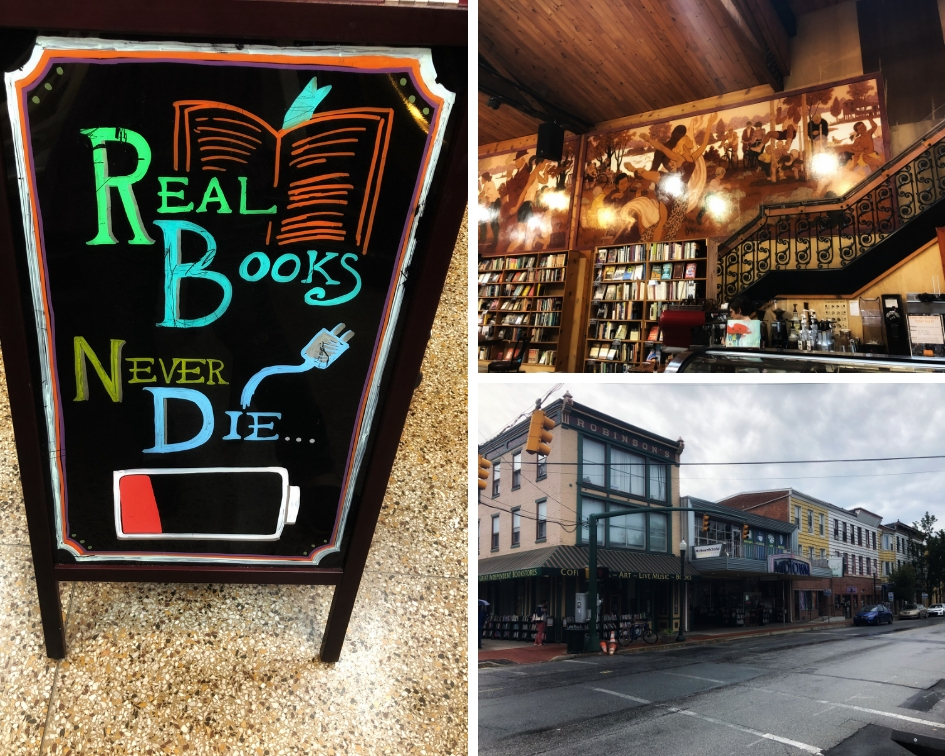 Depart the Broad Street Market and walk across the street to the nation's largest academic used bookseller, Midtown Scholar Bookstore.
This is a cool bookstore located in a restored 1920s theatre. The shelves are packed with over 200,000 new, used, rare, and discount books. Adding to the charm is its Famous Reading Café. The coffee shop features noteworthy organic coffees and fair trade teas to enjoy while gazing the shelves.
This is a hip Harrisburg hangout with an epic appeal.
Midtown Scholar Bookstore
1302 N. Third Street
Harrisburg, PA  17102
717-236-1680
www.midtownscholar.com
#8 Millworks & Artist Studios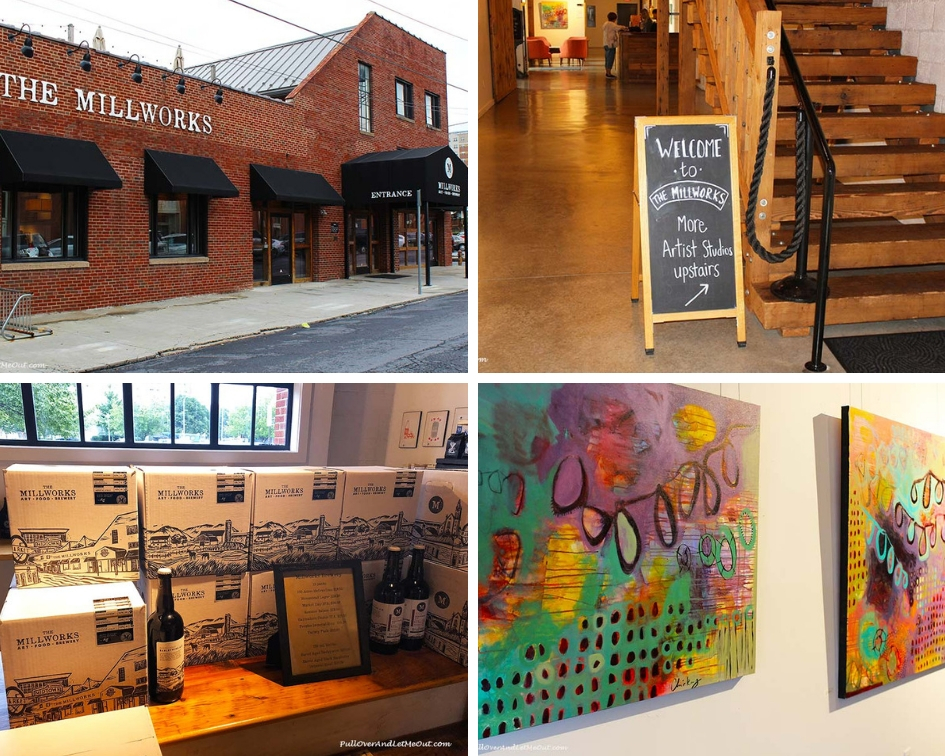 Another Midtown Harrisburg destination is The Millworks. The repurposed building which once housed the Stokes Millwork is an important part of the Midtown Renaissance.
First, it's a restaurant featuring locally sourced sustainable food. The restaurant serves delectable cuisine utilizing ingredients from local growers. Additionally, nearly half of everything served comes from a wood-fired oven.
Next, it's a brewery. The Central Pennsylvania craft brew scene is represented well at The Millworks. Pilsners, IPAs, and stouts are expertly crafted and available for sampling and sipping. You can even purchase some of the craft brews to take with you.
Finally, The Millworks is an art gallery. With 17 studios and 32 in-house artists, visitors can engage with the artists while admiring their work.
Located adjacent to the Broad Street Market and Midtown Scholar Bookstore, this is a great spot for a meal, beverage, and art.
The Millworks 
340 Verbeke Street, Harrisburg, PA 17102
717-695-4888
#9 Hershey's Chocolate World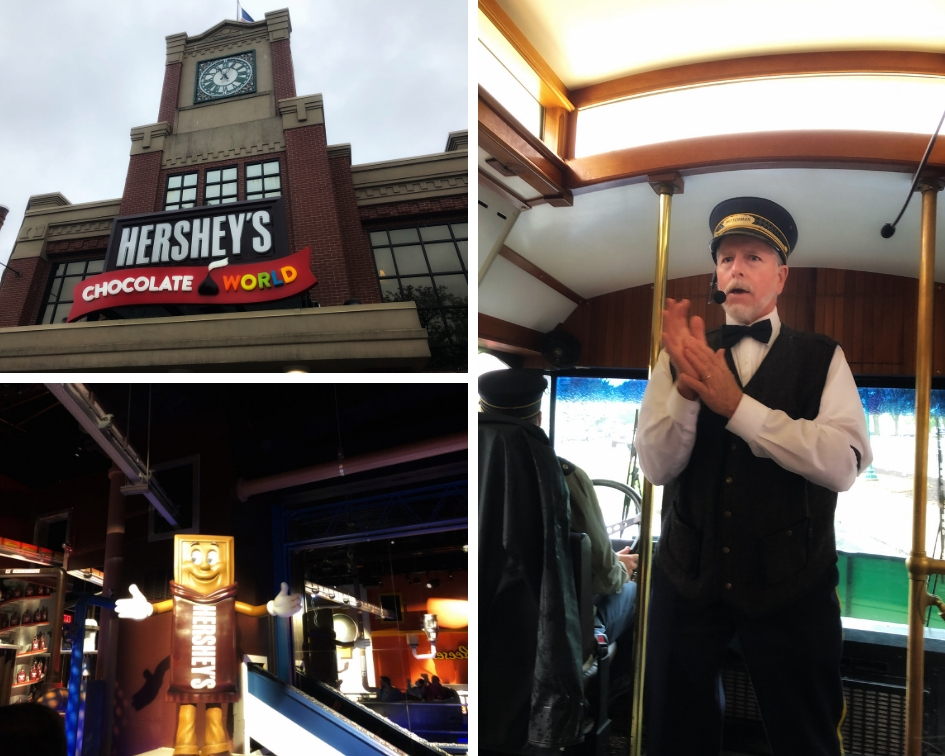 No trip to Hershey & Harrisburg is complete without spending time at Hershey's Chocolate World. This is truly a chocolate lover's paradise. Even if you're not a huge chocolate-eater, you may leave here one!
Explore and learn all about Hershey's heritage, the chocolate-making process, and how the sweetness created here became a worldwide favorite treat.
There are a variety of activities and experiences well-worth the price of admission. Choose from favorites such as the Free Chocolate Tour Ride, Hershey Trolley Tour, 4D Chocolate Mystery Show or Create Your Own Candy Bar. There is also a huge gift shop filled with all-things-Hershey. Arrive prepared to shop.
If you have time, do it all. You'll come away well-versed in everything chocolate and have some tasty souvenirs to commemorate your visit to the Sweetest Place on Earth.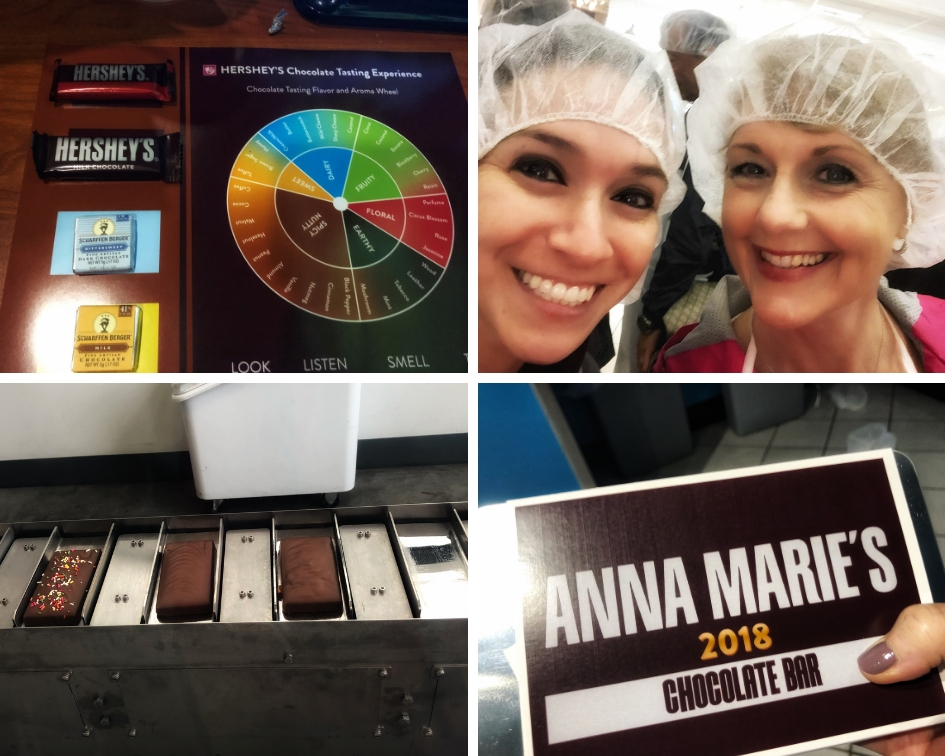 Anna Marie Says…
If you're traveling with real little ones, the Create Your Own Candy Bar experience does involve some waiting in line. Although they keep the line moving, you may want to consider this as you make your plans.
Hershey's Chocolate World 
101 Chocolate World Way
Hershey, PA  17033 
717-534-4900
#10 Echo Dell – Indian Echo Caverns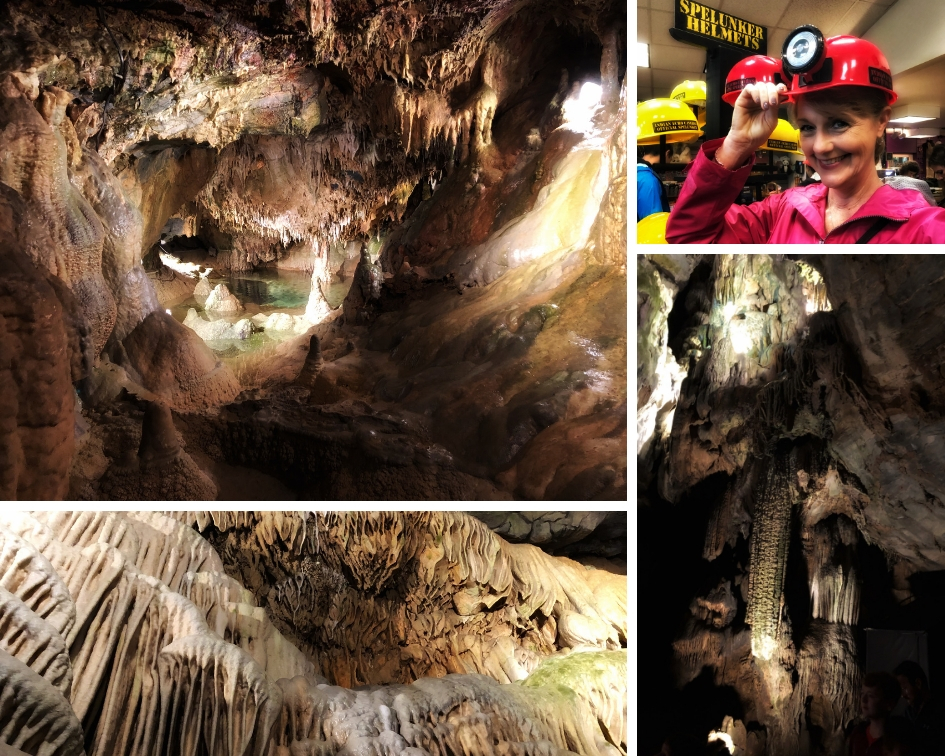 A short distance outside Hershey in Hummelstown, Pennsylvania is Indian Echo Caverns.
Get your geology on and go below the earth's surface to see first-hand the results of the erosive properties of water. The limestone cave dating back at least 440 million years is a year-round, any type of weather attraction. The fact-filled tours last about 45-minutes and allow guests to view stalactites, stalagmites, and life inside a cave. The caverns are a constant 52-degrees Fahrenheit and damp, so appropriate shoes and a jacket are always a good idea.
In addition to the caverns, there are outdoor activities such as the gem mill, picnic area, playground, and petting zoo making it a great family-friendly destination.
The caverns are open year round from 10 a.m to 4 p.m. and 9 a.m. to 5 p.m. Memorial Day to Labor Day.
Echo Dell – Indian Echo Caverns
368 Middletown Rd
Hummelstown, PA 17036
(717) 566-8131
#11 Hershey Gardens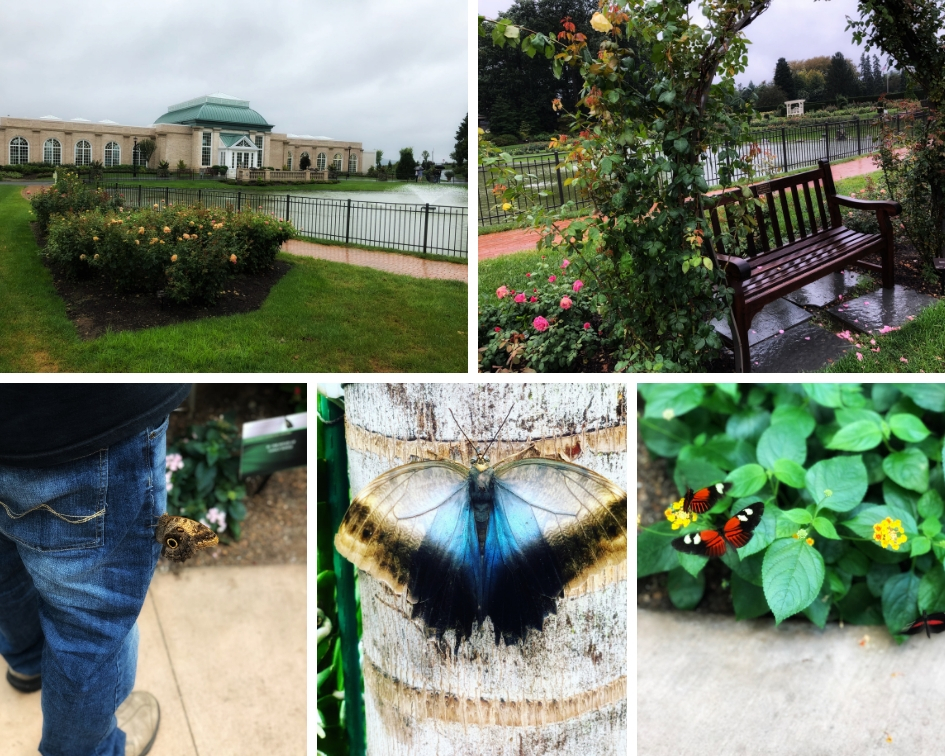 Milton Hershey requested, "a nice garden of roses."  His original garden opened to the public in 1937 and was a 3 1/2 acre rose garden. Today, it's much larger but carries on the tradition in a spectacular memorial garden featuring an array of ever-changing plant life and florals.
Stroll the 23-acres of floral beauty overlooking Hershey, Pennsylvania and enjoy the serenity. Spend time inspecting the Seasonal Display Garden, the Japanese Garden, or the Herb Garden. Breathe in the fragrances and note the innovative landscaping.
After exploring the gardens, venture inside the Conservatory. Here you'll find the Butterfly Atrium filled with hundreds of colorful curious butterflies. The tropical environment is toasty but definitely a highlight of visiting Hershey Gardens.
Hershey Gardens
170 Hotel Road
Hershey, PA  17033
HersheyGardens.org
717-534-3492
Anna Marie Says…
Take note of the street lights as you drive around downtown Hershey. They're shaped like Hershey's Kisses!
Where to Eat
In addition to places like Broad Street Market and Millworks, Hershey & Harrisburg offers a plethora of dining options. We dined at Cork & Fork on State Street, a short walk from the Capitol, and had a delicious dinner. A lady at a nearby table was eating a salad that looked scrumptious. Thus, I got to do my interpretation of the movie line from When Harry Met Sally, "I'll have what she's having."
We also had a phenomenal meal at Riverrun Restaurant & Social Lounge at our hotel. The "Grown Up Grilled Cheese" made with Gruyere, caramelized onions, Kuntzles bacon, and apple butter is by far the best grilled cheese I've ever had!
Hershey has several good restaurants along the main thoroughfare, Chocolate Avenue. We dined at Houlihan's before departing on Sunday.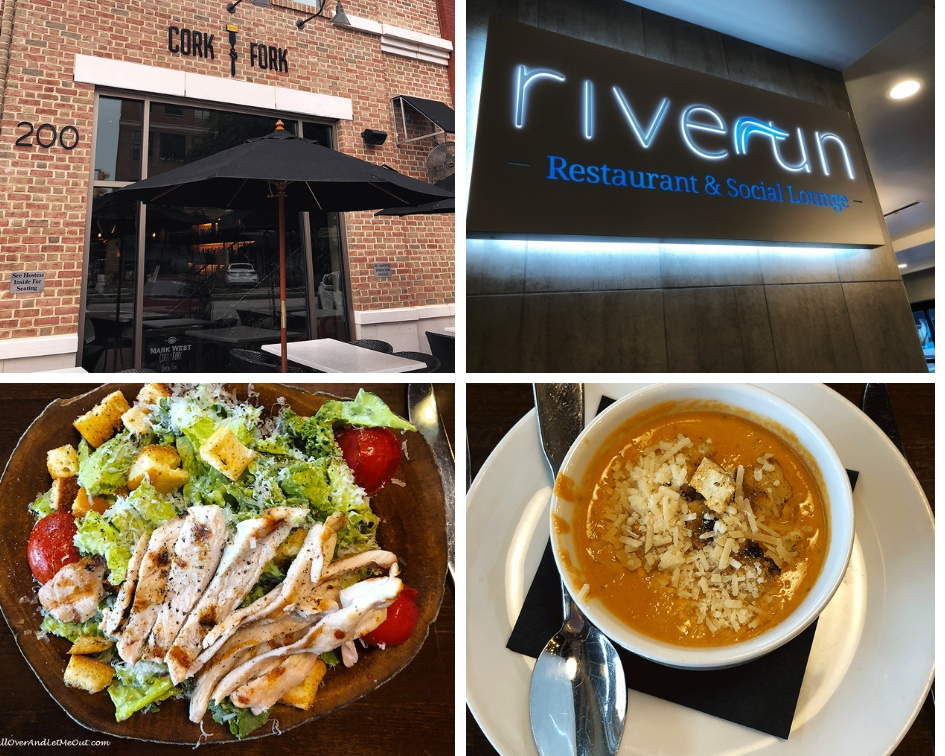 Where To Stay
During our time in Hershey & Harrisburg, we stayed at the Hotel Indigo. Conveniently located off I-83 and I-283, the hotel is a short distance from downtown Harrisburg and minutes from Hershey.
The chic modern décor, friendly staff, clean and comfortable rooms make this a fantastic hub for exploring Hershey & Harrisburg. The outdoor pool looks like something from a Hollywood movie set so if your plans are for a summer visit, enjoy lounging by the pool after a day of touring.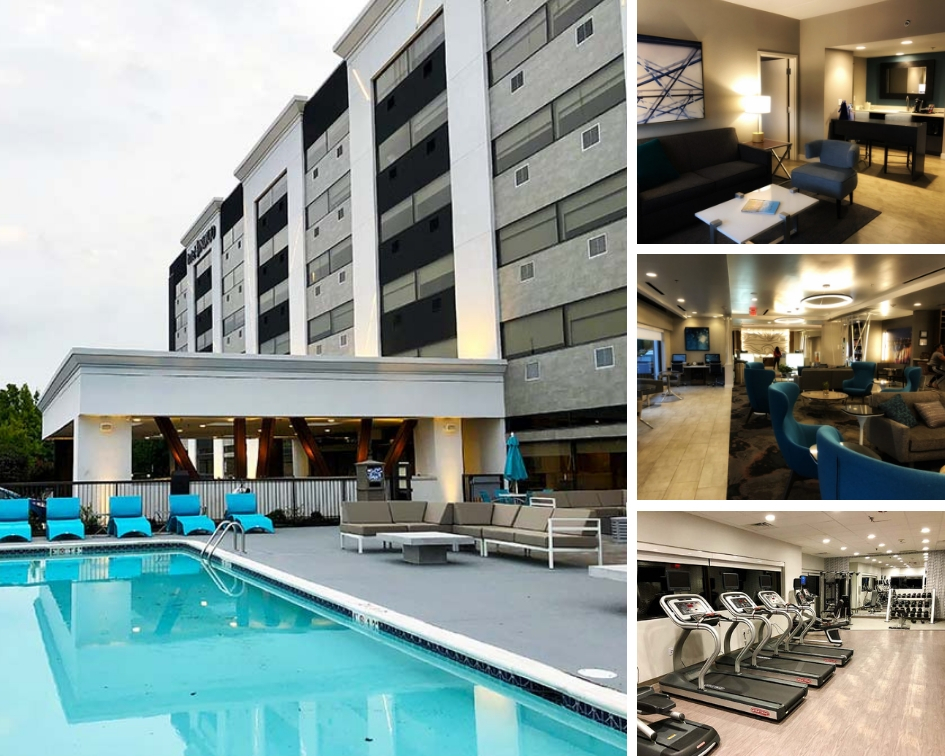 Anna Marie Says …
The Street Art in Harrisburg is incredible and we didn't expect to find so much of it! Be sure to make time to scope out some of the gorgeous murals.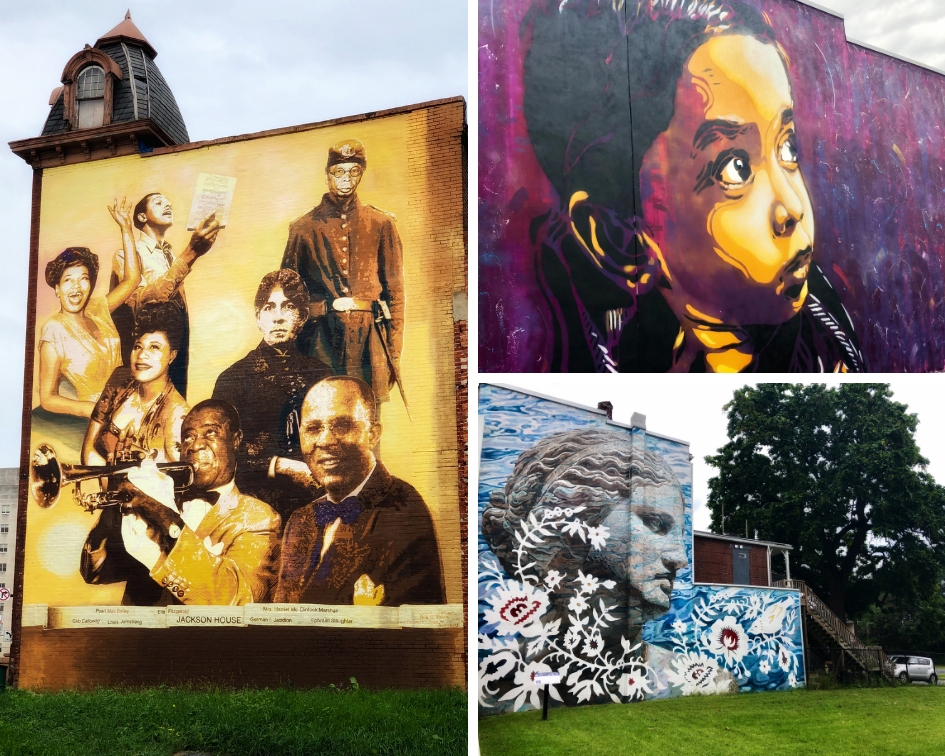 Other Things For Next Trip
These are just eleven of the many things to do and see in the Hershey & Harrisburg, Pennsylvania area. Although we accomplished a lot during our stay, there's still more waiting to be discovered. There are art museums, breweries, historic landmarks, outdoor activities, live music and of course Hershey Park.
This delightful region of Central Pennsylvania is perfect for a weekend getaway. Having spent a weekend packed with sightseeing, I'm convinced Hershey & Harrisburg is one of those destinations begging for a return visit.
Have you visited Hershey & Harrisburg? Let me know, I love hearing from you.
Quick Weekend Itinerary
PA Capital Complex Tour
National Civil War Museum
State Museum of Pennsylvania
Pride of the Susquehanna Riverboat Cruise
Pennsylvania National Fire Museum
Broad Street Market
Midtown Scholar Bookstore
Millworks & Artist Studios
Hershey's Chocolate World
Indian Echo Caverns
Hershey Gardens
Hey, Pinners! Pin This!