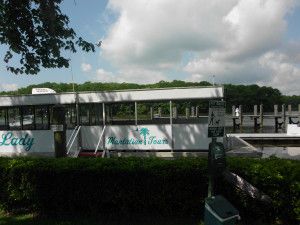 This fair-skinned girl loves going to the beach, but I can't take a full week of lounging in the sun so I always look for other activities.
Plantation River Tours in Murrells Inlet, South Carolina provided a fun, fact-filled afternoon on a recent trip to Myrtle Beach.
We boarded the Waccamaw Lady, a 60′ pontoon boat that cruises at 15 knots, at Wacca Wache Marina. The boat is comfortable, safe and most importantly – shaded. The restroom on board is clean and although there's no food service, cruisers are welcome to bring coolers and picnics.
The two and a half hour tour narrated by a local historian travels past multiple plantations, trunk gates, slave cabins, moss-laden oak and cypress trees, alligators, eagles and osprey.
Did I mention the turtles? Prepare to see lots and lots of turtles sunning on logs on a warm low-country day.
The cruise proceeds along the Waccamaw River, Black River, Great Pee Dee River, Sandy Island, Squirrel Creek and Thoroughfare Creek.
Though the plantations aren't open to the public, they're easily seen from the vantage point of the pontoon boat. Featured plantations include Arundel Plantation, Chicora Wood Plantation, Exchange Plantation, Hasty Point Plantation, Squirrel Creek Plantation and Willbrook Plantation.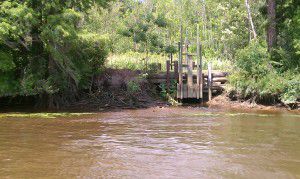 The guide gives a compelling narrative of how the plantations were strategically located for the cultivation of rice.  She enthralls with tales of early settlers, the rich Gullah history and how the low-country became a prosperous, thriving, rice-growing area that went bust after the Civil War.
By tours' end I found myself craving rice. There's still one company growing rice in South Carolina. Thanks to a helpful tip from our guide, I was able to find some Aromatic Rice after our cruise. It costs more than the stuff in the grocery store but is well worth the price.
The Plantation River Tour is definitely not the typical tourist attraction for beach-goers, but is ideal if you want something out of the ordinary or if you love history. The tour costs $30 for adults and $15 for kids 6-12. Call ahead to reserve your seat.
One tip I'll pass on – My 7 year old son came with me. He had fun riding the boat and seeing wildlife, but the tour was a tad long for his taste. For Mom – it was a perfect break from the sand and sun.
If you like this please share it with your friends.  As always, Happy Travels!