On a recent trip to historic Fredericksburg, Virginia I took a detour off the traditional 'touristy' path and discovered a love story in nearby Falmouth. It's the story of Gari and Corinne Melchers. As I learned while visiting their home, Belmont, "He was one of the most successful painters of his time, sought out by the rich and famous. She was a beautiful, young art student, and his biggest fan. They fell in love on an ocean liner and spent their lives sharing art."  
Belmont is a Georgian home built around 1790 perched on the banks of the Rappahannock River overlooking the village of Falmouth.
Upon arriving at the visitor center I was ushered into a room to view a video on the history of the home and of Gari Melchers. What struck me is how truly famous Melchers was in his lifetime. This was no starving artist.  On the contrary – Melchers was successful, well paid and respected.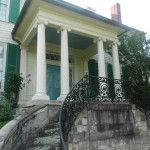 So often it seems artists die as paupers only to become famous posthumously.  For Melchers the opposite is true.  Gari Melchers was a renowned portrait artist commissioned by wealthy and famous people of his time.  People such as Mellon, Vanderbilt and Roosevelt, to name a few.  He was also chairman of the Smithsonian commission which established the National Gallery of Art.
After learning about the Melchers, the early years in Dusseldorf, Holland, and Paris I moved from the visitor center to tour their great home.  Historic records are a bit sketchy as to the exact date the home was built but its estimated construction was between 1785 and 1790. The Melchers purchased Belmont in 1916 and made some modifications.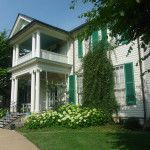 Stepping inside Belmont's stately entrance hall with its high ceilings and grand staircase; it's difficult to know where to focus first. The Melchers were world travelers and collectors. They filled their pastoral retreat with exquisite antiques, eclectic collections and adorned the walls with artworks by some of the most famous artists of their time.
Melchers' touch can also be seen on the grounds of Belmont.  He designed intricate gardens and walking trails through acres of forest.  A winsome gazebo, arched trellis, and statuary decorate the beautiful gardens Melchers conceived so long ago.
In 1924 he built his stone gallery where he painted up until the time of his death. The north-facing studio never had electric light and Melchers did all his painting by natural daylight.  Being in his studio and seeing his paintings is like walking the timeline of his life and watching his style grow and change from one painting to the next.  He was especially fond of painting everyday people going about ordinary tasks.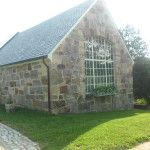 Gari Melchers lived at Belmont from 1916 until his death in 1932. When Corinne passed away she left the home to the state of Virginia. In 1975 through the University of Mary Washington, Belmont was opened to the public.
The home is a treasure.  I hate to use a cliché, but it applies.  It's a treasure because Belmont is exactly as it was the day Corinne Melchers passed away.  As my tour guide, Jan put it, "the home looks as if they've simply gone out for a walk."
This beautiful historic home is not as well known as other attractions in the Fredericksburg area but worth visiting, especially for art lovers.  Give yourself about an hour and a half to fully explore the home, gallery and gardens. The employees are delighted to answer questions and clearly love  Belmont.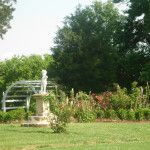 On a side note; after leaving Belmont I stopped at Amy's Cafe in the village of Falmouth for a lovely dinner.  Amy's is in an old historic building by the river. My friendly server, Turner, took good care of me and the homemade meatloaf was delicious.