Each year, hundreds of thousands of motorcoach vacation passengers depart from hundreds of places throughout the United States and the world. Bus tours are a perennial favorite method of seeing a variety of destinations and offer a wide range of experiences. But is a bus tour for you? Travel along as I take a look at the advantages and disadvantages of bus tours.
Disclosure:
Many of the links you see on this site and within our trip planning tool are affiliate links. If you click through and make a purchase, I'll get a small commission and it won't cost you any extra. On selected stories, for those hotel and car bookings made using our TravelingToGive™ tool we contribute 2.5% of gross hotel and car sales to Paws for Purple Hearts. So, thanks in advance for helping me keep bringing you the content you enjoy and, at the same time, giving back to those who so bravely serve our country! #everytripmatters
The advantages of taking a bus tour
Relax and unwind; the tour operator will take care of everything. You won't have to worry about planning an itinerary because the tour company will do everything for you. All you have to do now is show up on time.
At most attractions, bus groups are sent to the front of the line. The tour organization is likely to have a contract with these attractions, so tour participants will get priority access and preferential treatment in most instances.
A tour guide is usually provided on bus trips, or the driver functions as a guide. Guides provide a wealth of information and insights that you would not otherwise learn. They can also bring a sense of humor and drama to the occasion. Ken, our Mount Rushmore Tours guide, made the journey!
When you purchase your bus tour tickets, it most likely will include all entry fees, tickets, and sometimes will even include your meals. This certainly makes budgeting easy since you've already paid for everything with the purchase of the tour ticket.
With a bus trip, you can relax and take in the views while someone else drives. If you're a fearful driver or don't want to miss anything, this is ideal. Similarly, your personal vehicle and you will experience less wear and tear.
Bus trips provide wonderful social possibilities, whether you're traveling alone or in a group. You'll meet new people and interact with travelers from all over the United States and the world. Bus trips give a single traveler company and might even help rookies overcome their fears of traveling. There is safety and security in numbers.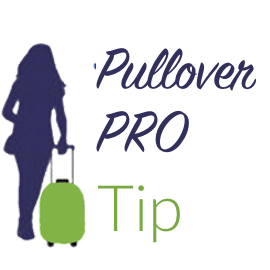 The disadvantages of taking a bus tour
Yes, this is a pro and a con of taking a bus tour, but it all depends upon your perspective. If you enjoy building your own itinerary, it can be tough being at the mercy of the tour company.
When taking a bus tour, you are bound by the tour's timetable rather than your own. This might mean that you're traveling too quickly or that you're waiting on others. To keep up with the timetable, you're often obliged to rush or forgo things entirely. This can be a significant disadvantage.
This is related to the speed at which you travel, but a bus tour lacks flexibility. It's just how the tour works. A schedule has been established, and the tour must follow it. A bus trip is not suitable for spontaneity if you prefer taking unexpected detours or those Pull Over and Let Me Out moments.
A bus tour's social aspects are usually fantastic and a huge plus. Even so, there's a chance you'll end up in a group with whom you don't click. That's fine for a few hours or a day, but if your journey is longer, traveling with the wrong people might be a real drag.
This one is personal. I booked our seats two months in advance of our bus tour of Mount Rushmore. The tour was a full day and started at the set where parts of the movie Dances with Wolves were filmed. Mount Rushmore, Iron Mountain Road, Custer State Park, State Game Lodge, Needles Highway, Sylvan Lake, and Crazy Horse Memorial were among the places we visited. 
I knew we were in trouble when the bus driver said as we boarded, "I feel horrible about your seats, so, at the end of the tour, I'm going to give you a special complimentary copy of my book."
Hmm… They had assigned us to the very rear of the bus because we were a group of three. That wasn't so horrible, was it? The back seat, on the other hand, had three seats that were really only fit for two people. My husband, teenage son, and I were squeezed in next to the lavatory like sardines.
Despite our uncomfortable seating arrangement, the tour was wonderful. However, all I can say is that if I do schedule a bus tour for the three of us in the future, I'll insist on knowing where our seats are before we get there.
To bus tour or not bus tour, that is the question!
An afternoon excursion on a double-decker bus through London was the first bus tour I recall taking. That was a fantastic introduction to the widely used touring method.
We got off at one of London's renowned tourist attractions every now and then to get a feel for the place before going on to the next. It was magical to see the Crown Jewels, the Tower of London, Tower Bridge, and Westminster Abbey.
However, that was only a three-hour tour (a three-hour tour), and while it was enjoyable, my mother and I boarded a bus for a week-long tour of the Emerald Isle after landing in Ireland for the first time a few days later. While the tour turned out to be fantastic, I recall standing at the front of the bus at 19 years old, ready to find an open seat, and realizing I was a teen on a bus full of middle-aged to senior adults. I quickly realized that this trip was not going to be a teenager's idea of a good time.
Bus tours come in a wide range of options, with a wide variety of inclusions, interesting sites, delicious meals, plenty of entertainment, and, on occasion, enough unplanned time for individual exploration. That stated, before you book that tour, you should think about the advantages and disadvantages of bus excursions. My point being, not all bus tours are created equal. Likewise, there's a time and place and a season for every tour. 
Have you taken a bus tour? I'd love to hear about it. Be sure to leave a comment below!
Hey, Pinners! Pin this for later!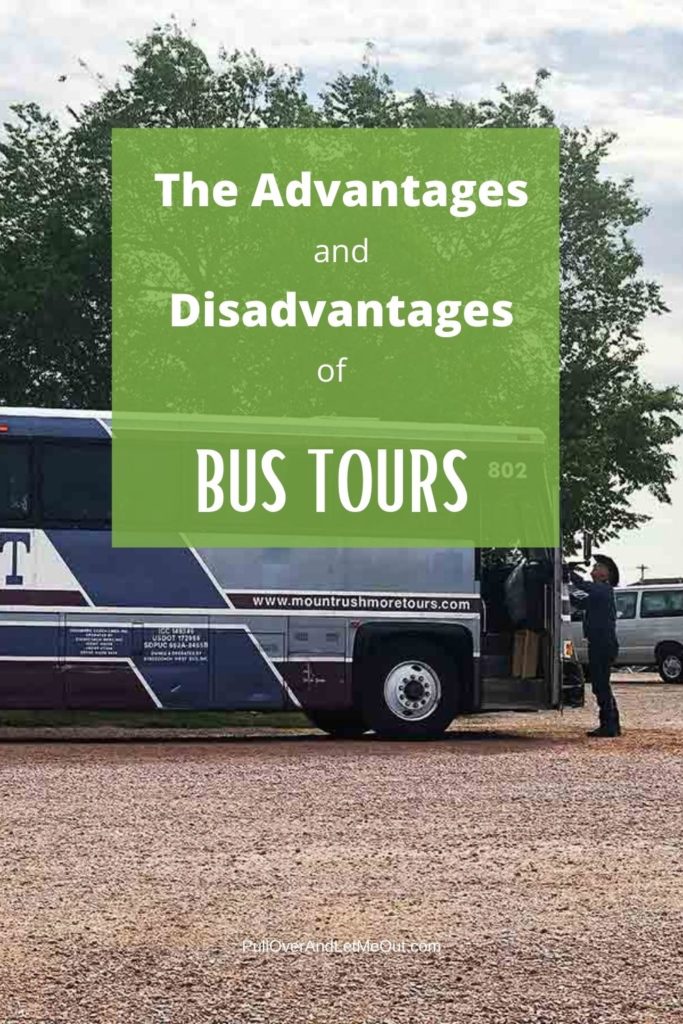 Hey pinners, save this for pinning after your trip
After you get back from your trip, please use these images to post to social media or post your own photos.  Please tag us on your post #pulloverandletmeout
You can also use the social sharing links on the SmartTrip tool.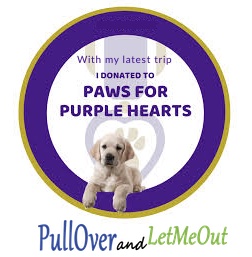 More travel stories you'll love reading!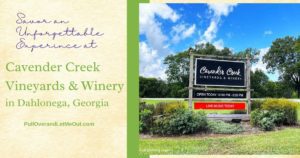 Cavender Creek Vineyards & Winery is a thriving and welcoming wine destination perfect for wine enthusiasts and anyone seeking a scenic escape from the daily grind. Travel there with PullOverandLetMeOut to discover this charming winery in the Appalachian foothills.
Read More »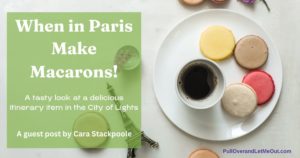 Guest blogger Cara Stackpoole shares a delectable itinerary item in the City of Lights. Discover why making macarons is a memorable experience.
Read More »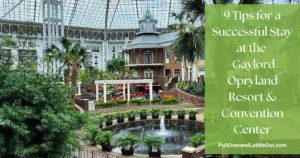 The Gaylord Opryland Resort & Convention Center in Nashville is a well-known attraction in the city. PullOverandLetMeOut looks at some smart hints for making the most of a stay at the famous hotel.
Read More »