Traveling light is a long-standing goal of mine. However, that doesn't negate the fact there are several items I simply must have when I'm on the road. While I'm not exactly high maintenance, I'm a girly-girl and can't forgo certain things. In order to keep my travel toiletry bag filled with my necessities without weighing it down, I've had to strike a balance. Here's a glimpse inside this travel blogger's travel toiletry bag along with some tips for keeping things carry-on friendly.
Disclosure:
Many of the links you see on this site and within our trip planning tool are affiliate links. If you click through and make a purchase, I'll get a small commission and it won't cost you any extra. On selected stories, for those hotel and car bookings made using our TravelingToGive™ tool we contribute 2.5% of gross hotel and car sales to Paws for Purple Hearts. So, thanks in advance for helping me keep bringing you the content you enjoy and, at the same time, giving back to those who so bravely serve our country! #everytripmatters
Finding the perfect travel toiletry bag
If you want to go down a proverbial rabbit hole, do a search for travel toiletry bags on Amazon. There are so many available in an array of styles, you could quite literally spend hours in search of the perfect one for you. There are some key things to consider when you're selecting a toiletry bag. Here are a couple questions to keep in mind while shopping.
Do you want a hanging toiletry bag?
Will it need to fit inside a carry-on suitcase?
Do you prefer handles or a strap?
Do you want it to be clear for quick trips through TSA?
What fabric do you prefer?
Is it a toiletry bag or shaving kit you need?
How many compartments?
What's your budget?
Once you've determined what's important to you, it will be much easier pairing down your choices. I opted for a hanging travel bag with multiple compartments. What I love most is the hook at the top which allows me to hang it on a towel rack or door hook when counter space is at a premium. I also like the lightweight, breathable fabric, and the handle at the top which makes it easy to pack and carry to the restroom.
The secret to keeping a travel toiletry bag carry-on friendly is finding your favorite things in travel sizes. Most drugstores have a section dedicated to travel-sized products, but I've had great success finding specific brands I use on Amazon. Here are a few of the must-have items I love and have found in travel-sizes. I always keep them in my travel toiletry bag so they're ready to go when I am.
Whether you're an evening bather or morning shower person, we can't always rely on the hotel having everything we require for our hygiene routine. To that end, I've come up a few components I keep in my travel toiletry bag just in case. 
I keep travel-sized shampoo, deodorant, lip balm, and makeup removing wipes. I use a coconut oil stick as a moisturizer under my makeup. It travels much better than regular coconut oil and it's all natural. It can also double as a body moisturizer.
Another item that's become a favorite is my Doctor Plotka's Mouthwatchers Antimicrobial Floss Bristle Travel Toothbrush. Designed with anti-microbial technology, according to the product information, the brush eliminates 99.9 % of bacteria within six hours. It's like using a fresh toothbrush each time I brush. They come in a four-pack and fold up nicely to fit conveniently in my bag.
A few favorite things I keep in my travel toiletry bag.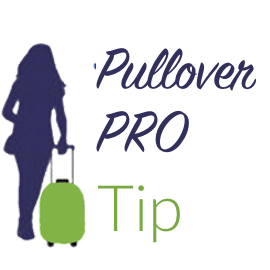 Save the toothpaste and dental floss samples your dentist gives you at your cleaning appointments. You may never have to buy travel size toothpaste again!
There are a few key cosmetic items I have to have with me when I travel. My favorite foundation is by it Cosmetics – Your Skin But Better CC+. It offers excellent coverage without looking heavy and it's got broad spectrum SPF 50 UVA/UVB sunscreen built in which means I don't have to worry about packing extra sunblock for my face. Even better, they make it in a travel size. A little bit goes a long way.
In addition to it Cosmetics foundation, I pack their Naturally Pretty Eyeshadow Trio Pretty Plum. A light application for day and a heavier application for evening makes this trio the ideal combination for taking me from casual to formal in a jiffy. 
I pair the shadow with my favorite eyeliner, mascara, brow gel, and lip color, which I also dab on my cheeks and blend for a little blush, toss in a makeup sponge and a few cosmetic brushes, and I'm good to go.
Lipstick can double as blush to save space in your bag.
Along with shampoo and conditioner, there's a handful of haircare products I take with me when I travel. To tame my hair, especially in humid conditions, I love CHI's Keratin Silk Infusion. Unfortunately, I have a hard time finding it in the travel size so I rely on silcone travel bottles for the liquids I don't have in mini-versions.
Another favorite for those occasions I'm traveling between trips to the salon is, Everpro Gray Away Temporary Root Concealer. I'm amazed at how well this works to blend away visible roots and get me through to my next hair appointment! Pairing that with a mini-hairspray, detangling comb, and a couple scrunchies and my hair is travel ready and good to go.
A mini-manicure set is the unsung hero in a travel toiletry bag. Compact in size, it packs a punch with multiple tools inside. I can't tell you how many times I've broken a nail or needed a scissor while traveling. Keeping one of these in your bag is hands-down a winning proposition.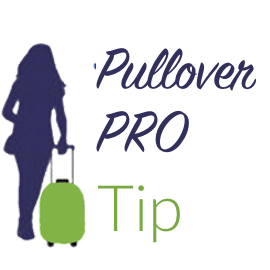 I keep a roll of scotch tape in my toiletry bag. It's a multi-purpose fix for an array of issues. It's a versatile must-have for me!
Fortunately, I haven't had to carry many medicines with me while traveling. Nonetheless, I do bring a few travel sized remedies for those times I find myself with a headache, cut, or aches and pains from over exertion.
As an Irish dancer, I suffer from plantar fasciitis. When I have an occasional flare up, I've found CBD cream helpful in easing my pain. I recently received a sample of travel sized CBD from CBD Living. I'll be adding these to my travel toiletry bag when I hit the road again.
What's in your travel toiletry bag?
And that's a look inside my travel toiletry bag. I always keep it packed and ready to go. It's a kit that works well for me whether I'm taking a road trip or a flight. I strive to only include items that meet the TSA guidelines, so I don't have to think about it when I take off. Adhering to TSA guideline also helps me keep from overstuffing my toiletry bag.
Tell me, what's in your travel toiletry bag? What items have you discovered you can't travel without? I'm always looking for new and helpful products.
More Stories You'll Enjoy!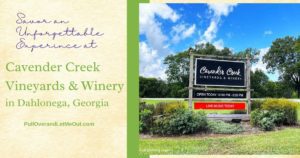 Cavender Creek Vineyards & Winery is a thriving and welcoming wine destination perfect for wine enthusiasts and anyone seeking a scenic escape from the daily grind. Travel there with PullOverandLetMeOut to discover this charming winery in the Appalachian foothills.
Read More »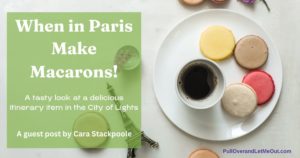 Guest blogger Cara Stackpoole shares a delectable itinerary item in the City of Lights. Discover why making macarons is a memorable experience.
Read More »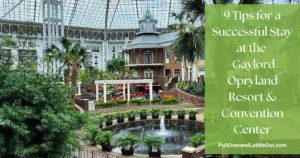 The Gaylord Opryland Resort & Convention Center in Nashville is a well-known attraction in the city. PullOverandLetMeOut looks at some smart hints for making the most of a stay at the famous hotel.
Read More »