Isle of Palms is a tranquil Lowcountry town positioned between the Atlantic Ocean and the Intercoastal Waterway, a mere 12 miles away from historic Charleston, South Carolina. This delightful coastal retreat showcases a stunning beach, top-notch golf and tennis facilities, a marina, and an abundance of recreational options both on land and in the water. Apart from its captivating natural surroundings and extensive range of activities, this enchanting beachside community presents numerous compelling reasons why it stands out as the perfect destination for a girls' getaway. Here are seven of the many reasons that make Isle of Palms, South Carolina an ideal destination for an unforgettable vacation with your girlfriends.
Disclosure:
Many of the links you see on this site and within our trip planning tool are affiliate links. If you click through and make a purchase, I'll get a small commission and it won't cost you any extra. On selected stories, for those hotel and car bookings made using our TravelingToGive™ tool we contribute 2.5% of gross hotel and car sales to Paws for Purple Hearts. So, thanks in advance for helping me keep bringing you the content you enjoy and, at the same time, giving back to those who so bravely serve our country! #everytripmatters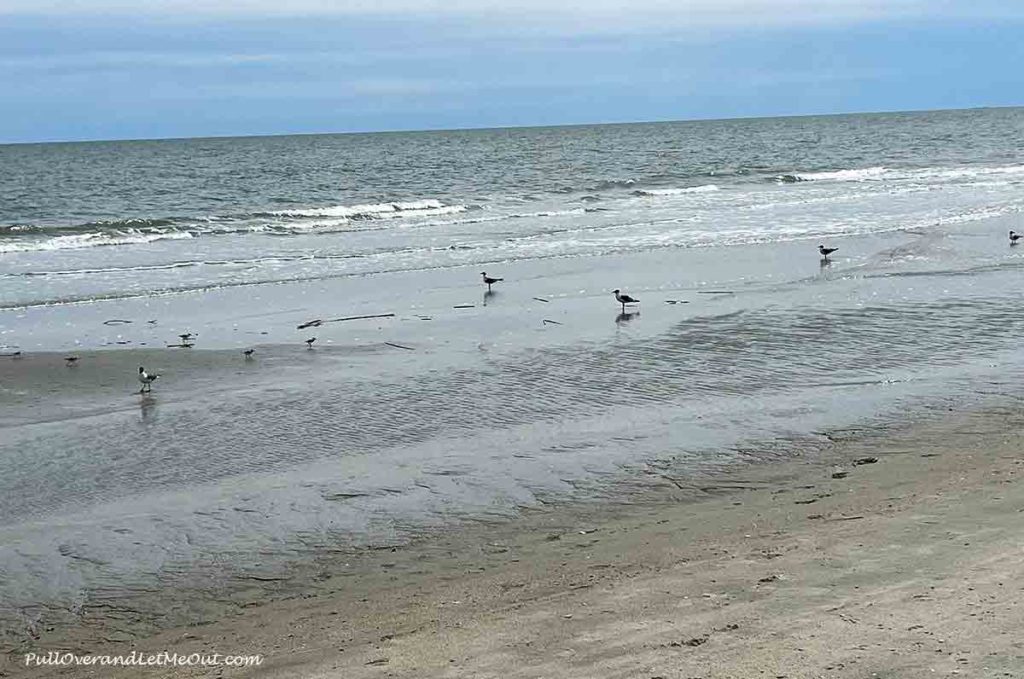 Isle of Palms boasts stunning, pristine beaches that provide the perfect backdrop for relaxation and fun. Whether you and your friends want to sunbathe, swim, or simply enjoy a leisurely walk along the shoreline, the picturesque beaches offer a tranquil and scenic environment.
It's evident that the town places a great emphasis on keeping its beaches beautiful and welcoming for humans and non-humans. Consequently, there are some rules visitors must adhere to, but with a little advance research, you'll be ready for a delightful beach experience. 
Our happy group enjoyed catching up while strolling along and taking in the beauty of our surroundings. It was a peaceful time, perfect for conversation and breathing in the salt air.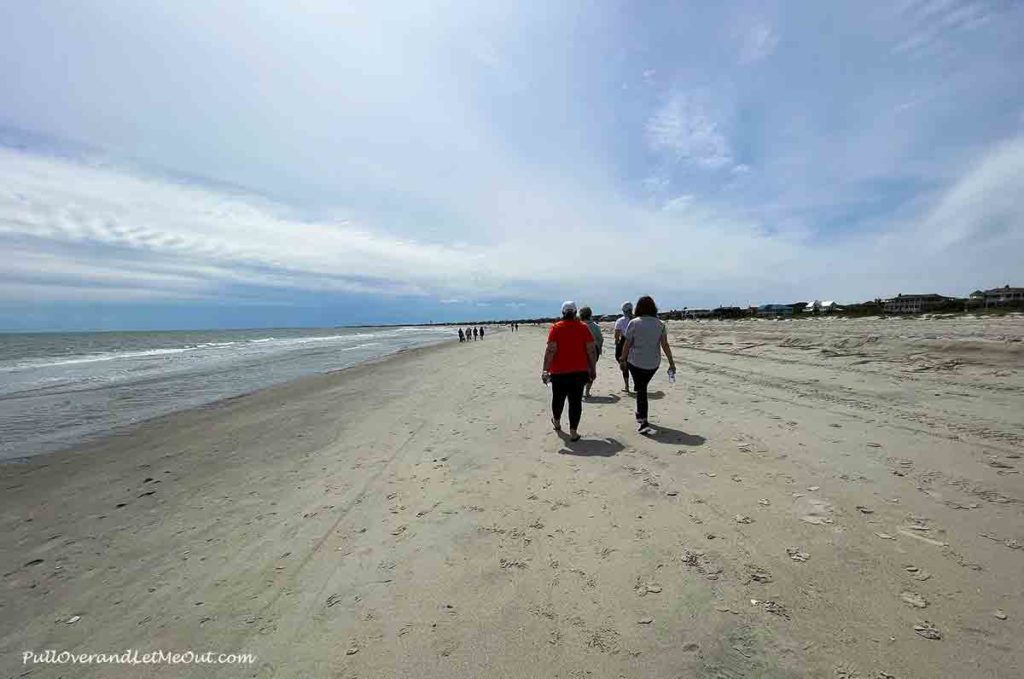 2. An Array of Activities
From water sports like paddleboarding and kayaking to beach volleyball and surfing, Isle of Palms offers a wide range of activities to keep you and your friends entertained. You can also explore the local wildlife through activities such as dolphin tours or embark on fishing charters for a unique experience.
In addition to outdoor activities, Isle of Palms also boasts an adorable, albeit small, downtown area with a handful of boutiques and shops. We had a blast popping in and out of the gift shops in search of the perfect souvenirs to commemorate our stay.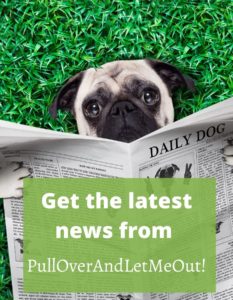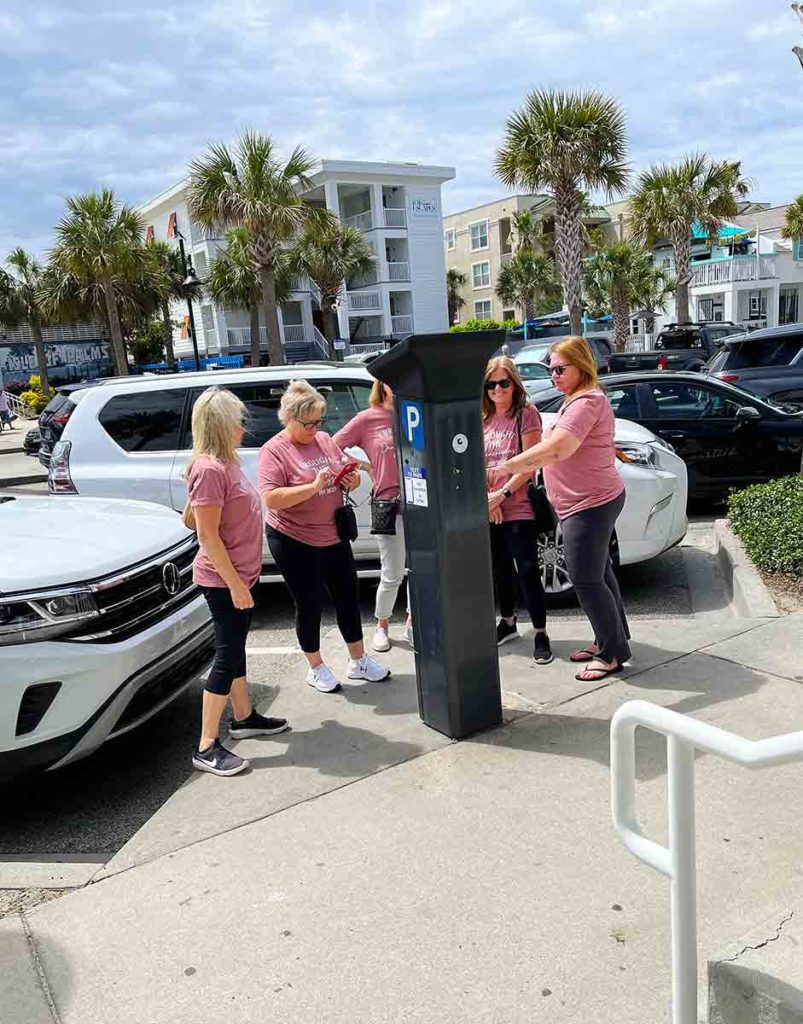 The island is home to various restaurants, bars, and cafés catering to different tastes and preferences. Whether you're in the mood for fresh seafood, southern cuisine, international flavors, or Lowcountry favorite, She-Crab Soup, you'll find diverse dining options. Additionally, the island offers a vibrant nightlife with live music, beachfront bars, and cozy lounges for a fun evening out with your friends.
We enjoyed a couple of casual meals downtown. The Dinghy is an "unfussy tavern with bar eats & maritime décor, plus sports on TV & live music on the patio." This turned out to be the perfect location for a pleasant lunch. The open-air ambiance, strawberry margaritas, and the delectable Dirty Elvis Fries—a tasty combination of sweet potato fries topped with warm peanut butter, crispy bacon, and fried plantains—added to the enjoyment. And the fries were surprisingly tasty!
Our Sixties-themed dinner at Smuggler's Island Eats and Rum Shack was a fun relaxed outdoor dining experience. The food was yummy and the people-watching was entertaining as well. Although with our 60s gear on, we were probably watched more than other diners. The upbeat restaurant is also a great place to get a location photo. We spent several minutes working to capture the perfect snapshot of our evening out at Isle of Palms.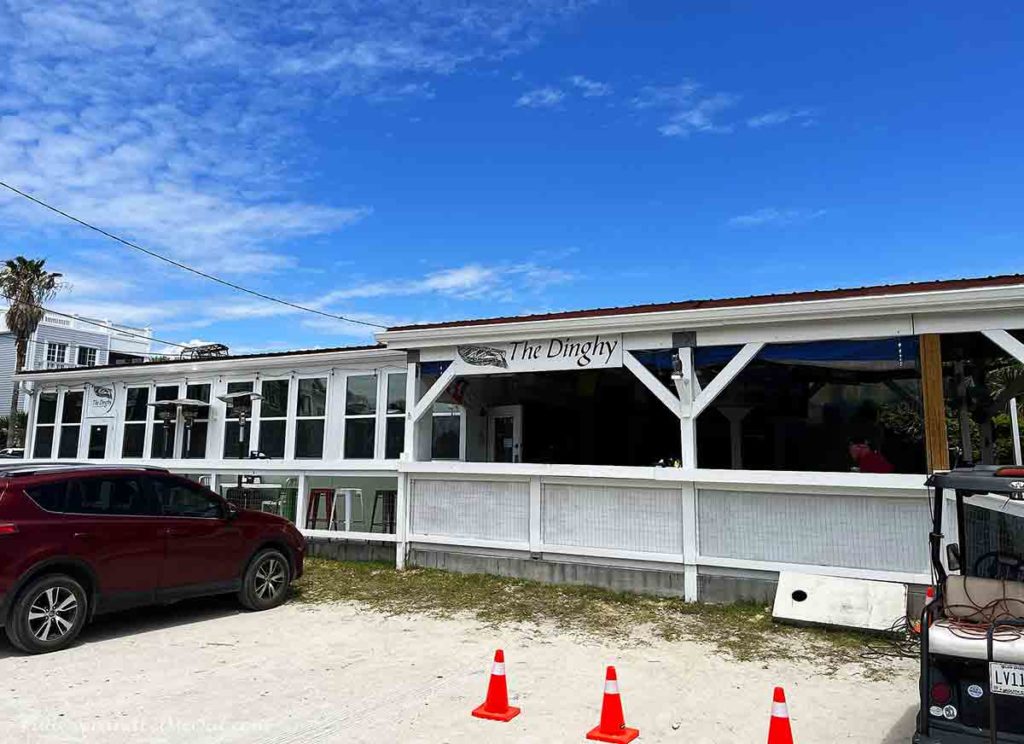 4. Natural Beauty and Wildlife
The Isle of Palms is known for its natural beauty, featuring lush greenery, maritime forests, and breathtaking views. You can take a leisurely stroll along the Isle of Palms County Park or venture further to nearby spots like the Isle of Palms Marina or the Sullivan's Island Lighthouse for scenic views. The island is also home to various wildlife, including dolphins, pelicans, and loggerhead turtles, providing opportunities for wildlife spotting and appreciation.
Contributing to our enjoyment of Isle of Palm's natural beauty was an encounter with a representative from the National Audobon Society.  She was on hand observing birds called Least Terns. She was also educating passersby about these fascinating and endangered creatures. 
The birds traveled from Brazil and other parts of South America to nest along the coast. She explained to us their nesting habits, diet, eggs, feeding behavior, and why they choose this stretch of beach. It was an outstanding, unexpected educational moment.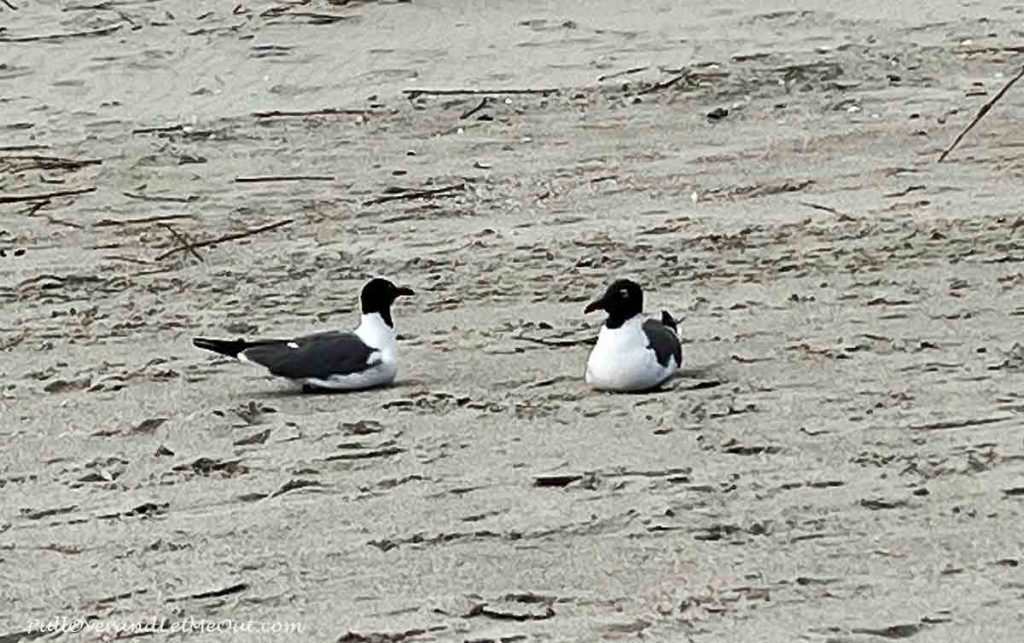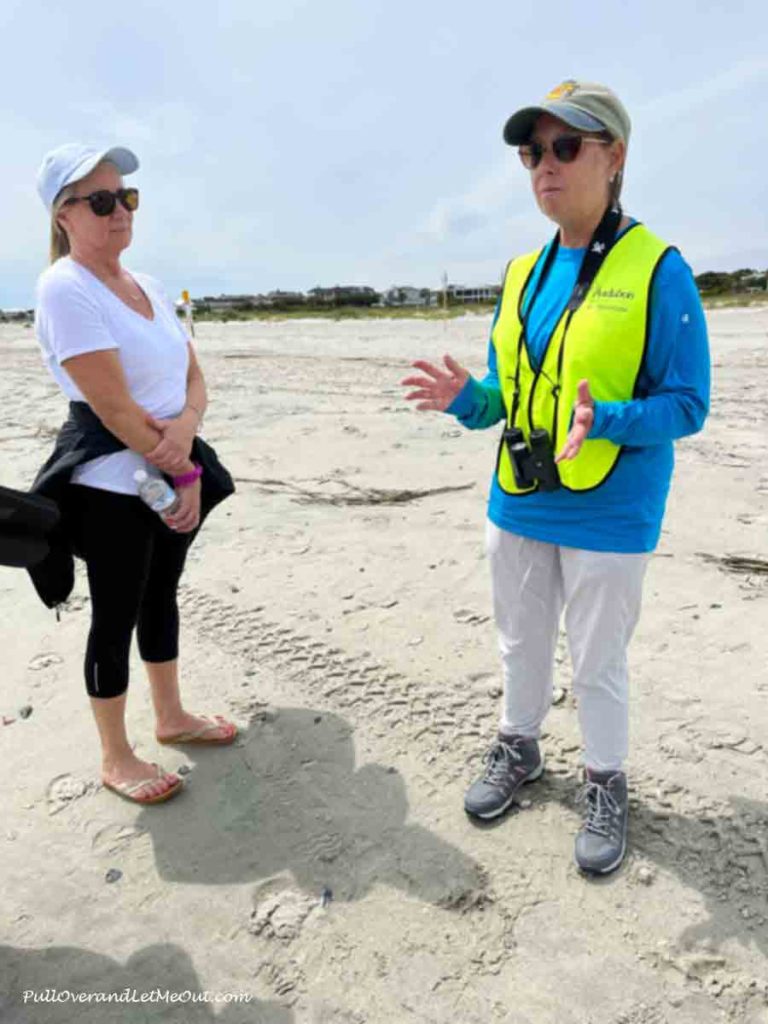 5. Proximity to Charleston
Isle of Palms is located just a short drive away from the vibrant city of Charleston, South Carolina. This proximity allows for easy exploration of the rich history, culture, and attractions that Charleston has to offer. Take a day trip to Charleston and immerse yourselves in the charming cobblestone streets, historic landmarks, and renowned restaurants. Whether you're interested in visiting museums, shopping in boutiques, or indulging in a spa day, Charleston provides an exciting and diverse range of experiences, enhancing the overall enjoyment of a girls' getaway on the Isle of Palms.
Isle of Palms is perfect for anyone wanting to see Charleston but not stay there. For our girls' getaway, we spent a lovely afternoon strolling downtown Charleston. We especially enjoyed visiting the historic City Market, followed by a scrumptious meal at The Blind Tiger Pub on Broad Street. We also returned for an evening out at The Black Fedora Comedy Mystery Theater which was an absolute highlight of our stay. (Read More)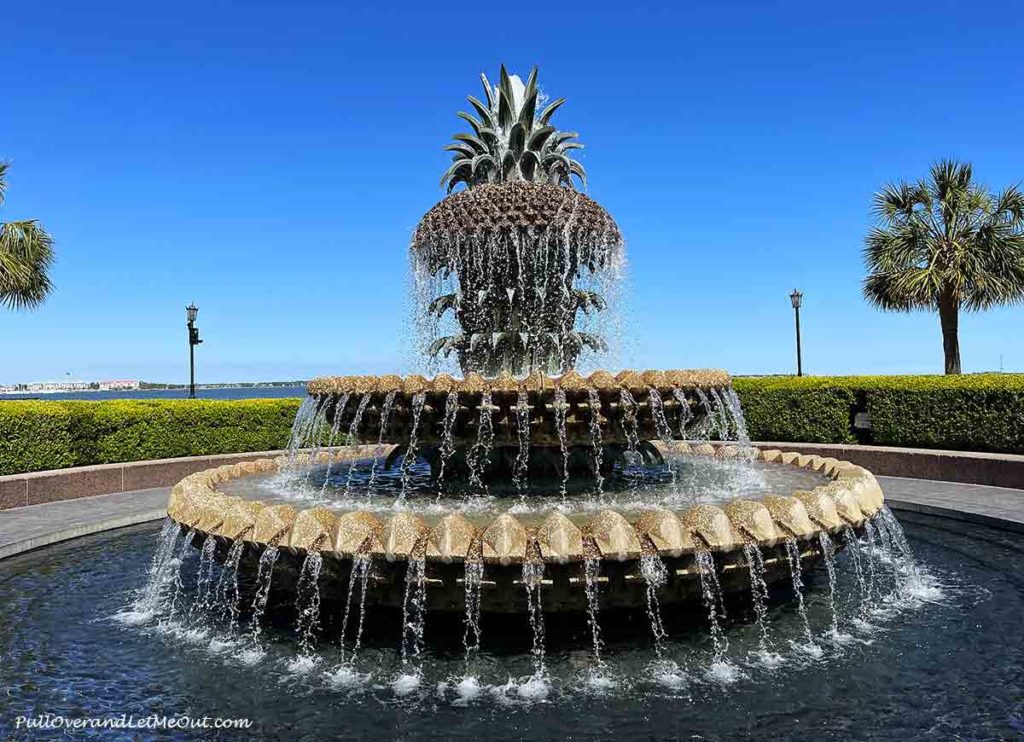 Beachfront resorts, vacation rentals, boutique inns, bed and breakfasts, and beachfront hotels – you name it, Isle of Palms has it. The famous Wild Dunes Resort on the far end of the island offers a smorgasbord of lodging options for solo travelers, couples, and the entire family. There are also countless vacation rentals. My dear friend Sherri treated our group to an amazing stay at a beach house she found on VRBO. It was exquisite!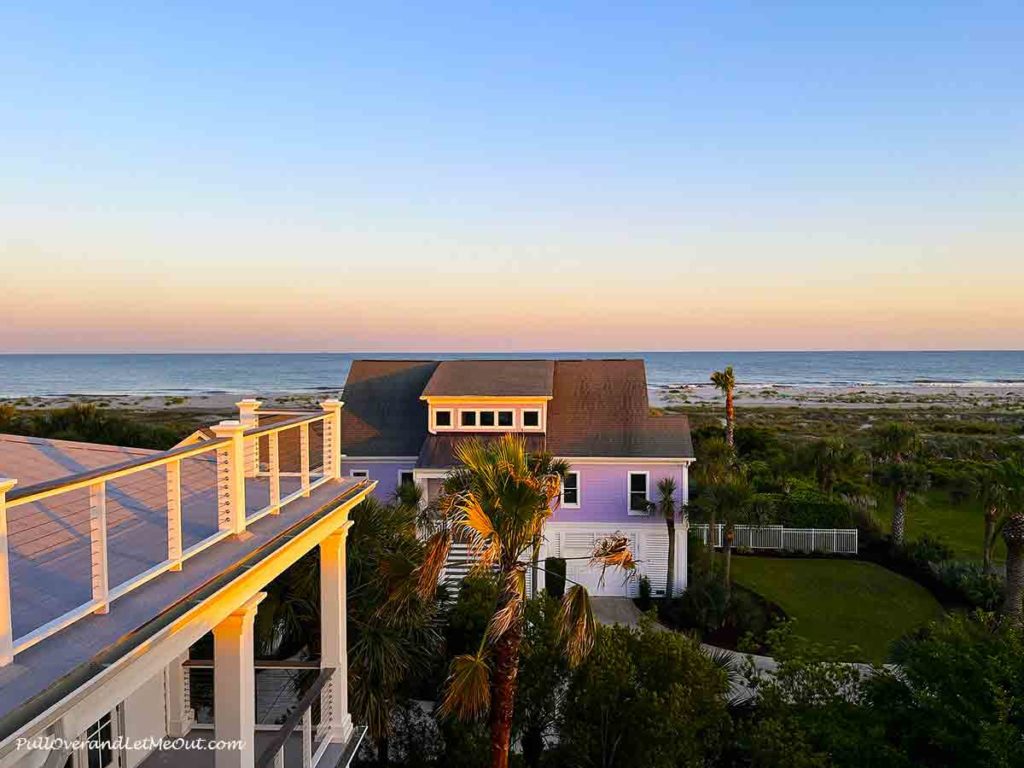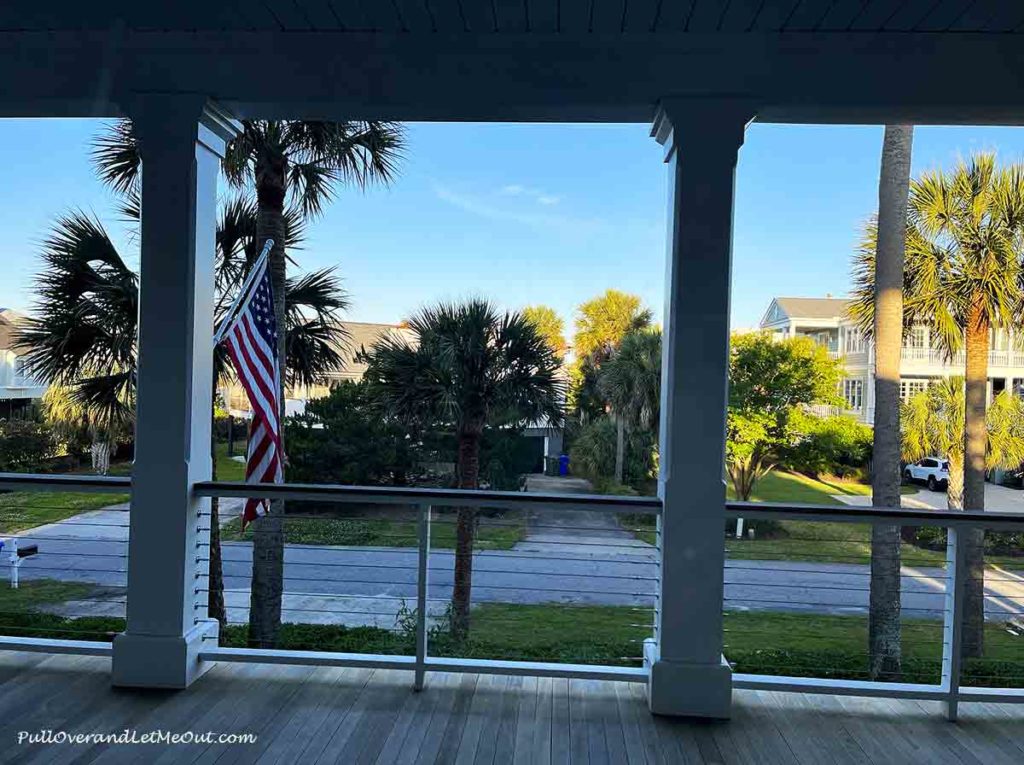 This could well be my favorite aspect of Isle of Palms. The island has a laid-back and relaxed atmosphere, making it an ideal setting for a girls' getaway. You and your friends can unwind, soak up the sun, and enjoy each other's company in a serene and peaceful environment. The island's charm, combined with its coastal ambiance, creates the perfect escape from the hustle and bustle of everyday life.
We took time to kick back and relax by the pool, and by the fire, and really enjoyed being together. After all, isn't that the main point of a girls' getaway? Spending time with cherished friends, talking, laughing, and embracing the gift of friendship.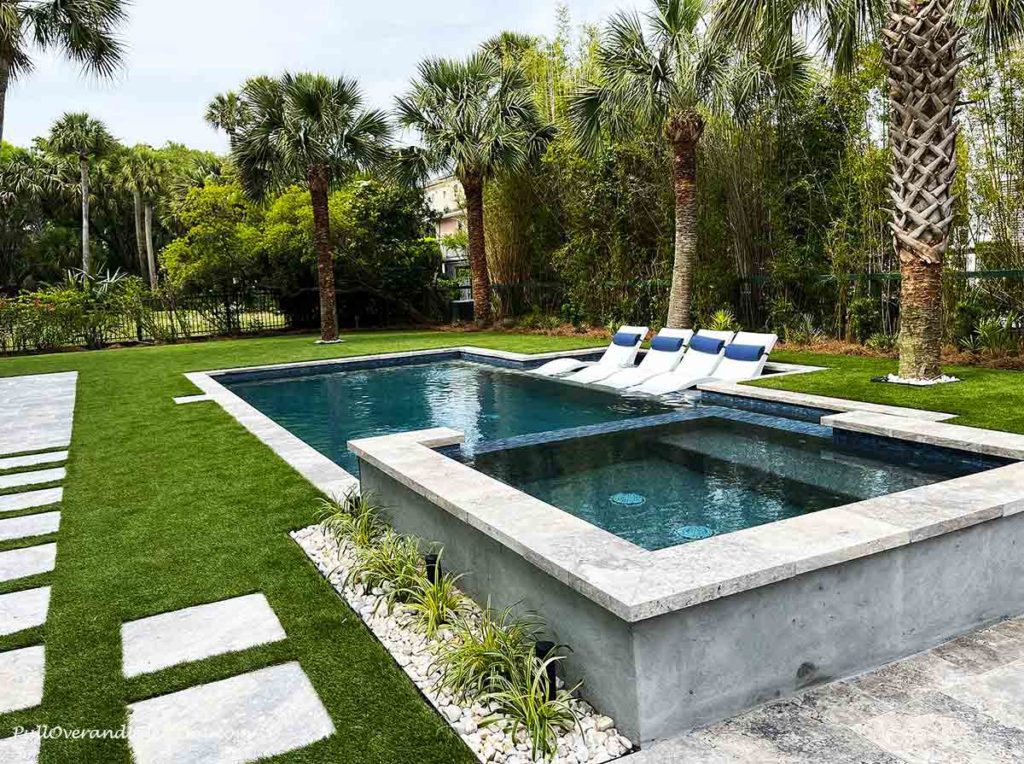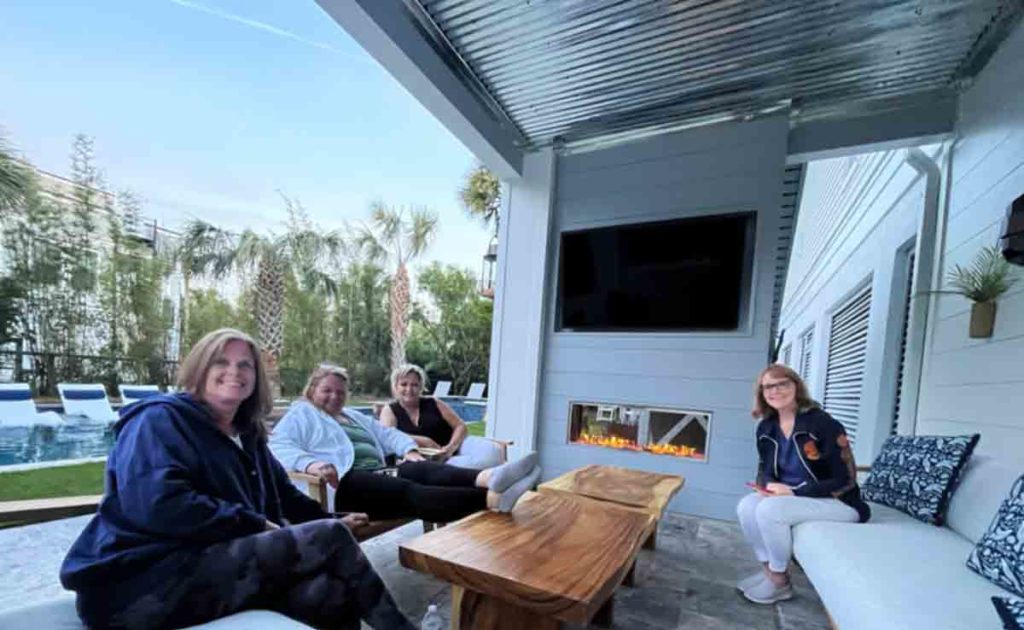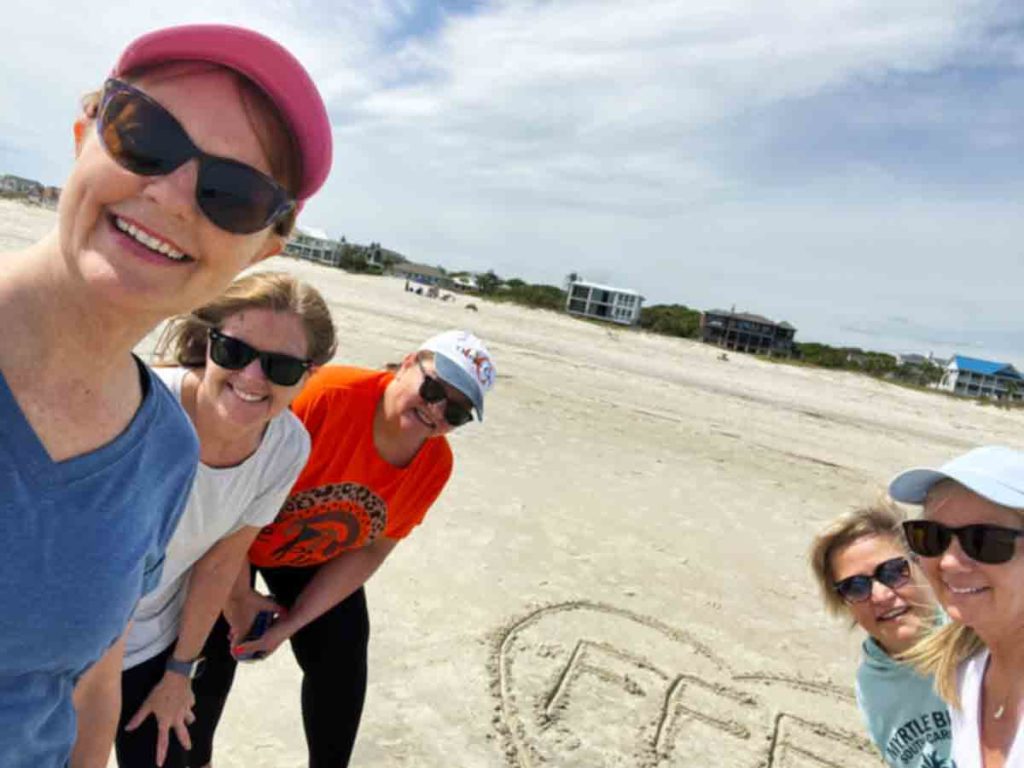 Tips for Planning Your Getaway to Isle of Palms
Our time at Isle of Palms couldn't have been better. Our visit was in early May, which meant the weather hadn't gotten too hot yet but it was still warm enough to enjoy the sunshine and being outdoors. Summertime is busy and the island caters to tourists, that being said, if you prefer to avoid crowds, shoulder season at Isle of Palms is delightful.  
Because Isle of Palms is a popular destination, you will want to book your accommodations as soon as possible to assure you get the property you prefer that best suits your needs.
Come prepared to unwind. Isle of Palms isn't as busy or developed as other areas, but that's part of its mystique. It's a fantastic place if you aren't concerned with being where there is a lot of action and touristy entertainment. Isle of Palms strikes the perfect balance of offering enough to do without being overbuilt or too commercialized.
Finally, I highly recommend you bring your friends. Family and loved ones will work too! This is the sort of destination that sets the stage for wonderful gatherings, happy reunions, and making memories that will last a lifetime. That's precisely why Isle of Palms, South Carolina stands as the ultimate destination for a girls' getaway.
Hey, Pinners! Pin this for later!
► Plan Your Trip to Isle of Palms, Now!
Hey pinners, save this for pinning after your trip
After you get back from your trip, please use these images to post to social media or post your own photos.  Please tag us on your post #pulloverandletmeout
You can also use the social sharing links on the SmartTrip tool.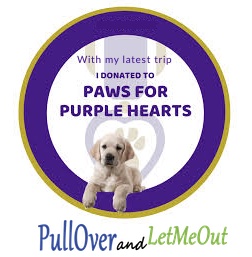 More great travel stories you'll love reading!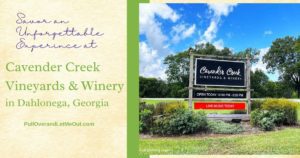 Cavender Creek Vineyards & Winery is a thriving and welcoming wine destination perfect for wine enthusiasts and anyone seeking a scenic escape from the daily grind. Travel there with PullOverandLetMeOut to discover this charming winery in the Appalachian foothills.
Read More »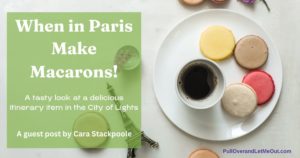 Guest blogger Cara Stackpoole shares a delectable itinerary item in the City of Lights. Discover why making macarons is a memorable experience.
Read More »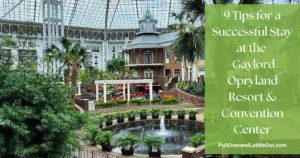 The Gaylord Opryland Resort & Convention Center in Nashville is a well-known attraction in the city. PullOverandLetMeOut looks at some smart hints for making the most of a stay at the famous hotel.
Read More »