Winslow, Arizona, is a charming town located along the iconic Route 66, that has been on my bucket list for years. It offers a delightful blend of history, culture, and natural beauty. With its famous "Standin' on the Corner" landmark, historic La Posada Hotel, enticing downtown dining, and nearby attractions, Winslow is a must-visit destination for travelers seeking an authentic American experience. Let's dive into the various activities and attractions that make Winslow an unforgettable place to explore.
Disclosure:
Many of the links you see on this site and within our trip planning tool are affiliate links. If you click through and make a purchase, I'll get a small commission and it won't cost you any extra. On selected stories, for those hotel and car bookings made using our TravelingToGive™ tool we contribute 2.5% of gross hotel and car sales to Paws for Purple Hearts. So, thanks in advance for helping me keep bringing you the content you enjoy and, at the same time, giving back to those who so bravely serve our country! #everytripmatters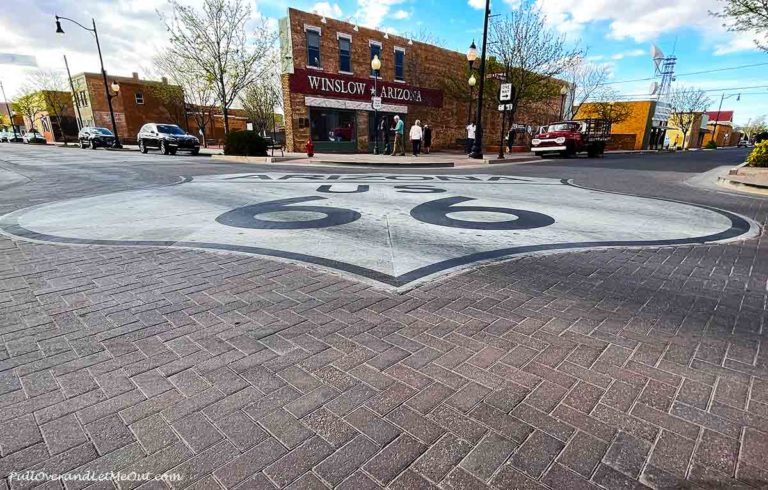 Since it was made famous in the 1972 Eagles hit song, Standin' on a Corner in Winslow, Arizona is an absolute must when visiting. Immortalized in the lyrics, this celebrated spot features a bronze statue of a musician with a guitar, paying homage to the town's musical legacy. Strike a pose, snap a photo, and feel the rhythm of this legendary song come to life in the heart of Winslow.
We arrived on a Sunday evening and several people were doing exactly what we were there to do – standin' on a corner.
This is, as you can imagine, a big part of the town's story and they've done an excellent job of making the most of the musical hat tip from the Eagles. There is a brass statue, the infamous flatbed Ford, and multiple gift shops where visitors can pick up a range of souvenirs to commemorate their visit. There was even Eagles music playing as we visited adding to the entire experience.
No, this may not strike a chord with every traveler, but it was a highlight of our time in Winslow.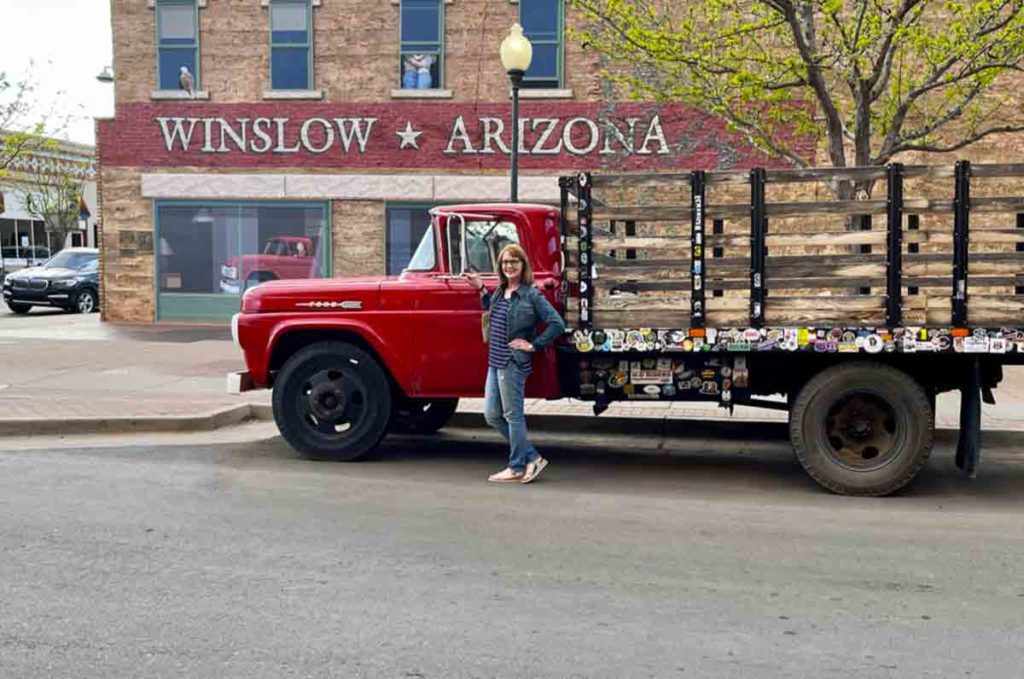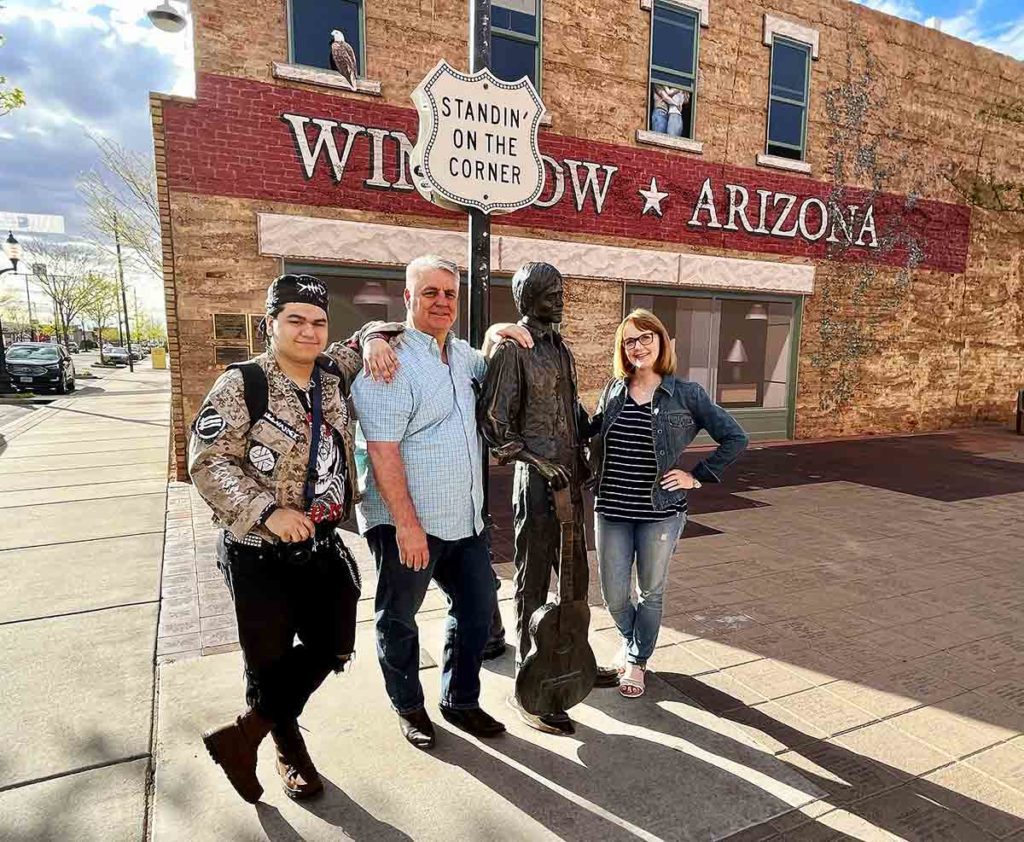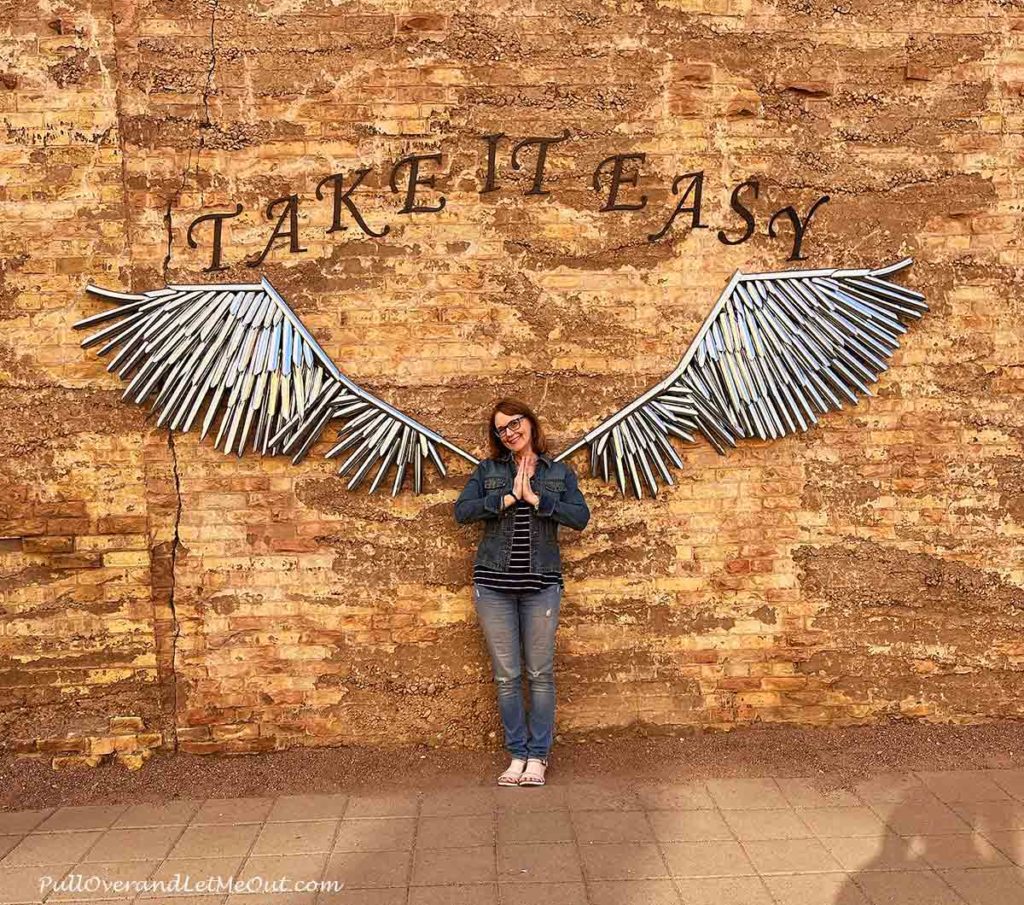 Dining in Downtown Winslow
Winslow's downtown area has a wide variety of culinary delights to please any palate. There's something for everyone, from cozy cafes to family-owned restaurants. Enjoy hearty American classics, authentic Mexican cuisine, or regional specialties. After a day of exploring, reward yourself with a delicious meal and the warm hospitality that Winslow is famous for.
After standin' on the corner and perusing the gift shops, we took a short walk down the street to Olde Town Grill. My husband and I were still full from lunch, so instead of a big dinner, we split an amazing bruschetta and paired it with a Rail-House Red Ale, a local Arizona brew. We sat at a sidewalk table, enjoying the late-April breezes along Route 66.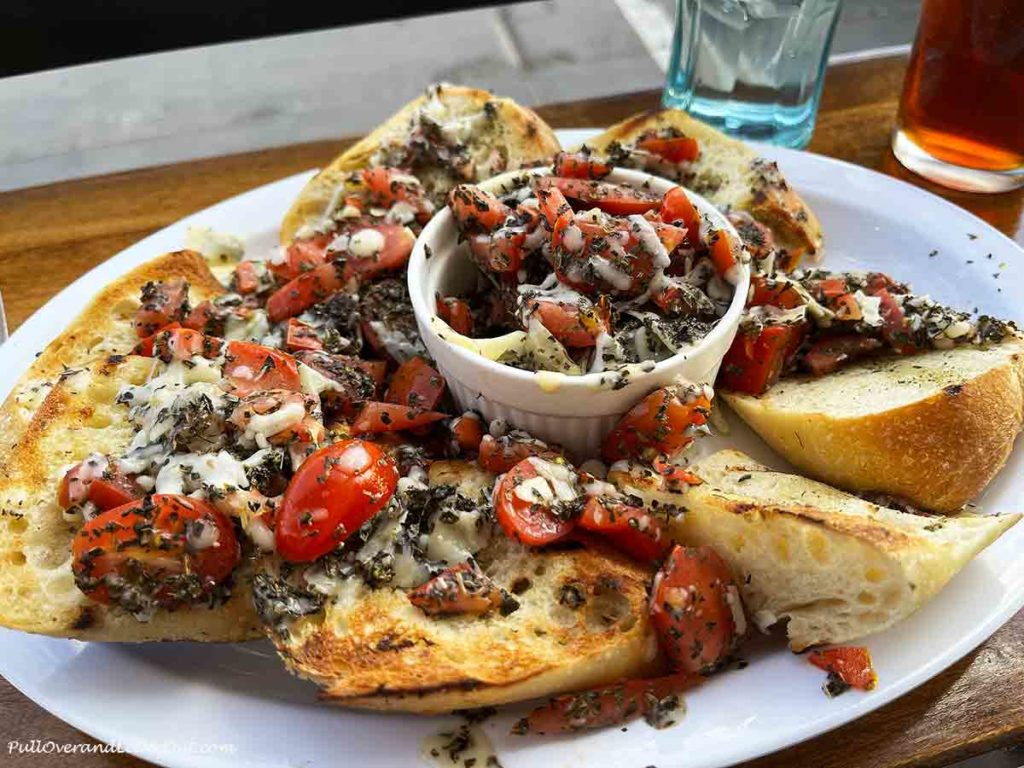 La Posada was a happy discovery I made when planning our journey to Winslow. As I began my research and read about this historic hotel I was intrigued and knew this was the place we would stay. 
Built in 1929 by renowned architect Mary Colter, this architectural treasure served as a luxurious and elegant haven for weary Santa Fe Railway travelers. Its Spanish Colonial Revival style, complete with vibrant gardens, courtyards, and exquisite artwork, creates an enchanting atmosphere that transports guests to another time. Today, this renowned establishment is a testament to the enduring allure of historic preservation, welcoming guests with warm hospitality and providing a glimpse into the history and romance of the American Southwest.
Our room for the night was room 121 – the Paul Sorvino Room! The accommodations were amazing, comfortable, and spacious. By pure chance, we were given a room that a famous actor once stayed in. Consequently, that's part of the magic of this hotel. Over the years, a number of famous figures have checked in, as evidenced by the wall of photographs just outside our door. 
Our stay couldn't have been lovelier and the staff was so friendly. The beautiful setting, strolling the hotel grounds, the gorgeous gift shop, and even sitting by the gate leading to the Sante Fe Railway, made being here a pleasure. My only regret is I found myself wishing we were staying a second night!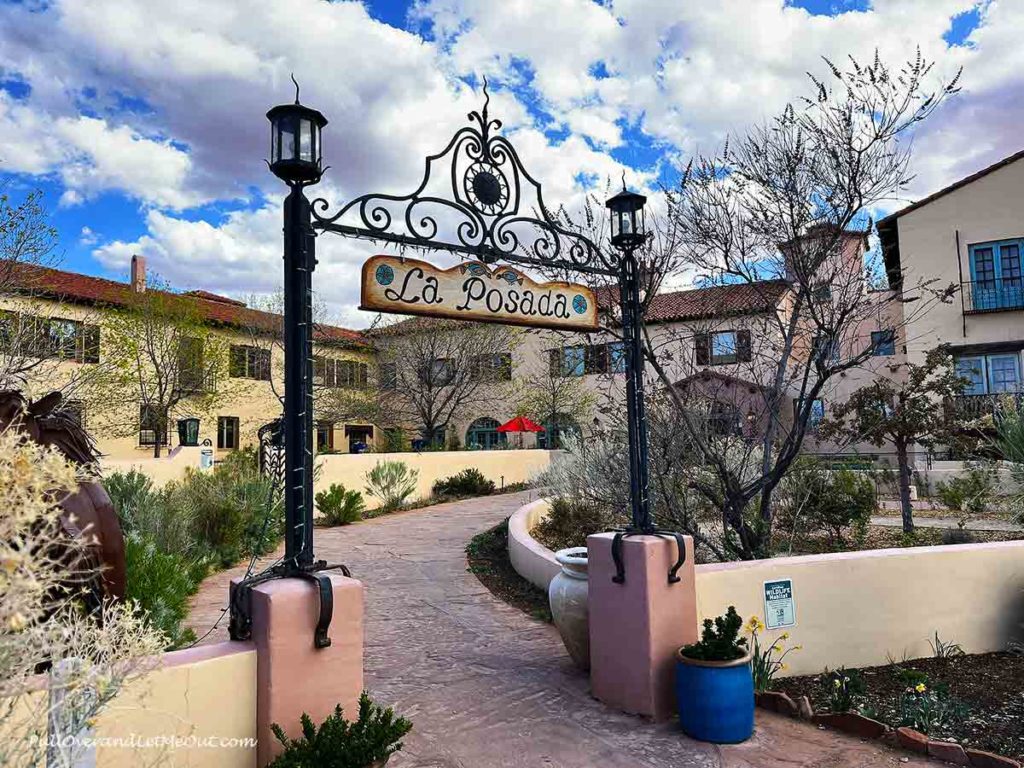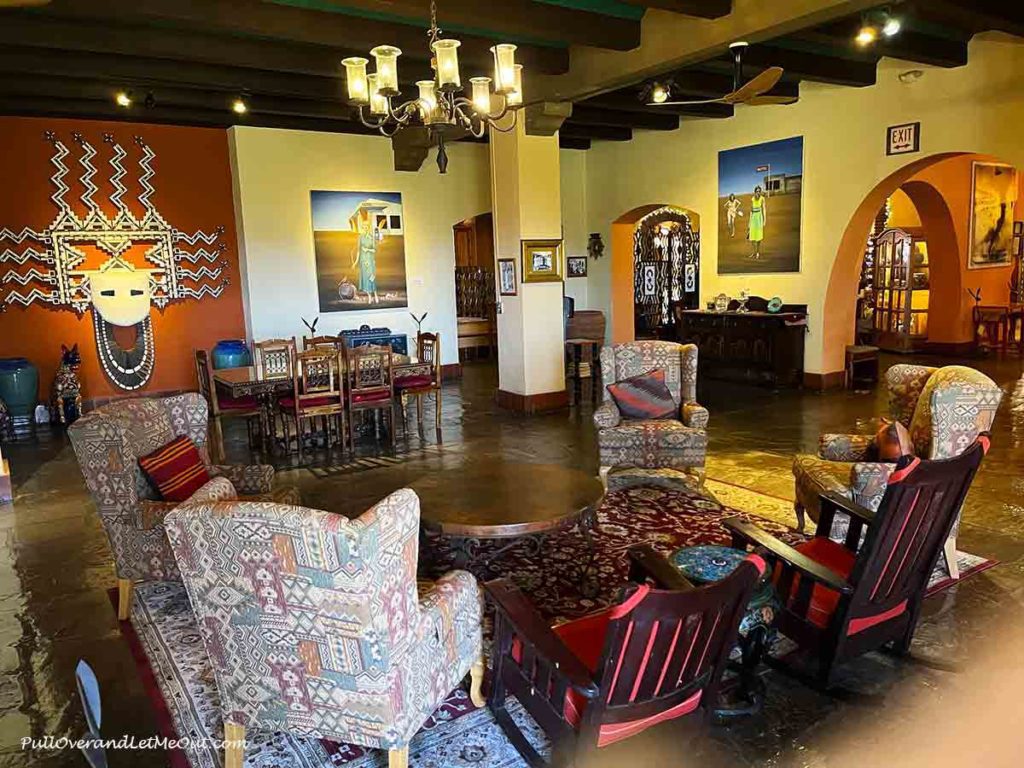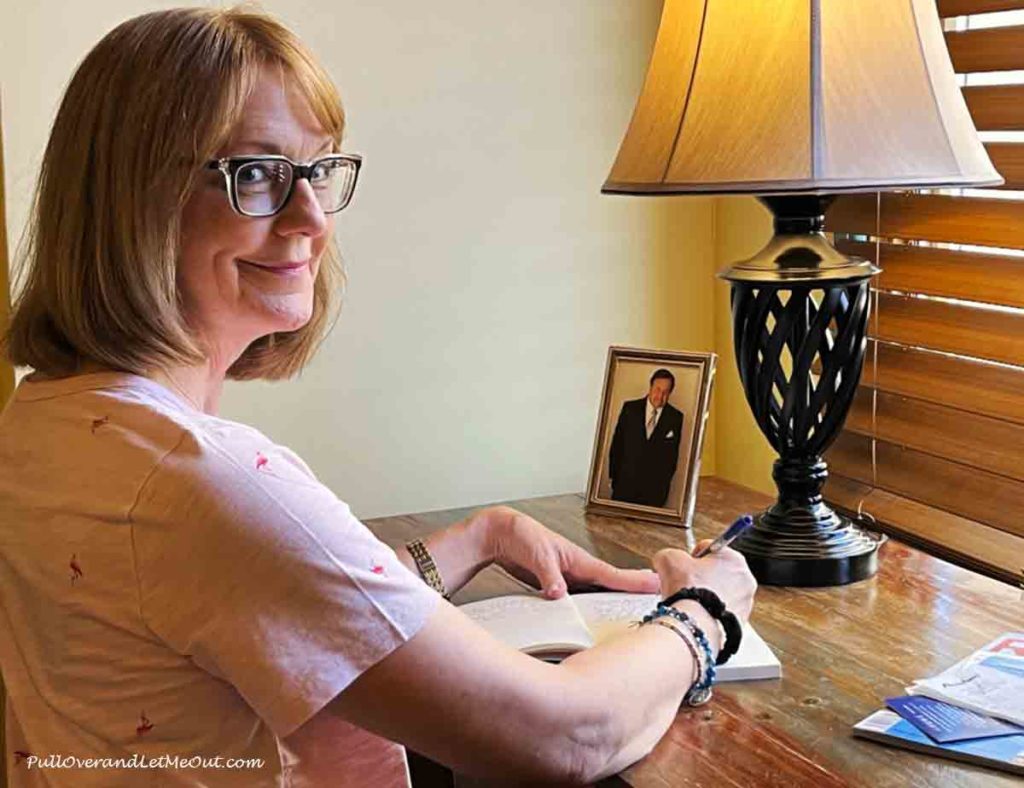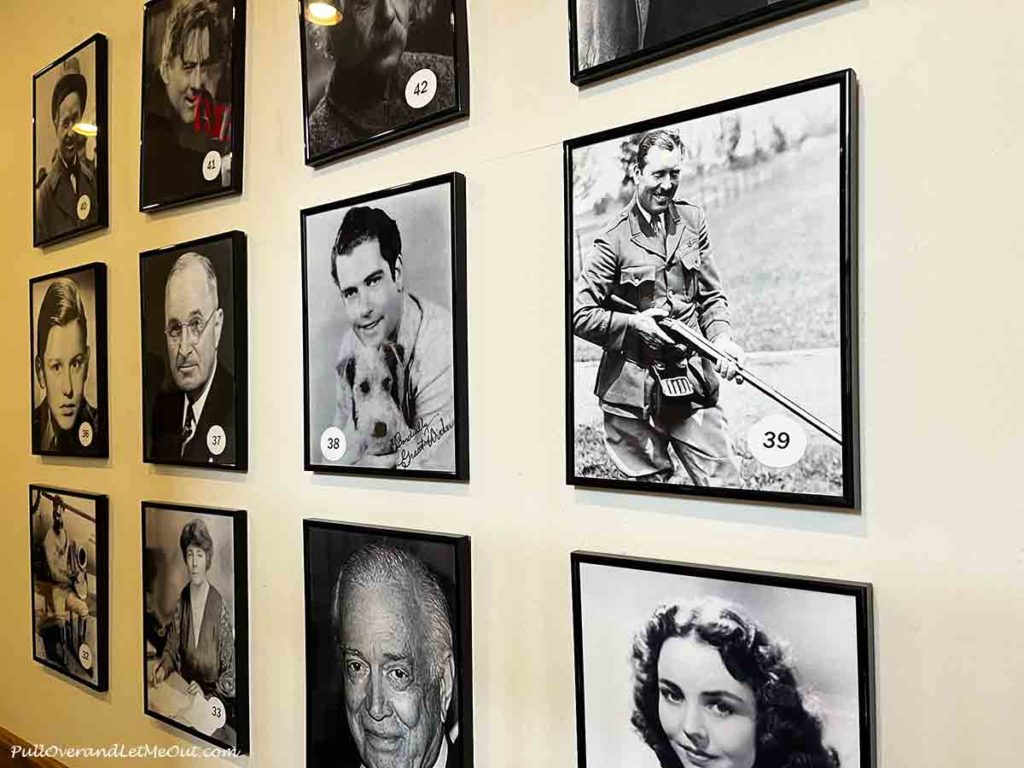 The Turquoise Room at La Posada is a culinary delight hidden within the historic walls of the iconic La Posada hotel. The restaurant has a storied past that harkens back to the heydays of the railways. That engaging story includes elements such as the Super Chief deluxe train between Los Angeles and Chicago, the Pullman Company, and Mary Colter and the Fred Harvey Company. As a result of this compelling history and amazing food, the restaurant has earned a well-deserved reputation as the premier dining destination along Route 66. 
Dining here is a pleasure not to be missed. Acclaimed Chef John Sharpe, who took over in 2000, was twice nominated for a James Beard award as the best chef in the Southwest for his unique interpretation of regional and railroad classics, such as Hopi Piki Bread and Navajo Churro lamb, as well as Fred Harvey Boilerman breakfasts. After twenty years of collaboration, John retired in 2020, but the entire Turquoise Room team remained, from management to the kitchen crew. Thus, the legacy of unusually fine dining in the high desert lives on. 
We had a delicious breakfast in the Turquoise Room. Jason chose the Boilerman, while Connor and I chose a meal called the Union Station. The food was out of this world. Furthermore, dining with a view of the railroad track and seeing several trains passing, only enhanced our morning meal.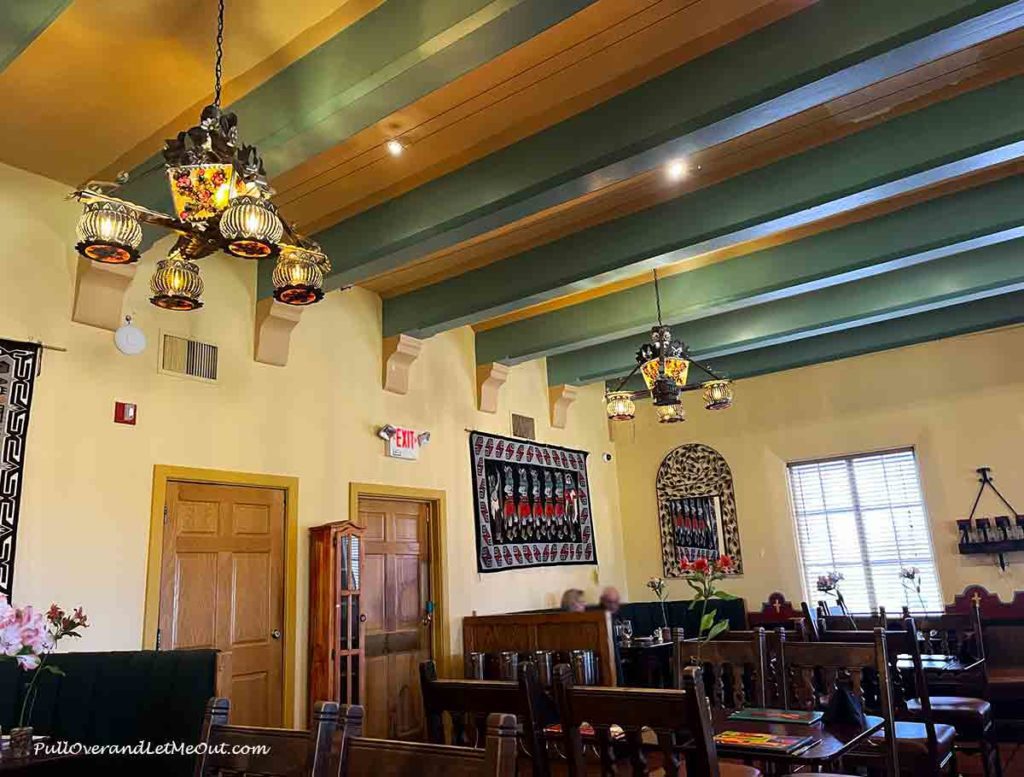 While Winslow itself has much to offer, there are also fascinating nearby attractions worth exploring. The Meteor Crater considered the best-preserved impact site on the planet, is only a short drive away.
We were astounded by the enormous size and power of this natural wonder and enjoyed learning about its history and science at the visitor center. This is the best-preserved meteorite impact site on Earth, and they do an excellent job of educating the public about this one-of-a-kind geological wonder.
We also went on the tour, which was very well-presented and informative. If you have the time, I highly recommend taking the tour, though it isn't for everyone. It is necessary to wear sturdy shoes and be able to walk on rough terrain.
It is windy, so be prepared! Our guide informed us they've lost many a hat! I believe him 🙂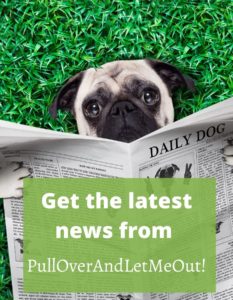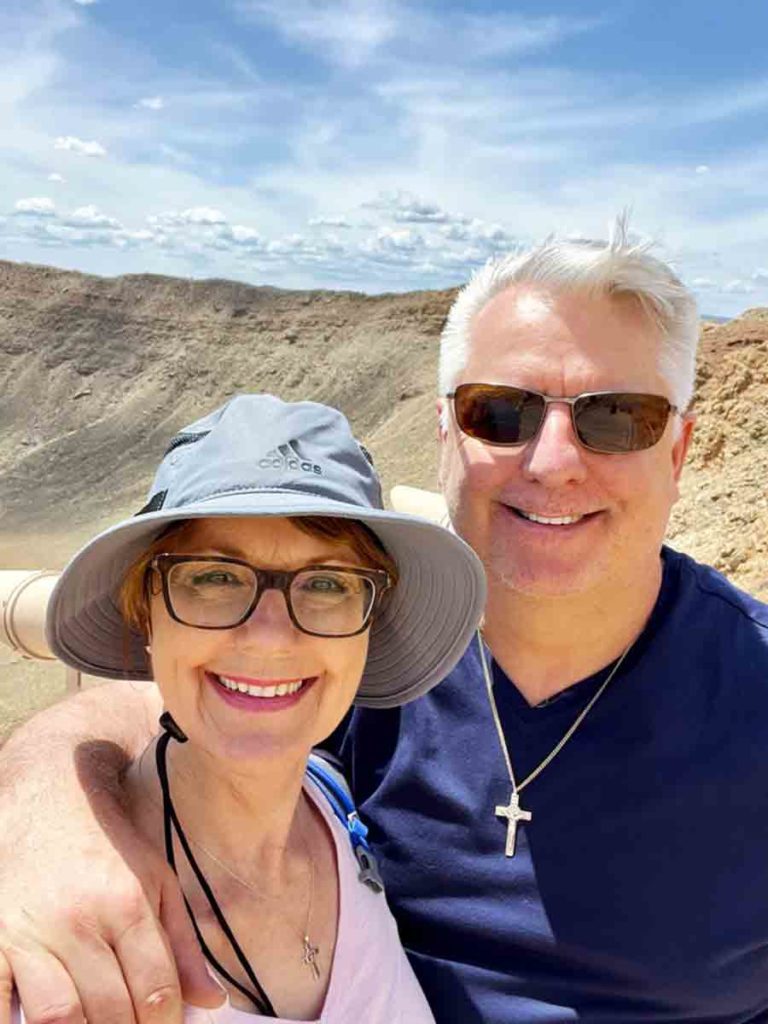 Another nearby attraction is the Homolovi State Park, a sacred site for the Hopi people. Visitors can explore the ancient ruins and petroglyphs, and gain insight into the rich cultural heritage of the Native American tribes that have called this area home for centuries.
The Petrified Forest National Park is a must-see for nature lovers. Explore a surreal landscape of vibrant petrified wood, unusual geological formations, and expansive desert vistas. Hike the trails, marvel at the scenery, and discover the relics of an ancient forest that existed millions of years ago.
If you're interested in history, Winslow's Old Trails Museum is a treasure trove of local artifacts, photographs, and exhibits that tell the story of the town's past. Learn about the impact of Route 66 on Winslow, the railroad era, and the diverse cultures that have shaped the community.
For outdoor enthusiasts, Clear Creek Reservoir offers opportunities for fishing, boating, and picnicking. Enjoy the serene surroundings, cast a line, or simply relax by the water's edge.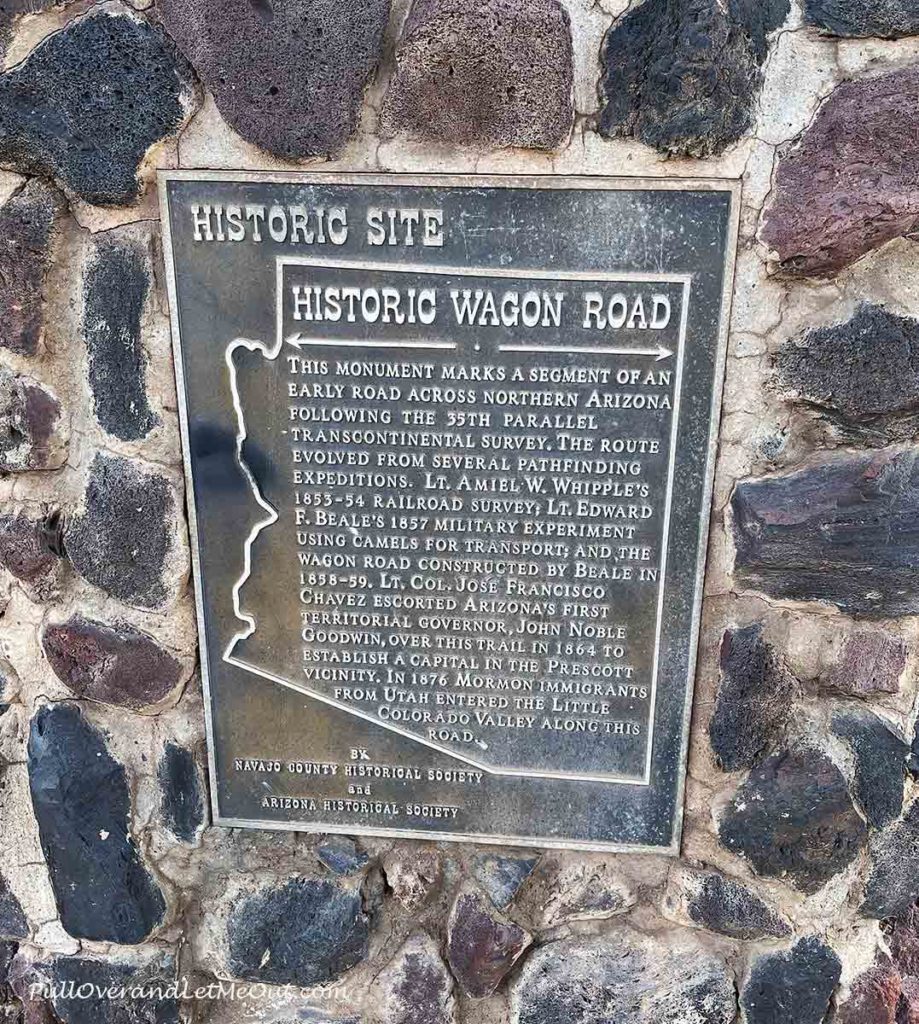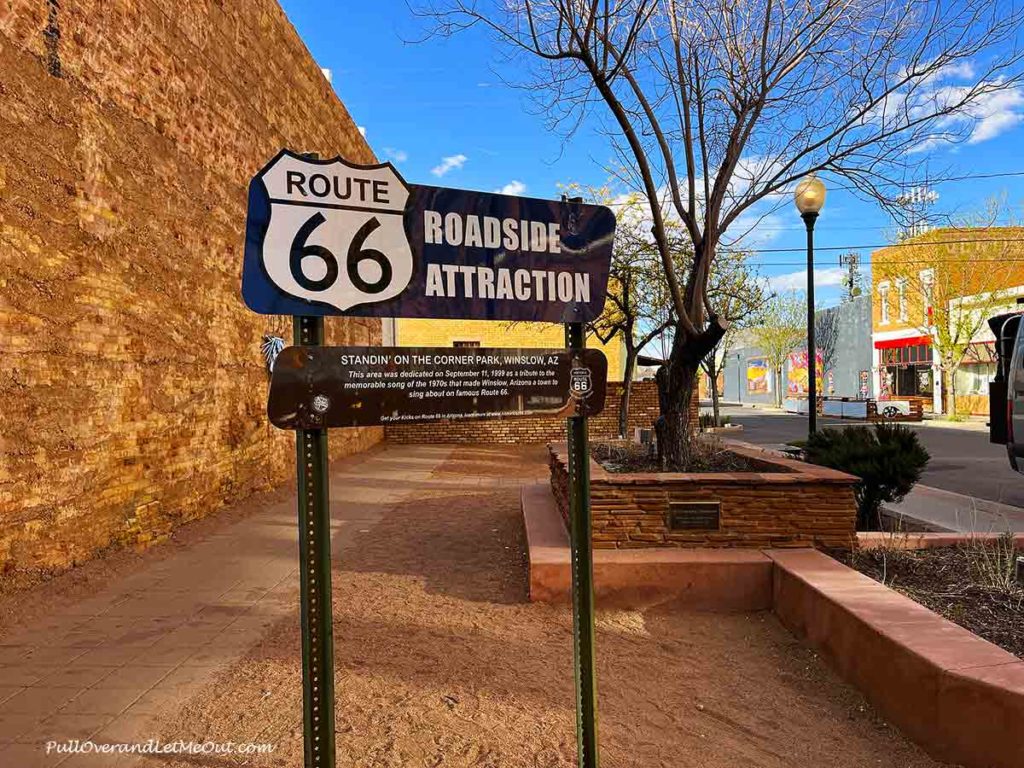 Winslow, Arizona, is a Route 66 hidden gem that combines history, culture, and natural beauty. I admit that I put this on my itinerary primarily because of the famous line from the Eagles' song, but also because of its proximity to Route 66. After exploring the town and spending some time here, I fell in love with this northern Arizona hamlet.
We totally enjoyed our stay in Winslow. The downtown area is easy to walk, and the slower pace is a welcome change after visiting busier areas. Similarly, everyone is extremely friendly. I also must give a special shout-out to Dr. Decker of Decker's Chiropractic in Winslow for his vacation-saving adjustment of Jason's back. He enabled us to continue on our journey, relatively pain-free.
Winslow has a genuine peaceful easy feeling and a fascinating story. The town embraces the celebrity thrust upon it thanks to the song, but it also engages visitors and welcomes them to "take it easy" while visiting. That's music to this traveler's ears.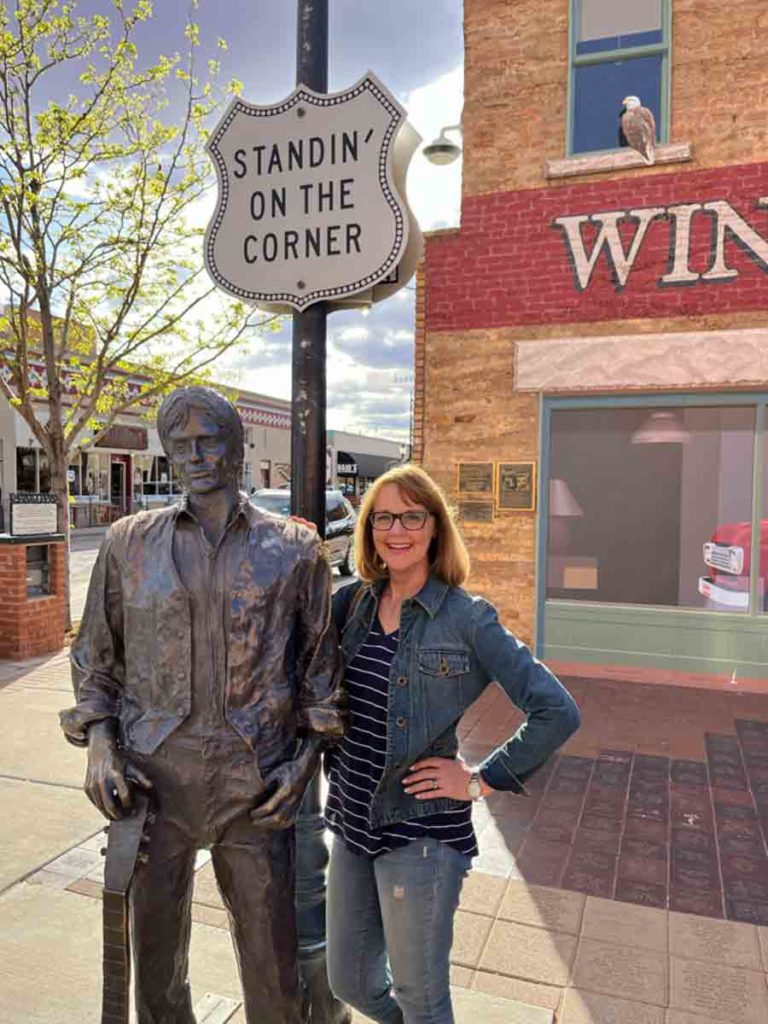 Hey, Pinners! Pin this for later!
► Plan Your Trip to Winslow, Arizona, Now!
Hey pinners, save this for pinning after your trip
After you get back from your trip, please use these images to post to social media or post your own photos.  Please tag us on your post #pulloverandletmeout
You can also use the social sharing links on the SmartTrip tool.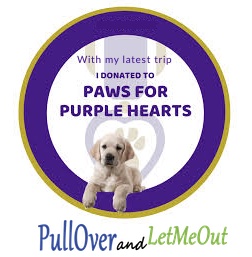 More great travel stories you'll love reading!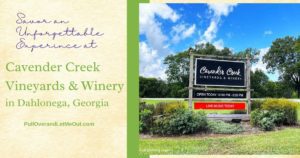 Cavender Creek Vineyards & Winery is a thriving and welcoming wine destination perfect for wine enthusiasts and anyone seeking a scenic escape from the daily grind. Travel there with PullOverandLetMeOut to discover this charming winery in the Appalachian foothills.
Read More »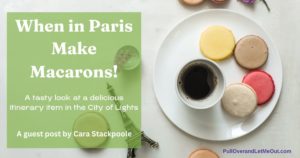 Guest blogger Cara Stackpoole shares a delectable itinerary item in the City of Lights. Discover why making macarons is a memorable experience.
Read More »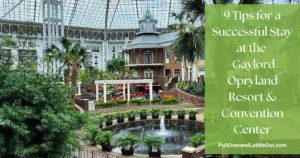 The Gaylord Opryland Resort & Convention Center in Nashville is a well-known attraction in the city. PullOverandLetMeOut looks at some smart hints for making the most of a stay at the famous hotel.
Read More »