"Something Funny's Going On in Downtown Charleston!" And that's precisely why I recommend including the Black Fedora Comedy Mystery Theater on your Charleston itinerary. This happy "Mom & Pop" theater just past the House of Jerky on Church Street in the heart of the historic district, welcomes locals and guests alike to enjoy live interactive plays served up with just the right amount of silliness and spontaneity to create a magical memorable night on the town.
Disclosure:
Many of the links you see on this site and within our trip planning tool are affiliate links. If you click through and make a purchase, I'll get a small commission and it won't cost you any extra. On selected stories, for those hotel and car bookings made using our TravelingToGive™ tool we contribute 2.5% of gross hotel and car sales to Paws for Purple Hearts. So, thanks in advance for helping me keep bringing you the content you enjoy and, at the same time, giving back to those who so bravely serve our country! #everytripmatters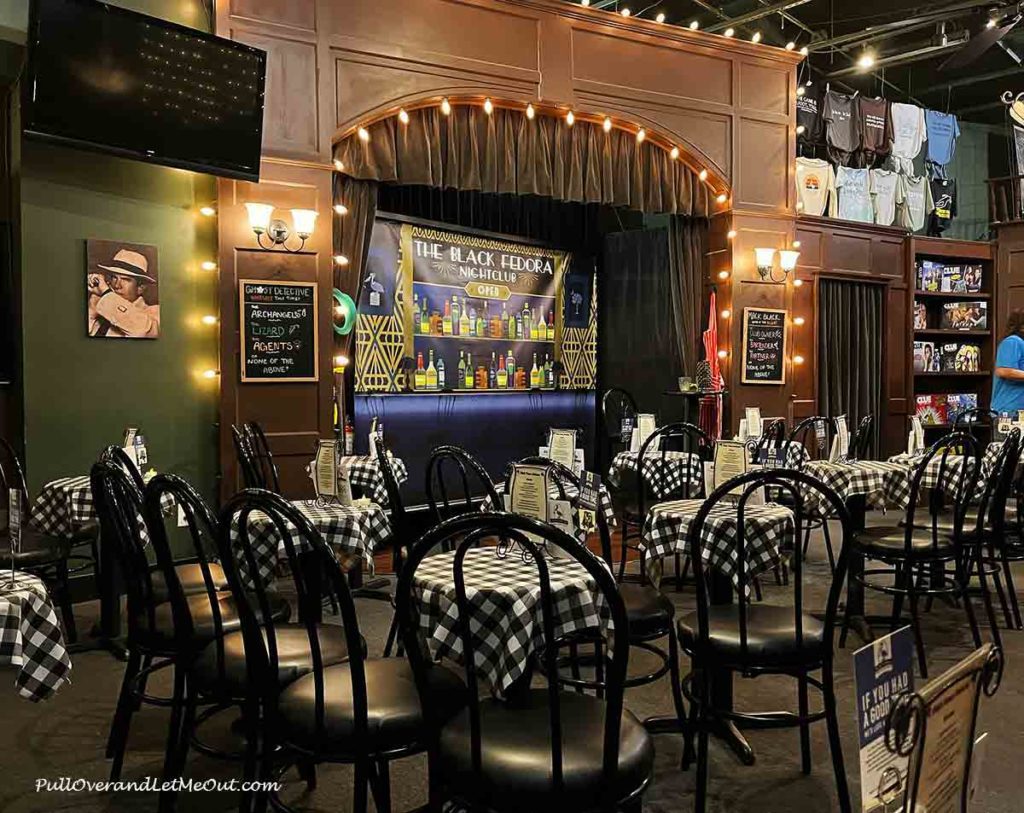 Always on the lookout for unique and different things to do while traveling, I happened upon the Black Fedora Theater in 2016 while planning a Christmastime visit to Charleston. I was intrigued by the concept and excited to enjoy a play while experiencing the Charleston theater scene.
That being said, this is no ordinary theater experience. The cozy venue "where all the room's a stage," is the ideal setting for watching a comedic play where audience members, if they choose to, can become part of the cast of these original comedies/mysteries.
My husband, son, and I were supremely entertained by Inspector NoClue's Mystery so when my group of girlfriends and I were planning a getaway to the Charleston area, I had one agenda item to suggest – The Black Fedora Theater!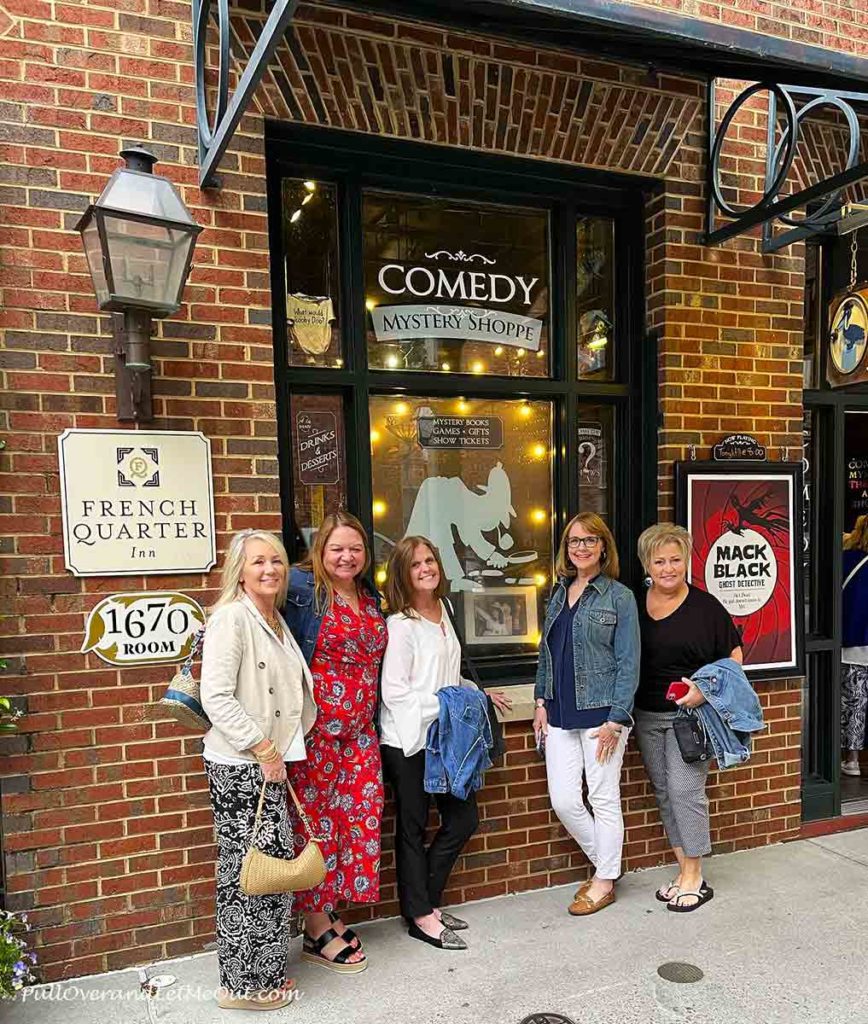 What to Expect at The Black Fedora Theater
The theater is comfy and intimate, which adds to the fun. The relaxed atmosphere and casual setting, adorned with an array of "detective" portraits, allow the entertainment to begin the moment you walk in.
Once seated, guests are encouraged to explore the walls and play "Name that Detective." Work alone or in groups with your friends to identify as many of the infamous sleuths on the walls as possible.
Although this is not a dinner theater, they do serve drinks, snacks, and homemade desserts. Order before the show starts and enjoy. 
Audience members are invited to volunteer for roles in the play prior to the performance. There are small and larger parts, all of which are well-scripted, making it simple to follow along and become a "star." Even if only for a moment.
If you'd rather remain anonymous, simply sit back and immerse yourself in solving the mystery. It's completely up to you.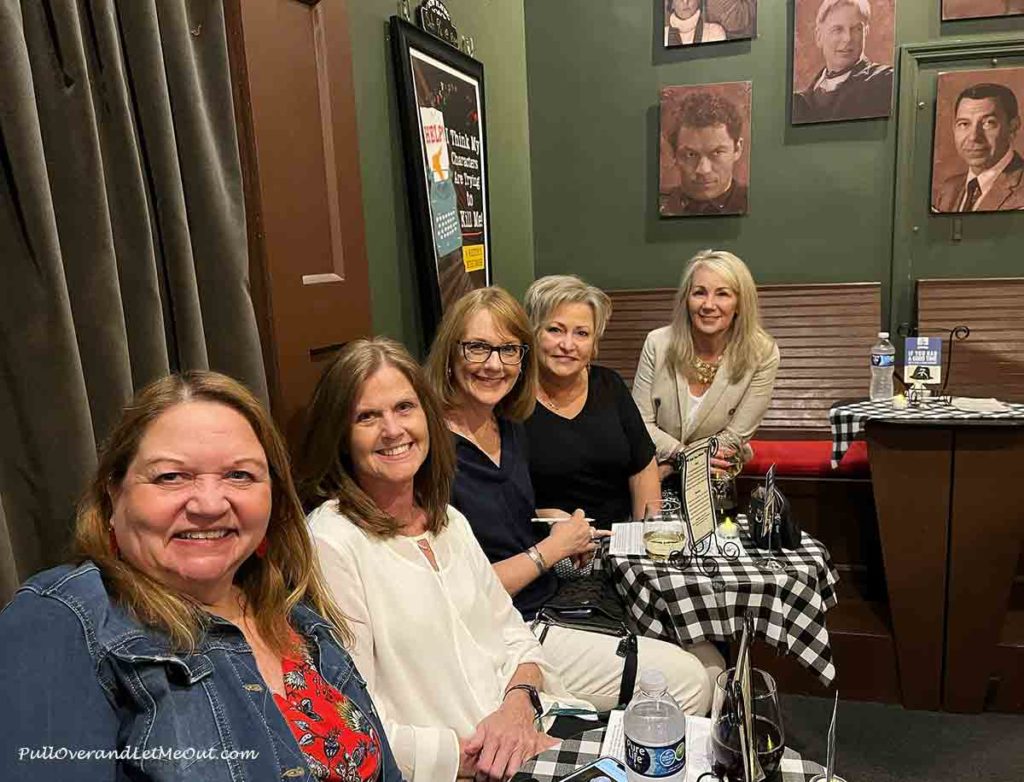 As their website says, "All our shows are clean comic whodunits, and they all feature YOU — or at least some brave soul sitting near you who volunteers for a role!"
The Black Fedora features two-hour original shows written in-house that are comedic gold. Audiences are able to choose from shows such as Inspector NoClue's Murder Mystery Show, Murder at the Redneck Reunion, and Help! I Think My Characters Are Trying To Kill Me!
We had the pleasure of watching and performing in Mack Black: Ghost Detective – He's Dead… He Just Doesn't Know It… Yet! The 1930s murder mystery stars Mack Black, a private investigator, as well as a cast of ghostly characters and an underworld figure known as the "Lizard."
It is a crowd-pleaser and a laugh-a-minute ride from start to finish.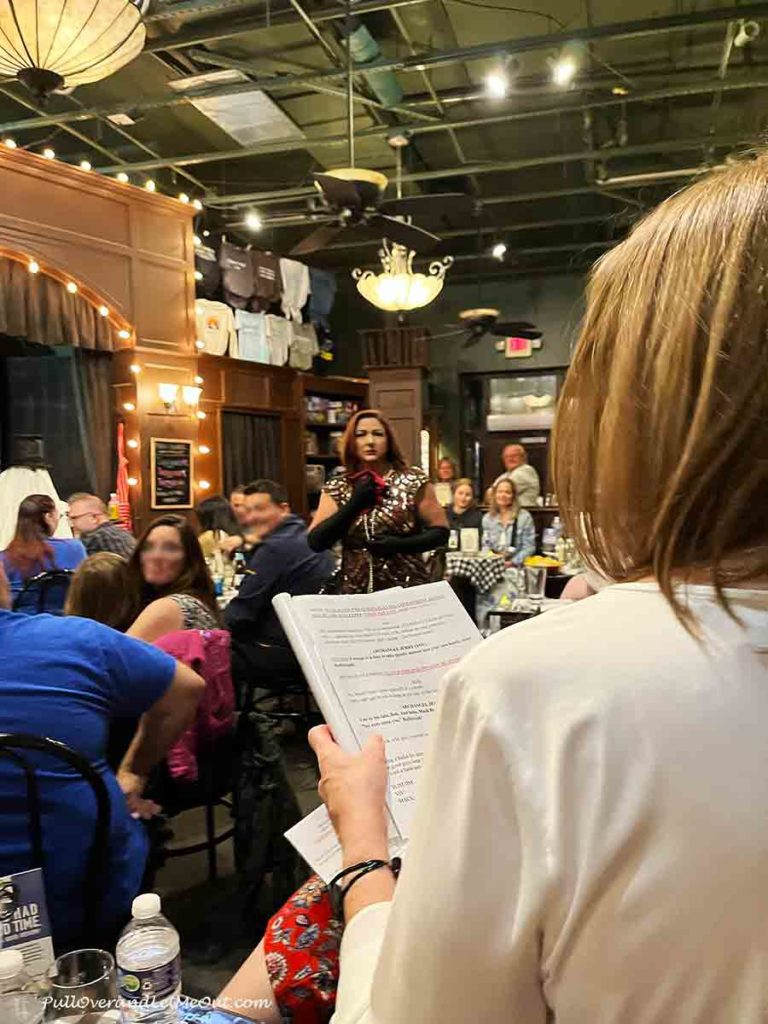 Planning Your Visit to The Black Fedora Comedy Mystery Theater
At 164 Church Street, The Black Fedora is just steps away from Charleston's famous City Market. There is plenty of street parking as well as several parking garages nearby. Likewise, there are numerous restaurants within walking distance if you want to combine dinner and theater. And because the theater is in the historic district, it's a pleasant stroll away from a multitude of hotels, inns, and accommodations, including one of my favorite Charleston B&Bs, the John Rutledge House Inn. (Read More)
The Black Fedora is cozy and casual, with the main goal of making people laugh and allowing the audience to become stars for the evening. Each show lasts about two hours and is pure entertainment. There is no foul language or anything crude, but the shows are not intended for children under six. My son was 12 at the time of my first visit, and it was ideal family entertainment.
Best of all, tickets to the show are reasonably priced. Visit the theater's website to find out about showtimes and availability. The theater doors open thirty minutes before showtime, and it is strongly advised that you purchase tickets in advance at the theater or online because it is a small theater, and shows sell out quickly.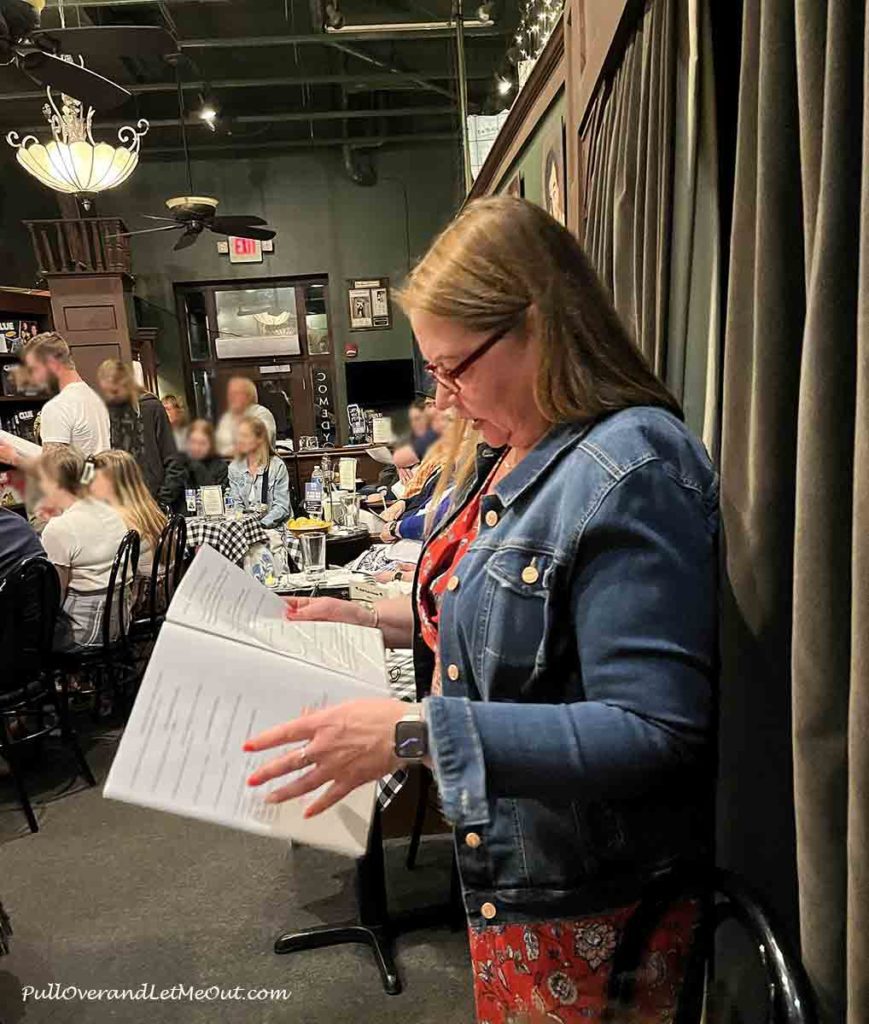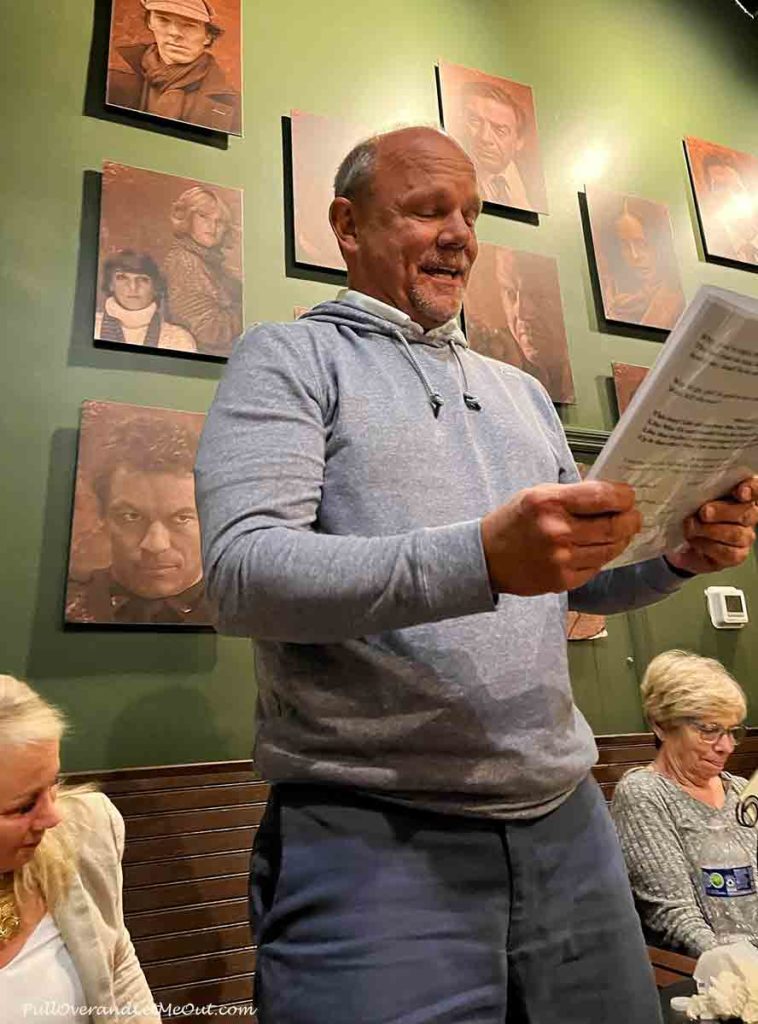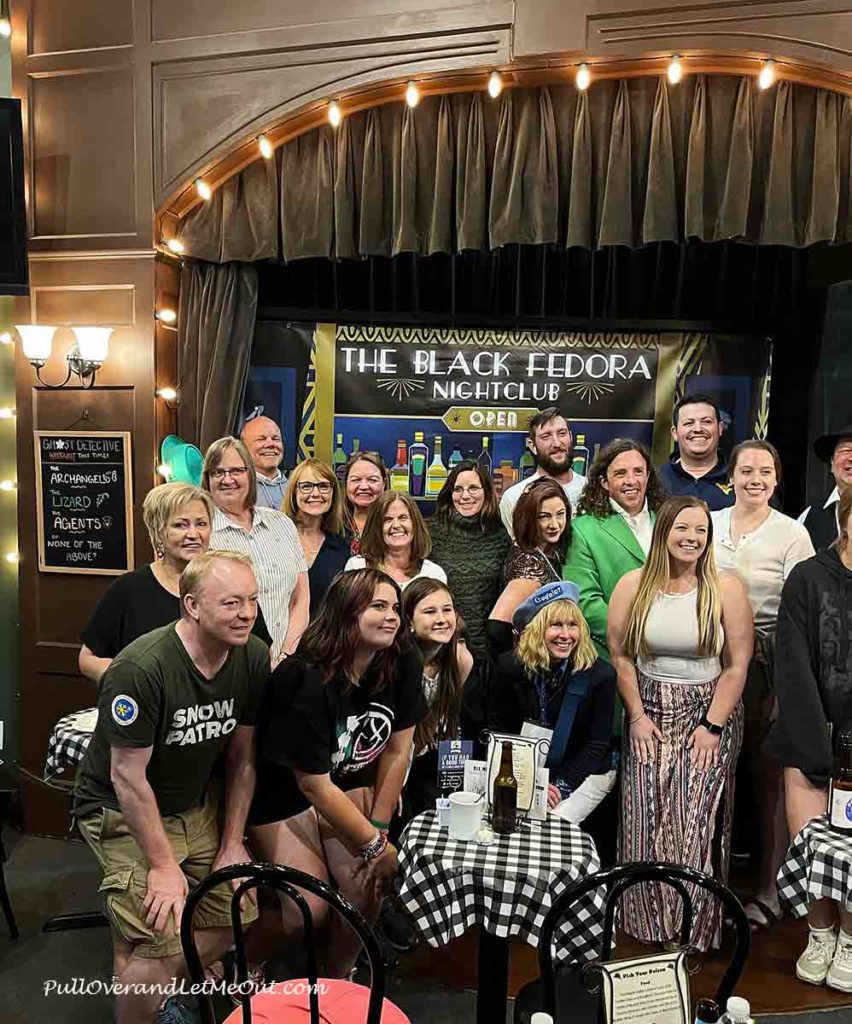 The Black Fedora Comedy Mystery Theater provides visitors with a one-of-a-kind memorable theater experience filled with mystery and laughter. Whether you take on a role in the play or just watch, this charming theater is a comedic "must" when visiting historic Charleston, South Carolina. That is what I call a Pull Over and Let Me Out winner!
The Black Fedora Comedy Mystery Theater
162 Church Street
Charleston, SC
Hey, Pinners! Pin This for Later!
► Plan Your Trip to Charleston, Now!
Hey pinners, save this for pinning after your trip
After you get back from your trip, please use these images to post to social media or post your own photos.  Please tag us on your post #pulloverandletmeout
You can also use the social sharing links on the SmartTrip tool.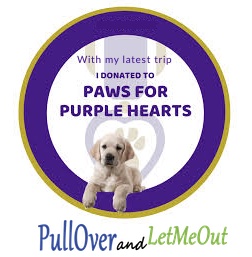 More Great Travel Stories You'll Love!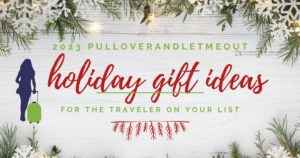 Travel with PullOverandLetMeOut to discover 2023's hottest holiday gift ideas for the traveler on your shopping list.
Read More »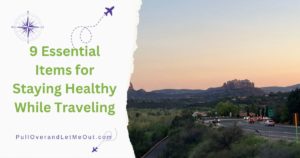 Make a healthy trip a priority. Travel with PullOverandLetMeOut to discover 9 essential items for staying healthy while traveling.
Read More »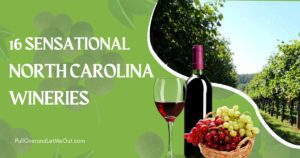 The wine world is taking notice of North Carolina wine. Join PullOverandLetMeOut as we explore 16 incredible wineries in the Tar Heel State that you won't want to miss.
Read More »