Georgia winery, 12 Spies Vineyards, has a great name, a fantastic location, and delicious wine. It's the kind of place I love happening upon because it's the small, slightly off-the-beaten-path attractions that makes my heart sing while enjoying vacation time. On a visit to Dillard in the North Georgia Mountains, I saw the sign with the arrow pointing left as we were driving out of the
Dillard House
and had to follow it!
By The Numbers; Numbers 13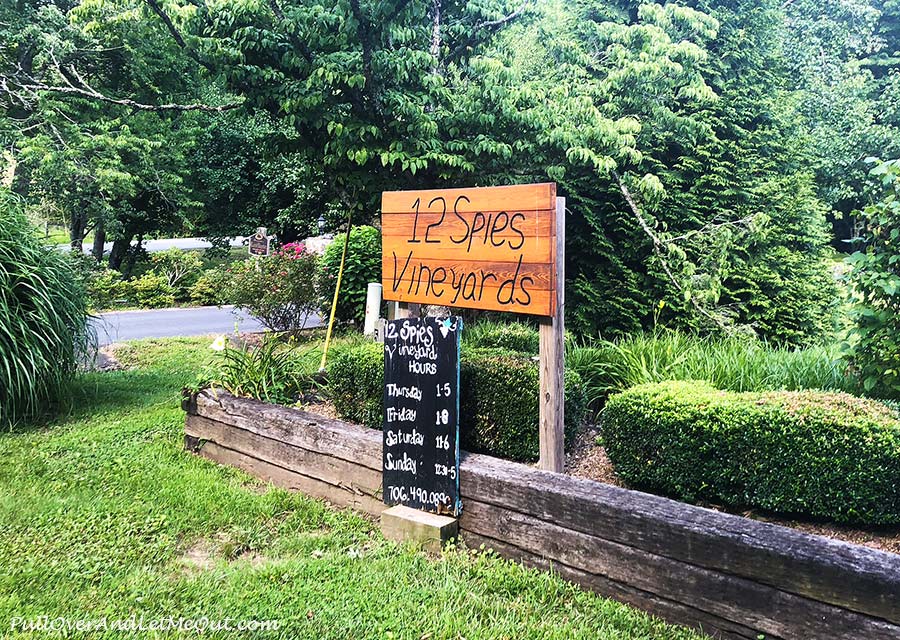 I love when a name has significance beyond the obvious. 12 Spies Vineyards does! The name comes from the Bible and recounts the story found in
Numbers Chapter 13
where Moses sends 12 spies into Canaan to scout The Promised Land. The spies find grapes so bountiful and large there that it takes two men to carry just one cluster of grapes. The biblical tale is a recurring theme at this picturesque winery situated in Rabun Gap, Georgia. From the logo to the wine glasses, Numbers 13:23 is a recurring motif.
Most ads you see on this site are affiliate links. If you click through and make a purchase I'll get a small commission and it won't cost you any extra. So, thanks in advance for helping me keep bringing you the content you enjoy!
Georgia Winery
The North Georgia mountains have a flourishing viticultural environment and numerous wineries and tasting rooms for visitors to select from. The region's soil and conditions are agreeable for growing a variety of grapes including many European-style and native vines. At 12 Spies Vineyards, four types of grapes, Cabernet Franc, Malbec, Tannat, and Traminette, thrive in the climate and altitude of Rabun Gap. Furthermore, the winery seeks out the best grapes from other regions to craft their Cabernet Sauvignon, Chardonnay, and Seyval Blanc offerings. Thus, 12 Spies Vineyards provides an assortment of wines from sweet to dry or semi-dry in both red and white each with its own distinct flavor and fun name.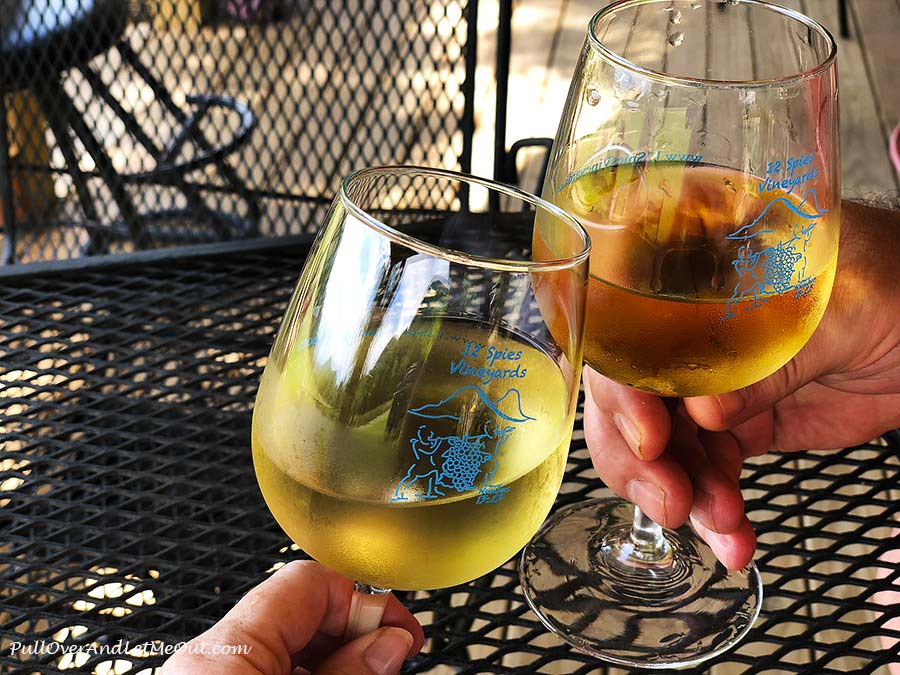 North Georgia Wine Tasting
I can't think of a more perfect location for trying out North Georgia wine than at 12 Spies. The cozy tasting room is ideal for tasting the different wines and discovering your favorite vintage. Step up to the counter and let the fun begin. The staff is friendly and helpfully explain the intricacies of each sample so wine novices needn't feel intimidated. The casual atmosphere adds to the charm and enjoyment of wine-tasting.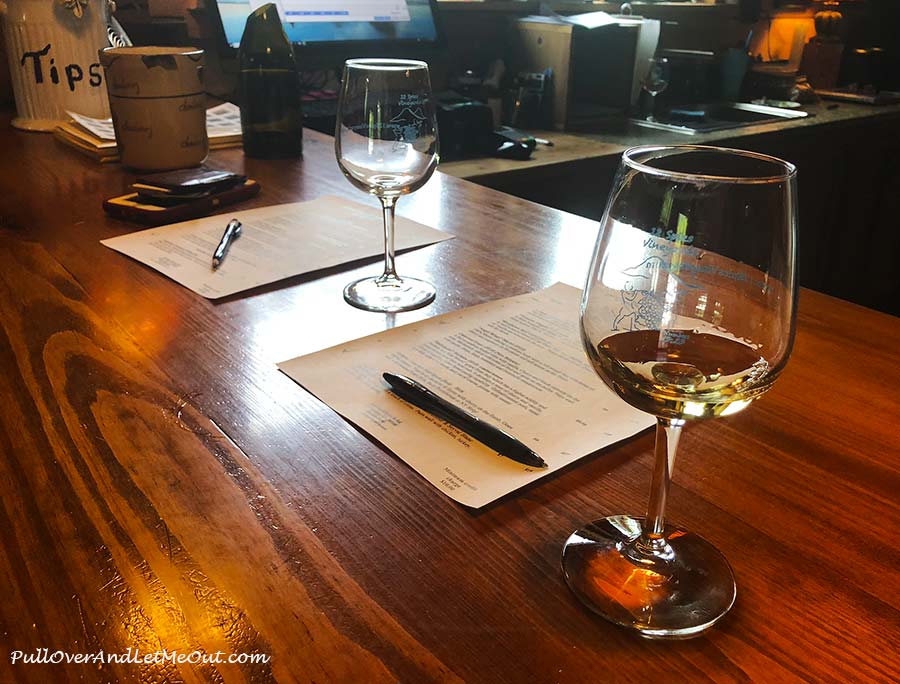 The Veranda and Winery Events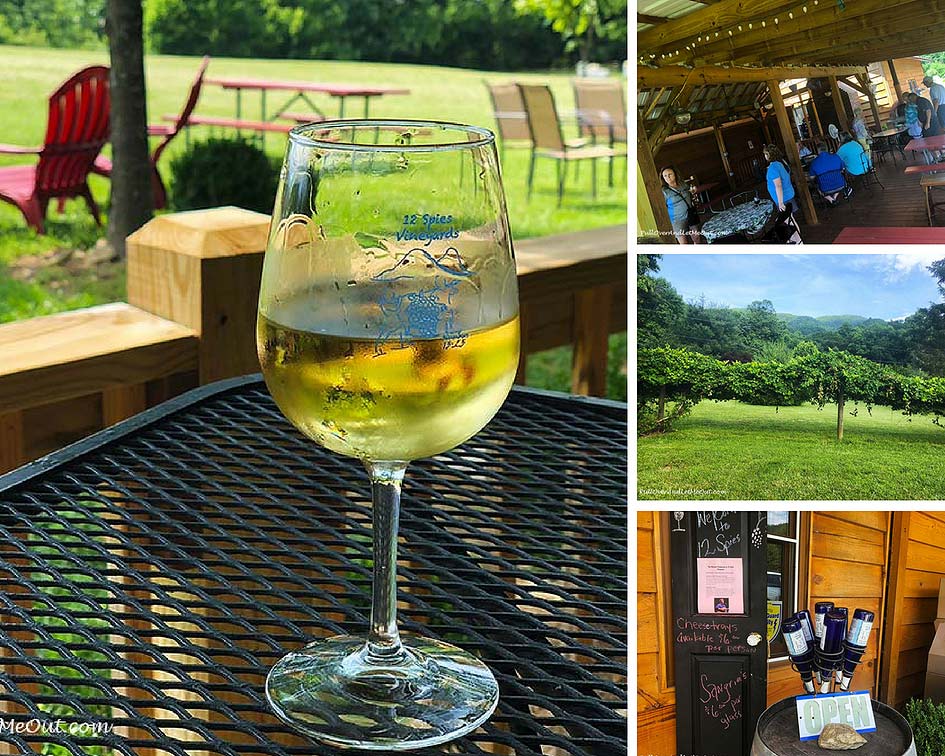 My absolute favorite part of our visit to 12 Spies Vineyards was spending time on the
Vino Veranda
. Sitting there sipping a cool glass of white wine, listening to outstanding live music, enjoying cheese and crackers, and drinking in the mountain view was so relaxing it made me remember the point of our getaway –  time to unwind and escape day-to-day business and breathe in the mountain air.
Planning Your Visit 
In addition to live music most Saturdays, from May to October Friday night is pizza night on the
Vino Veranda
. The tasting room also features a charming gift shop where wine gear and accessories may be purchased to commemorate the visit and you can buy wine to take home.
Good news
, shipping is available to 35 states! The tasting room hours vary seasonally but the winery is open 7 days a week during July and October. Moreover, by calling ahead, they'll accommodate larger parties by appointment.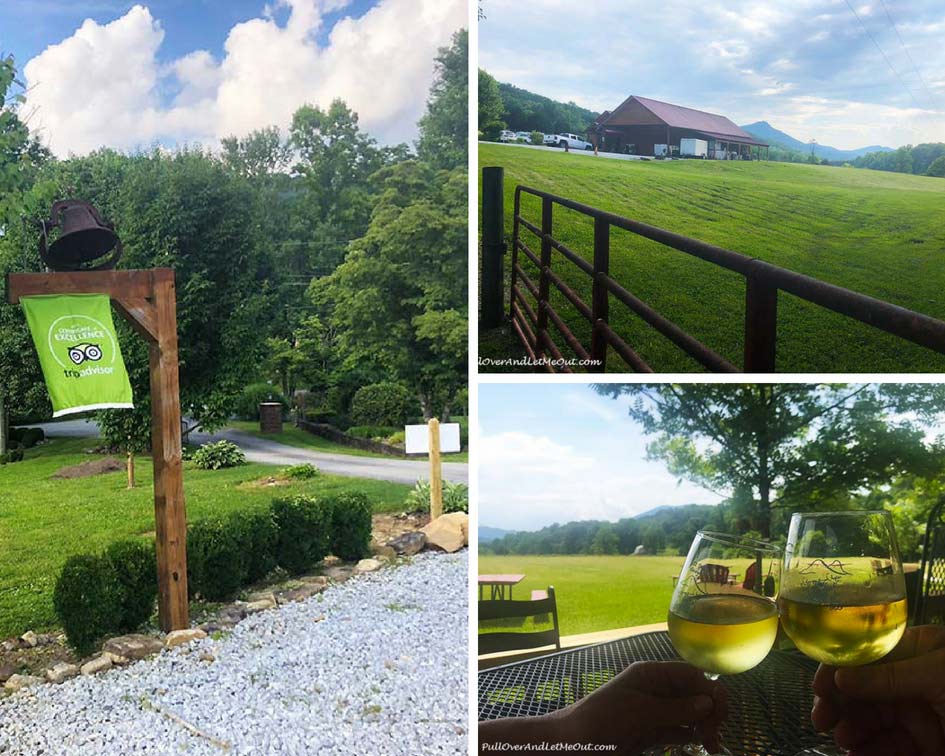 Take Away
12 Spies Vineyards in the northeastern corner of Georgia is a delightful escape and a favorite find. When I travel, I love coming across an unexpected attraction that makes the journey all the more enjoyable. This blithe winery is one such place. With its biblical moniker, mountain sunsets, live music, and of course the wine, 12 Spies Vineyards is a terrific Georgia winery worth saying,
Pull over and let me out.
12 Spies Vineyards
550 Black Branch Road
Rabun Gap, Georgia 30568
706-490-0890
12spiesvineyards.com
Have you visited a Georgia winery? Let me know your favorite in the comments.
Hey, Pinners! Pin This!