Updated May 28, 2018:



This story was originally posted in May 2014. Since then, sadly the Benjamin Vineyards Winery has closed its tasting room but still produces grapes and wines. I've added the Grove Winery and Vineyard to the Haw River Wine Trail story.
In the past decade, a handful of wineries has popped up along the Haw River. These wineries are attracting wine lovers and tourists to what is officially known as the Haw River Valley American Viticultural Area or The Haw River Wine Trail.
Located in the center of North Carolina between the mountains and the coast the Haw River flows. The land along its shores between the Triad and Piedmont regions was once home to a booming textile industry and its rich soil, renown worldwide for its cash crop- gold leaf tobacco.  Today there's a new crop growing and its sprouting a different type of business.
The climate and soil lend nicely to the growth of a variety of grapes and the production of an array of wines. The Haw River Wine Trail features wines pleasing to most palates; from traditional European-styles such as Merlot and Chardonnay to native wines like Muscadine and Scuppernong, to fruit wines of strawberry, blackberry, and fig.
I spent time visiting a few of the wineries along the Haw River Trail. Each one is a small, family-owned business with vineyards, tasting rooms, a love for the area, and a passion for wine-making.
Most ads you see on this site are affiliate links. If you click through and make a purchase I'll get a small commission. So, thanks in advance for helping me keep bringing you the content you enjoy!
GlenMarie Vineyards and Winery
The first stop on the trail is at GlenMarie Vineyards and Winery. Situated on the glens of Mebane and Graham along a rural road, the grapes grow on what was once a tobacco field.  There's a small tasting room that's warm and inviting. We were welcomed by Jordan on our visit. Jordan was pouring samples and educating as he served. He provided outstanding details and information about each wine. Jordan's understanding of the land, the grapes, the wine-making process as well as his friendly personality made sampling a joy.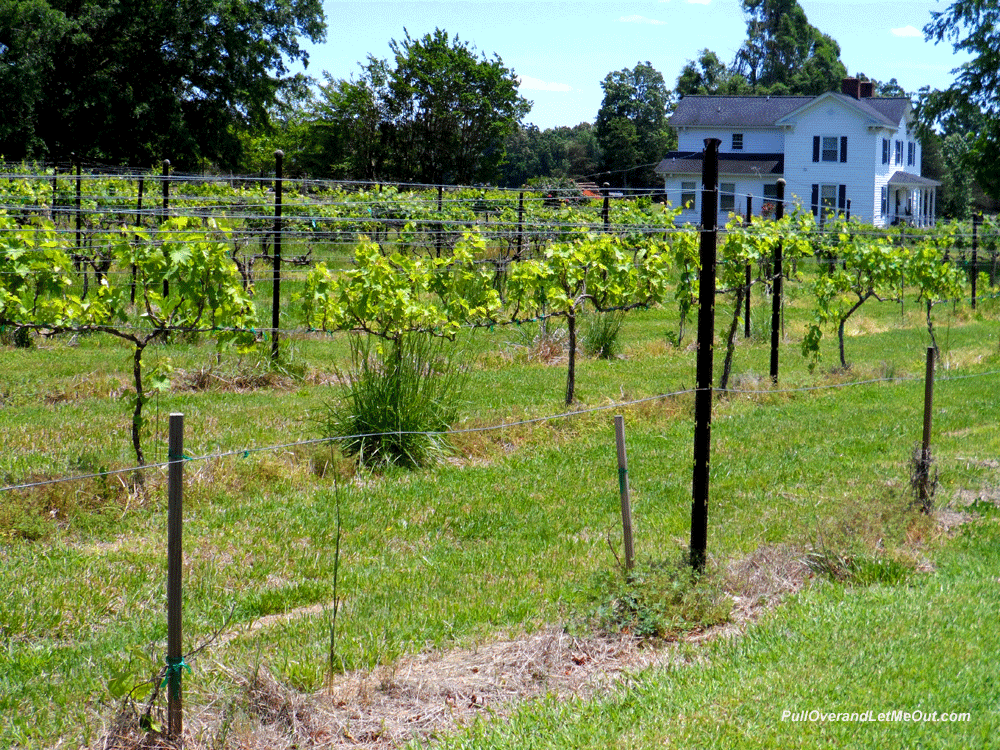 After enjoying a tasting and wine education, be sure to stroll the vineyards.  There's also a couple of sweet alpacas who live at the winery. You'll want to stop and say hello!
GlenMarie Vineyards and Winery – 1838 Johnson Road Burlington, NC 27217
Tasting room open Thursday through Sunday noon until 6 pm. Tastings are $5 for six samples includes the souvenir glass.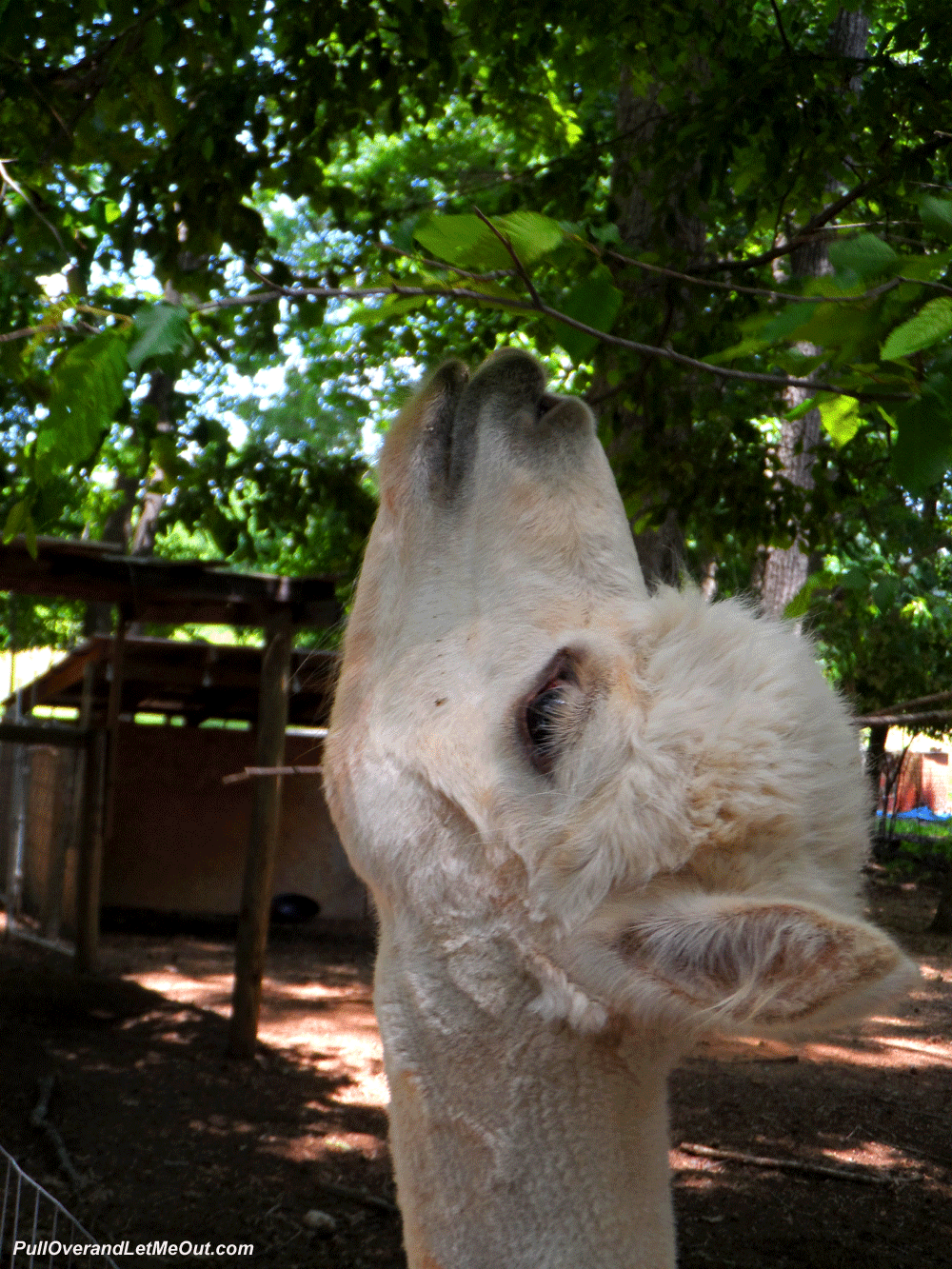 Grove Winery and Vineyard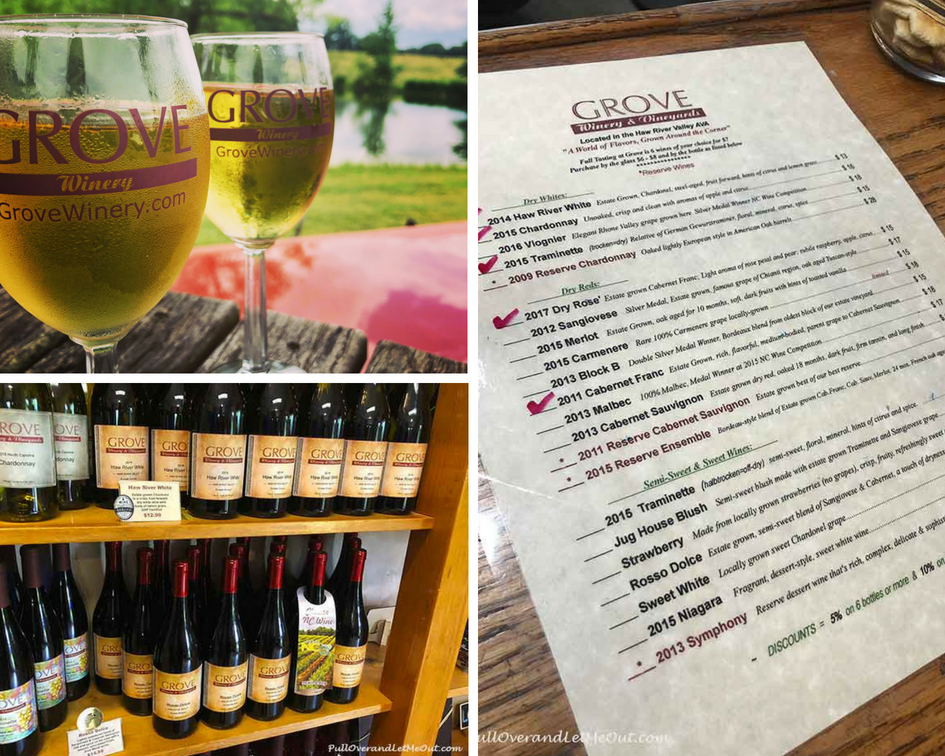 About seven miles northeast of Greensboro in Gibsonville, North Carolina is the Grove Winery and Vineyards. This charming family-owned winery specializes in crafting European-style wines. The award-winning wines are lovingly hand-crafted on the premises with the majority of the grapes used in the wine grown on the estate.
Not only is the wine delicious, the winery itself is an attraction. Set in rural Guilford County, it's a favorite destination for events and live music. They even boast of being a bike, horse, and canoe-friendly winery.
We enjoyed our tasting immensely, purchased a bottle of Sangiovese to bring home, and sipped their Reserve Chardonnay lake-side (Lake Cabernet). The lush green pastoral setting provides the ideal ambiance for kicking back and savoring wine and scenery. It's a delightful way to spend a Saturday afternoon on the Haw River Wine Trail!
The tasting room is open daily for sipping and shopping from noon until 6 pm. They offer a delightful sampling in a relaxed casual setting.
Grove Winery & Vineyards
7360 Brooks Bridge Rd
Gibsonville NC 27249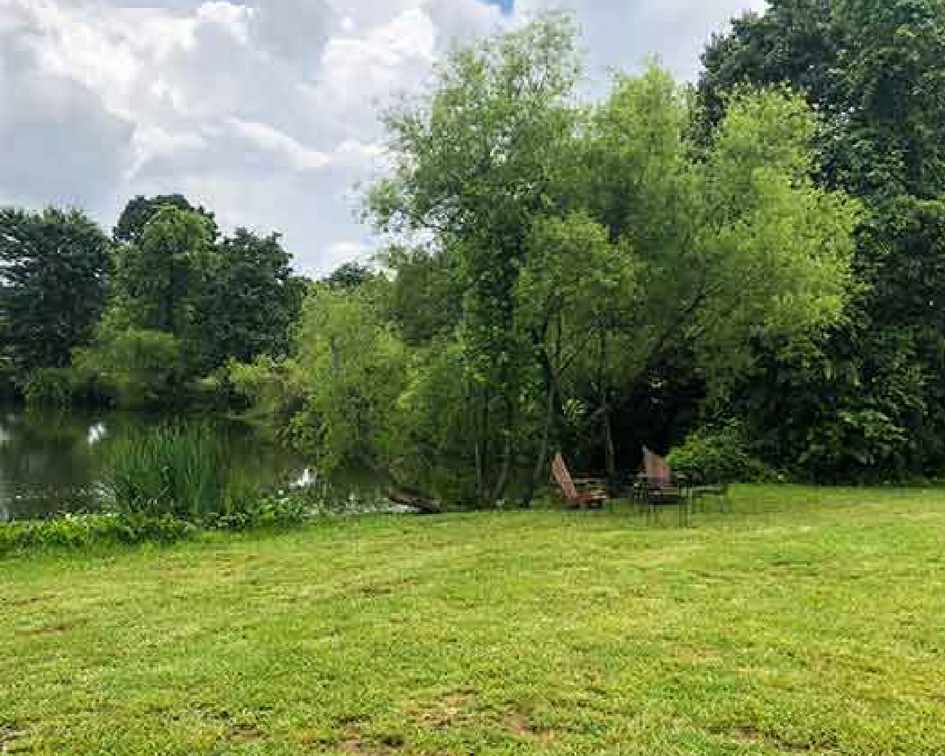 Enjoy a glass of wine on the banks of Lake Cabernet at Grove Winery and Vineyards.
Wolfe Wines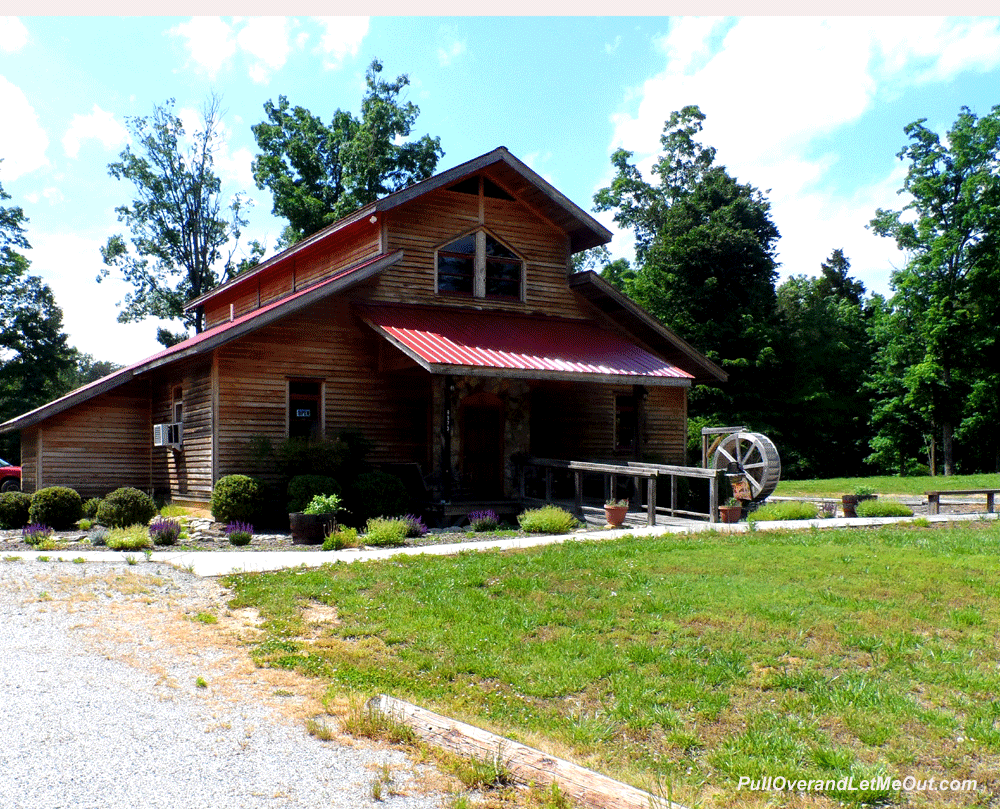 Wolfe Wines is located in the sleepy town of Snow Camp, North Carolina. The winery, which opened in 2008 is family-owned and operated and home to some of the most unique and tasty whole fruit and grape wines.
The small, rustic-styled winery has an open tasting room accentuated by a large mural painted by a local artist. The list of wines to sample reads like a grocery list of favorite fruits – blueberry, cranberry, fig, apple, and strawberry are a few of the fruity offerings. Also included on the list are the grape wines which include Merlot, Chardonnay, and Muscadine.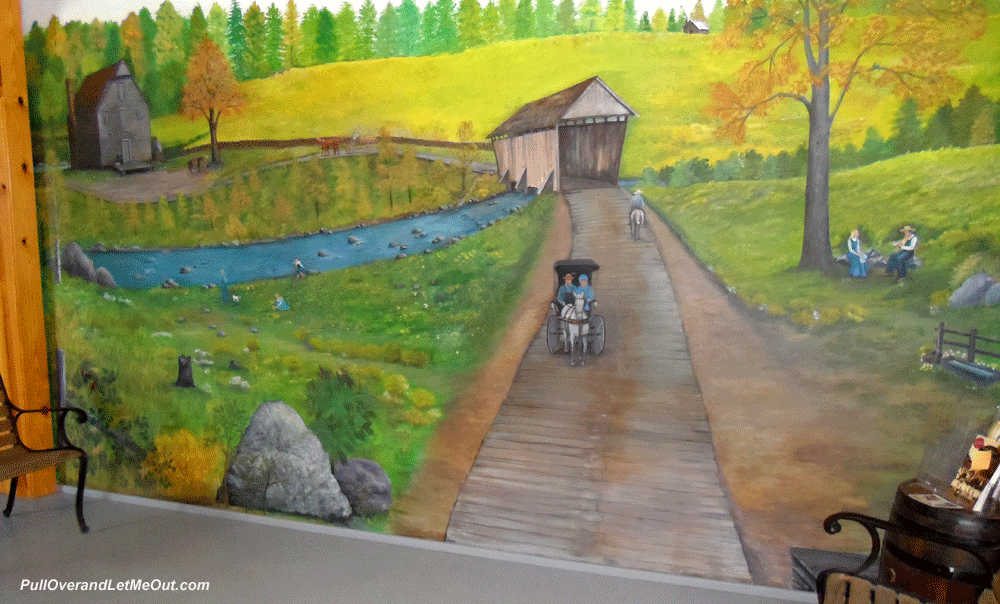 The winery hosts several special events throughout the year and the grounds are a bucolic location for live music programs and weddings as well. There are also several nearby attractions visitors may wish to include in their visit to Snow Camp such as the outdoor drama, Sword of Peace.
Wolfe Wines – 8973 Old Plank Road Snow Camp, NC 27349
Friday and Sunday 1-6 pm and Saturday noon to 6 pm. Tasting is $5 and includes the souvenir glass.
Although still in its infancy, the Haw River Wine Trail is growing and becoming a tourist destination. The wine trail has an appeal and down-home charm inviting guests to spend some time in the country and sip, relax and enjoy.
IF YOU LIKE THIS, PIN IT FOR LATER!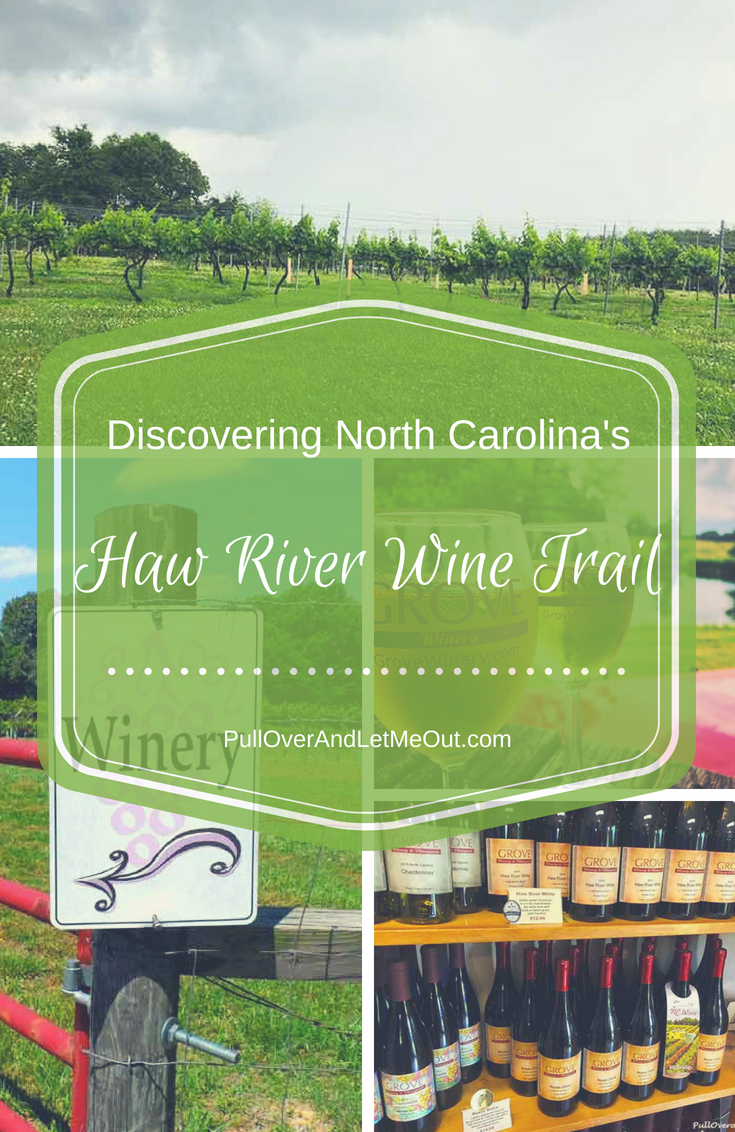 **Benjamin Vineyards and Winery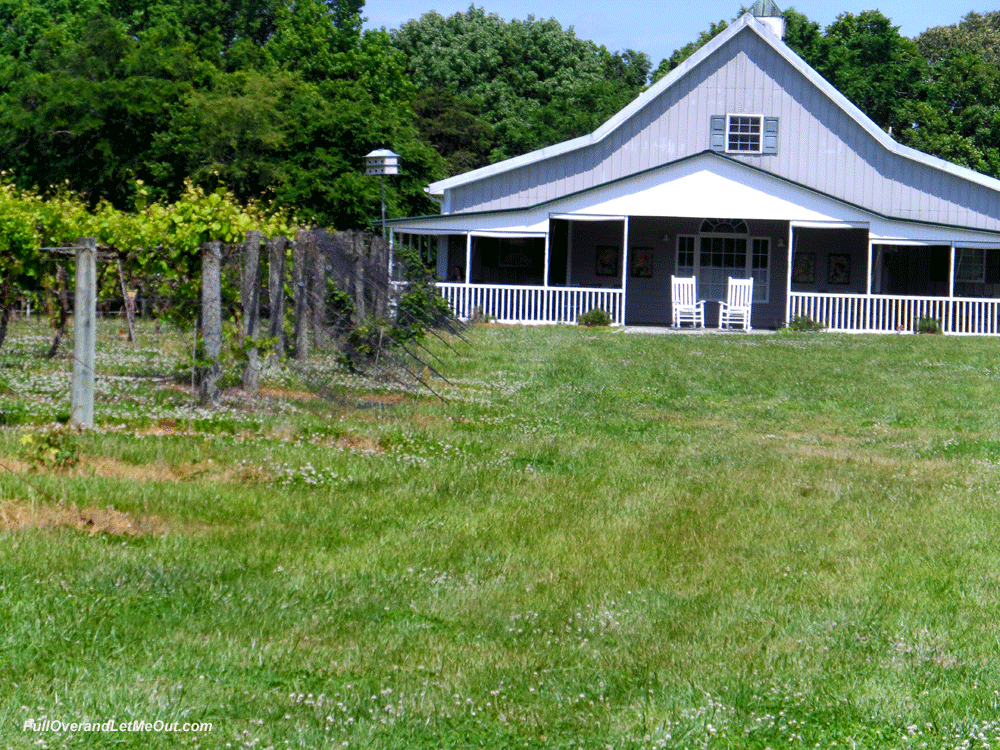 According to their website, "As of January 2015, our tasting room is no longer open to visitors.  We anticipate the vineyard opening in September 2018 for U-Pick muscadine grapes."
Graham, North Carolina is home to Benjamin Vineyards Winery. This is a winery on a slightly larger scale with a considerable covered outdoor seating area ideal for couples spending a romantic afternoon or for a group get-together. During our visit there was a bachelorette party enjoying the beautiful weather, wine, and scenery at Benjamin Vineyards.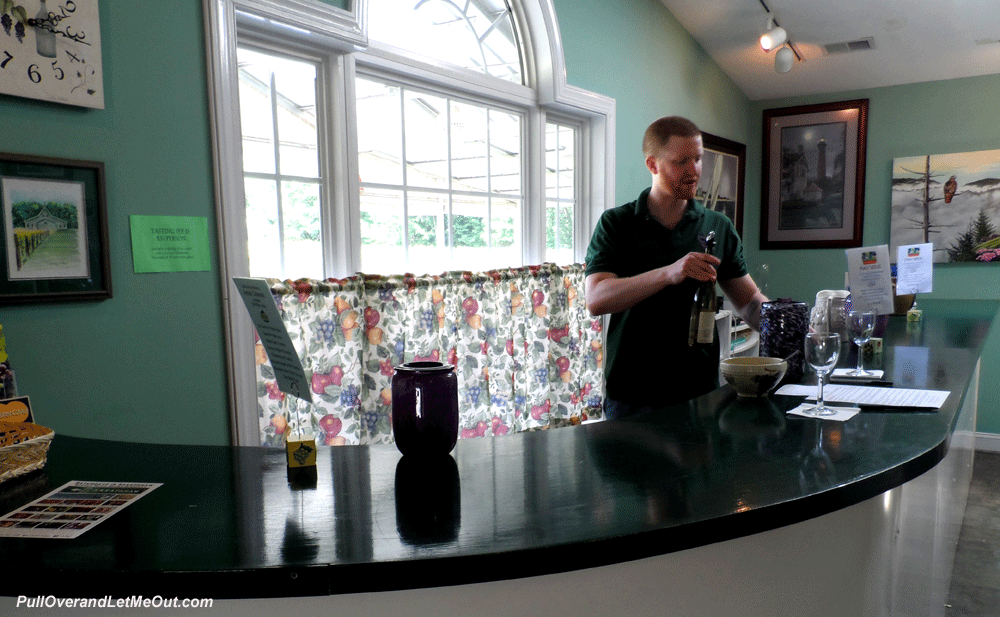 Inside guests are treated to a tasting of local wine. Benjamin boasts it grows 80% of the grapes used in its wine and the other 20% comes from just down the road in Chatham County. The tasting room manager guides us through the samplings. Starting with the crisp, dry wines and working our way to the fruity sweet wines we taste the range and variety Benjamin offers.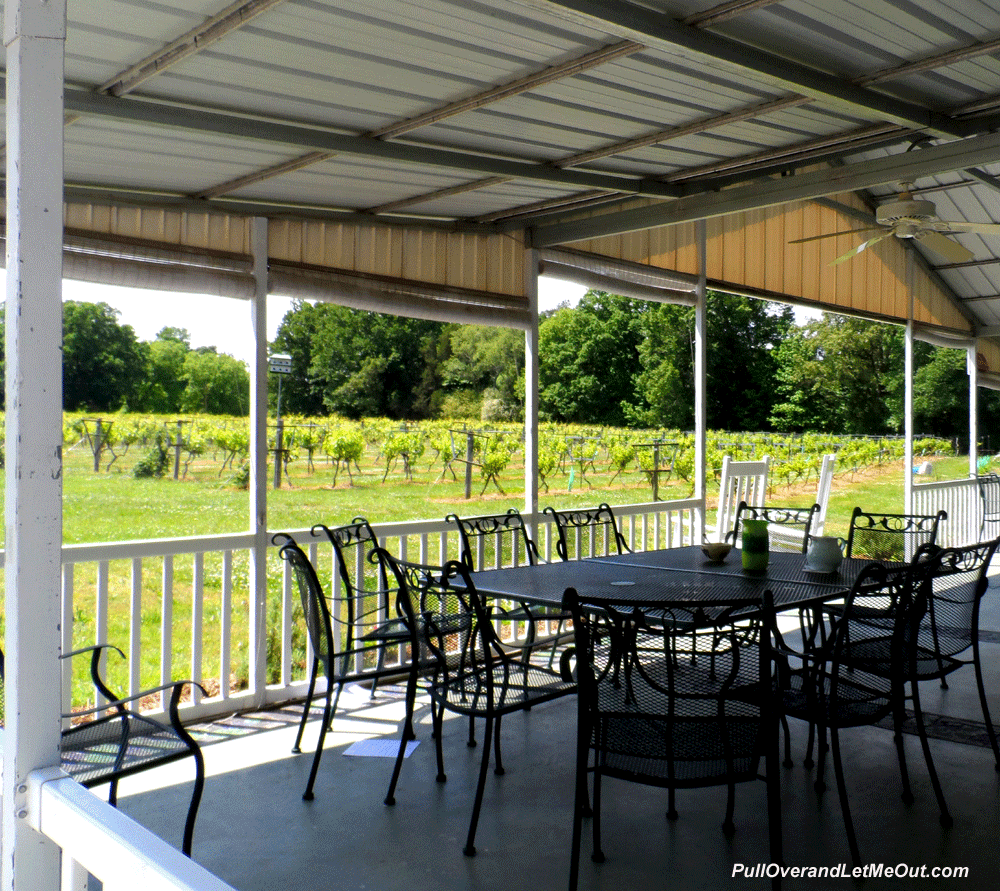 Outside, Carolina blue skies accentuate the beauty of the winery. The ambiance of the setting with its lush grounds, rows of grapes and peaceful atmosphere combine with their wines making it easy to see why Benjamin Vineyards is a popular winery.
Benjamin Vineyards and Winery – 6516 Whitney Road Graham, NC 27253
Tastings offered Thursday through Sunday noon to 5 pm. $5 for the tasting of six wines includes the souvenir glass.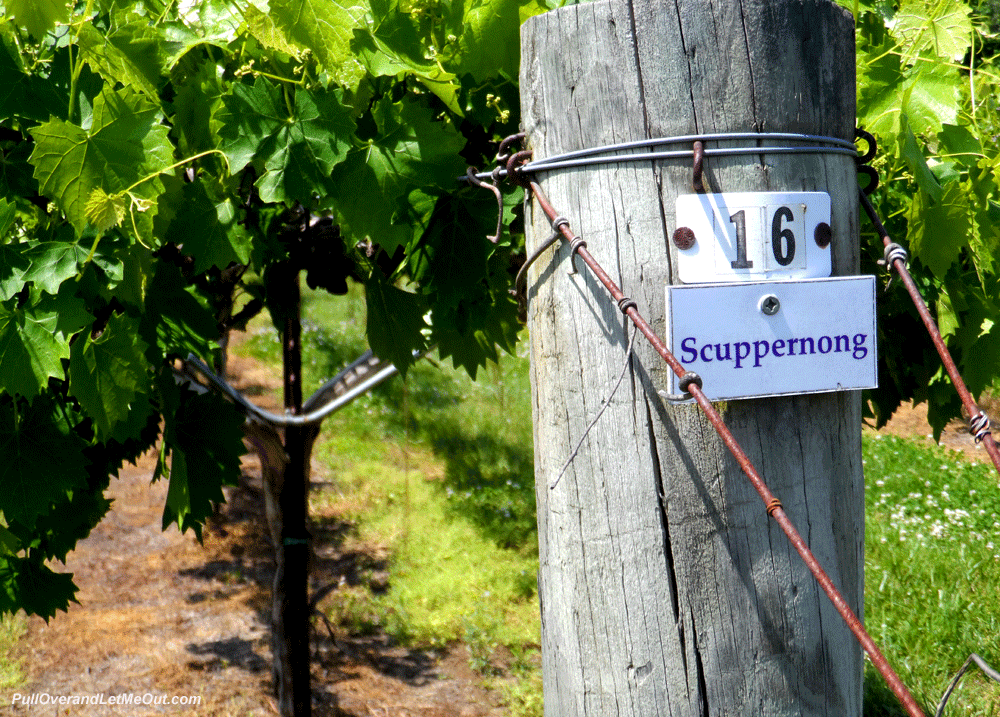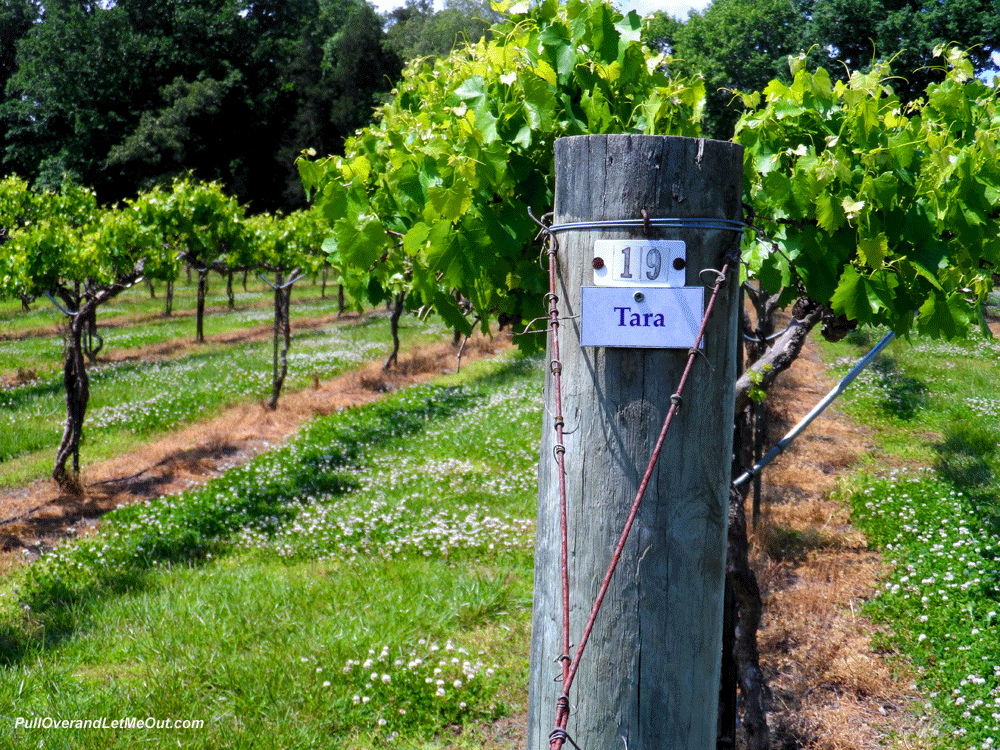 If you like this share it with your friends. As always, Happy Travels!