Michie Tavern In Thomas Jefferson's Neighborhood
A road trip to Thomas Jefferson's Monticello is a classic journey into American history. The third president's beloved mountaintop home sits overlooking Charlottesville and the university Jefferson founded, The University of Virginia. The drive up the mountain is filled with anticipation, excitement and also a quintessential "pull over and let me out" opportunity. Just a half-mile below the driveway leading to Monticello sits the Michie Tavern beckoning hungry travelers to pull over.
Historic in its own right, Michie (pronounced in Old Scottish, "Mickey") was built in the 1780s by an Albemarle County man named William Michie.  The tavern operated into the mid-1800s, serving as a social center of the countryside at a busy location 17-miles away on Buck Mountain.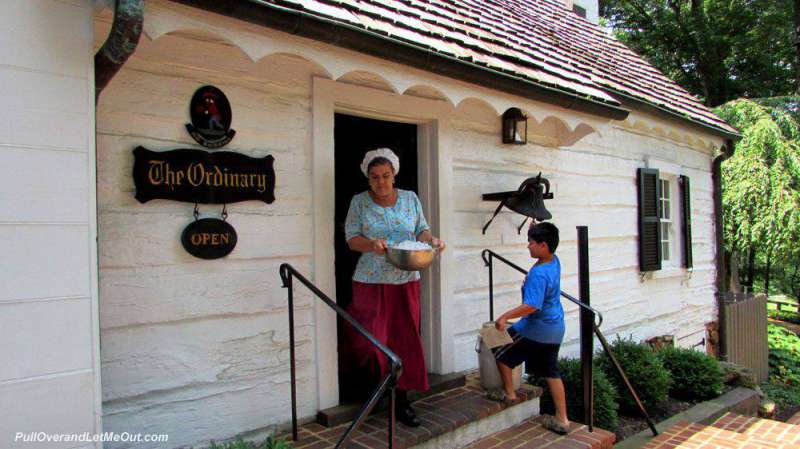 Ringing the dinner bell at The Ordinary
A Historic Tavern For The Modern Era
After years of sitting unoccupied, in 1927 a local businesswoman, Mrs. Mark Henderson, sought to purchase the old tavern to preserve it and create a museum. Her keen business mind directed her to seek a new location for the Michie Tavern. Taking into consideration the recent popularity of automobile travel as well as the proximity of the third president's home, Mrs. Henderson made a wise decision.
The Michie Tavern was dismantled and moved to Carter's Mountain where it stands today a short distance below Jefferson's Monticello – the ideal location for an enjoyable meal while visiting President Jefferson's famous home.
Michie Tavern is true to its 18th-Century heritage keeping alive the tradition of serving classic southern midday fare and giving guests a glimpse into what life was like in a typical colonial tavern.
Tavern staff dress in period apparel serving meals of fried or baked chicken, green beans, biscuits, smoked pork barbeque, iced tea and the like.
Decadent desserts of cobbler or hot fudge sundaes complete a delicious, filling meal served in a rustic setting.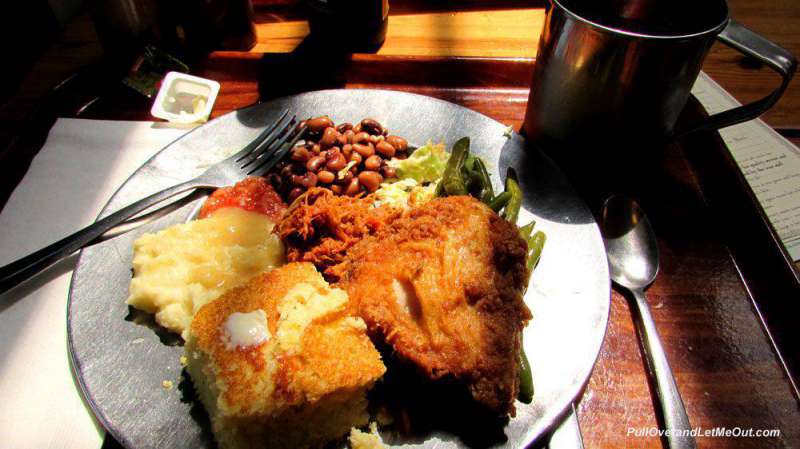 The traditional Southern fare is served daily at Michie Tavern
More Than Just A Tavern
Michie Tavern is also a living museum full of historic artifacts.
The General Store, The Clothier Shop, The Tavern Gift Shop, The Game and Toy Merchant, and The Metal Smith Shop offer old-fashioned shopping opportunities.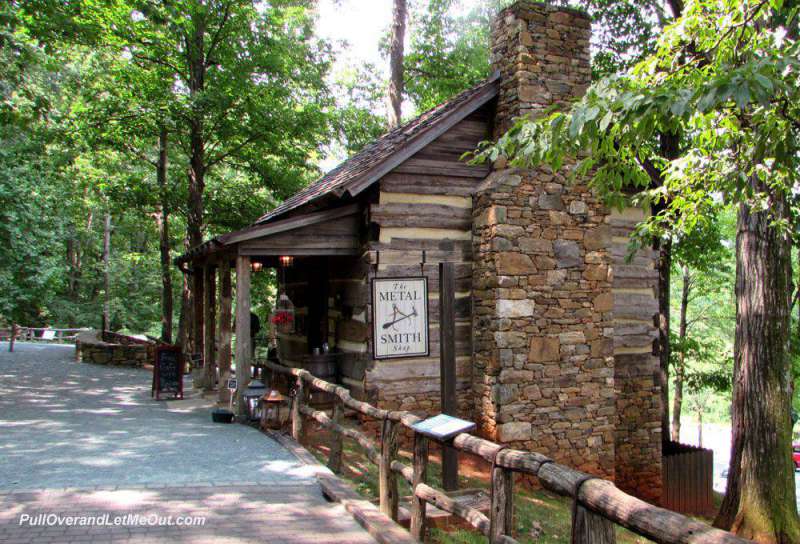 Children enjoy taking part in a scavenger hunt and earning a candy stick upon completion. Furthermore, there are self-guided, family-friendly tours of the older section of the tavern giving guests a taste of tavern life in the late 18th-Century.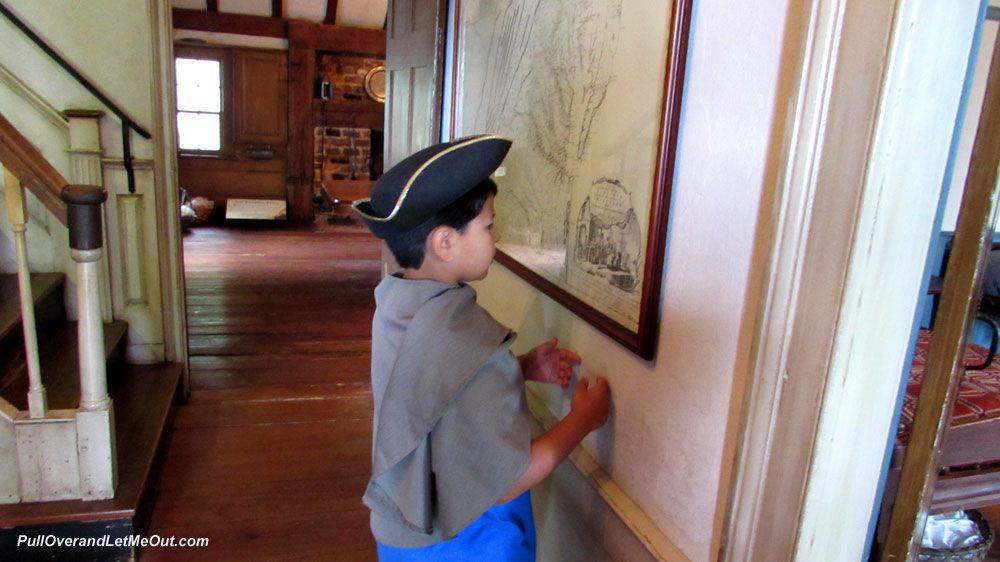 Children can participate in a scavenger hunt.
Michie Tavern is open 7 days a week serving mid-day fare year round except Christmas and New Years Day. Hours vary depending on the time of year.
The tavern doesn't take reservations so you may want to time your visit just before or towards the end of the mid-day rush.
The Monticello Neighborhood Pass may be purchased on their website. The pass includes discounted tour tickets to the tavern as well as to Monticello and James Monroe's nearby Ash Lawn-Highland.
Michie Tavern
683 Thomas Jefferson Parkway
Charlottesville, VA 22902
Phone: (434) 977-1234
If you enjoyed this post, please leave a comment below, post, tweet or share with your friends!
As always, Happy Travels!
IF YOU LIKE THIS, PIN IT FOR LATER!