Discovering Rapid City, South Dakota
Rapid City, South Dakota, is the perfect place to make your hub for a Black Hills vacation. Five national parks and monuments are within driving distance of Rapid City, including the inspirational Mount Rushmore National Memorial and the forward-thinking Crazy Horse Memorial. I booked our hotel with this in mind but had no idea how much more there is to Rapid City or how extraordinary the town would be as the center of our Black Hills experience. Here are six things I discovered that made me fall in love with downtown Rapid City, South Dakota. 
Disclosure:
Many of the links you see on this site and within our trip planning tool are affiliate links. If you click through and make a purchase, I'll get a small commission and it won't cost you any extra. On selected stories, for those hotel and car bookings made using our TravelingToGive™ tool we contribute 2.5% of gross hotel and car sales to Paws for Purple Hearts. So, thanks in advance for helping me keep bringing you the content you enjoy and, at the same time, giving back to those who so bravely serve our country! #everytripmatters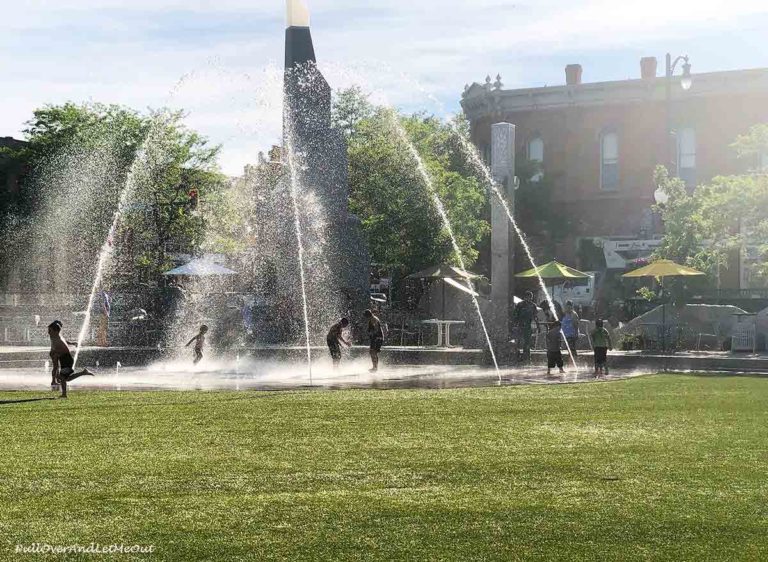 There's a huge sense of the past connecting with the present in Rapid City. One need only stroll the wide streets and gaze at the buildings to get a sampling of that past. Founded in 1876 by a party of dispirited miners and prospectors who traveled to the Black Hills in search of riches, the city is named for the stream that passes through it. Today, it has grown to be South Dakota's second-largest city while managing to retain much of its original character and purpose. 
The range of architectural characteristics tells the story of Rapid City's inhabitants and growth throughout the years. From the finest Chicago-style architecture to Italianate-style brick buildings, to Neo-Classical Revival style, the streets of downtown are lined with stunning examples of design that provide a beauty and quality unique to this historic town.
Rapid City holds tightly to its heritage and shares it with guests. I especially enjoyed reading the various historic markers along the streets detailing the history of the buildings and how they came to be a part of the landscape. There's also a downloadable walking tour that lets visitors immerse themselves in the history and architecture of Rapid City.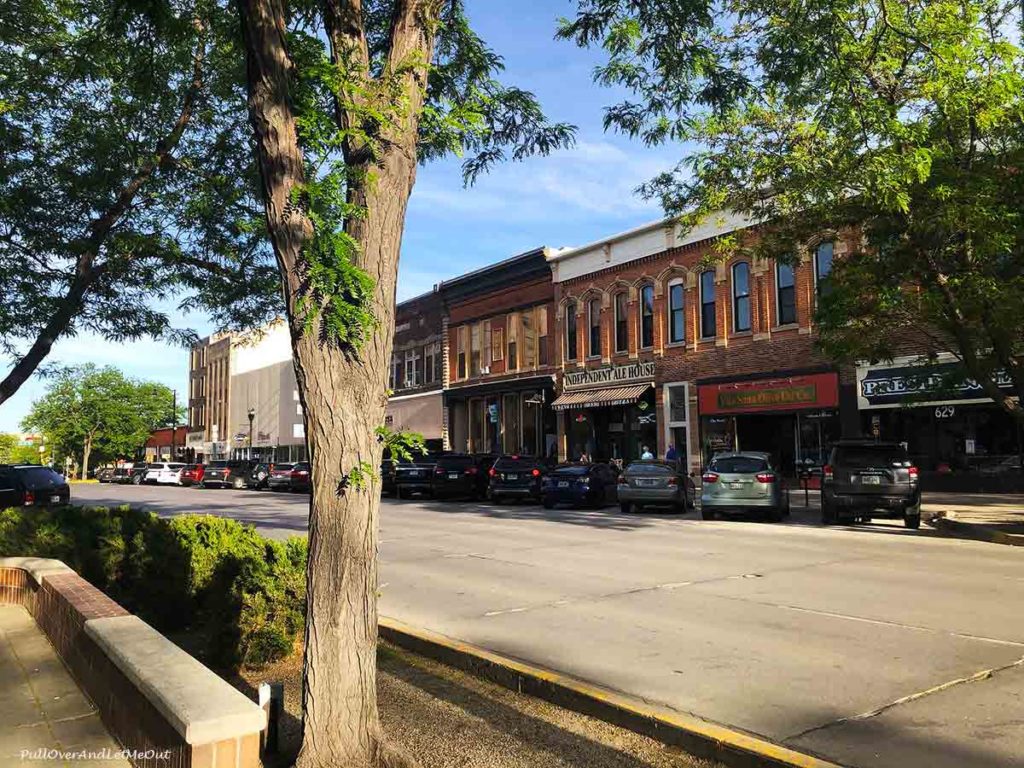 Rapid City is the City of Presidents. I didn't realize this before arriving so when I spied my first statue, Lyndon B. Johnson, I was a little perplexed. By the time I happened upon John Quincy Adams, I recognized this was a presidential potpourri. In fact, the downtown area is filled with life-sized bronze statues of the United States Presidents.
Started in 2000, the City of Presidents project honors the American Presidency. Each statue is privately funded and placed in a neat pattern that shows no special treatment or political favoritism. These presidential likenesses are part of a historic walking tour and there's even a special map you can download to guide you along the self-guided tour. Seeing these statues is a delightful and amusing part of roaming the downtown area and the bronze figures are a beloved part of the city's distinctive character.
Presidents Info. Center & Gift Shop
7th and Main Streets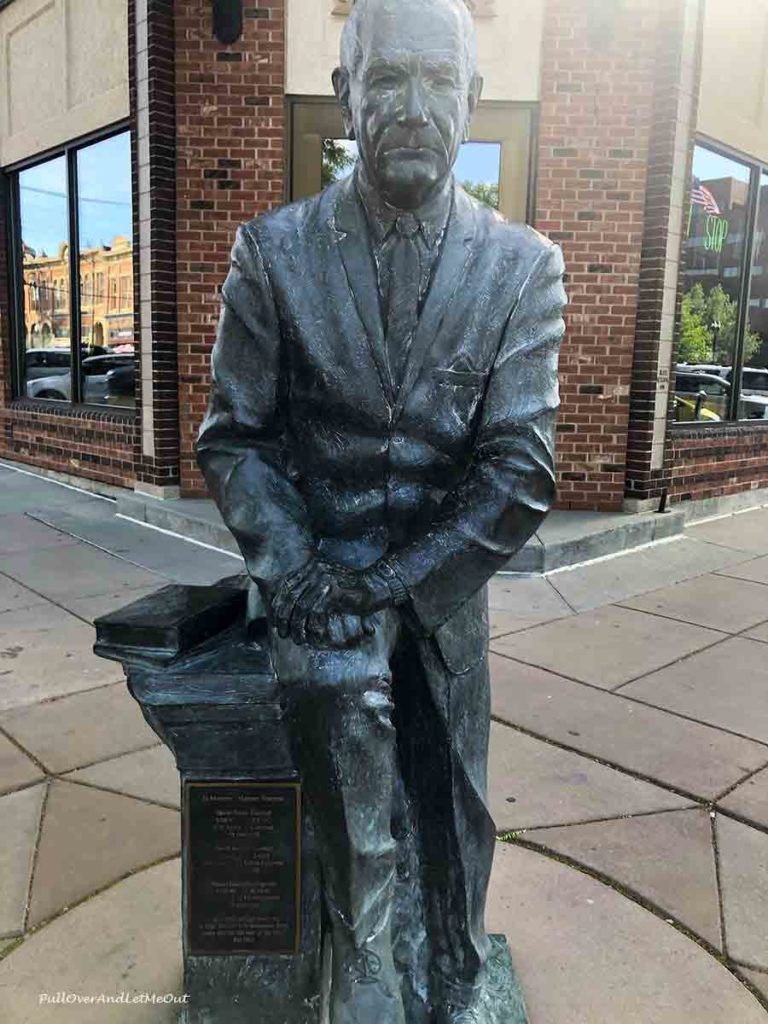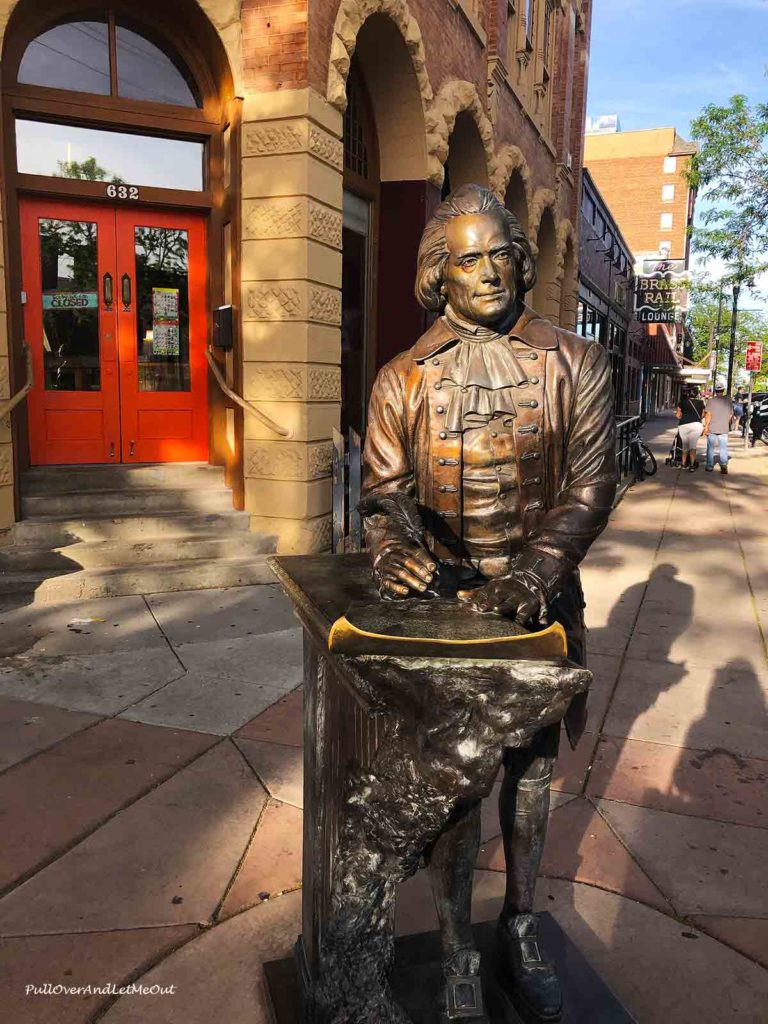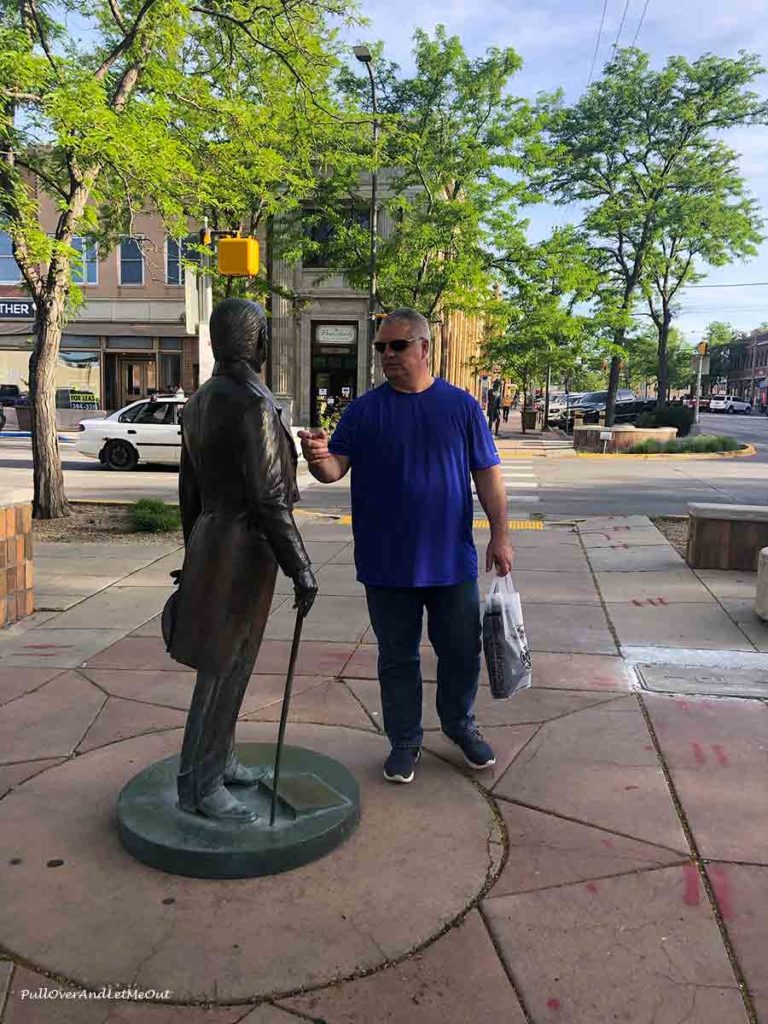 South Dakota's first brew pub is found inside a historic landmark located downtown – the original Rapid City firehouse. Built in 1915 and fully renovated in 1991, the firehouse has transformed into a favorite dining spot, popular with locals and visitors alike. A major part of the brewery's appeal is that the modern-day craft brewery fully embraces its fire-fighting past.
Firehouse Brewing gives a tip of the fire hat to the building's previous occupants with its fire-themed décor, fixtures, and fire equipment. Likewise, the brewery offers delicious craft beers with names like Bell Tower Lager and Firehouse Ale. Moreover, they serve hearty meals such as sandwiches, half-pound burgers, and BBQ. There's also a kids menu filled with kid-size favorites and the young ones can even try out the root beer. We timed our visit to Firehouse Brewing for an early Sunday evening dinner. I had the Buffalo Blue Burger – lean, tasty, and seasoned to perfection! The good food along with the sunny June evening made it the consummate outdoor dining experience.
If you only eat in one restaurant in Rapid City, Firehouse Brewing is the place to go.
Firehouse Brewing Co. 
610 Main Street
Rapid City, SD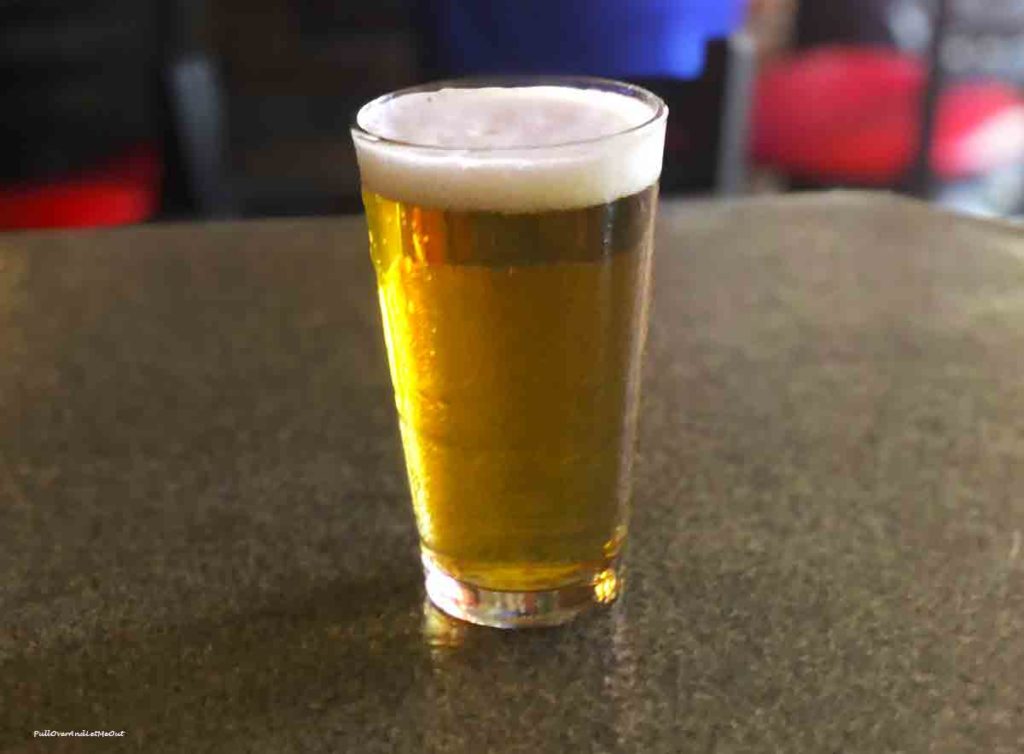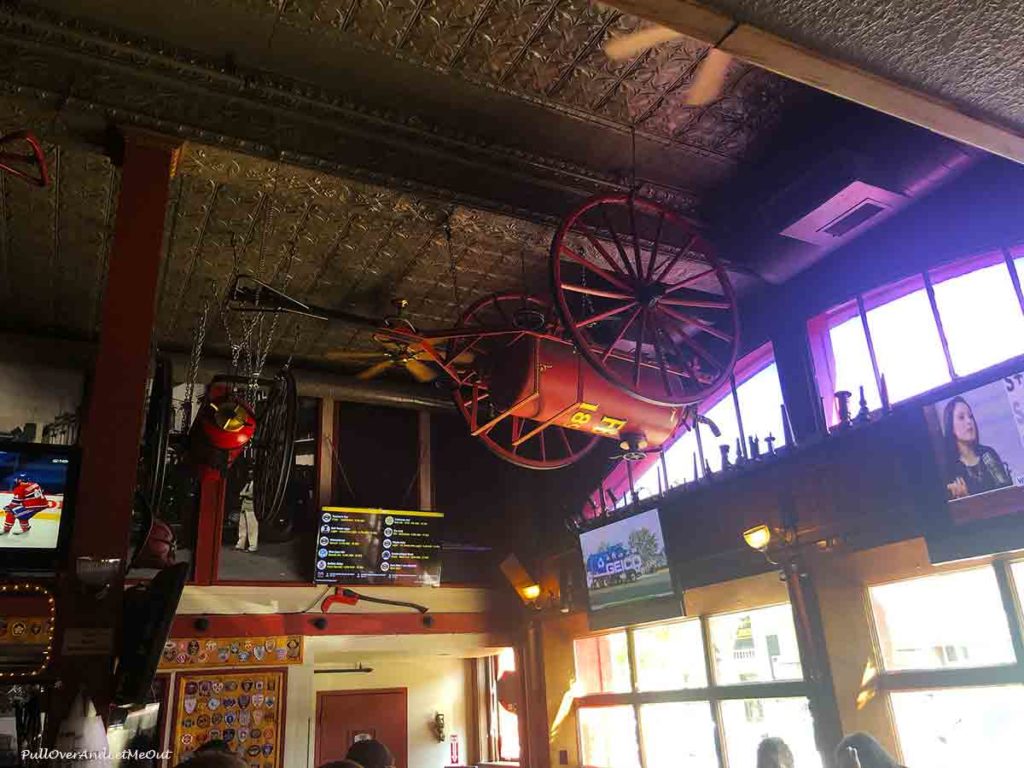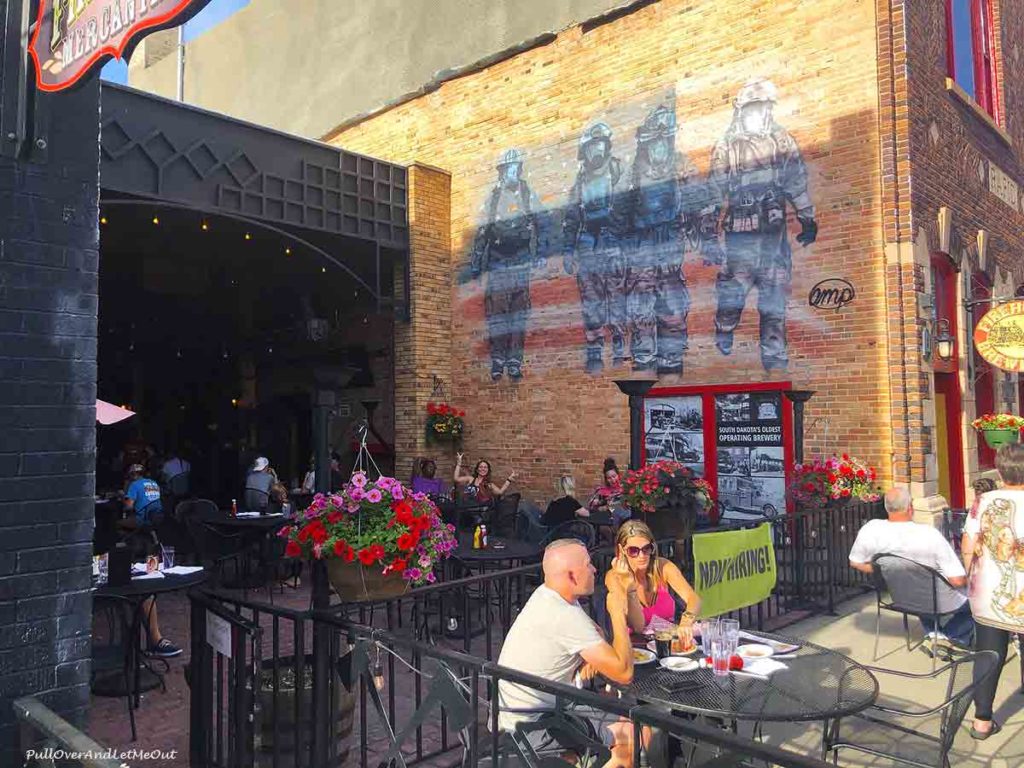 4. Firehouse Wine Cellars
Next door to the Firehouse Brewing Co. is Firehouse Wine Cellars. The lively tasting room and working winery situated in the heart of downtown Rapid City proved to be a delightful find after our evening meal.
Step up to the bar and enjoy a sampling of an assortment of wines. From oak-aged reds to crisp whites to sweet dessert wines, there's something for everyone. Firehouse Wine Cellars feature several wines made using grapes that thrive locally such as Frontenac and Edelweiss. They also serve a wide range of wines crafted from California grapes.
We shared a tasting of five wines: Old Vine Zinfandel, Badlands Merlot, Frontenac Gris, Rushmore Riesling, and Chicken in Pants. You'll have to ask about that one when you visit!
The wines were tasty and refreshing. We even purchased a couple of bottles to take as gifts to share with family we'd be visiting in the coming days and we got a wine glass to enjoy reminiscing as we sip at home.
Firehouse Wine Cellars
620 Main Street
Rapid City, SD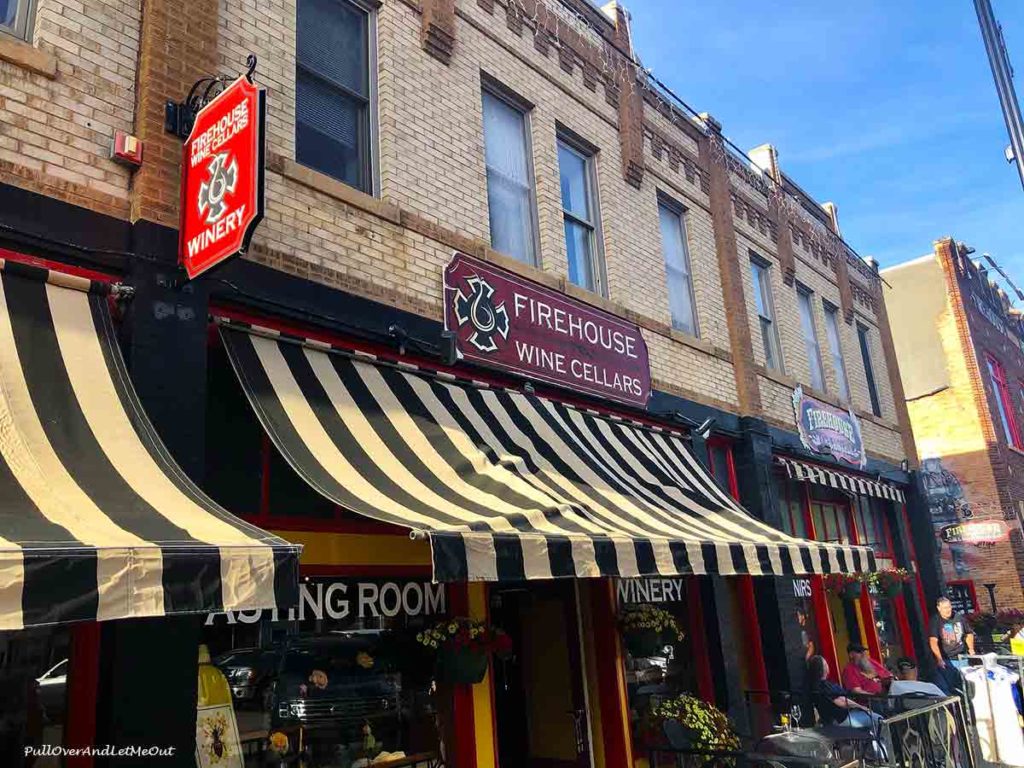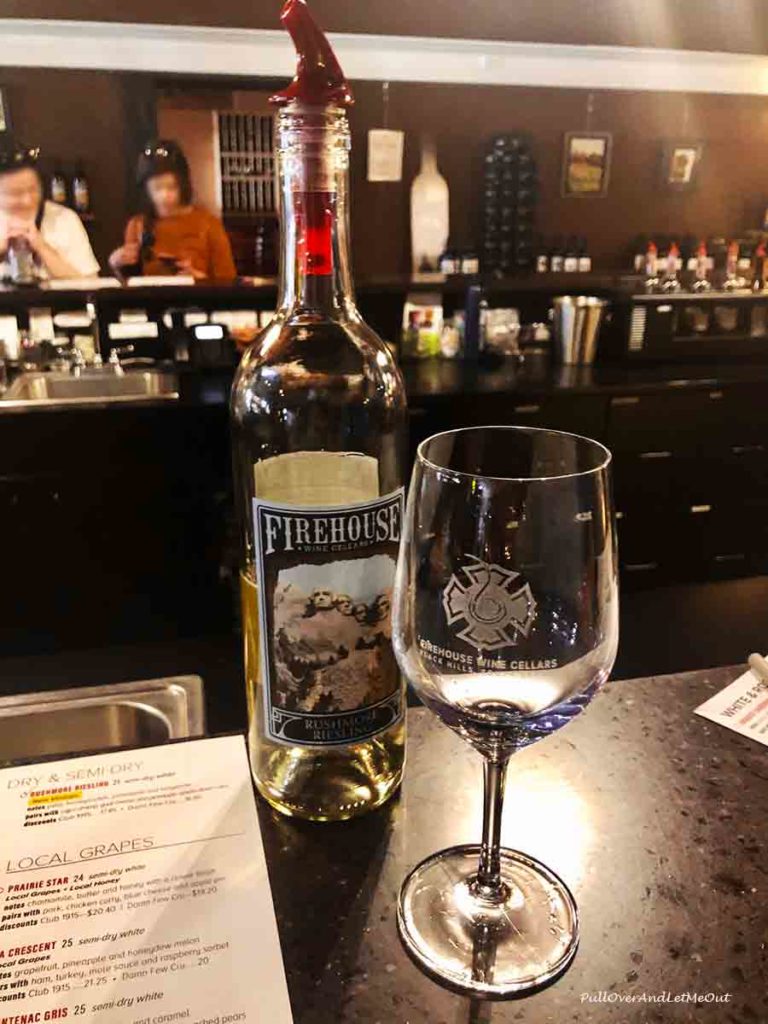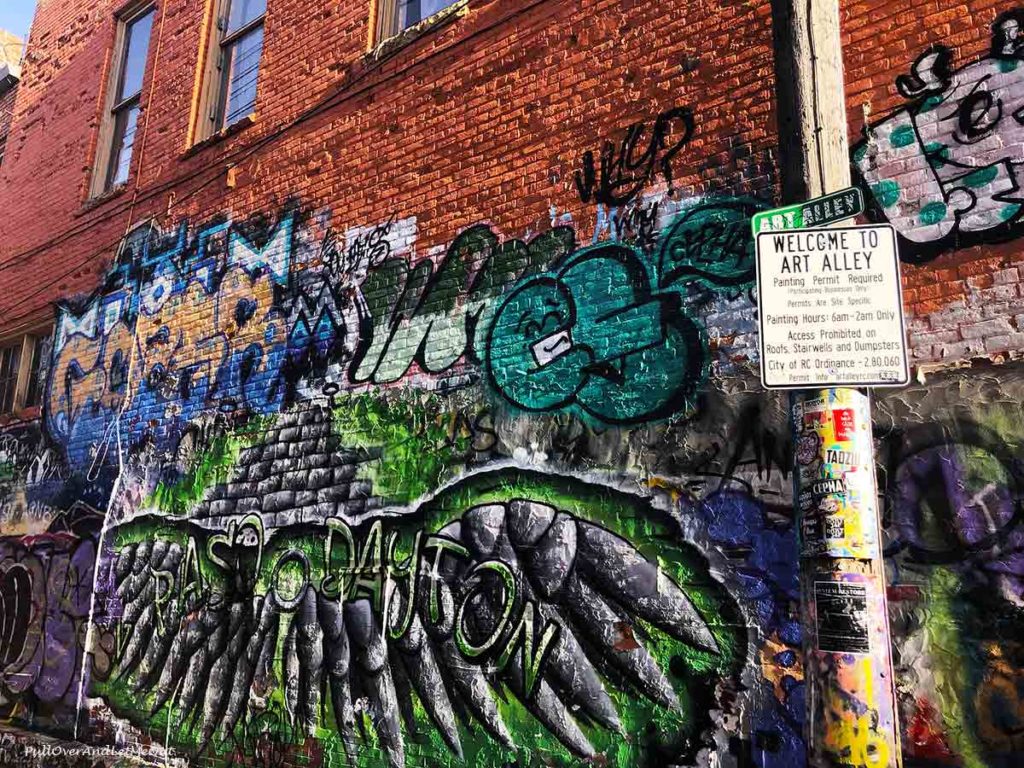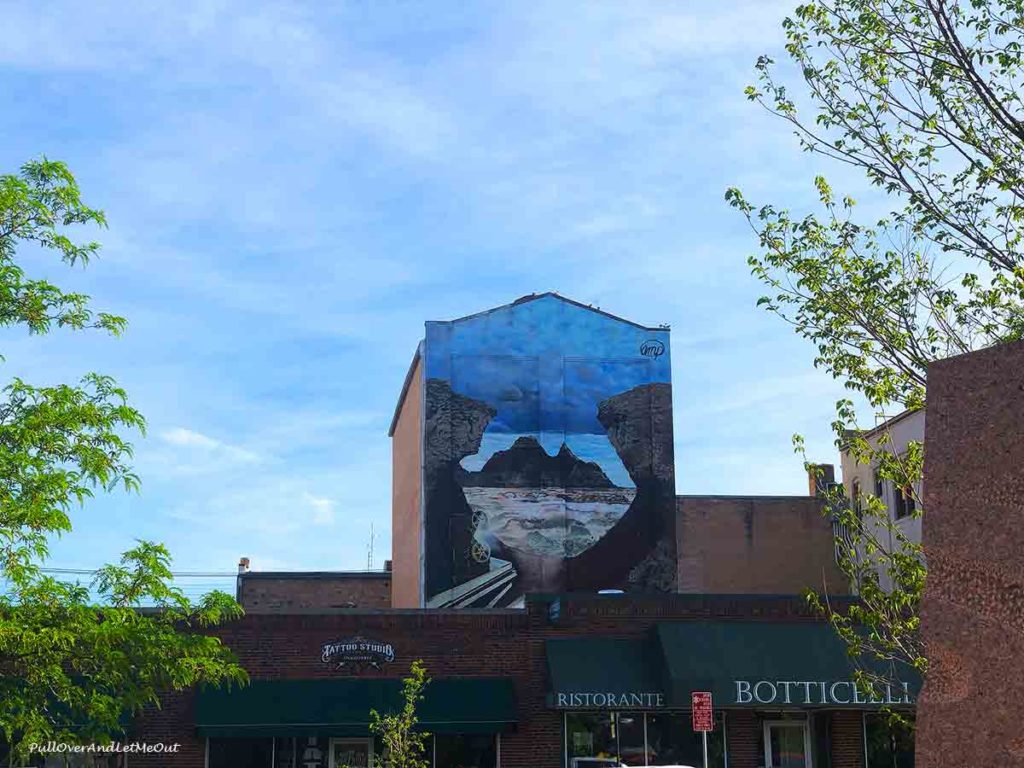 Rapid City is a city of art! The downtown area is filled with colorful, meaningful, and substantial street art. Large murals adorn several downtown buildings. There's also Art Alley, located between 6th and 7th and Main and St. Joseph's Streets where local artists have taken to the walls with their vibrant contributions to the artistic scene.
In addition to the Presidential sculptures, there's an array of sculptures dotting the landscape recounting the history of the region. Likewise, there are multiple galleries and artistic events throughout the year, all adding to the allure and attractiveness of this city that is clearly proud of its western and Native American heritage. It's such a treat to see the artistry on display so abundantly.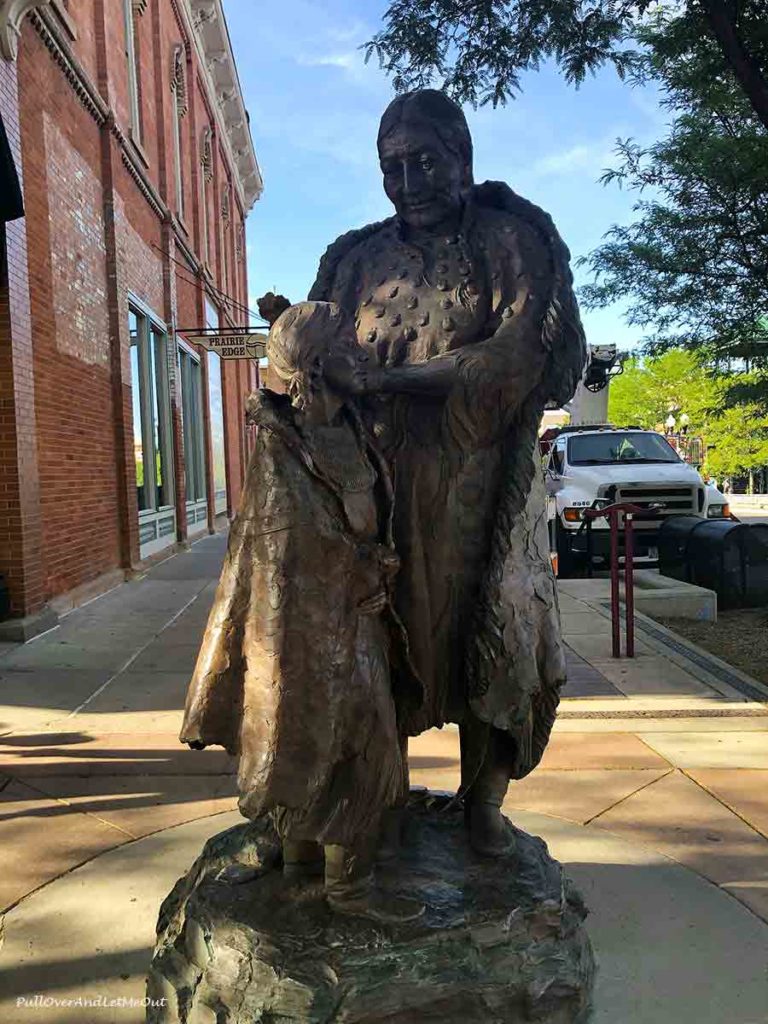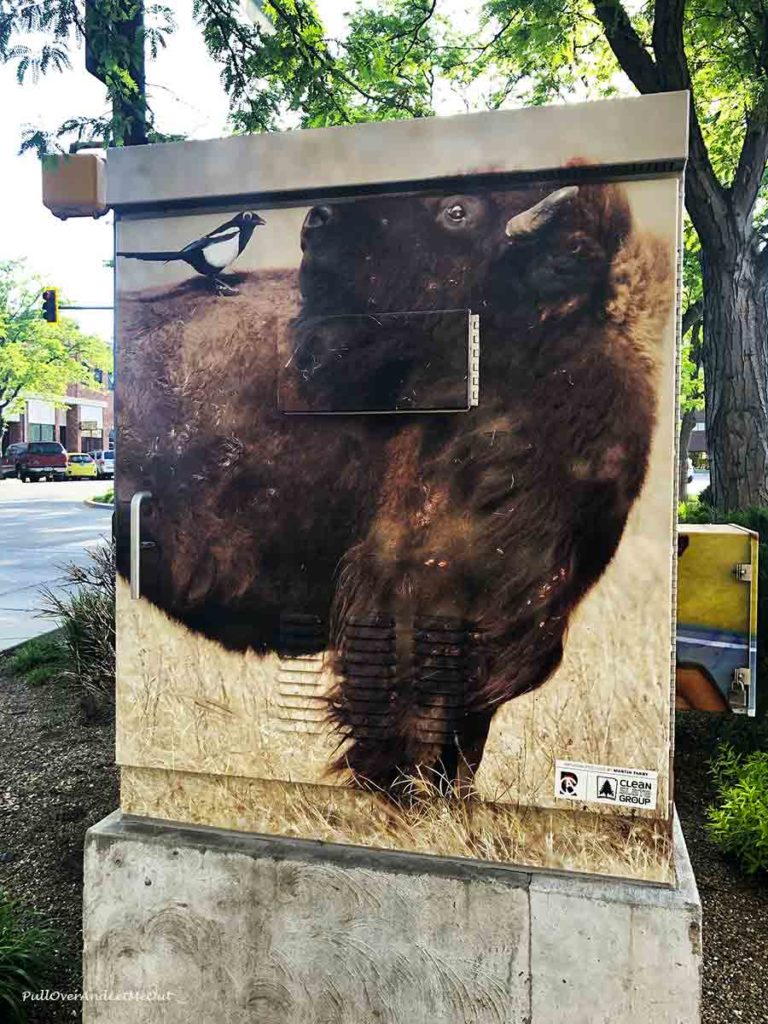 Without a doubt, the Alex Johnson Hotel is the best-known hotel in Rapid City. The vision of Alex Carlton Johnson, Vice President of the Chicago and Northwestern Railroad, construction on the hotel began just one day before construction started on Mount Rushmore in October of 1927. Johnson loved the Black Hills and envisioned creating a "Showplace of the West" as a tribute to the Native Americans and the land.
His creation combined two distinct characteristics, the Plains' Indians tradition which had enthralled him, and the Germanic Tutor architecture, which represented the Dakotas' considerable German immigration. The hotel opened in July of 1928 and has since welcomed a long line of dignitaries and visitors. Today, the Alex Johnson Hotel is a member of the Hilton Hotel chain's Curio Collection and offers all the modern comforts and conveniences while maintaining its timeless appeal.
Even if you're not going to splurge on a stay here, it's worth stopping by to visit. Travel to the Vertex Rapid City Sky Bar and enjoy the panoramic views at the rooftop of the hotel. Vertex features a craft cocktail menu as well as appetizers, entrees, and desserts. Access is complementary for hotel guests and members, but there's a $20 cover charge for non-guests and non-members.
For more casual fare, visit Paddy O'Neill's just off the lobby. Named for the first guest at the Alex Johnson Hotel, Paddy O'Neill's is a taste of the 'ole sod' featuring breakfast, lunch, dinner, and beverages in an Irish Pub setting. It's so good, the locals have voted Paddy O'Neill's the Best Bar in the Black Hills!
And speaking of the lobby, be sure to look at the architecture and interior design. It's truly magnificent and harkens back to the hotel's early days.
The Alex Johnson Hotel
523 Sixth Street
Rapid City, SD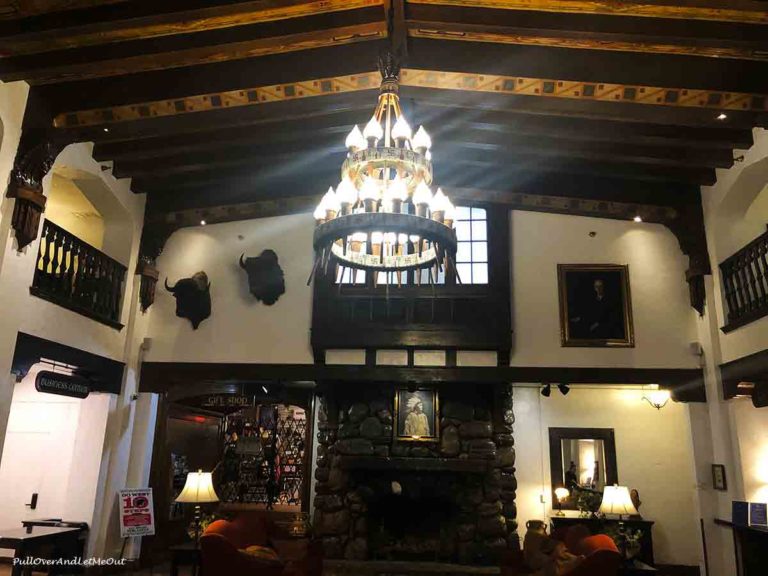 More to love about Rapid City
We only spent a short amount of time visiting downtown Rapid City, but in that time, I fell in love with the atmosphere and laid-back vibe. And while these are only six things to fall in love with, there's still much more to this charismatic town.
My husband and I were so enchanted by Rapid City, South Dakota, we could even envision staying there a while. We asked our waitress about life in Rapid City, and she said, come back in January and ask me then. Point taken. Nonetheless, this delightful city in the Black Hills of South Dakota, swept me off my feet. I'm now a raving fan of Rapid City.
Have you visited Rapid City, South Dakota? I'd love to hear your thoughts! Leave a comment below.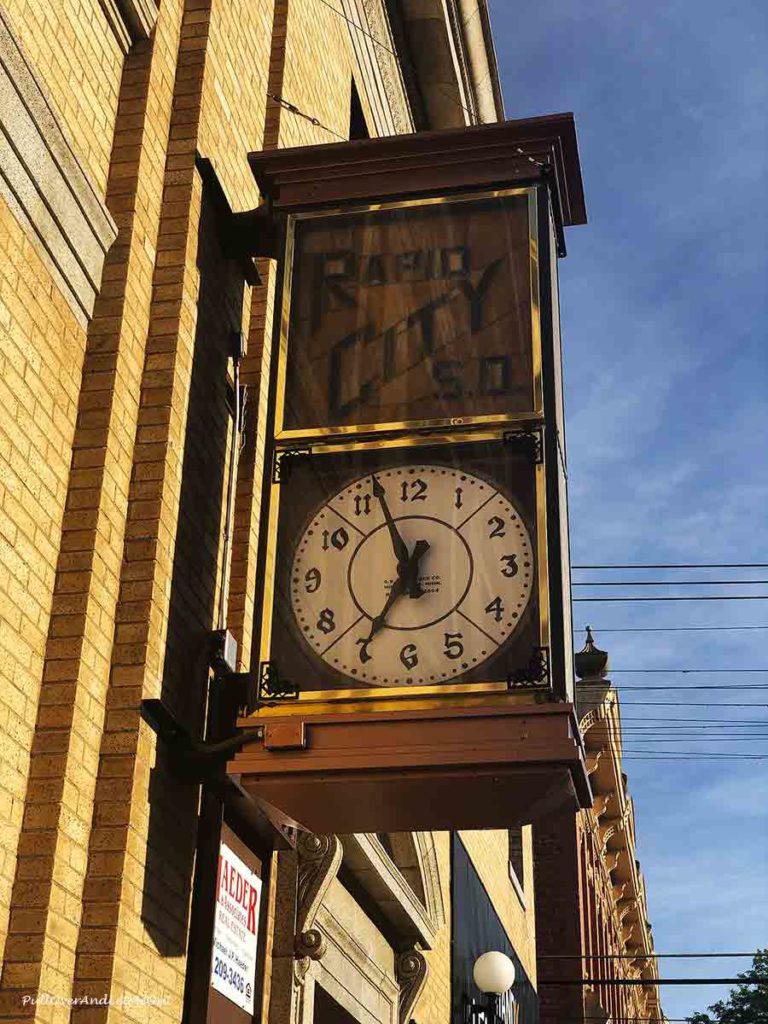 Hey, Pinners! Pin this for later!
► Plan Your Trip to Rapid City Now!
Hey pinners, save this for pinning after your trip
After you get back from your trip, please use these images to post to social media or post your own photos.  Please tag us on your post #pulloverandletmeout
You can also use the social sharing links on the SmartTrip tool.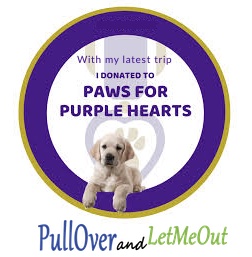 More stories you'll love reading!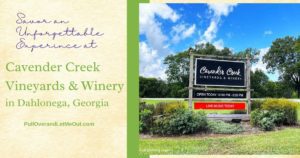 Cavender Creek Vineyards & Winery is a thriving and welcoming wine destination perfect for wine enthusiasts and anyone seeking a scenic escape from the daily grind. Travel there with PullOverandLetMeOut to discover this charming winery in the Appalachian foothills.
Read More »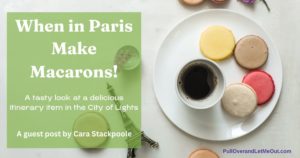 Guest blogger Cara Stackpoole shares a delectable itinerary item in the City of Lights. Discover why making macarons is a memorable experience.
Read More »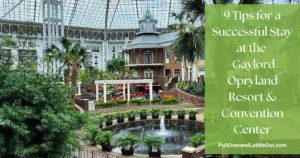 The Gaylord Opryland Resort & Convention Center in Nashville is a well-known attraction in the city. PullOverandLetMeOut looks at some smart hints for making the most of a stay at the famous hotel.
Read More »