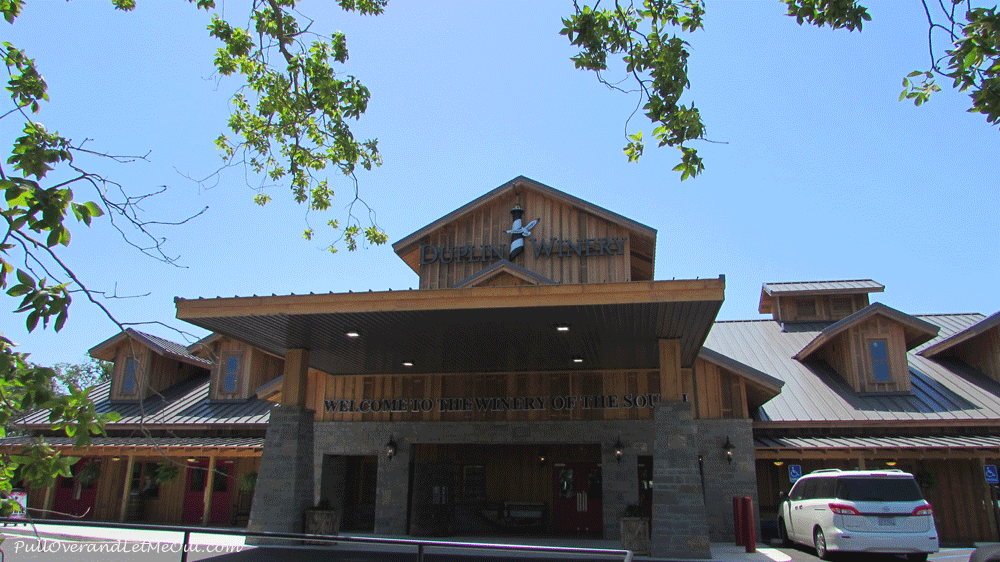 Cool, Sweet & Easy Wines for Three Generations – That's the motto at Duplin Winery of Rose Hill, North Carolina.  The family-owned winery and vineyards have expanded operations and are also open for business on U.S. Highway 17 South in North Myrtle Beach, South Carolina.
I visited their new facility and met with Jonathan Fussell of Duplin.  Fussell took me on a tour of the winery where I experienced first-hand, delicious wine and southern hospitality.  After my time there, I see why Duplin Winery has quickly become a landmark in this beach community.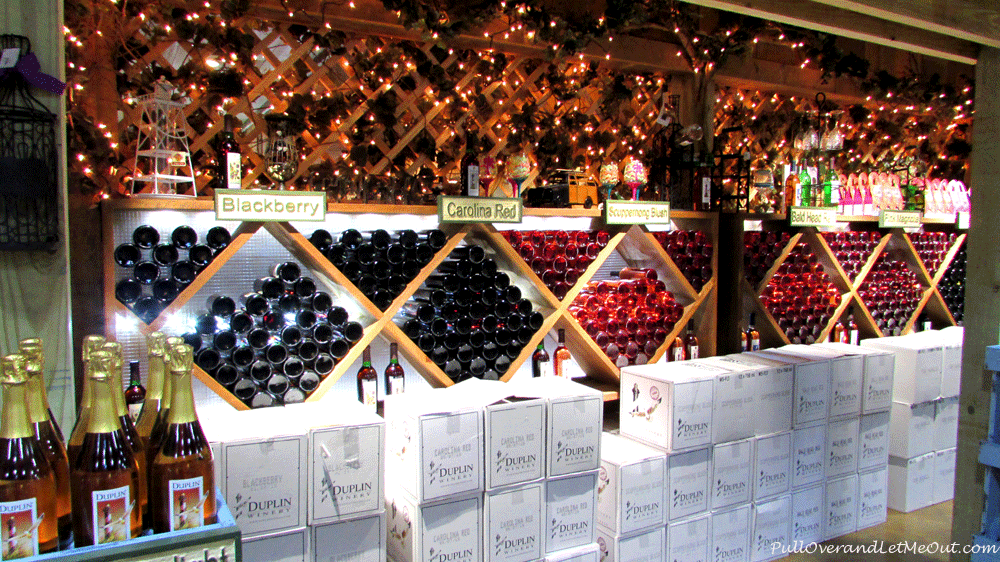 Fussell's family began growing muscadine grapes in the 1950's and 60s.  At that time, the grapes were sent from their vineyards up to the Finger Lakes region of New York to be blended into varietals crafted in New York wine country.
In 1975, a business structure change at their New York grape buyer forced the family to change their business model.  The change was significant – they started making their own wines in Rose Hill, North Carolina. It was the genesis of Duplin Winery.
Today, Duplin grows their grapes in four states and processes them in North and South Carolina. The bottle with the lighthouse on the label is recognized across the southeast and beyond. Duplin Winery is renown for its award-winning, dry, sweet-style wines and in 2015 is on target to sell over 400,000 cases.
Why Myrtle Beach, South Carolina?
The Duplin Winery located in Rose Hill, North Carolina has been attracting visitors from around the Carolinas for years.  By opening a winery in Myrtle Beach, Duplin is expanding its reach to visitors from all over the country and even the world.
Myrtle Beach is famous for its sandy beaches, low-country seafood, and golf.  The casual atmosphere and beach ambiance blend perfectly with the sweet, laid-back taste and attitude associated with Duplin wines.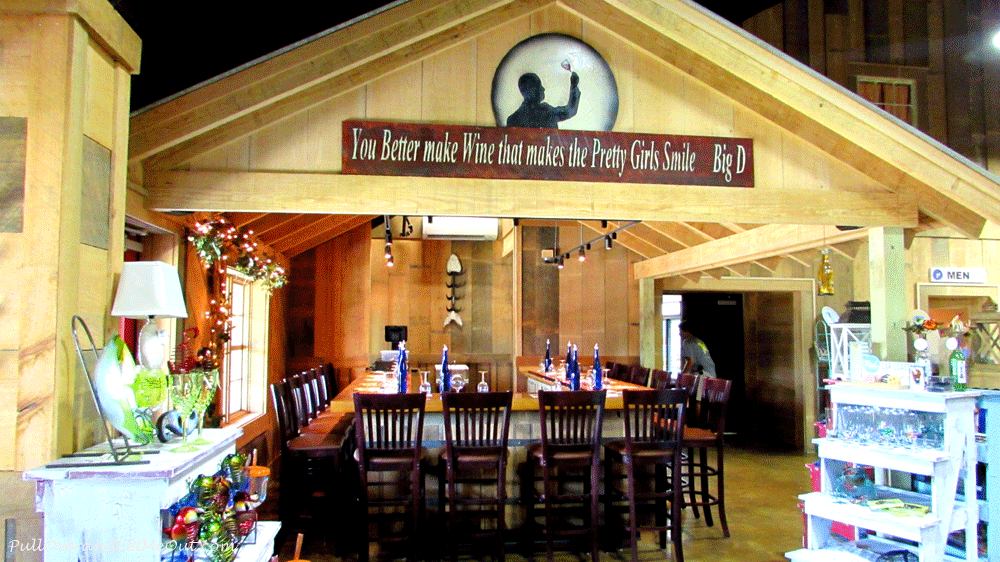 What to expect at Duplin Winery
What should you expect when visiting Duplin Winery?
Expect a good time.
Fussell notes his ultimate goal is for visitors to enjoy themselves.  This isn't a pretentious, uptight winery. Duplin is a casual, fun environment with a down-home, southern charm. Visitors are greeted with a warm hello that sets the tone for a visit filled with sampling, tasting, shopping, and laughter.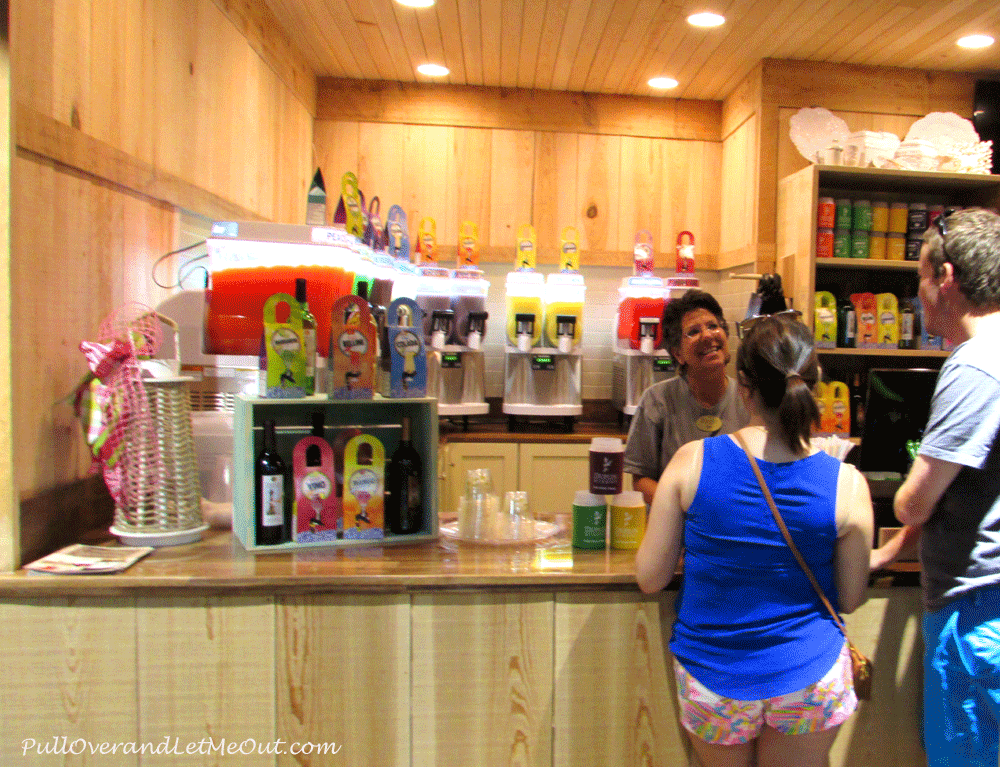 Visitors may sample more than wine.  Guests try out wine fudge, jams, slushies and more…
Duplin wines are made from muscadine grapes.  Muscadine is a native grapevine of the southeastern United States and has been cultivated for centuries in the region where it thrives in summer heat and humidity.  The wines crafted from muscadine grapes are typically sweet, though some are dryer.
Duplin features an array of wines including; Scuppernong, Burgundy, Carolina Red, Pink Magnolia, and their best-selling Hatteras Red. For a small fee, visitors to Duplin Winery may climb on a bar stool and enjoy a tasting.  A tasting is a wonderful introduction to the Duplin wines and features samplings of 13 different wines.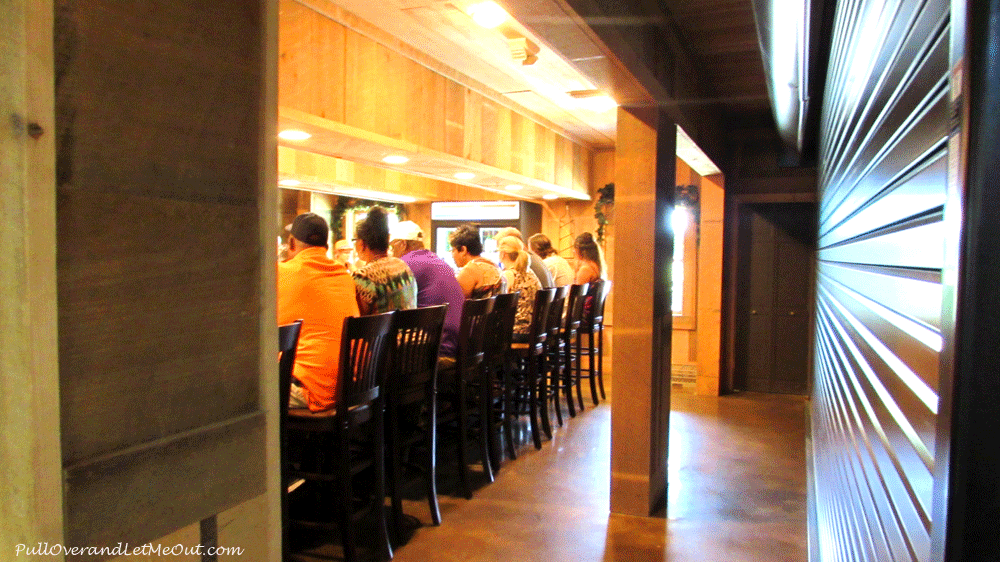 A tasting is a wonderful way to spend an afternoon.
In addition to the shopping and wine tasting, Duplin Winery is also a state-of-the-art winery with the capacity to produce up to 1.5 million gallons of wine.  The staff is all highly trained and happy to answer questions.
Tours run every hour at the top of the hour.  Visitors can get up close and learn all about the wine making process and see the behind the scenes operations.  Take the tour and stay for a tasting – it's a wonderful way to spend an afternoon.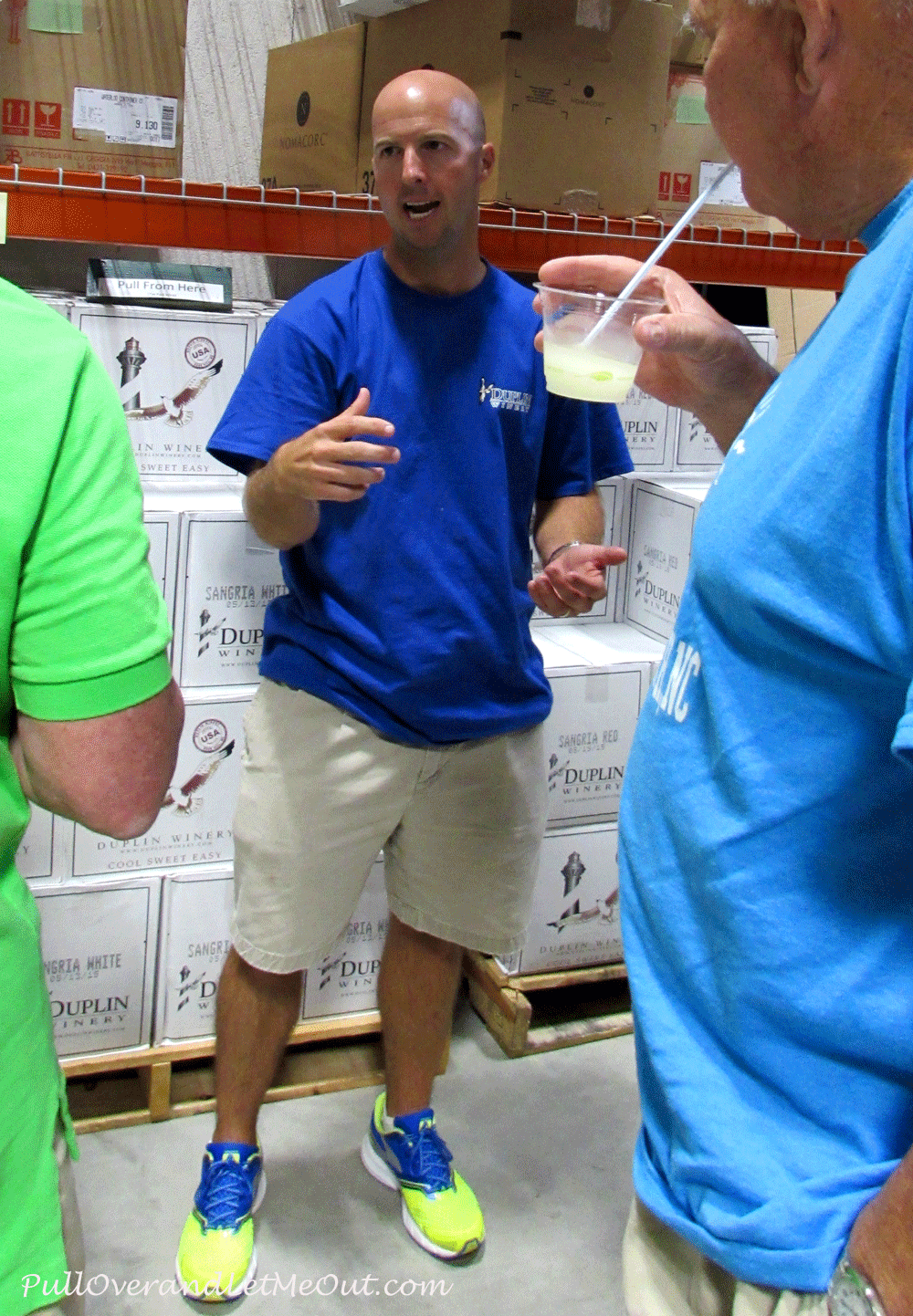 Jonathan Fussell of Duplin Winery gives visitors a tour of the winery.
Who will enjoy visiting Duplin Winery?
Duplin Winery is a friendly, relaxed winery offering more than just wine so it appeals to a wide range of guests.  From tastings to tours, music and wine on the patio, food, sauces, shopping, slushies, fudge, and beyond, time spent at Duplin Winery can be whatever you want it to be.  Spend a few minutes or spend an afternoon; regardless of how much time you can visit, you'll feel welcomed.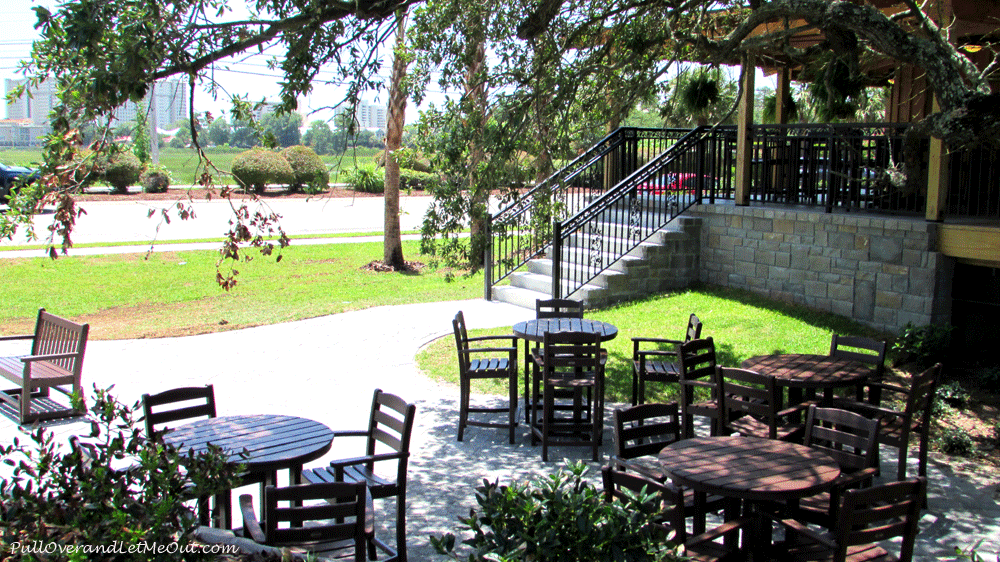 I asked Jonathan Fussell what one thing he feels is most important for visitors to know about Duplin Winery.  Without hesitation he noted,  the number one thing they strive for is a consistent, family feeling.  He wants his guests to feel welcomed and at home.  As he says, "We're not gonna ask you to drink wine with your pinkie out, we just want you to have fun."
Duplin Winery is opened Monday through Saturday from 11 a.m. to 9 p.m.
4650 Hwy 17 South,
N. Myrtle Beach, SC 29582
Next to Alligator Adventure and Barefoot Landing

1-800-774-9634 FREE
Hey, Pinners! Pin this for later!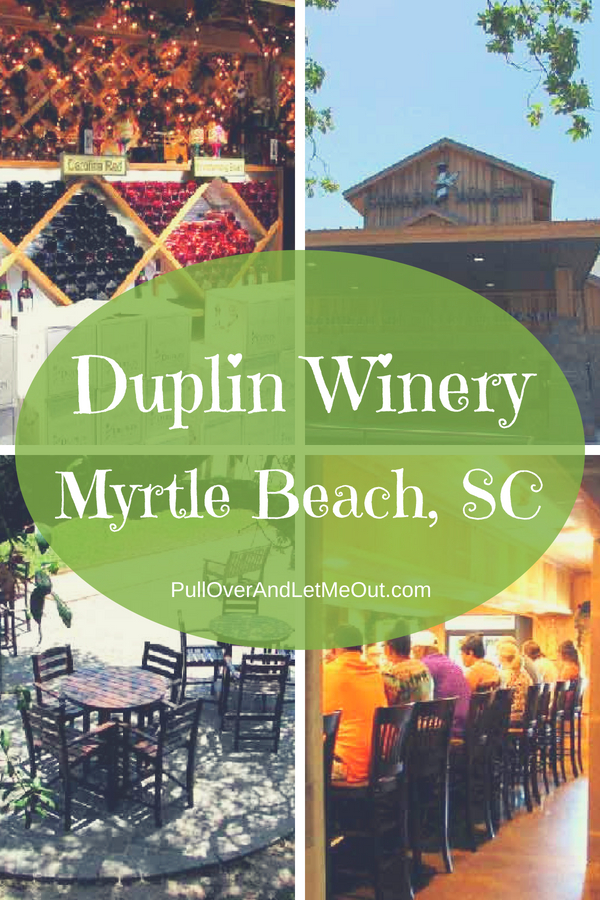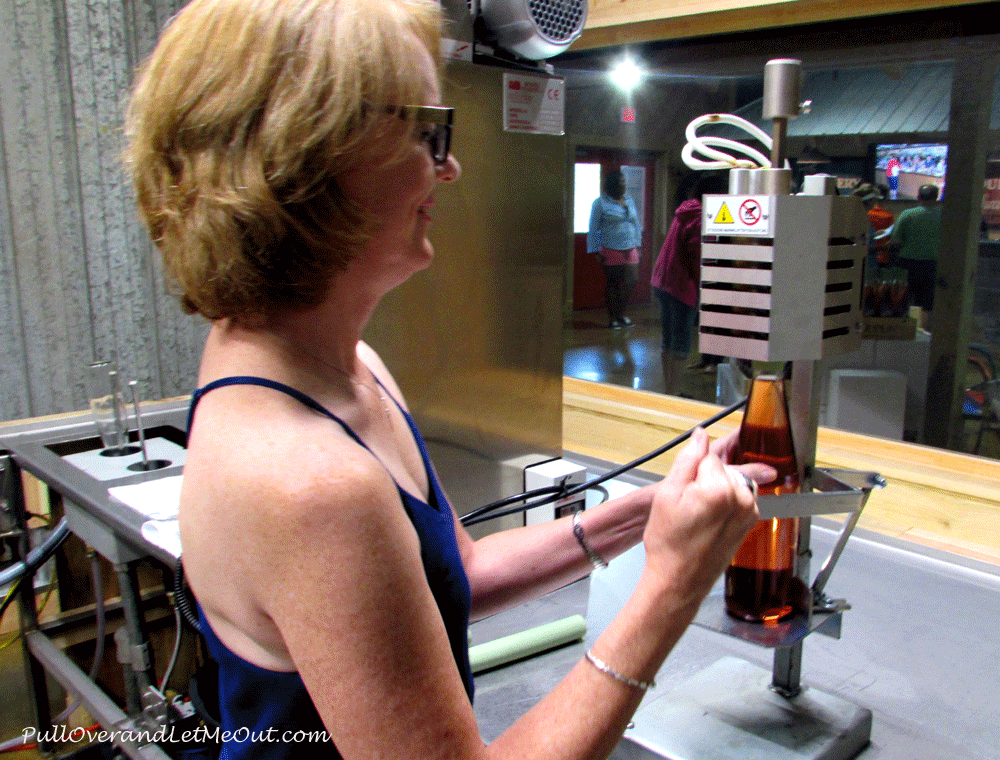 On my visit, I got to help bottle their new release Going Coastal.