Romantic bed and breakfast inns are splendid accommodations when planning a getaway weekend. Whether your goal is a passionate interlude or a cozy stay that's out of the ordinary, you're certain to find a welcoming bed and breakfast to satisfy your travel needs. Over the years, I've had the pleasure of staying at many fine inns throughout the southeast. Here is a look at ten Pull Over and Let Me Out favorites.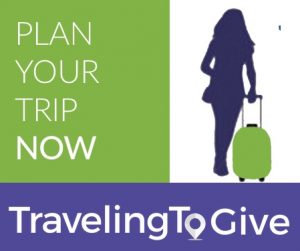 Disclosure:
Many of the links you see on this site and within our trip planning tool are affiliate links. If you click through and make a purchase, I'll get a small commission and it won't cost you any extra. On selected stories, for those hotel and car bookings made using our TravelingToGive™ tool we contribute 2.5% of gross hotel and car sales to Paws for Purple Hearts. So, thanks in advance for helping me keep bringing you the content you enjoy and, at the same time, giving back to those who so bravely serve our country! #everytripmatters
Romantic Bed and Breakfast Inns of The Southeast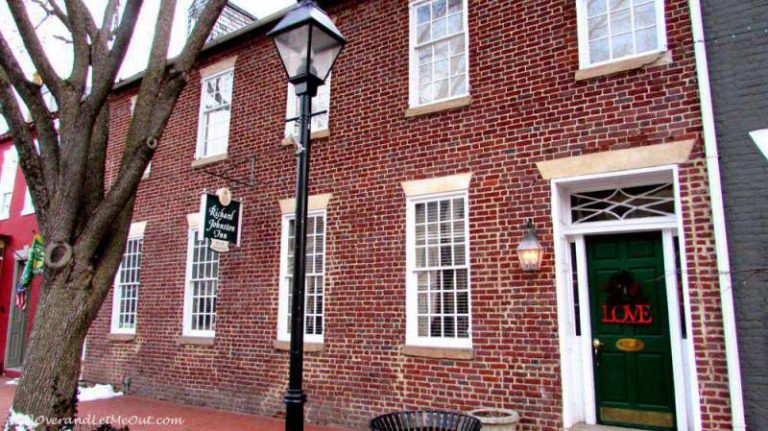 1. John Rutledge House in Charleston, South Carolina
Style and elegance are two adjectives that immediately come to mind when staying at the John Rutledge House Inn in the center of Charleston's historic district. A member of the Select Registry of Historic Inns of North America, the Rutledge house or JRH as it's fondly referred to, is also one of Charleston's oldest homes.
This is an exclusive high-end stay. From the moment of arrival until departure, every touch, every detail, and need is thought of and catered to. The food is amazing here, from breakfast in bed, should you choose, to the afternoon tea, it's a culinary treat. A stay here is one to remember or should I say, it's historic! You can read more about my time at the John Rutledge House Inn, here. 
The John Rutledge House Inn
116 Broad Street
Charleston, South Carolina 29401
(800) 476-9741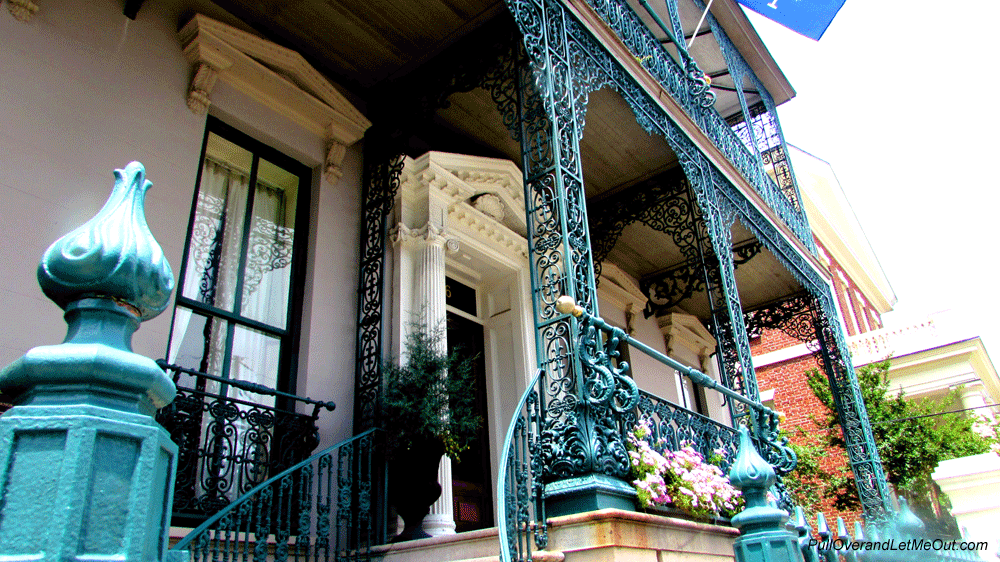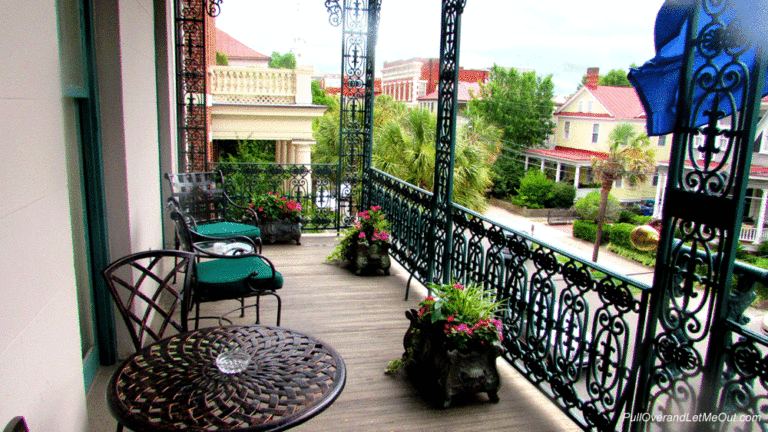 2. Museum District Bed & Breakfast in Richmond, Virginia
Richmond, Virginia is a city of distinctive neighborhoods. Tucked in the middle of the Historic Museum and Fan Districts you'll find the Museum District Bed & Breakfast. The spacious historic home built in 1922 is footsteps away from the Museum of Fine Arts and the Virginia Historical Society. With expansive guest rooms, cheerful common areas, and enticing morning meals, this conveniently located B&B offers guests an abundance of romantic options while staying in the capital city. Click here to read more.
Museum District Bed & Breakfast
2811 Grove Avenue
Richmond, VA
804-359-2332
3. Front Street Inn in Wilmington, North Carolina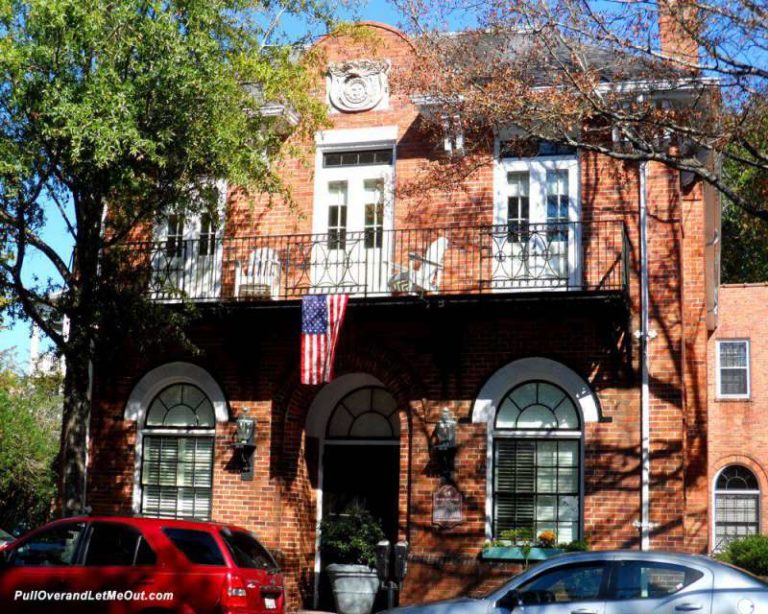 Front Street Inn located in the waterfront area of downtown Wilmington, North Carolina, is the epitome of a romantic bed and breakfast inn. The historic old building was once the Salvation Army building. Today, it's the ideal spot for a romantic weekend interlude. Comfortable well-appointed rooms decorated with works of art by local artisans, this guest house is conveniently located and within walking distance of a variety of attractions, romantic dining, and the popular Wilmington Riverwalk.
For a truly romantic visit, plan ahead and order tickets for a horse-drawn carriage tour of the city or request a chilled bottle of wine and chocolate-covered strawberries to be waiting for your special someone when you arrive. The owners will be happy to help make your visit extra special. Click here to learn more.
Front Street Inn
211 S. Front Street
Wilmington, North Carolina  28401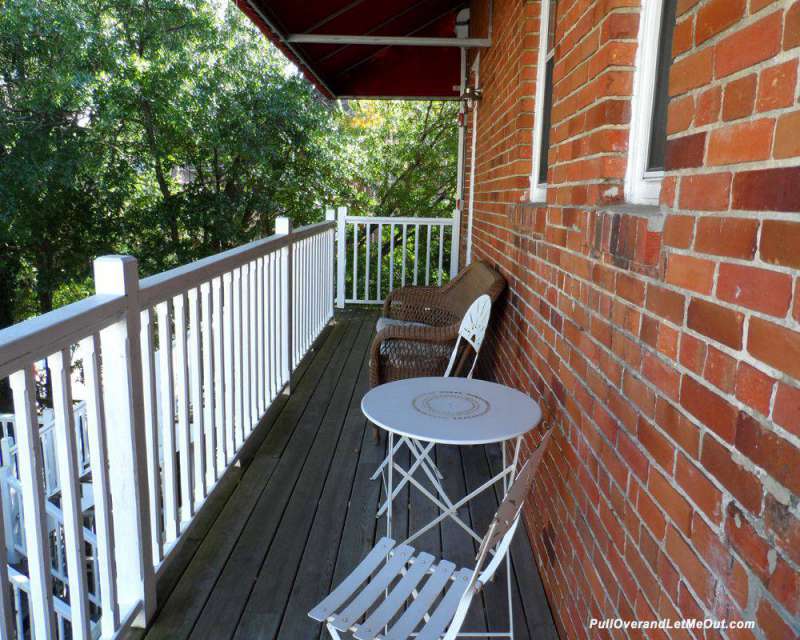 4. Hood House in Hood, Virginia
What's more romantic than a beautiful front porch?
At Hood House, circa 1850, in bucolic Hood, Virginia, you'll fall in love with the quaint, cozy, charming, and peaceful location. With five spacious rooms, classicly comfy common areas, and of course the huge front porch; this quaint bed and breakfast offers an array of romantic options.
Hood House is located along the Route 29 corridor of Virginia and is a short drive from Early Mountain Vineyards, a premier Virginia winery. Additionally, Hood House is convenient to James Madison's Montpelier, Charlottesville, Shenandoah National Park, Skyline Drive, and many local historical sites. It also boasts beautiful views and a stunning rural backdrop for a romantic escape.
By the way, this is the only place I've stayed where I got a hug goodbye and received a handwritten thank-you note!  (read more)
Hood House
1803 Wolftown-Hood Road
Hood, VA 22723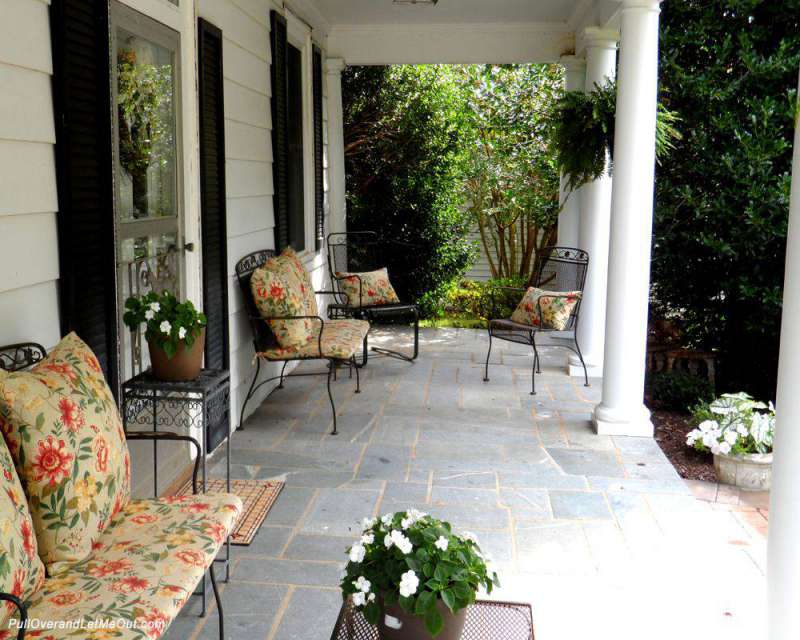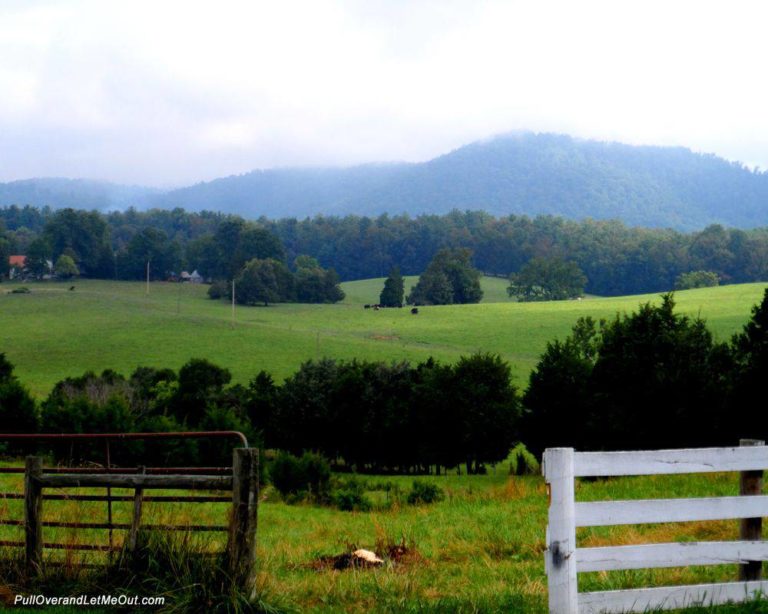 5. Arrowhead Inn Bed and Breakfast in Durham, North Carolina
Built in the 18th-century, this historic home features nine exquisitely decorated guest rooms. Seven of the rooms are in the main house. Additionally, there's a cozy cottage and a rustic log cabin on the property. Each room is packed with amenities such as steam showers, a mini-fridge, comfortable beds, air jet tubs, and a fireplace.
Nestled in the woods on six-acres, this Select Registry Inn and AAA Four Diamond Inn is located on the edge of Durham. The romantic bed and breakfast inn is close enough to enjoy all the action of the city, yet a peaceful retreat at the end of the day. However, what really sets Arrowhead Inn apart from others is the food. Sumptuous breakfasts and three evening meals per week are prepared expertly using the freshest local ingredients to ensure a gastronomic delight at the Arrowhead Inn. (Read more here)
Arrowhead Inn Bed and Breakfast
106 Mason Road
Durham, NC  27712
919-477-8430
info@arrowheadinn.com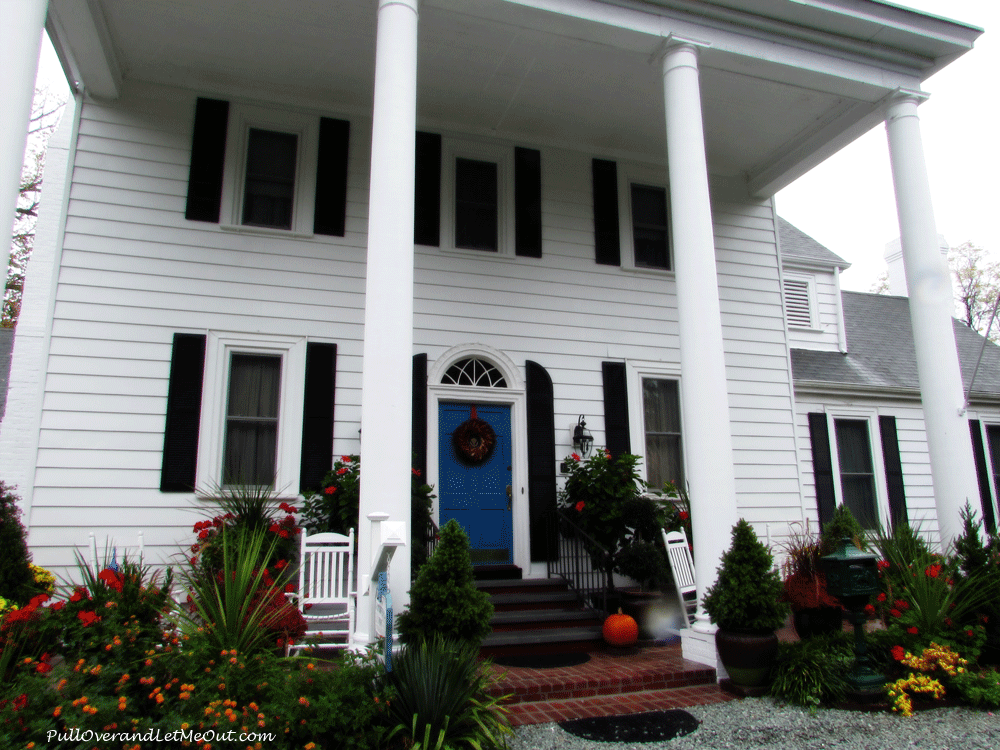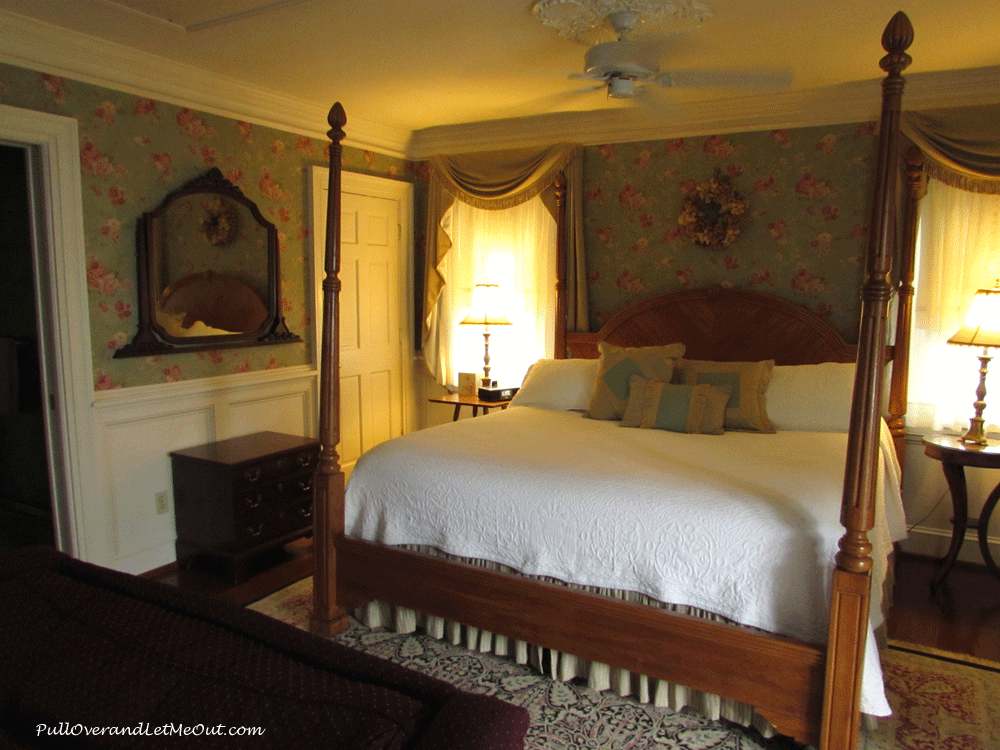 6. Maurice in Onancock, Virginia
Come for the pristine beauty of Virginia's Eastern Shore and stay for the fun fine fusion restaurant at Maurice.
There are only four guest rooms, so book early to enjoy this peaceful, coastal hideaway in the tiny hamlet of Onancock. Centrally located, the romantic bed and breakfast inn is close to a variety of attractions and activities such as kayaking, hiking, winery tours, craft breweries, antiquing, and more.
However, Maurice is most renowned for its restaurant. Every night is a culinary affair, with an ever-changing menu, sure to make your taste buds dance.
We had the pleasure of staying here while enjoying an Ugly Oyster Tour of the region where the Chesapeake Bay meets the Atlantic Ocean. We were thrilled to savor a delicious meal after a long day. The accommodations were comfortable and yes, there are plenty of romantic possibilities.
Maurice
145 Market Street
Onancock, Virginia  23417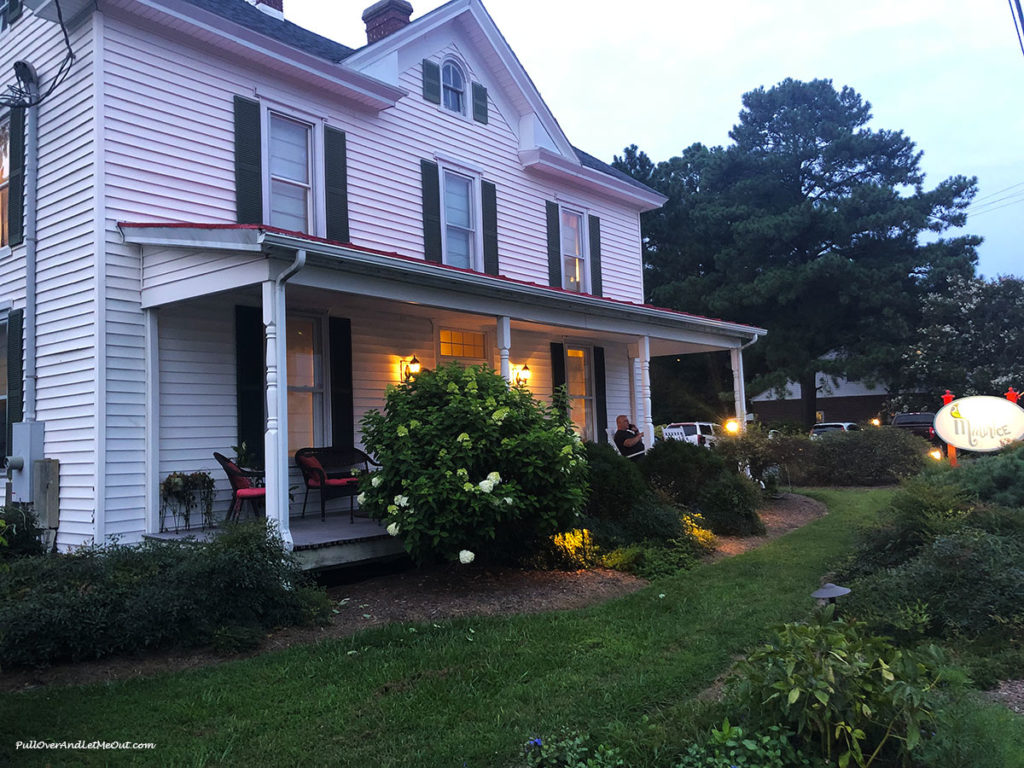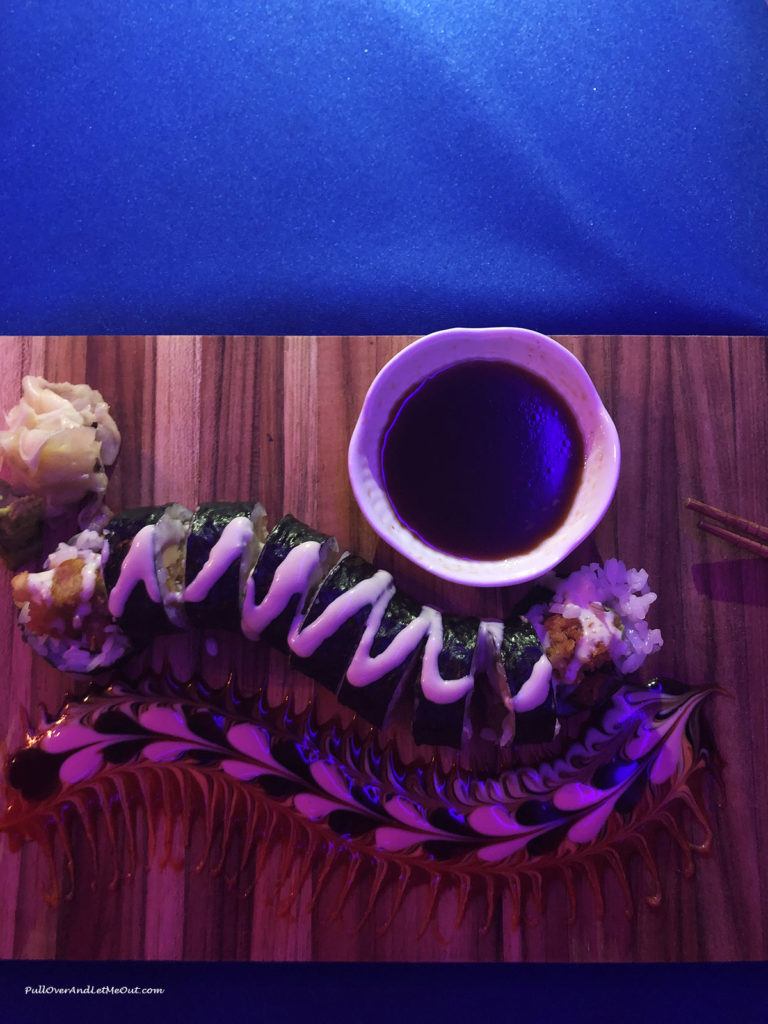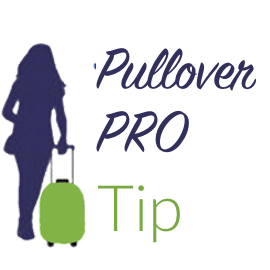 You know a restaurant is good when the locals go there! Maurice is very popular in Onancock so be sure to make dinner reservations in advance so you won't miss out on this dining experience.
7. Lazy Bear Lodge Bed and Breakfast in Valle Crucis, North Carolina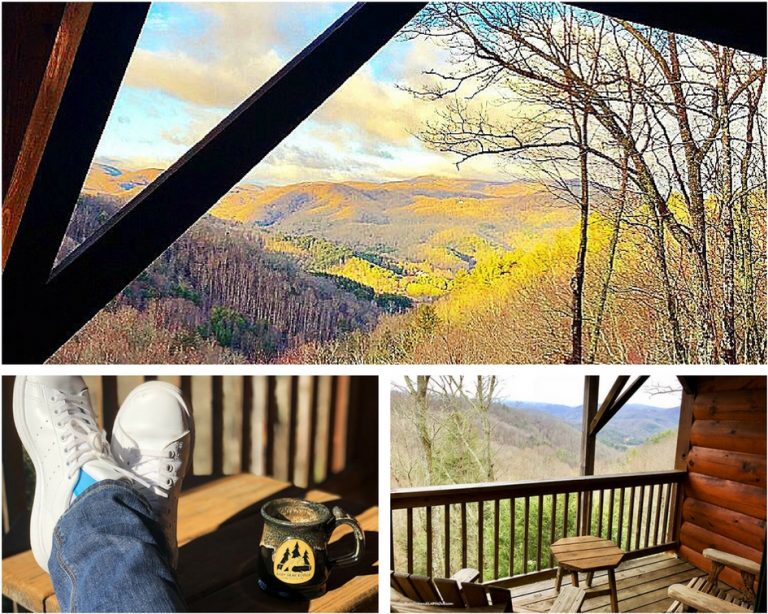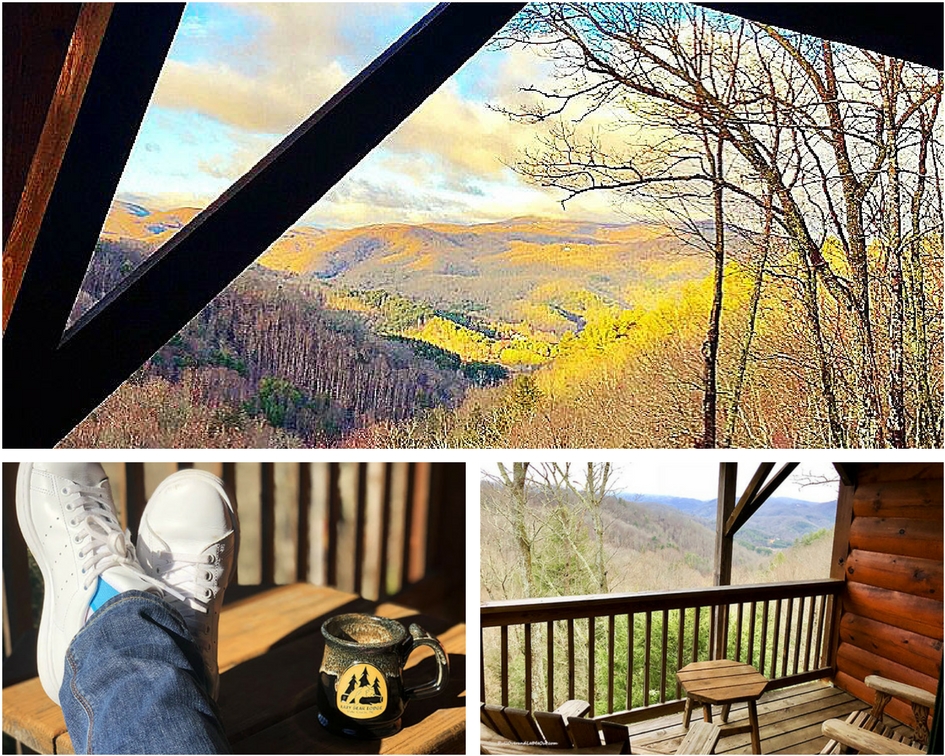 The breathtaking beauty of the Appalachian Mountains awaits at The Lazy Bear Lodge in Valle Crucis, North Carolina.
Located just outside of Boone, this mountain retreat has everything you could wish for in a romantic break. The log cabin nestled in the woods features beautifully furnished guest rooms, roomy common spaces, grand front, and back porches, and spectacular views of the mountains. All these amenities blend together creating an atmosphere at Lazy Bear that's one-of-a-kind.
Close to major attractions, wineries, craft breweries, dining, and outdoor activities such as fishing, skiing, hiking, and sightseeing; there's plenty of multi-season activities within a short radius. Schedule a romantic couple's massage to unwind and relax or snuggle by the fireplace if tranquility is on your agenda.
Still, it's the little touches that make staying at the Lazy Bear Lodge memorable. Chocolates on your pillow, lush comfortable beds, tasty breakfasts, and bear accent pieces throughout the inn make the ambiance at Lazy Bear sublime. (read more)
Lazy Bear Lodge Bed and Breakfast
315 Lazy Bear Trail
Valle Crucis, North Carolina 28692
828-963-9201
lazy-bear-lodge.com
8. Elmwood 1820 B&B Inn in Washington, North Carolina
Small southern towns exude romance. In Washington, North Carolina, or as it's lovingly called, Little Washington, Elmwood 1820 Bed & Breakfast Inn is imbued with romance and nostalgia.
The tiny town on the Pamlico Sound is steeped in history but has a romantic vibe you can't miss. Visitors enjoy the downtown historic district, strolling the riverwalk, shopping, museums, dining, and sensational sunsets.
The Elmwood has been a longstanding fixture and gem in Washington for nearly 200 years. It's an iconic luxury inn synonymous with elegance and refinement. The Elmwood's sweeping porches and spacious rooms beckon guests to spend time and relish the southern charm. (learn more here)
Elmwood 1820 B&B Inn
731 W. Main Street
Washington, North Carolina  27889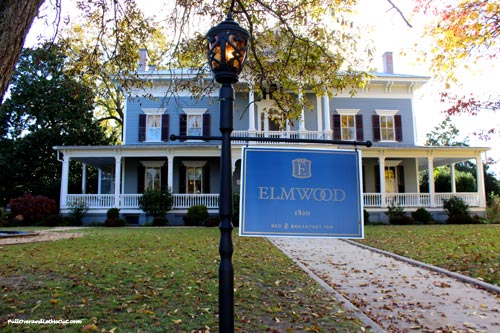 9. Pruitt House in Brookneal, Virginia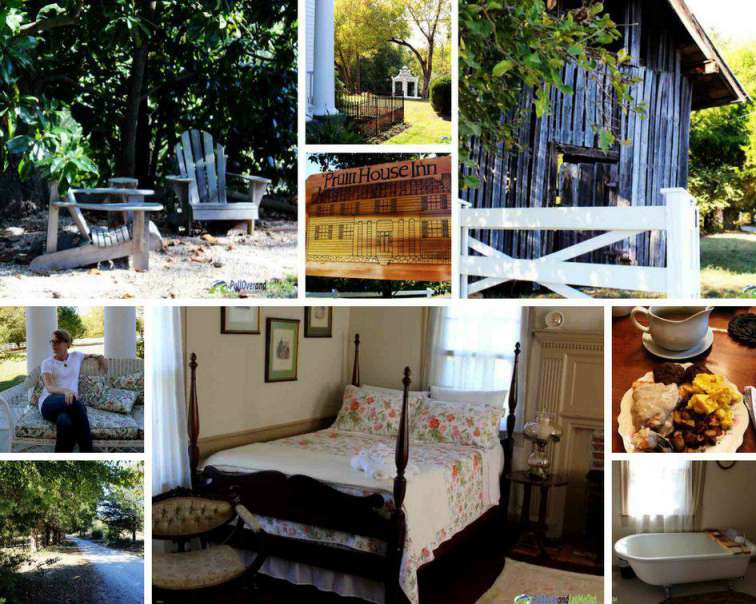 I fell in love with the town of Brookneal, Virginia. I even went so far as to question if this is the ultimate escape destination. Located in rural southern Virginia its the exemplary American small town. Where does one stay while visiting such a place? The Pruitt House Inn.
The historic home designed by Michael Pruitt, a neighbor of Patrick Henry's, occupies 25-acres at the end of a quiet road on the outskirts of the city. Surrounded by magnificent walnut, magnolia, and pine trees, and vast pastures, here you can avoid the stress of city life and breathe comfortably into the sound of chirping crickets or star-gaze to your heart's content.
Brookneal is a sleepy town on the Staunton River so there's plenty of small-town charm, outdoor activity, a wonderful winery, and Patrick Henry's home Red Hill to list among the things to do while you're visiting. However, you may prefer to simply set a spell on the porch. (more)
The Pruitt House Inn
831 Cook Avenue Brookneal, VA 24528
434.376.1388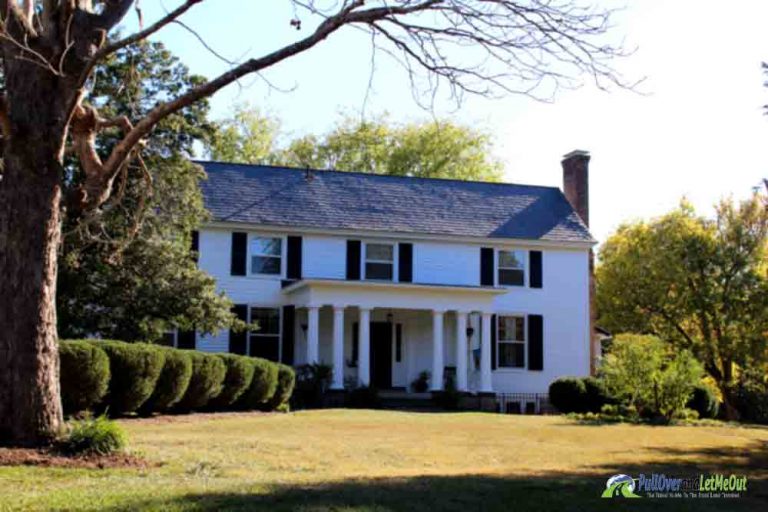 10. Richard Johnston Inn in Fredericksburg, Virginia
Richard Johnston Inn is a state-of-the-art 18th-Century Inn located in historic Fredericksburg, Virginia. Designed by John Taylo, Jr. in 1770, Richard Johnston Inn is located on Caroline Street in the popular historic downtown area across from the Visitors Centre driveway. The building has a fascinating background and has played a significant role in the history of the city.
With its Revolutionary and Civil War history, Fredericksburg has much to offer. The attractive early American city is brimming with romantic possibilities. Walking the downtown streets in and of itself is education but there's also dining, shopping, entertainment, galleries, and more. A stay at this romantic bed and breakfast inn of the southeast is unforgettable. I have to say, as I departed in the morning, I vowed to return. You will too. 
The Richard Johnston Inn
711 Caroline Street
Fredericksburg, VA
540-899-7606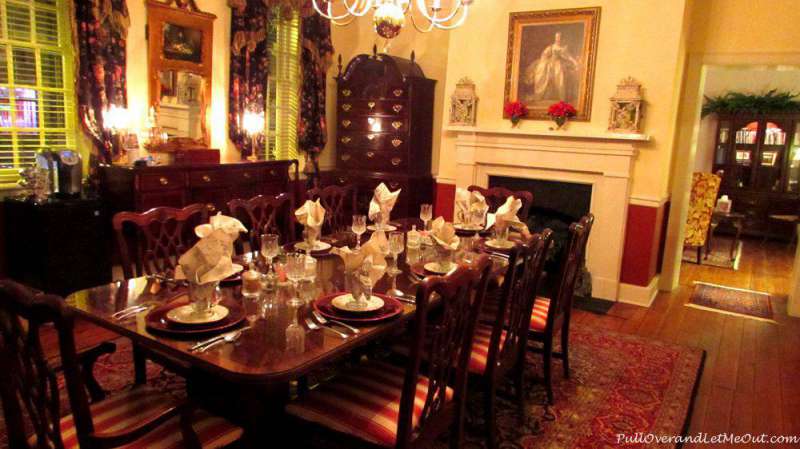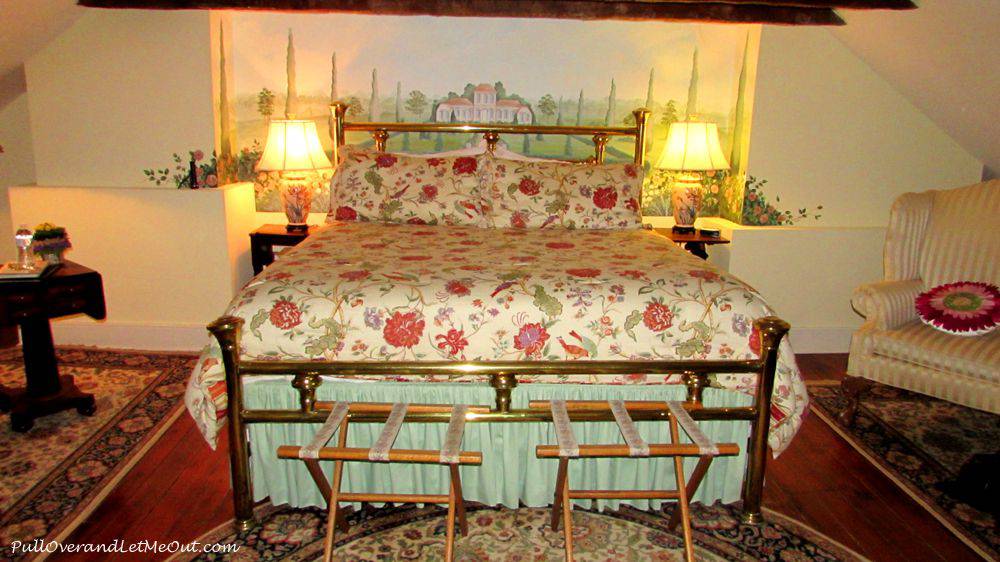 More Romantic Bed and Breakfast Inns of the Southeast
I know I've hardly scratched the surface with these 10 romantic bed and breakfast inns of the southeast. There are oodles more to discover and visit. All the same, isn't it fun researching and staying at these magnificent inns?  
Have I left your favorite romantic bed and breakfast inn of the southeast off the list? Let me know, I'm always keen to add another to the lineup!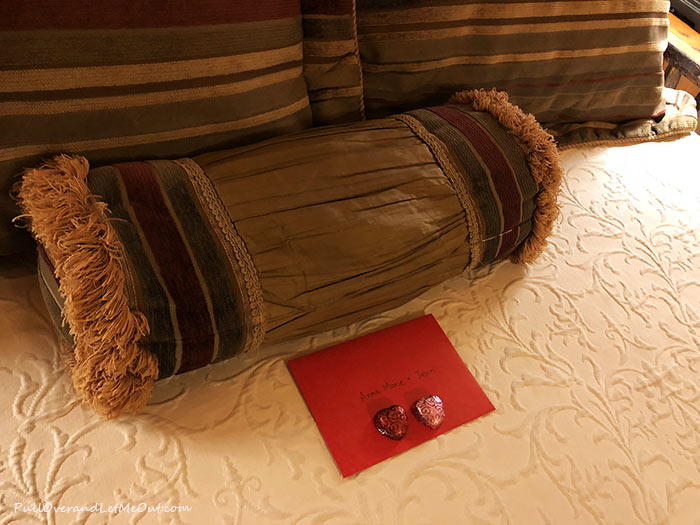 ► Plan Your Trip To A Romantic Bed & Breakfast Inn Now!
Hey pinners, save this for pinning after your trip
After you get back from your trip, please use these images to post to social media or post your own photos.  Please tag us on your post #pulloverandletmeout
You can also use the social sharing links on the SmartTrip tool.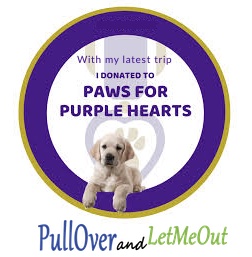 More travel stories you'll love reading!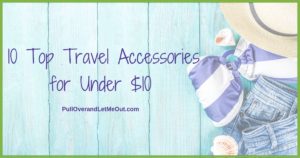 Great travel gear does not have to be expensive! Take a look at these ten fantastic budget-friendly travel accessories.
Read More »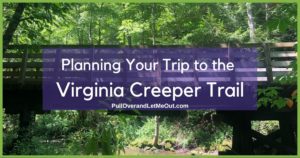 Explore the Virginia Creeper Trail with Pull Over and Let Me Out and discover some of the best advice for organizing your mountain biking vacation.
Read More »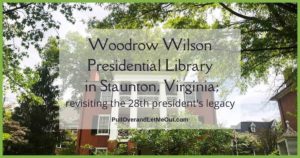 Travel with Pull Over and Let Me Out to the 28th president's library and museum in the scenic Shenandoah Valley.
Read More »
Shop for the hottest travel gear!