The Surry County Wine Trail is in the heart of the Yadkin Valley AVA in North Carolina. Tucked in the foothills of the Blue Ridge Mountains there are more than three dozen wineries dotting the trail enticing and welcoming visitors looking to experience not only some of the best wineries in the state but also the scenery and atmosphere of the piedmont. Although Surry County is only a segment of the Yadkin Valley, it's considered the 'birthplace of the Yadkin Valley AVA.' Moreover, it's the ideal destination for a weekend getaway. Here's a snapshot of our romantic weekend on North Carolina's Surry County Wine Trail.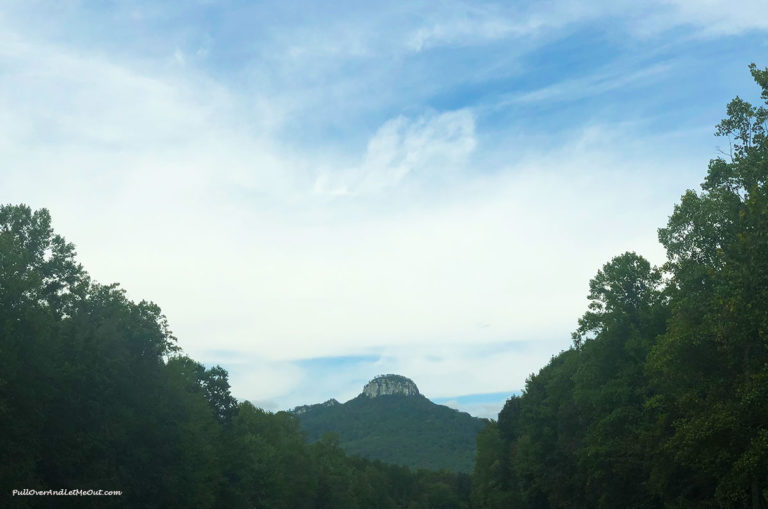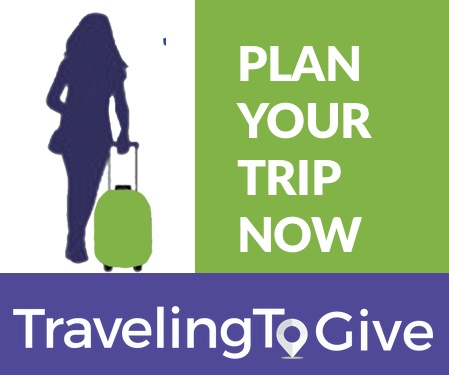 Disclosure:
Many of the links you see on this site and within our trip planning tool are affiliate links. If you click through and make a purchase, I'll get a small commission and it won't cost you any extra. On selected stories, for those hotel and car bookings made using our TravelingToGive™ tool we contribute 2.5% of gross hotel and car sales to Paws for Purple Hearts. So, thanks in advance for helping me keep bringing you the content you enjoy and, at the same time, giving back to those who so bravely serve our country! #everytripmatters
Day 1 on the Surry County Wine Trail
Our winery weekend getaway begins!
We began our winery weekend getaway on a Saturday morning. Traveling from Raleigh, we arrived just in time to enjoy a hearty lunch in Pilot Mountain, North Carolina. We dined at The Tilted Ladder on Main Street.
The casual American dining and the laid-back atmosphere was the perfect start to our weekend. Housed in the old Mitchell's Hardware store, the building was constructed in 1905 and is filled with historical value. The décor is modern yet still pays homage to the building's former glory. There's even a tilted ladder from the days of its ladder railing system and a painted tin ceiling.
In addition to the romantic setting at The Tilted Ladder, they offer a full menu of appetizers, pizza, salads, burgers, and sandwiches to satisfy virtually every taste. I went with a delicious chicken salad sandwich and fries. It was the perfect pre-winery tour meal in a fantastic setting.
After dining, we took a short stroll down Main Street in Pilot Mountain. This quaint town is the essence of small-town America, from it's storefronts and charming shops to its tip-of-the-hat to nearby Mayberry (Mount Airy).
The Tilted Ladder
105A W. Main Street
Pilot Mountain, NC  27041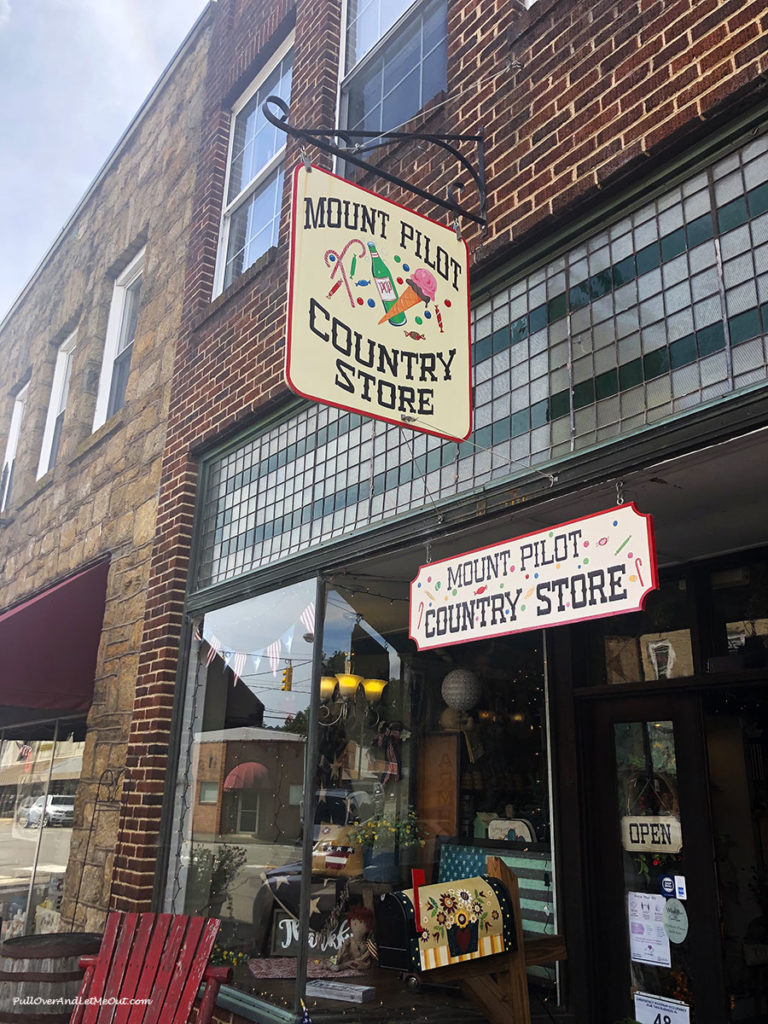 After lunch, we traveled to nearby Dobson, North Carolina, and the first stop on our wine itinerary. Stony Knoll Vineyards.
Stony Knoll Vineyards is located off Rockford Road and boasts a rich heritage and deep farming roots. The property has been a family farm since 1896 when ancestors of owner Katy Coe, purchased the land. Through the years the farm has grown a variety of crops including tobacco. In 2001, the first acres of grapevines were planted, and a new chapter in Stony Knoll's story began. The tasting room opened in 2004 and today is a wine destination. With its stunning views, spacious tasting room, friendly staff, and award-winning wines, it's a gorgeous setting.
We fell in love with the outdoor seating area. Perched high on a hilltop, we gazed out over the vineyards as we sampled a flight of their wines. It was a wonderful beginning to our wine encounter.
Stony Knoll Vineyards
1143 Stony Knoll Road
Dobson, NC 27017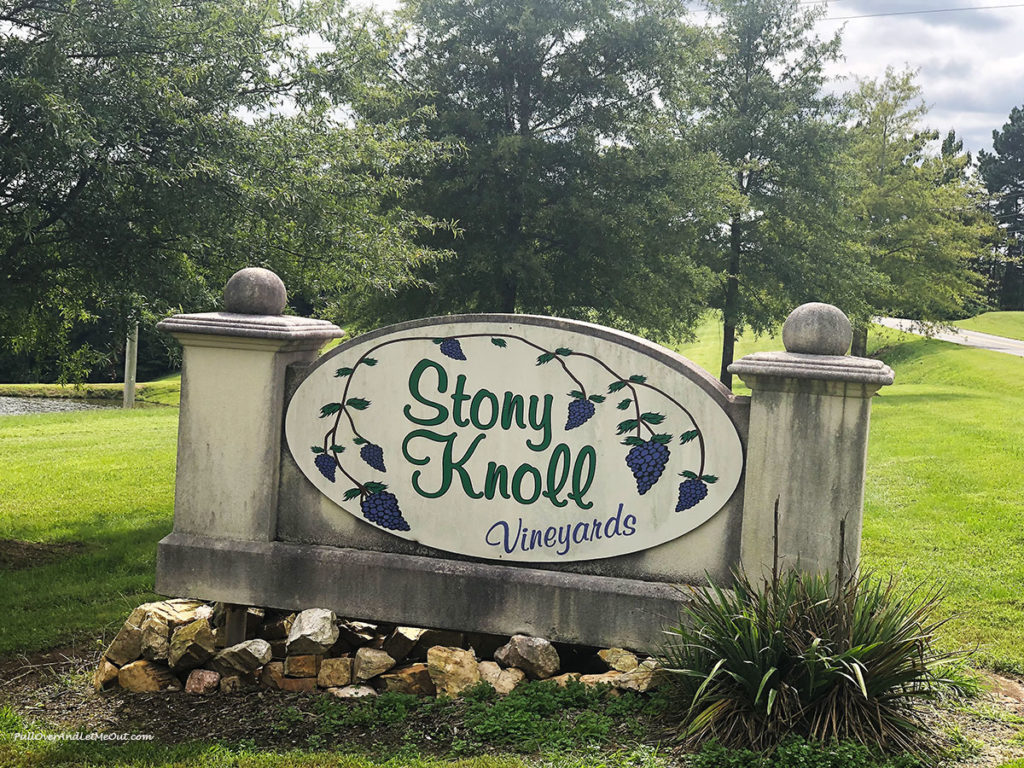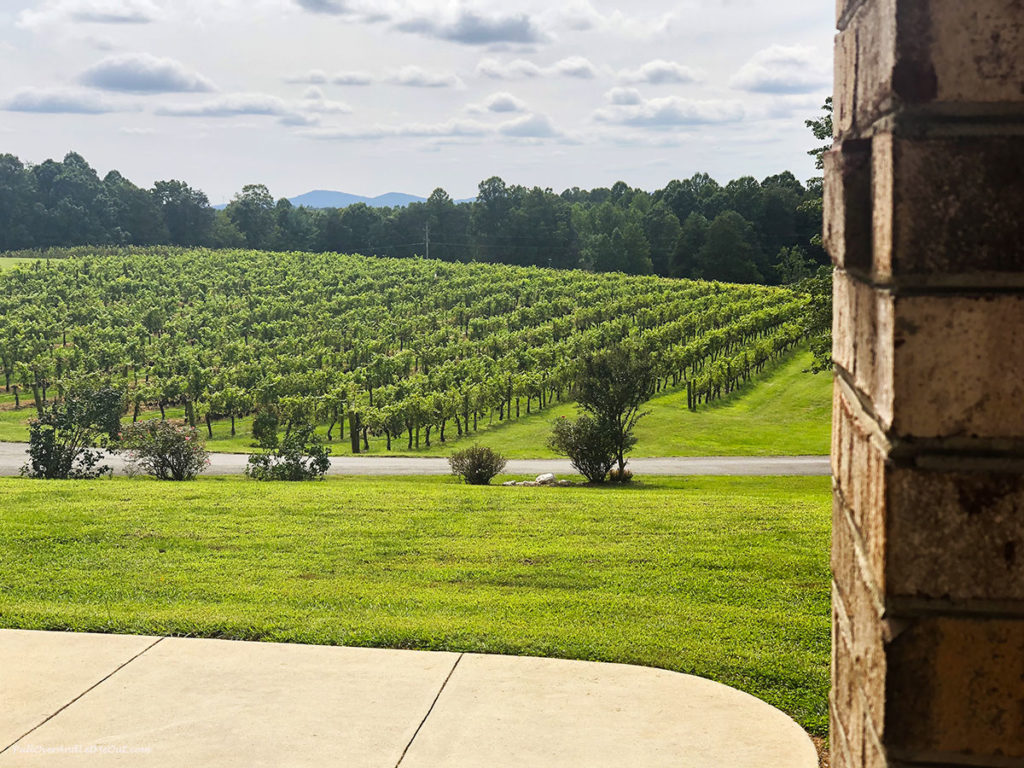 Moving on, we took the short trip from Stony Knoll Vineyards to Haze Gray Vineyards in Dobson, NC.
Owners Dean and Becky Muhlenberg took what was once an 85-acre tobacco and cornfield and reimagined it. Today, Haze Gray Vineyards is a booming vineyard, winery, and tasting room with spectacular views of the Blue Ridge.
Upon entry, it's hard to miss the winery's theme. The Muhlenberg family has a rich military heritage and it's a thread running through every element of Haze Gray. From the tasting room walls to the names of the wines, to the name Haze Gray which is the color of U.S. Naval ships, this winery honors America's military. In fact, Haze Gray is a certified Homegrown by Heroes farm.
Additionally, it's a delightful stop on the Surry County Wine Trail. We enjoyed sharing a flight on the porch while drinking in the brilliant view of the vineyards with the foothills of the Blue Ridge Mountains peeking over the treetops as a backdrop. Oh, and the wine is outstanding. We bought a bottle of Chambourcin to bring home and enjoy one evening when we're reminiscing about our time on the romantic Surry County Wine Trail.
Haze Gray Vineyards
761 Stony Knoll Road
Dobson, NC  27017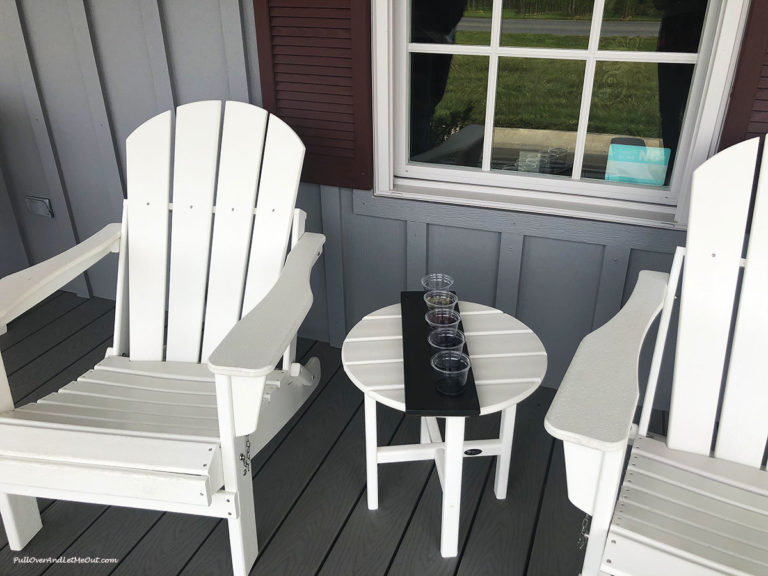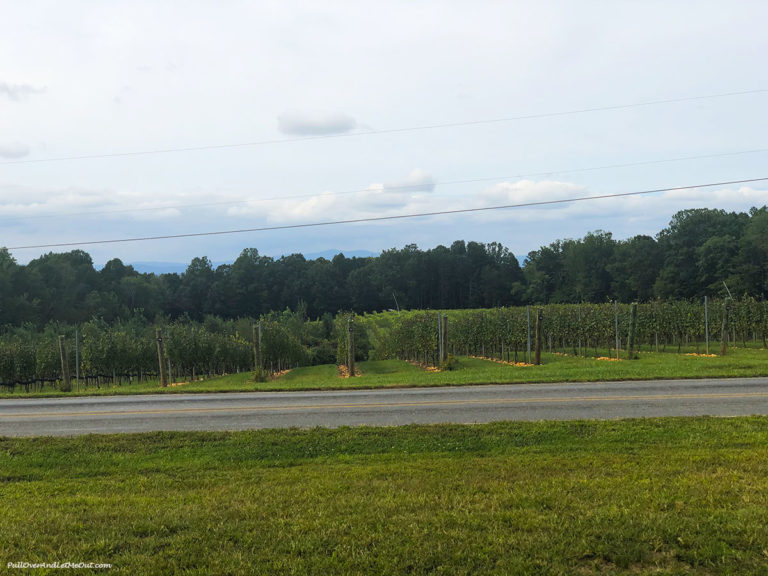 A snack break on the Surry County Sonker Trail
After visiting two wineries on the Surry County Wine Trail, we were ready for a snack break. It was time to take a detour onto a slightly different trail – The Surry County Sonker Trail.
What's a Sonker?
It's a one-of-a-kind dessert that's been a mainstay in Surry County for generations. The best way I can think of describing a sonker is to say it's similar to a cobbler or pie but not really. Sonkers come in a variety of fillings such as blackberry, cherry, apple, and peach. The popular confection has its own trail and an annual festival as well. We chose the historic Rockford General Store to try out our first sonker.
Rockford General Store is a classic nostalgic piece of Americana. Stepping inside is a step back in time to the old days when the General Store was the hub of activity in the village. With its inventory, accent pieces, and old-fashioned candy jars, the atmosphere for sampling sonkers couldn't be more authentic. My husband had the mixed berry and I tried the sweet potato sonker. In a word, Wow! We lapped up our sonkers before making one final winery visit for the day.
Rockford General Store
5174 Rockford Road
Dobson, NC  27017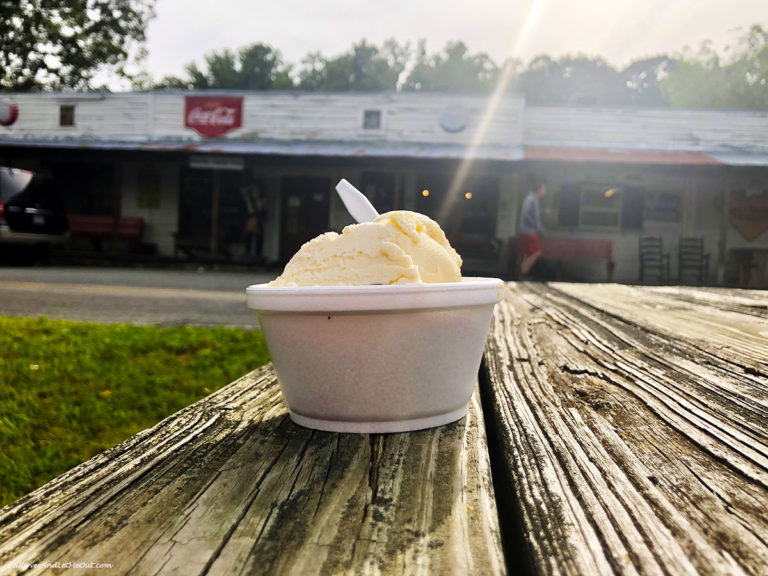 Our final stop for the day was Shelton Vineyards in Dobson. Shelton is one of the largest vineyards on the East Coast and a popular destination in the Yadkin Valley. Not only can visitors sample their award-winning wines, but guided tours are available Monday through Saturday at 12:00, 2:00, and 4:00 pm. Guests can get an overview of the 33,000 square-foot winery, the vineyards, the wine-making process, and sample wine.
For our visit, we decided to try their popular Cab Franc. It's a full-bodied red with a slightly peppery finish that's out-of-this-world. We sat on the lawn sipping while listening to live music and watching the sun fade behind the foothills. Very romantic.
Shelton Vineyards 
286 Cabernet Lane
Dobson, NC  27017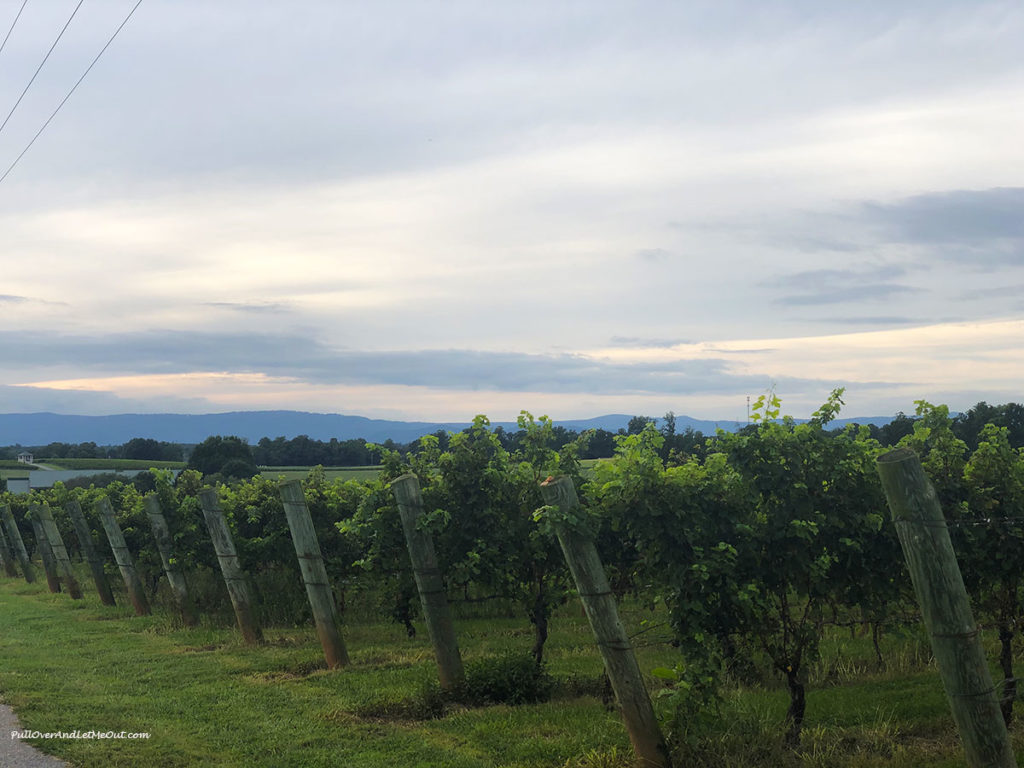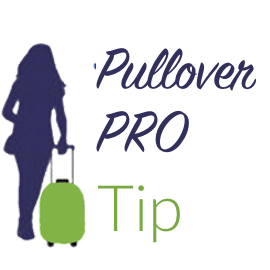 "The Harvest Grill, located on the grounds of Shelton Vineyards, offers upscale dining with a bistro-style atmosphere. The Harvest Grill has enclosed patio seating as well as an intimate dining room. Featuring a menu that our chef has deemed "sophisticated comfort food", the Harvest Grill has been awarded the Triple-A three-diamond rating for its food, service, and décor." ~ Shelton Vineyards
Day 2 on the Surry County Wine Trail
After sleeping in a little, we began the second day of our romantic weekend on North Carolina's Surry Wine Trail in search of local coffee. We found the perfect spot at Dirty Joe's Coffee in Elkin at their North Bridge Street location.
I love finding a hip, cozy, indy coffee spot when I'm traveling and Dirty Joe's did not disappoint. From the friendly service to the comfy seating to the flavorful coffee, Dirty Joe's gave us just the jolt of java we needed to commence our second day.
Dirty Joe's Coffee
1829 N. Bridge Street
Elkin, NC  28621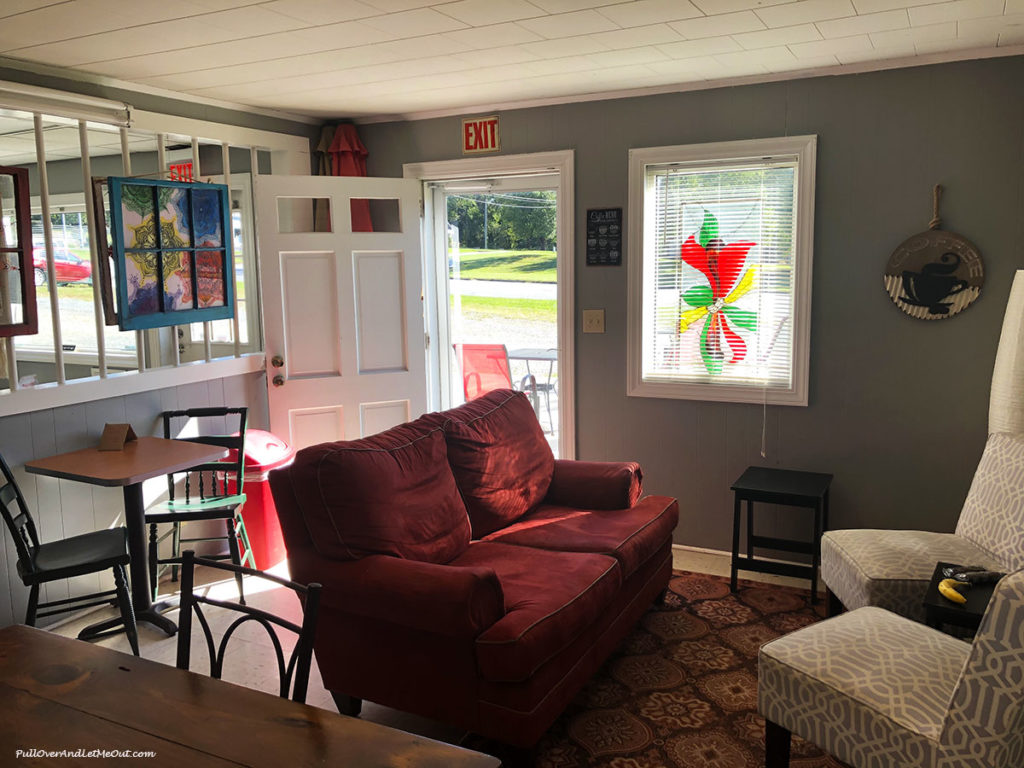 Once we'd finished our coffee, we took a short drive to Grassy Creek Vineyard & Winery in Elkin. It was a little after 11:00 am when we arrived and being a Sunday, we were a tad early for the winery. However, we saw a sign that said "Trail." Next, we met a couple of hikers who recommended we take the trail and see Carter Falls. 
This turned out to be the best-unplanned part of our trip. We were ready to get out and active. The Grassy Creek Trail provided exercise and pretty scenery with the promise of waterfalls. 
In all, the round trip of the Grassy Creek Trail is slightly over 3-miles. It's a well-marked trail through woods of tall pines and oaks leading to cascading waterfalls. While the trail isn't overly challenging, it is an excellent workout. 

TRAVEL SCARF // Pumpkin – $29.95
from:
Waypoint Goods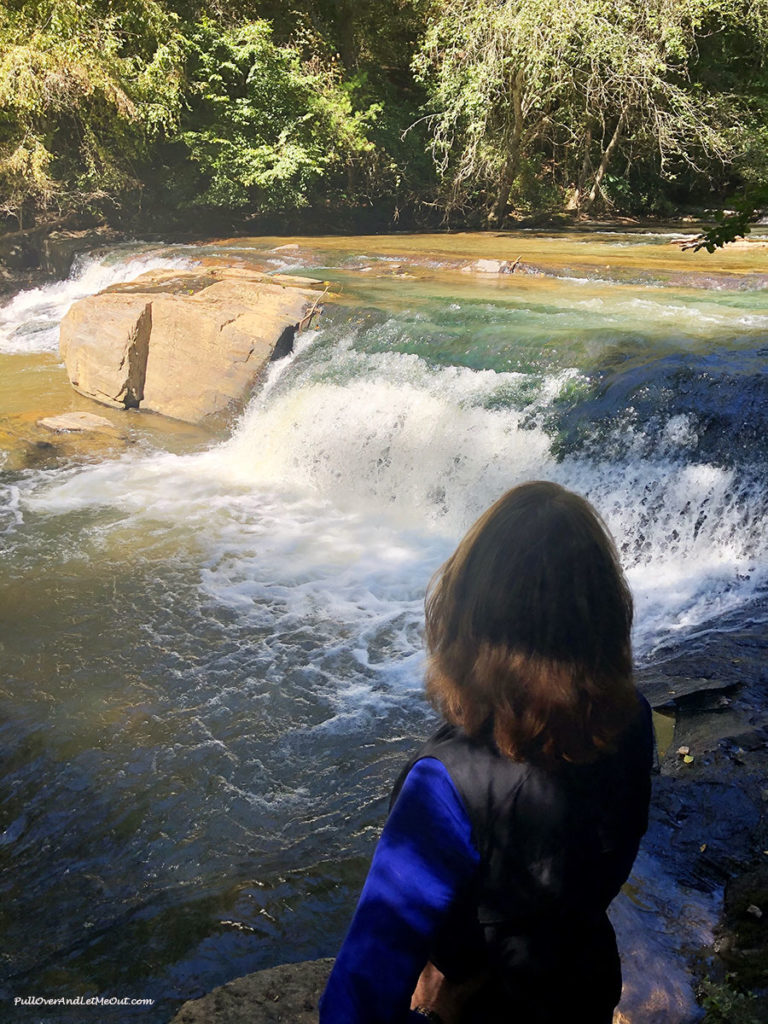 Grassy Creek Vineyard & Winery
Slightly winded from our hike, we returned a few minutes after 1 pm to find Grassy Creek Vineyard & Winery open for business. Our timing couldn't have been better!
Grassy Creek is situated on 225 lush acres which were formerly known as the Klondike Farm. At one time famous for dairy products and especially chocolate milk, today, all of their wines are bottled in the former dairy barn and the grapes come directly from the estate vineyards.
We went in, purchased a delightful Riesling, delectable local craft cheese and crackers, and found a seat out on the lawn. We savored our wine and cheese while listening to live music and relaxing at this charming winery. We whiled away the early afternoon and were sad to say goodbye.
Grassy Creek Vineyard & Winery
235 Chatham Cottage Circle
State Road, NC  28676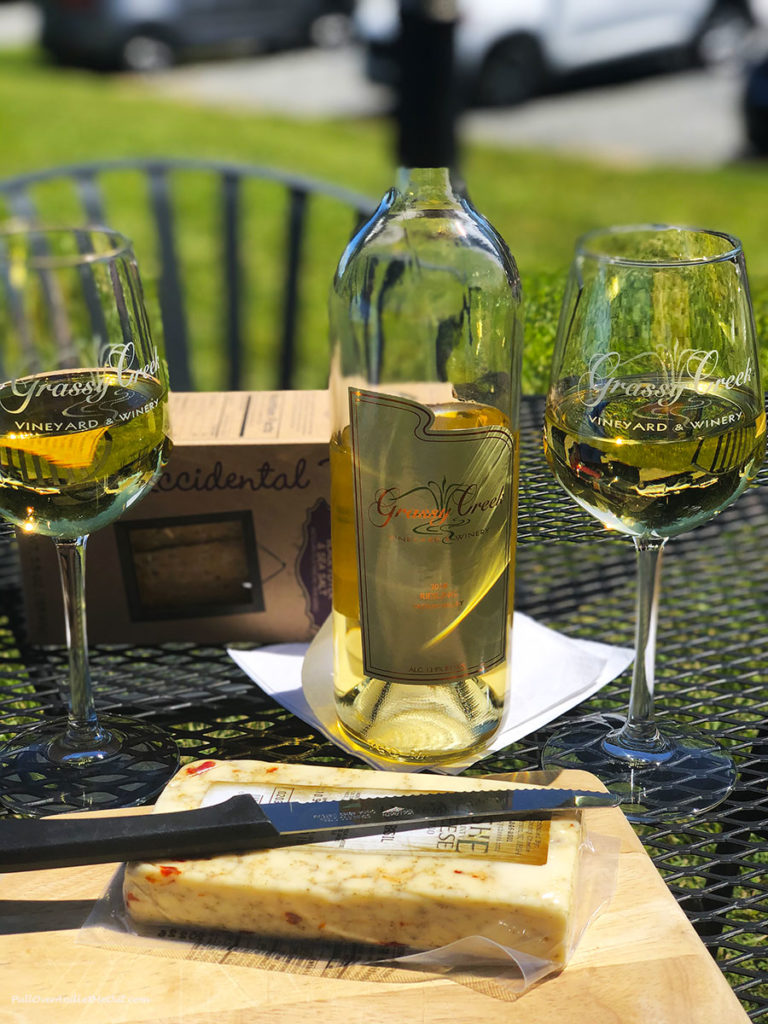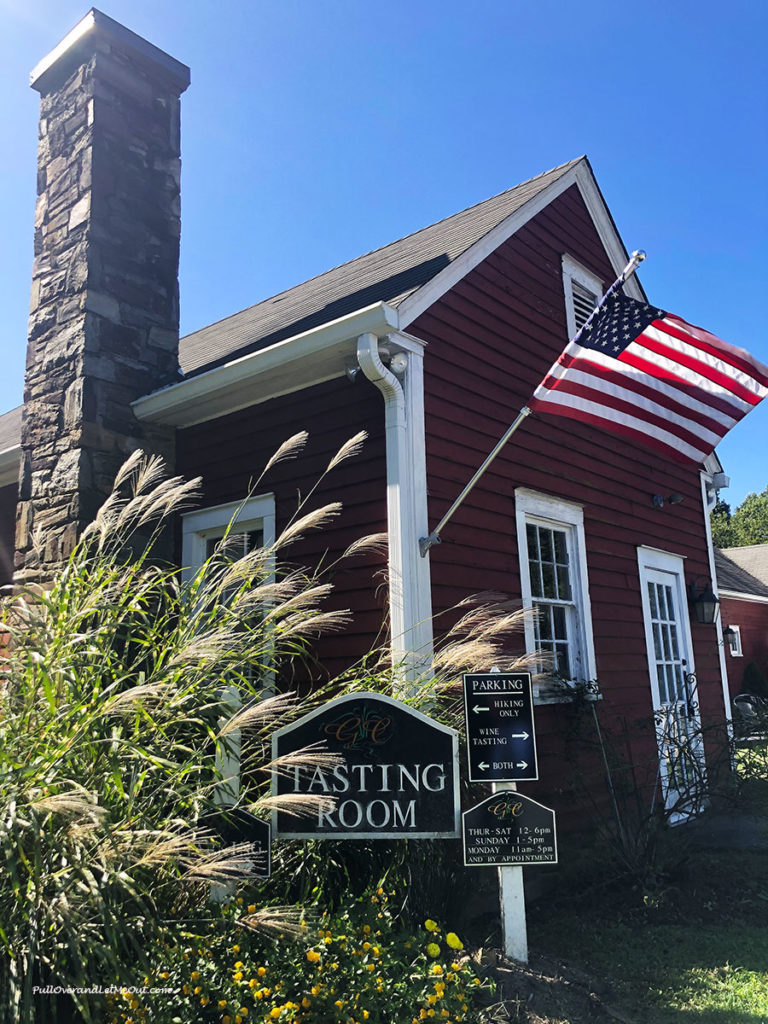 Where to stay on the Surry County Wine Trail
We made our hub for our romantic weekend in North Carolina's Surry County Wine Country the Hampton Inn and Suites in Dobson. It was a convenient locale and reliable brand for us at the end of a busy day. Additionally, the hotel is just 2.5 miles from Shelton Vineyards and is owned by Shelton. We enjoyed finishing our Shelton Vineyards Cab Franc and nibbling on gourmet peanuts in the hotel wine bar. According to their website, "The Hampton Inn and Suites at Shelton Vineyards is the only hotel in the chain that features a wine bar."
For this trip, our focus was on wineries in Dobson, North Carolina. Should you wish to focus on the wineries in and near Elkin or other neighboring towns, The Fairfield Inn is a favorable choice that's close to multiple wineries in the fastest growing wine region in the state.
However, if you're interested in a non-hotel stay, there are many bed and breakfast inns, cabin rentals, and several wineries along the trail, including Grassy Creek and Haze Gray, offering cabins or cottages. This allows visitors to stay within walking distance of the vineyards and tasting rooms. Talk about ambiance!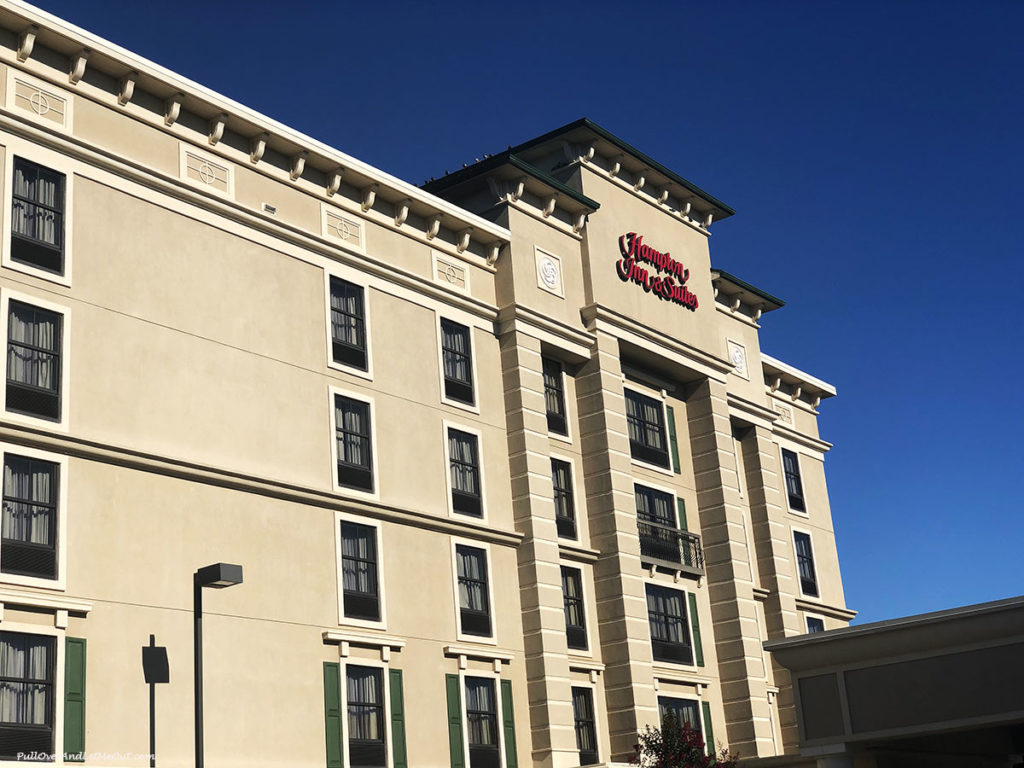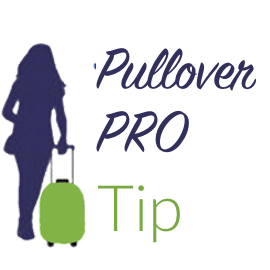 Planning a group outing or want somebody else to do the driving? There are multiple tour companies in the area such as Carolina Food and Wine Tours, Grape Escape Tours, and Frog Holler Vacation Cabin Rentals & Wine Tours, to take you to wineries on the Surry County Wine Trail.
Tips and final thoughts of our winery weekend getaway
We spent slightly over 24-hours over a Saturday and Sunday, touring the Surry County Wine Trail. It was the perfect amount of time for a romantic getaway weekend.
We visited three wineries one day and one on our final day. This was exactly the right amount of sampling for us. I suggest visiting three and a maximum of four wineries if you're planning to do tastings. Thus, you've got plenty of time and you won't have more to drink than you should. I also suggest snacking along the way and sharing flights.
Remember, you don't have to finish every sample. That's what wine-tasting is all about. Try what you like, leave the rest. Don't get sloppy and always know your limit. 
I'm glad we included one stop on the Surry County Sonker trail and timed it well inasmuch as we never let ourselves get hungry.
If I had one absolute must suggestion, it would be to listen carefully to the descriptions of the wines. Each winery has a unique story and method that goes into its wine-making. You may even wish to take notes so you'll remember the attributes of the wine and be able to make wise decisions when purchasing a bottle or two to bring home with you to commemorate your wine weekend.
Finally, I highly recommend sitting back and relaxing at each winery. After all, this is meant to be a romantic getaway. Be sure to take time and enjoy the scenery, the wine, and especially the company. 
Cheers!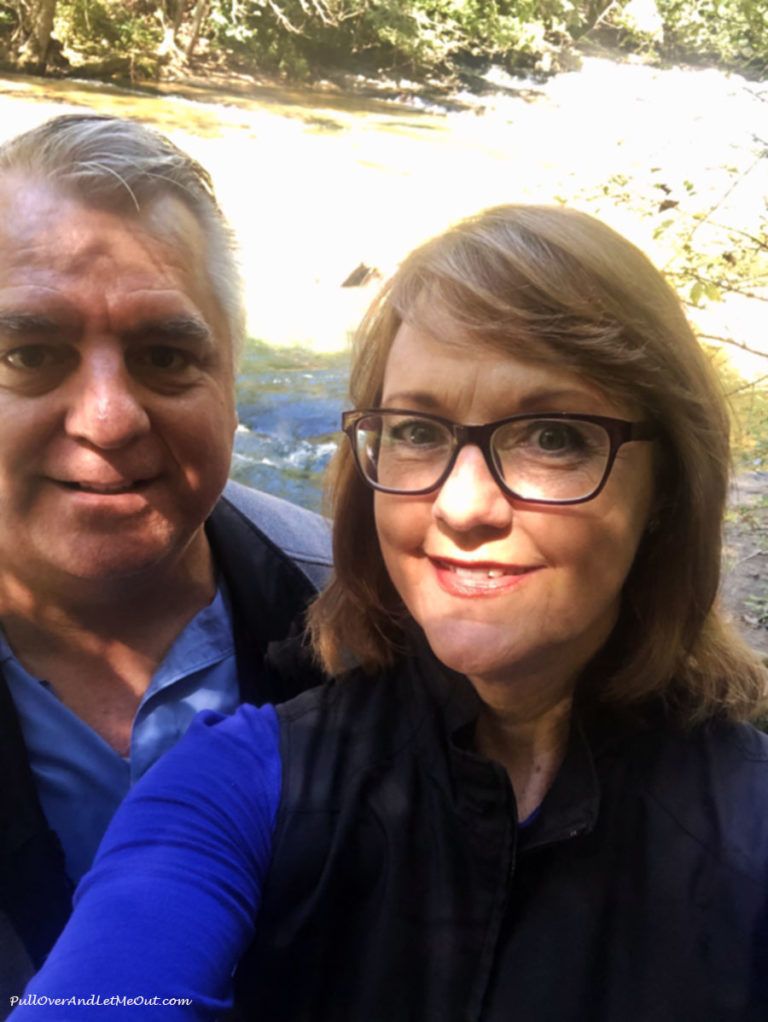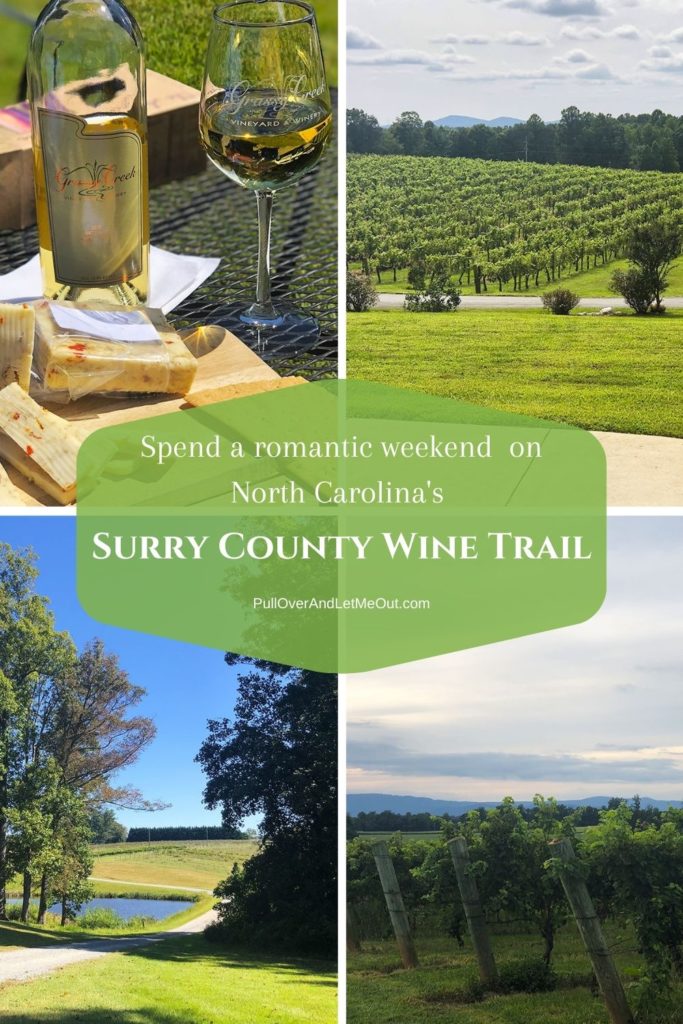 ► Plan Your Trip To The Surry County Wine Trail Now!
Hey pinners, save this for pinning after your trip
After you get back from your trip, please use these images to post to social media or post your own photos.  Please tag us on your post #pulloverandletmeout
You can also use the social sharing links on the SmartTrip tool.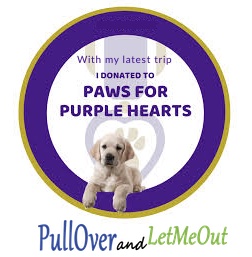 More Stories You'll Love!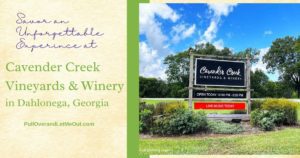 Cavender Creek Vineyards & Winery is a thriving and welcoming wine destination perfect for wine enthusiasts and anyone seeking a scenic escape from the daily grind. Travel there with PullOverandLetMeOut to discover this charming winery in the Appalachian foothills.
Read More »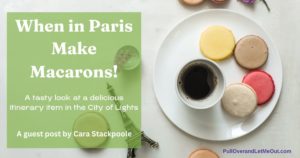 Guest blogger Cara Stackpoole shares a delectable itinerary item in the City of Lights. Discover why making macarons is a memorable experience.
Read More »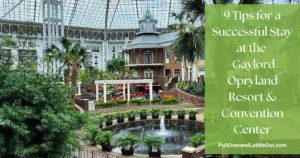 The Gaylord Opryland Resort & Convention Center in Nashville is a well-known attraction in the city. PullOverandLetMeOut looks at some smart hints for making the most of a stay at the famous hotel.
Read More »
Shop for the hottest travel gear!