Twisted Vine Winery is a family-run enterprise in Lenoir, North Carolina. The winery specializes in high-quality wines made from grapes grown in their vineyard and locally in the nearby Blue Ridge Mountains. This inviting establishment not only serves fantastic wine in a beautiful setting, but each flavorful sip exudes southern charm. One balmy Saturday in January, we took a short detour off I-40 near Hickory and traveled here, and the detour instantly became the highlight of our journey. Twisted Vine Winery promptly proved to us that it is the ideal location for experiencing the rich flavors and aromas of North Carolina's wine country.
Disclosure:
Many of the links you see on this site and within our trip planning tool are affiliate links. If you click through and make a purchase, I'll get a small commission and it won't cost you any extra. On selected stories, for those hotel and car bookings made using our TravelingToGive™ tool we contribute 2.5% of gross hotel and car sales to Paws for Purple Hearts. So, thanks in advance for helping me keep bringing you the content you enjoy and, at the same time, giving back to those who so bravely serve our country! #everytripmatters
Twisted Vine Winery's Story
Twisted Vine Winery's story is a delightful tale of having a dream and seeing it come true. Tom Bradshaw, the owner, and winemaker had always made his own wine at home. However, after 38 years as a firefighter and fire investigator, he decided to turn his passion for wine into a retirement plan.
In 2011, he planted the first vines on his family's property, and those first vines have grown into the 150 healthy vines that are now growing there. Bradshaw began constructing the barn and winery in 2012, and the tasting room opened in June 2014. Bradshaw's inviting winery has since shared delicious wines and welcomed visitors to enjoy the fruits of his labor.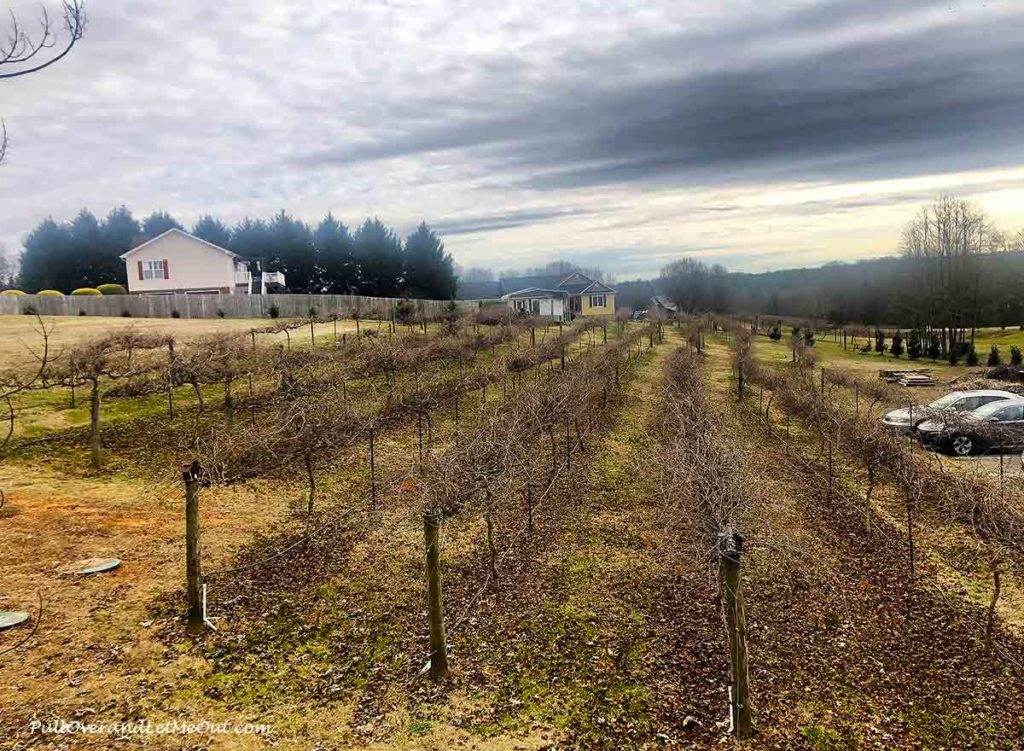 Delicious Handcrafted Wines
Twisted Vine Winery offers a range of wines that are certain to please every palate. From dry wine to sweet wine, from Merlot to Muscadine, the wines are tasty and lovingly handcrafted.
The wine menu includes an array of enticing whites, reds, seasonals, hard ciders, and a special sweet called Bodacious that's full of flavor and the scent of ripe peaches.
We chose two wines from the White & Rosé section and two from the Dry Reds section for our flight.
We sipped and savored the Pine Knot White, a Pinot Grigio with a floral fragrance and fruit flavor; a Pinot Noir Rosé with the aromas and flavors of strawberry jam, complimented by raspberries and rhubarb, the Pinot Noir, a medium- to full-bodied wine with notes of rich tobacco, ripe blackberries, and spices; and their Barn Barrel Red, aged in a bourbon barrel, that's a blend of Cabernet Sauvignon, Shiraz, and Merlot.
They were all delectable.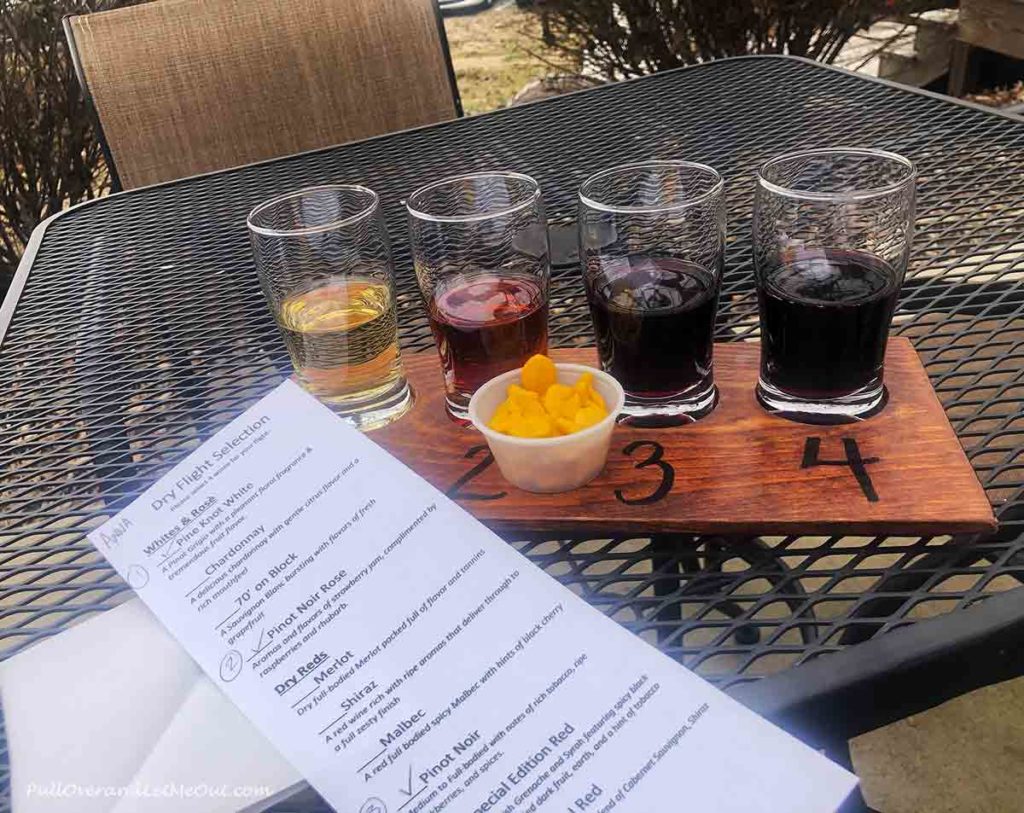 While the wine is the main attraction at Twisted Vine Winery, I'd be remiss if I didn't mention the atmosphere.
Jason and I decided to sit outside and sip our wines while admiring the tranquil setting and the view from a table next to a space heater. It was perfect, and I couldn't be happier with our little detour to Twisted Vine Winery on a mild winter day. This welcoming winery is the type of place that enhances every sip of wine.
The picturesque red barn that houses the alluring and cozy tasting room, the comfortable outdoor seating area overlooking the vineyard and the beautiful scenery, and the gracious winemaker and owner stopping by our table to ensure we were having a good time all contributed to the optimum wine tasting experience.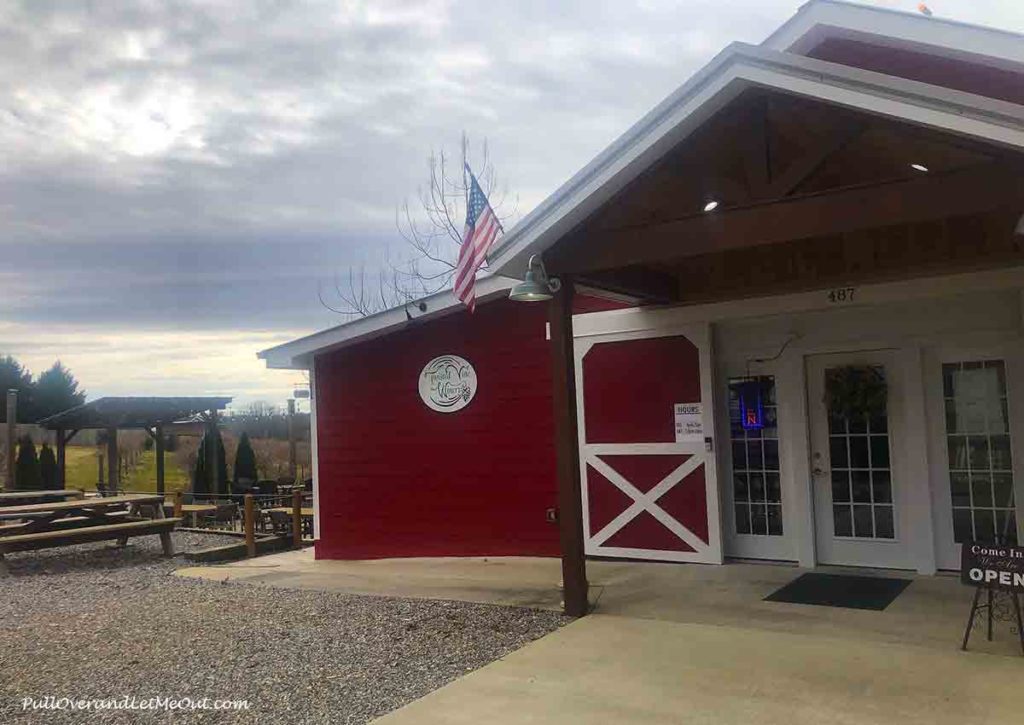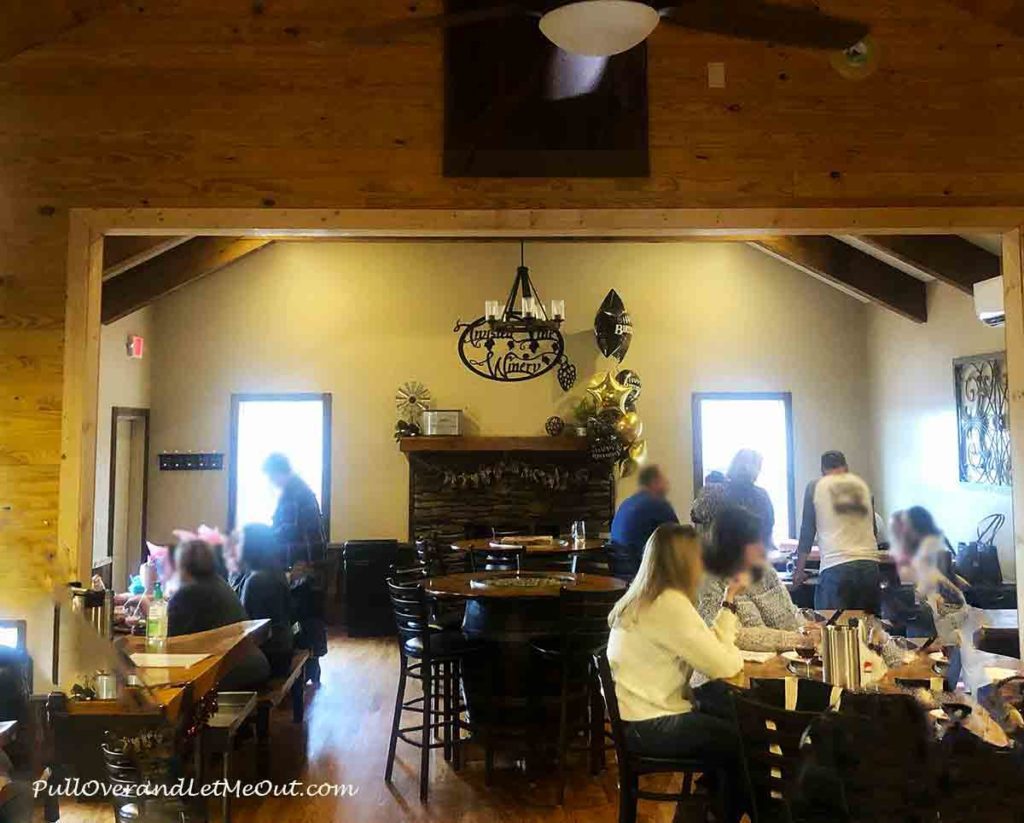 Things to Know Before You Go
Twisted Vine Winery is a wonderful, intimate escape as well as a welcoming gathering place. We saw a couple of groups celebrating birthdays and others simply relaxing with friends while we were there. It's the type of place that can accommodate a variety of events.
That being said, it is important to know the operating hours before visiting. According to their website, they are open in the evenings on Thursdays and Fridays and during the day on Saturdays and Sundays. Be sure to confirm before you travel there.
In addition to their delicious wines, they also serve snacks to go with your beverages. To complement the wine, they now offer a nice selection of Ashe County cheeses, and guests are welcome to bring their own snacks.
But hold on, there's more! Twisted Vine Winery also hosts special events such as a Valentine's Day special and a painting class, to name a few.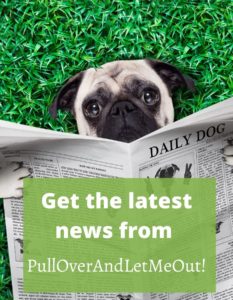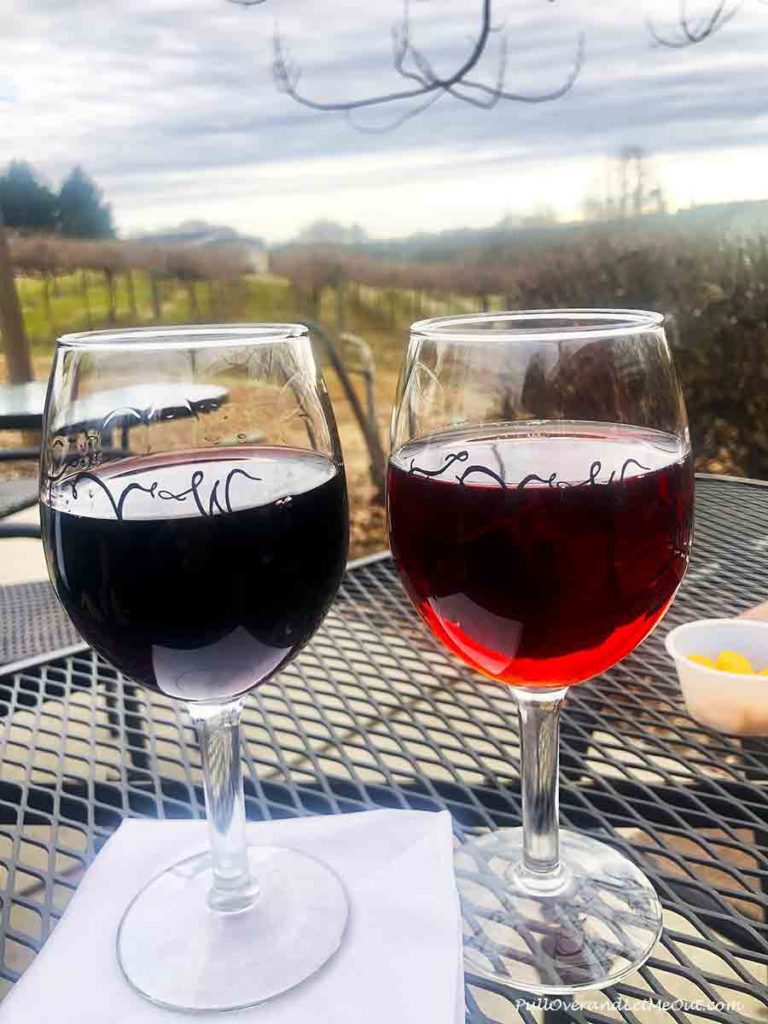 Twisted Vine Winery, located in Lenoir, North Carolina, was a pleasant surprise. We were in the Hickory area and had a few hours of free time, so we went in search of a quiet spot where we could relax. This delightful winery imbued with southern charm proved to be the ideal setting. We sat back, relaxed, drank a little wine, and passed the time.
Twisted Vine Winery is the type of place that makes both visitors and regulars feel at home. A stop here is an excellent itinerary item for anyone passing through the Blueridge foothills or visiting the Hickory area.
And, despite the fact that this is a smaller winery in a rural setting, the wine is outstanding. If I find myself passing through again sometime, you can rest assured I'll say, "Pull Over and Let Me Out!"
Twisted Vine Winery
487 Legion Road
Lenoir, NC 28645
(828)726-3185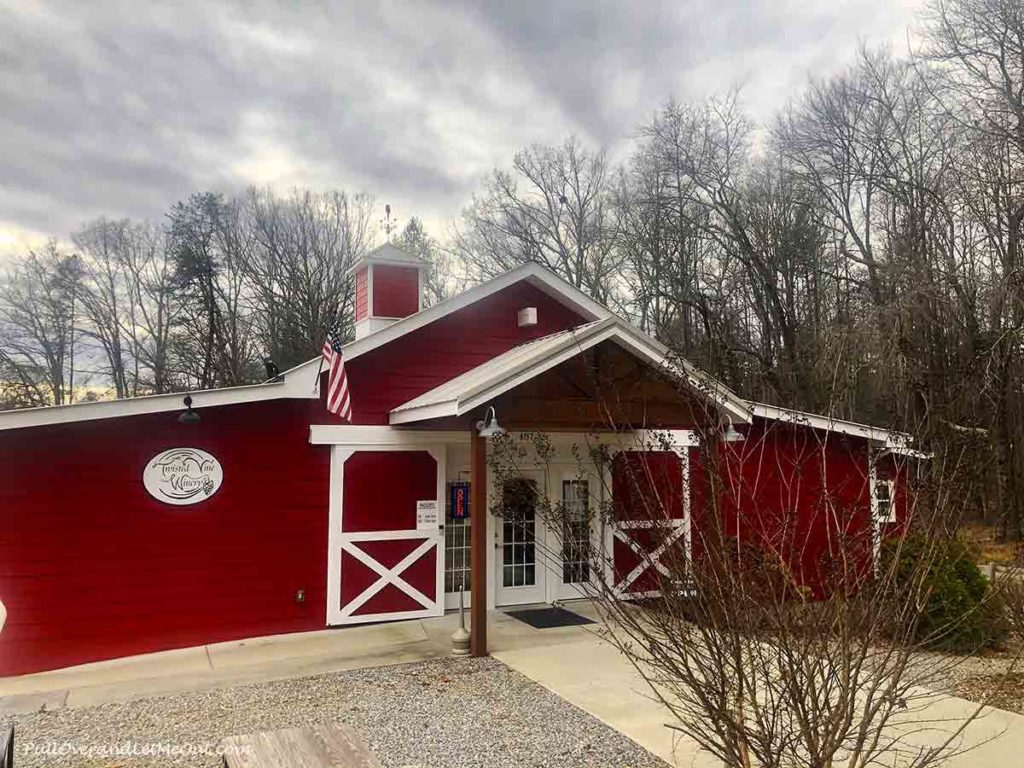 Hey, Pinners! Pin this for later!
► Plan Your Trip to Twisted Vine Winery Now!
Hey pinners, save this for pinning after your trip
After you get back from your trip, please use these images to post to social media or post your own photos.  Please tag us on your post #pulloverandletmeout
You can also use the social sharing links on the SmartTrip tool.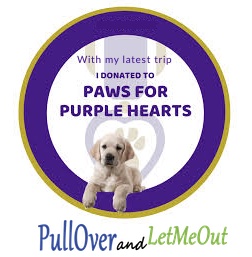 More Travel Stories You'll Love Reading!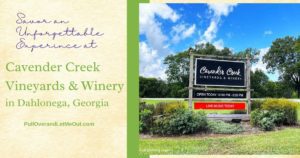 Cavender Creek Vineyards & Winery is a thriving and welcoming wine destination perfect for wine enthusiasts and anyone seeking a scenic escape from the daily grind. Travel there with PullOverandLetMeOut to discover this charming winery in the Appalachian foothills.
Read More »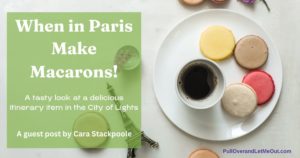 Guest blogger Cara Stackpoole shares a delectable itinerary item in the City of Lights. Discover why making macarons is a memorable experience.
Read More »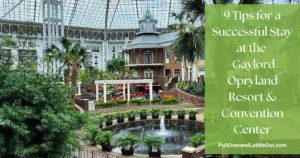 The Gaylord Opryland Resort & Convention Center in Nashville is a well-known attraction in the city. PullOverandLetMeOut looks at some smart hints for making the most of a stay at the famous hotel.
Read More »