Tucked back on a peaceful parcel of farmland in rural Wisconsin sits the National Shrine of Our Lady of Good Help. This tranquil setting in the town of Champion, not far from the neighboring vacation destination of Door County, a Wisconsin peninsula of the Great Lakes, has drawn curious visitors seeking to learn the story of miracles and the appearance of the Blessed Mother to a young Belgian immigrant named Adele Brise in October of 1859. I always try and include some time for reflection and quiet in my itinerary, so this seemed to be the ideal location to visit. I traveled there while on summer vacation to discover more about this sacred space in America's heartland.
Disclaimer:
Many links you see on this site and within our trip planning tool are affiliate links. If you click through and make a purchase I'll get a small commission and it won't cost you any extra. On selected stories, for those hotel and car bookings made using our TravelingToGive™ tool we contribute 2.5% of gross hotel and car sales to Paws for Purple Hearts. So, thanks in advance for helping me keep bringing you the content you enjoy and at the same time, giving back to those who so bravely server our country! #everytripmatters
The story of the National Shrine of Our Lady of Good Help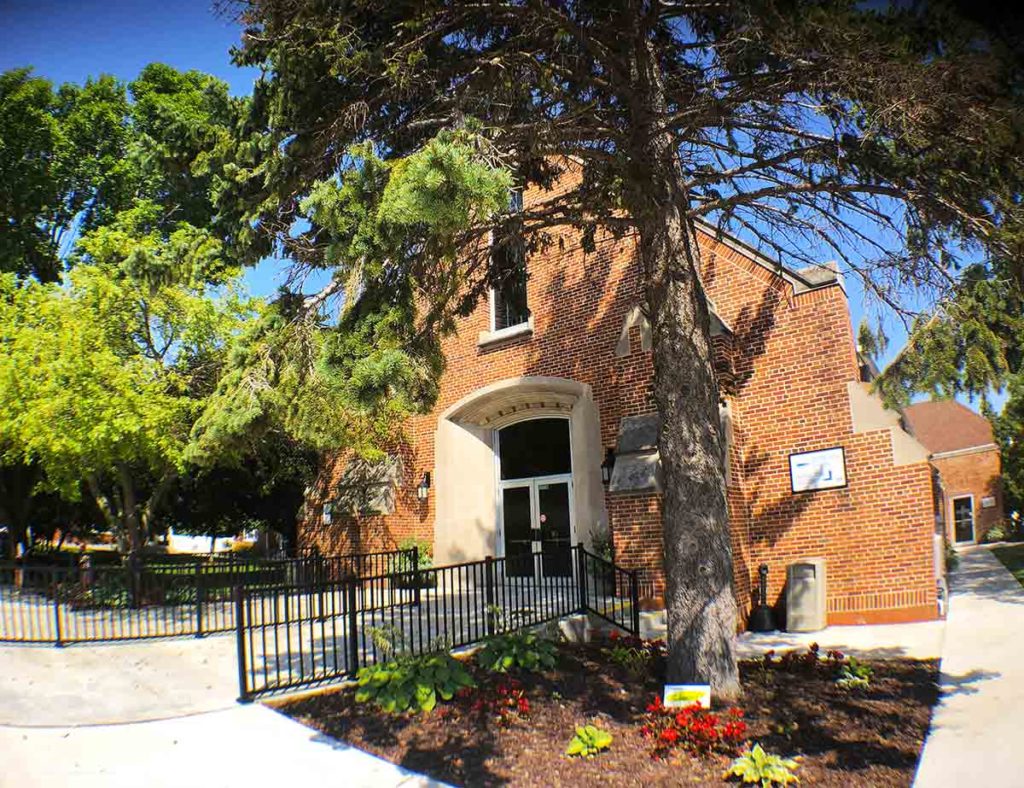 The story of this historic place revolves around a young Belgian immigrant named Adele Brise who was visited by Mary, the mother of Jesus when the town was known as Robinsonville.
Quoting the Shrine website, "According to the direct accounts of those who worked with Adele throughout the years of her mission work, she was instructed, in a series of locutions by Our Lady, to 'make a general confession, pray and offer communion for the conversion of sinners and to gather the children in the wild country to teach them what they needed to know for their salvation.' She further instructed Adele, to 'teach the children their catechism, how to 'make the sign of the cross' and how to 'approach the sacraments.' Mary ended by saying: 'That is what I wish you to do. Go and fear nothing, I will help you.'
Adele proceeded to do as she was told, and as a result, she went on to live a life of mission service. She journeyed on foot within a 50-mile radius of the current shrine, teaching and instructing as the Blessed Mother had instructed her. Eventually, her father built a chapel on the apparition site and it was here Adele began her teaching work.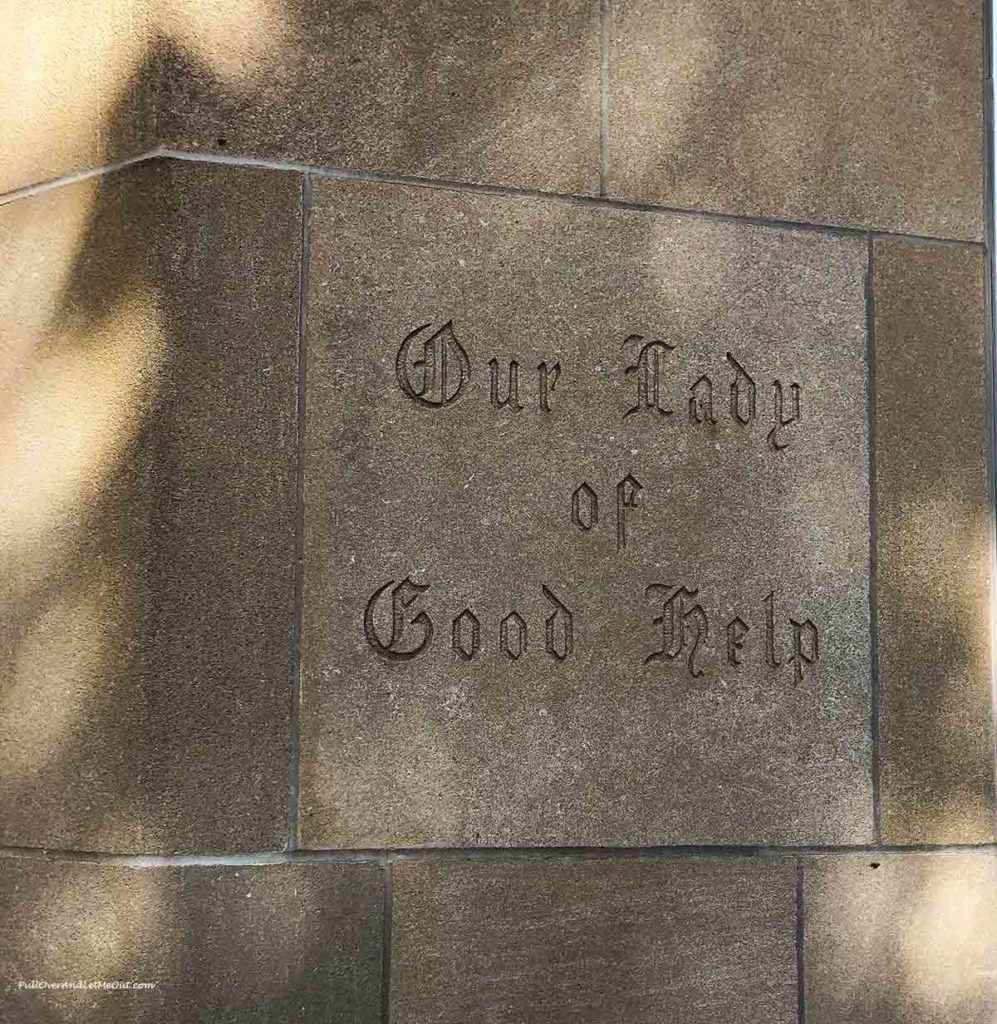 On October 8, 1871, some twelve years after Mary's last appearance, a Midwestern drought triggered two of the greatest fires in American history, one in Chicago and the other in Peshtigo, Wisconsin. The same drought prompted a massive blaze to rage through the rural area, threatening the chapel in Robinsonville. Local families who had been connected with Adele Brise as part of her mission work in catechesis flocked to the Shrine's chapel during the fire, many with newborns, small children, and farm animals, to pray the rosary.
As the surrounding areas were ablaze and reduced to ashes, the prayerful people gathered in the chapel kept vigil all night. They prayed the rosary, asking for the Blessed Mother's intercession with her Son, Jesus, to save them from the raging fire. Their prayers were answered when rains fell and put out the fire, saving the chapel and surrounding grounds.
This marked what many believe to be the first of countless intercessory events. Ultimately, news of healings and other miracles spread, turning the Shrine into a presager of hope for pilgrims who have ever since traveled to the Shrine for healing, prayer, and hope. Over time, on August 15, 2016, the United States Conference of Catholic Bishops formally designated Champion as a 'National Shrine,' proclaiming 'The National Shrine of Our Lady of Good Help' as the first and only Catholic Shrine in America with a Church-approved Marian Apparition Site.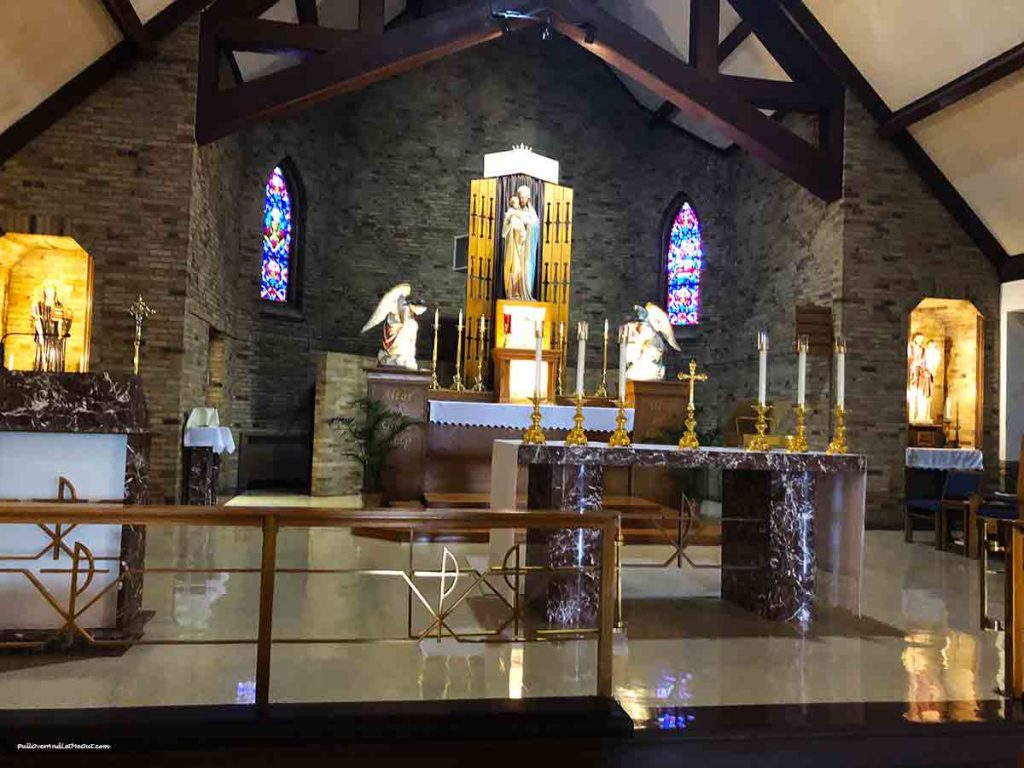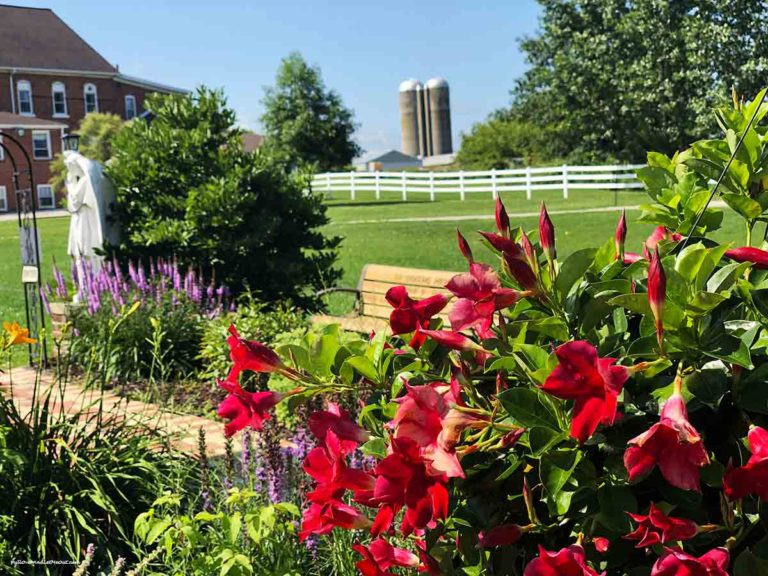 Our visit to the Shrine was on an August morning and was an itinerary item I added to our Door County agenda. When I discovered I would be so close to this only recognized Marian apparition site in the entire country, it was a no-brainer that I'd go and visit. 
Upon our arrival, I was slightly surprised by how unpretentious the Shrine and its surroundings are. For the one and only official apparition site in the country, that attracts thousands of pilgrims and visitors from around the world, the Shrine is understated. While at the Shrine we learned the history of the location and Adele's story. We looked at the exhibits and watched the video in the small museum, and then took the self-guided tour. We visited the chapel, the Apparition Oratory, and the stations of the cross, which are wonderfully presented and maintained on the grounds.
This is a grace-filled holy place that is striking in its contrast to the world today. The tranquil spot surrounded by farmland is a refuge for people to pray, meditate, and petition for healing intercessions and yes, miracles both spiritual and physical. In fact, the Apparition Oratory has a collection of crutches and other mobility aids left behind by pilgrims who no longer require them after being healed while on pilgrimage.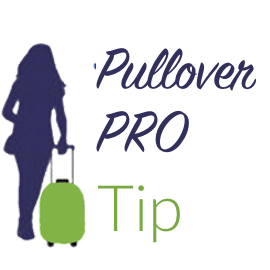 The National Shrine of Our Lady of Good Help is a peaceful pastoral attraction perfect for quiet contemplation. It's also a historical site with an intriguing backstory. Our visit here was distinguished by calm reflection and provided a much-needed serene respite, if only for a short period. I enjoyed spending time here and took a moment to light a candle and say a prayer.
I don't recommend the shrine for travelers seeking excitement. However, the friendly staff and calm setting make this the perfect place for a brief respite from the journey and an uplifting locale like no other in the country. A visit to the Shrine may be the perfect itinerary item if you're visiting Door County, on a pilgrimage, or simply looking for miracles at a time when the world appears to be a graceless place spiraling out of control. The National Shrine of Our Lady of Good Help in Champion, Wisconsin, is a modest memorial to a compassionate Lady. If you go, say a prayer for me. 🙂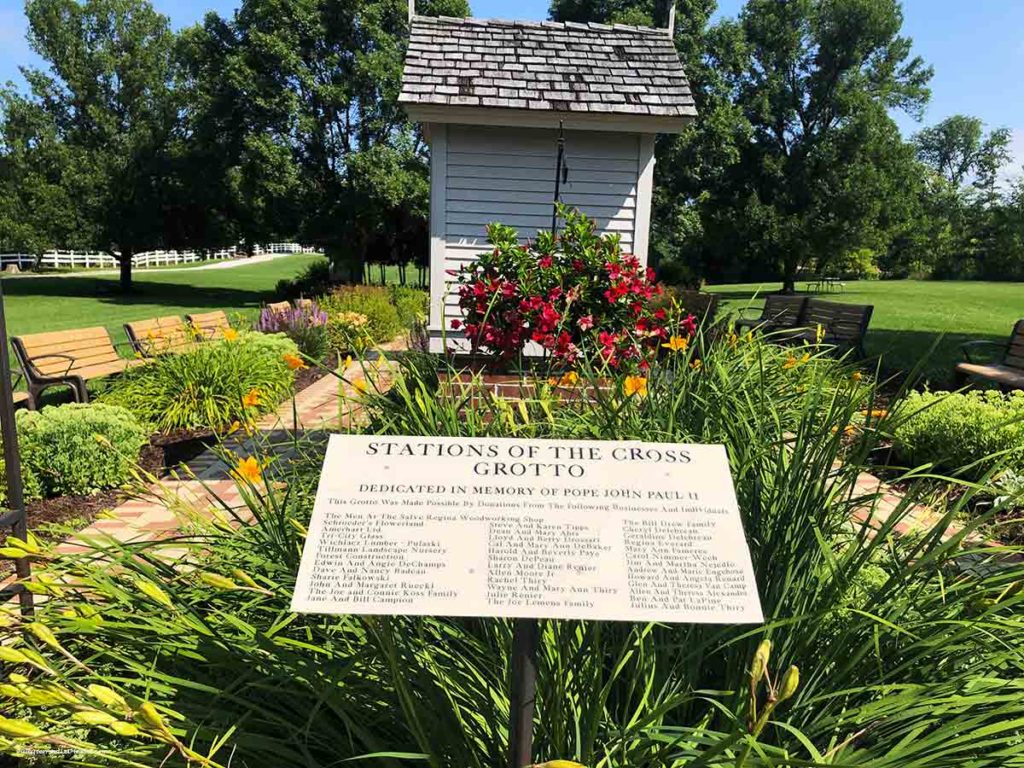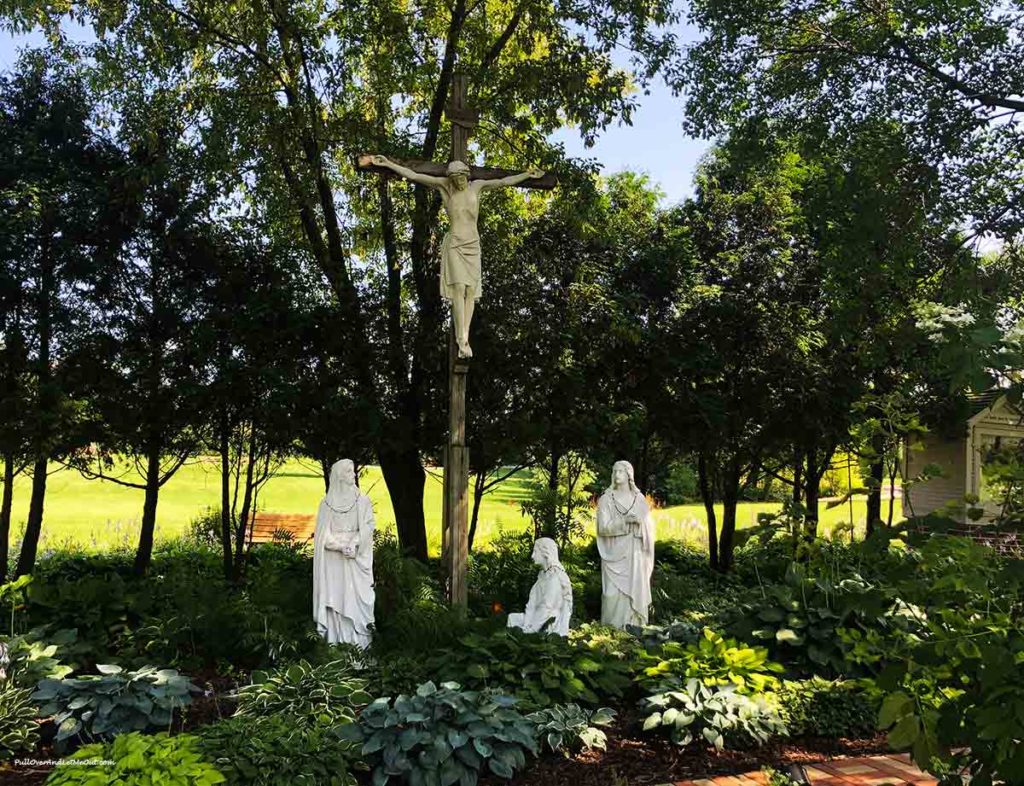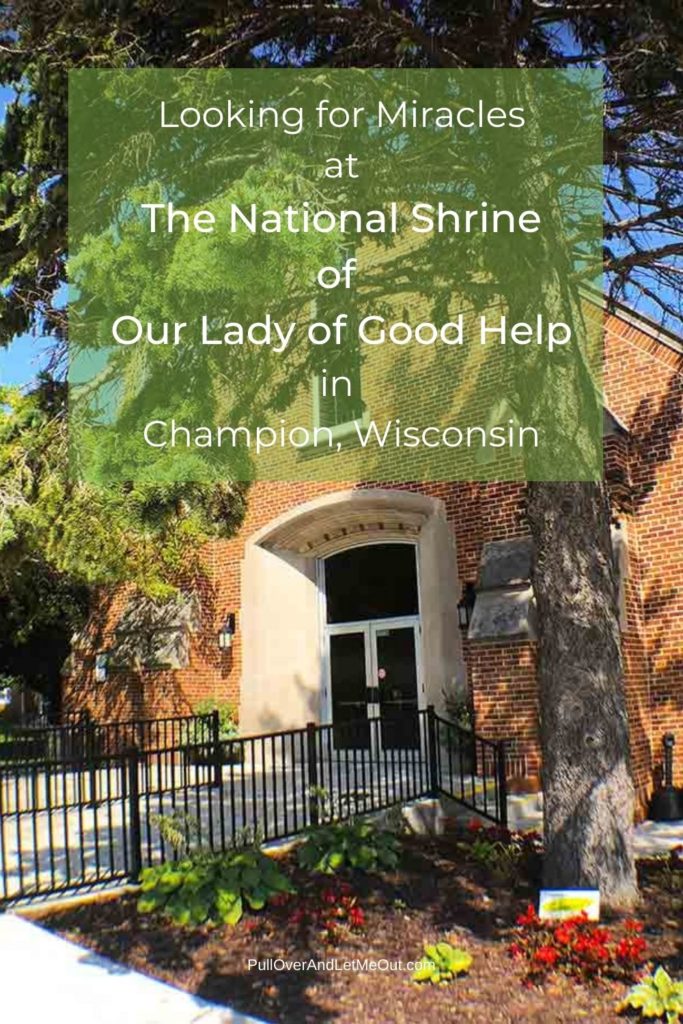 ► Plan Your Trip to The National Shrine of Our Lady of Good Help Now!
Hey pinners, save this for pinning after your trip
After you get back from your trip, please use these images to post to social media or post your own photos.  Please tag us on your post #pulloverandletmeout
You can also use the social sharing links on the SmartTrip tool.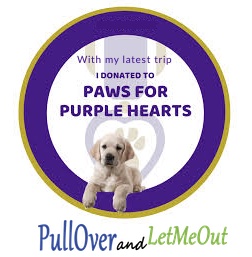 More stories you'll love reading!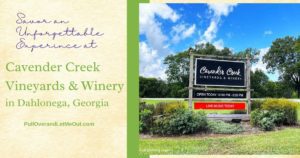 Cavender Creek Vineyards & Winery is a thriving and welcoming wine destination perfect for wine enthusiasts and anyone seeking a scenic escape from the daily grind. Travel there with PullOverandLetMeOut to discover this charming winery in the Appalachian foothills.
Read More »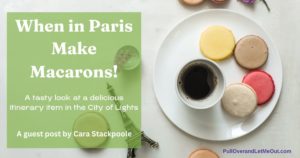 Guest blogger Cara Stackpoole shares a delectable itinerary item in the City of Lights. Discover why making macarons is a memorable experience.
Read More »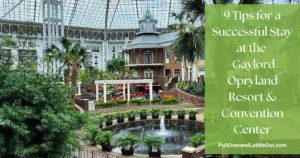 The Gaylord Opryland Resort & Convention Center in Nashville is a well-known attraction in the city. PullOverandLetMeOut looks at some smart hints for making the most of a stay at the famous hotel.
Read More »